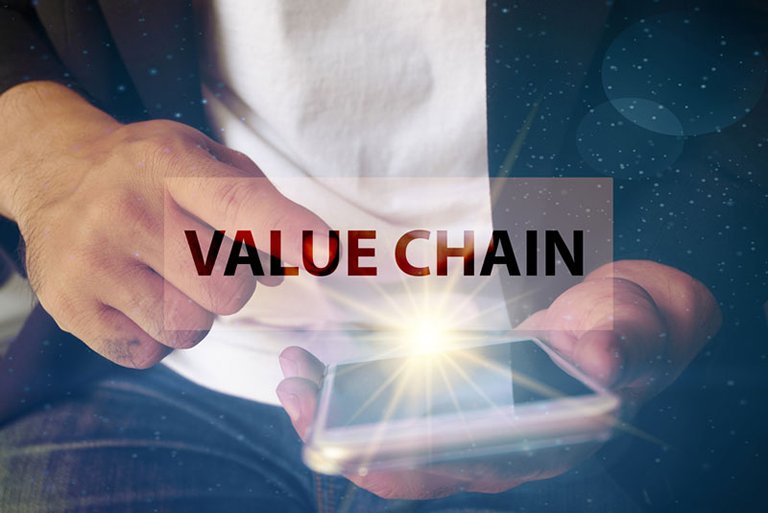 https://hkmb.hktdc.com/en/1X0AA0PB
Hong Kong's E-commerce Ecology: The Value Chain
When e-commerce is mentioned, top-of-mind associations will usually be Taobao, Tmall, eBay and Amazon, on which an array of products can be discovered and purchased by online consumers. However, these platforms are just the "surface" of e-commerce. In fact, the value chain of e-commerce is much longer and many more key players (other than online merchants and third-party marketplaces) are working in the background to enable and facilitate e-commerce.
E-commerce Key Players
The process of e-commerce can be divided into three stages – discovery, transaction and delivery. Various service providers are required at different stages to provide essential functions such as payment, logistics, online marketing and data analytics, which all need to be co-ordinated to deliver an optimal customer experience.
At the first stage, the website is the shop front of an online store providing all product and pricing information, engaging content and attractive promotion offers. Customers are directed to the website by search engines, social-networking platforms, and email marketing, as well as other innovative marketing campaigns. Increasing digitalisation of information facilitates easy discovery of products, as well as product price and feature transparency. Merchants may capture data from public domains such as Facebook, WhatsApp, WeChat and forums and integrate them with data from the online store in order to build a sophisticated profile of target customers and gain a deeper understanding of their preferences, shopping behaviour, and purchasing decisions.
At the second stage, online money transfers provide alternative payment solutions to having to visit a shop and pay cash for the purchases. Solutions providers that enable shopping-cart functions, online transfer of payments and online security for sensitive consumer information are key for e-commerce transactions.
The last stage is delivery of the product to shoppers after the online transaction has been completed. Some products can be delivered digitally (e.g., e-books), but the majority of items sold online have to be delivered physically (e.g., shipping of books). E-commerce compels changes to the whole supply chain operation. The logistics-information and product-flow systems have to be synchronised in order to ensure a flexible and efficient distribution of products to individual customers. The table below illustrates the key service providers involved in each stage of the e-commerce process, and stacked to form the vertebral column of e-commerce. In Hong Kong, there are no mega online platforms such as Taobao and Amazon, but there is a large number of merchants and service providers that are key players in the global e-commerce economy.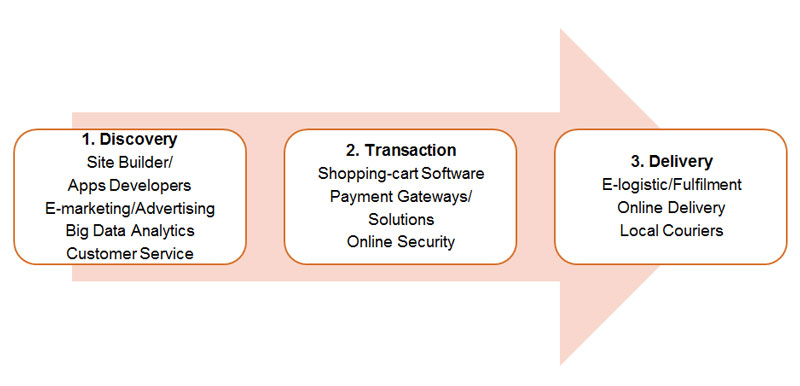 The E-commerce Sector in Hong Kong
In order to have an estimate of Hong Kong's e-commerce sector, HKTDC Research, in collaboration with the six major e-commerce associations in Hong Kong [1], recently conducted a survey consisting of two parts. The first part was a questionnaire survey targeted at the local manufacturers and exporters registered with HKTDC's database that were selling to a market outside Hong Kong via online channels, including B2B and B2C. A total of 311 valid replies were received. The second part was an online survey targeted at members of the six major e-commerce associations in Hong Kong, which consist of e-commerce merchants as well as service providers. Some 151 valid responses were received.
Number of E-commerce Establishments and Sales
According to the survey results and industry's estimates, the number of Hong Kong e-commerce merchants – including traditional traders and retailers who adopted e-commerce sales, and pure-play merchants – was estimated at 32,000, with a total transaction value of HK$209 billion for 2016.

The number of e-commerce service providers – including third-party platforms, website/apps builders, and companies providing services such as electronic payment solutions, e-commerce logistics services, digital marketing services, big data analytics, online security and customer services – was estimated at 1,800, with total sales of HK$65 billion for 2016.
Major Markets, Platforms and Customer Profile
Survey findings indicate that more than half (56%) of the Hong Kong online merchants sell to the local market, followed closely by Europe (55%) and Americas & Canada (55%). The Chinese mainland (44%) is the next major market for Hong Kong's e-commerce merchants. Other key export markets include Australia & New Zealand (28%) and ASEAN (26%).
Compared with merchants, e-commerce service providers appear to focus more on the local market, with the majority of respondents reporting Hong Kong & Macau (85%) as their major sales markets. More than half of Hong Kong e-commerce service providers serve the Chinese mainland market (51%). Outside the region, 30% of respondents said Americas & Canada are their major sales market.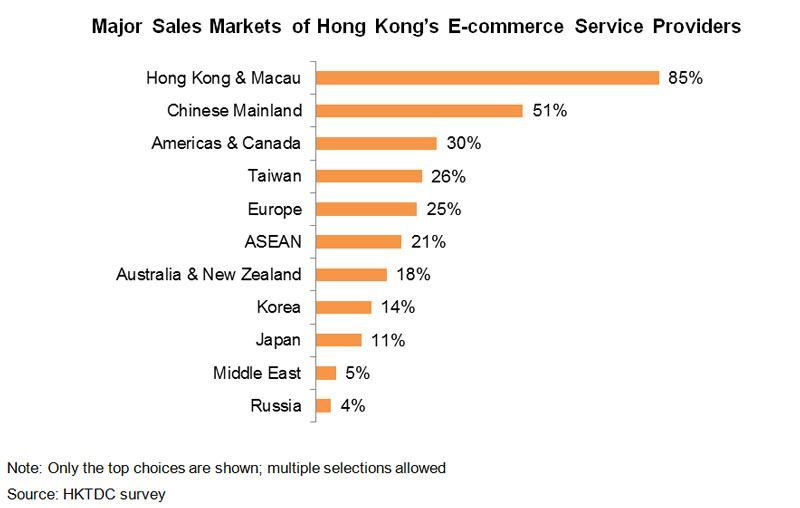 But in fact, e-commerce service providers in Hong Kong are not as local-centric as often thought. The customer profiles of Hong Kong's e-commerce service providers show a balanced ratio of local companies and non-local companies or MNCs, many of which have a presence in Hong Kong. These indicated that e-commerce service providers in Hong Kong are exporting their services just like the online merchants are exporting their products across the border. At the same time, they also serve a balanced ratio of SMEs and large corporations.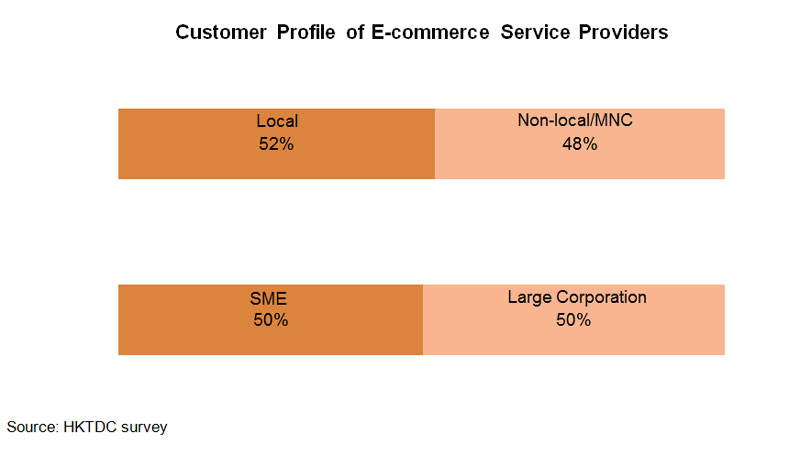 As to sales platforms, most e-commerce merchants (63%) sell through third-party platforms and much fewer (27%) sell through independent online shops/websites. Selling through third-party platforms has a number of advantages, as well-established marketplaces have the scalability to generate traffic and near-term revenue for merchants that are new to the game. But selling through independent online shops/websites may be better for brand owners that want to have stronger influence over their sales and marketing strategy. There are also endeavours to sell through social media (24%) and mobile apps (14%).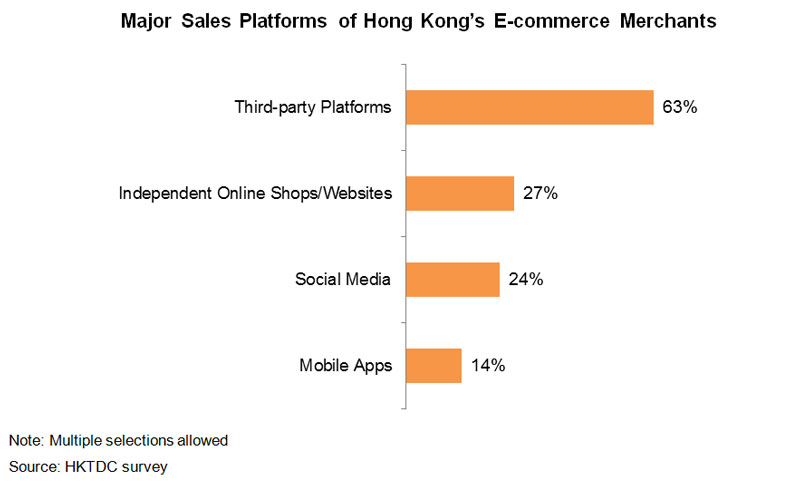 Online merchants and third-party platforms in Hong Kong are selling a wide variety of products, from consumer electronics (29%) to consumer health (27%), from apparel and footwear (22%) to beauty and personal-care products (16%). The results are in line with the global e-commerce trends. As pointed out in the previous article, Hong Kong's low and simple tax regime – no import tax and no VAT – has facilitated the city's parallel trade of electronic products, which are particularly suitable for re-selling via online channel as buyers are subject to little uncertainty over product specifications. On the other hand, apparel and footwear is seen as one of the fastest-growing online categories in many markets.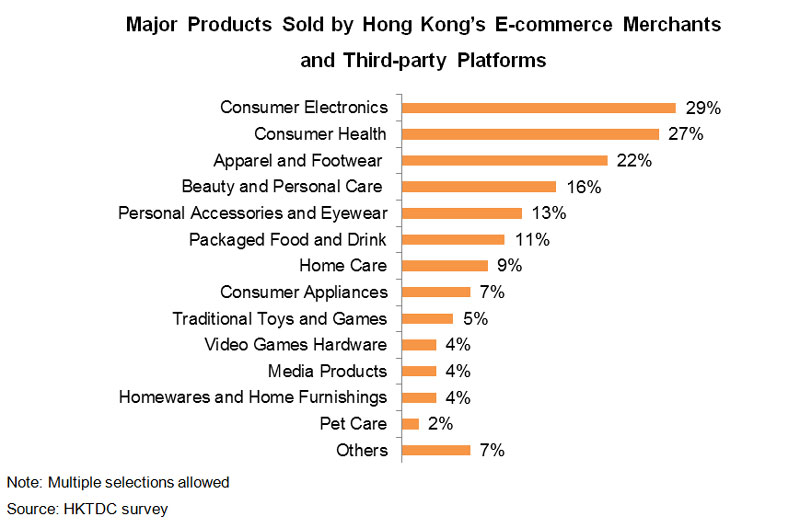 Survey findings indicate that products sold via Hong Kong online merchants and platforms come from both the West and the East, which confirms that Hong Kong continues to play an important role as a two-way springboard – helping Western brands tap into the Asian markets, and Asian brands sell overseas – as exports have shifted from traditional to digital channels.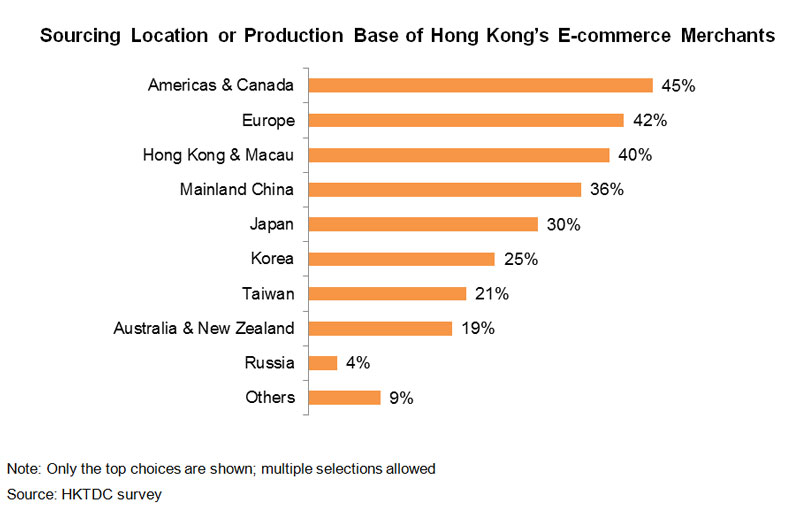 Hong Kong's export sector is characterised by immense offshore transactions, referring to the value of goods handled by establishments in the city but physically shipped directly from production or sourcing locations to customers elsewhere without going through Hong Kong. According to Hong Kong's Census and Statistics Department, offshore trade and re-exports through Hong Kong accounted for 55% and 45% of the total, respectively, for 2015.
As far as online orders are concerned, the share of offshore trade seems to be lower. According to the survey results, offshore trade and re-exports through Hong Kong of online orders accounted for 49% and 51% of the total, respectively, for 2015, which is consistent with the fact that Hong Kong has an advantage in handling e-commerce logistics, thanks to the city's good air-connectivity.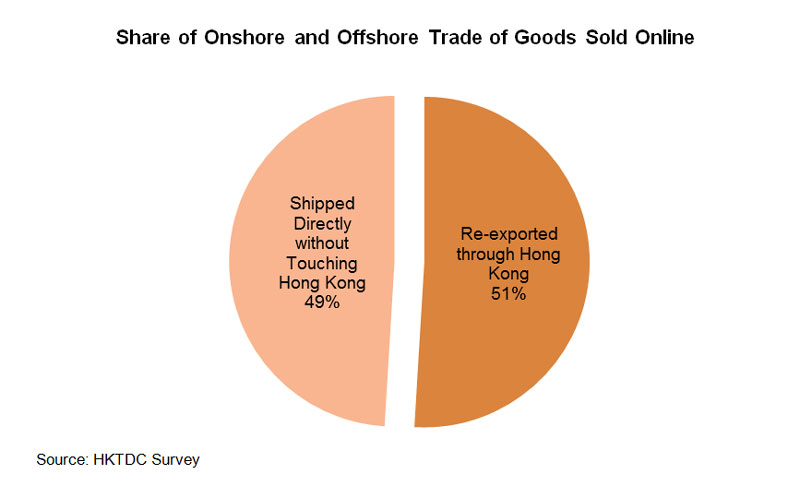 Difficulties of Handling E-commerce Operations
The table below shows the major tasks of e-commerce operations for merchants. Respondents were asked if the tasks were performed by in-house staff or third parties, such as contractors and third-party platforms. It appears that online merchants are likely to outsource the more "technical" tasks to a third party. The top three tasks performed by contractors/third-party platforms are, in descending order, network security, online payment/refund and technical support for the online shop/platform, while the top three tasks performed by in-house staff are customer service, updating the online shop/platform and online marketing.
In view of the convenience and scalability of e-commerce site-building and online payment service available internationally and locally, it is surprising to see that the majority of online merchants are still performing these functions in-house. Likewise, more than 60% of online merchants are struggling to manage in-house logistics. When the online business is small in scale, the merchant can still perform most functions in-house. As business volumes increase, the specialised services, equipment, systems and expertise a third-party provider can offer become crucial to keeping customers satisfied, and saving the merchant's precious time to focus more on the core business.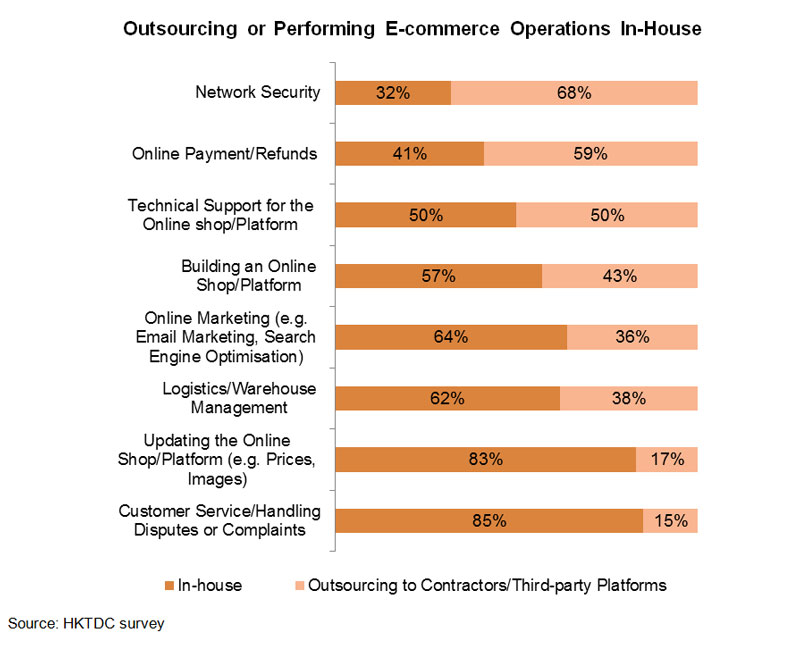 As part of the survey, respondents were asked to give their views on the difficulties of performing various tasks in-house on a scale of one to five, with one being the "least difficult" and five indicating "very difficult". Out of the eight tasks specified, six obtained an average score above three, which means the online merchant considers the tasks difficult. In descending order, the most difficult task is online security (3.73), online marketing (3.72), building an online shop (3.61), technical support for the online shop (3.60), online payment (3.59), and logistic/warehousing management (3.26).
Respondents were also asked to give their views on the difficulties of outsourcing the tasks to the appropriate service providers, on a similar scale of one to five. Out of the seven tasks listed, two obtained an average score of four or above: building an online shop (4.04) and online marketing (4.00), which means the online merchant considers it very difficult to find the service providers to perform these two tasks. Other tasks such as logistic/warehouse management, technical support for the online shop, network security and online payment/refunds obtained scores of 3.59, 3.36, 3.05 and 3.00, respectively, which means those tasks have a medium degree of difficulty in finding the appropriate service providers.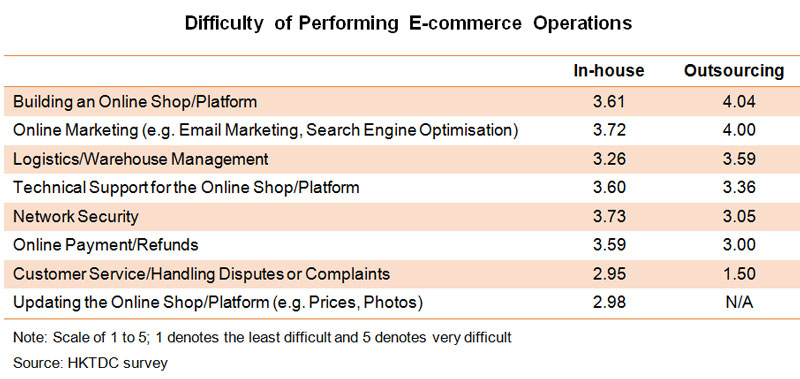 Start-up Capital and Key Drivers of E-commerce
Survey findings indicate that the start-up capital of merchants has a median of about HK$100,000. Service providers' initial investments are higher, with 68% at more than HK$100,000.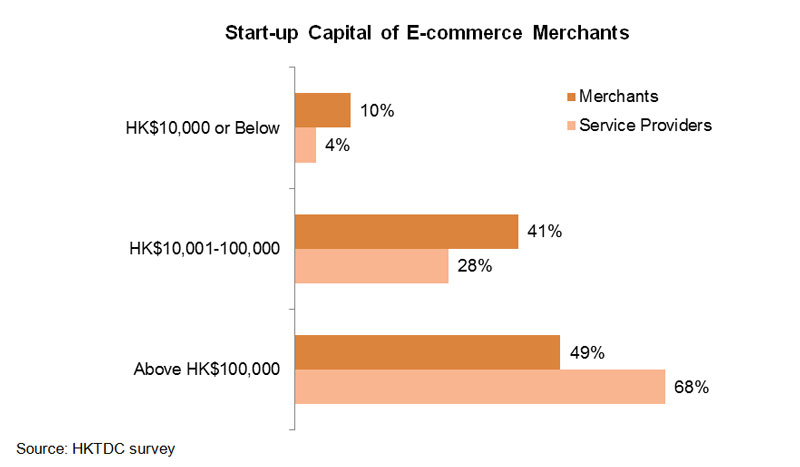 E-commerce key players in Hong Kong perceive big data analytics (77%), social media (66%) and cloud technology (45%) to be the top three drivers of e-commerce in the next five years.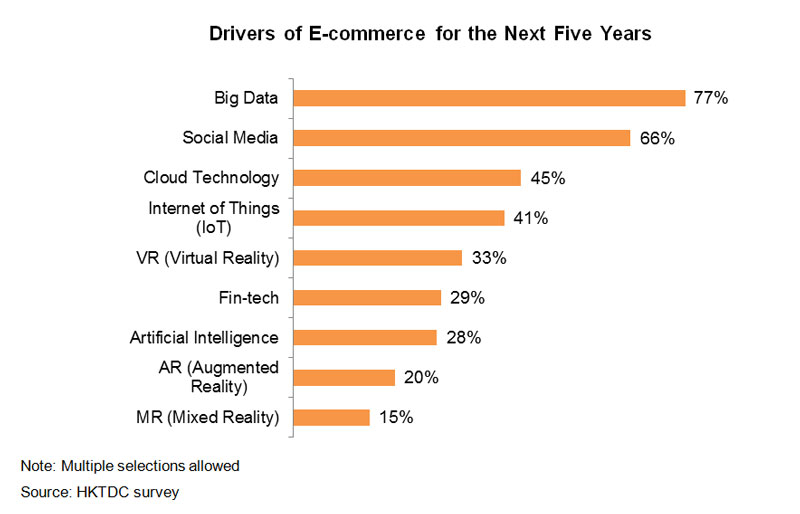 ---
[1] HKTDC Research would like to acknowledge the help extended by Hong Kong Federation of E-commerce, Hong Kong General Chamber of Cross-border E-commerce, E-commerce Association of Hong Kong, Hong Kong Internet and e-Commerce Association, Hong Kong Netrepreneurs Association and Hong Kong Cross-border E-commerce Association in conducting the surveys, arranging company visits and providing valuable insights for this study.