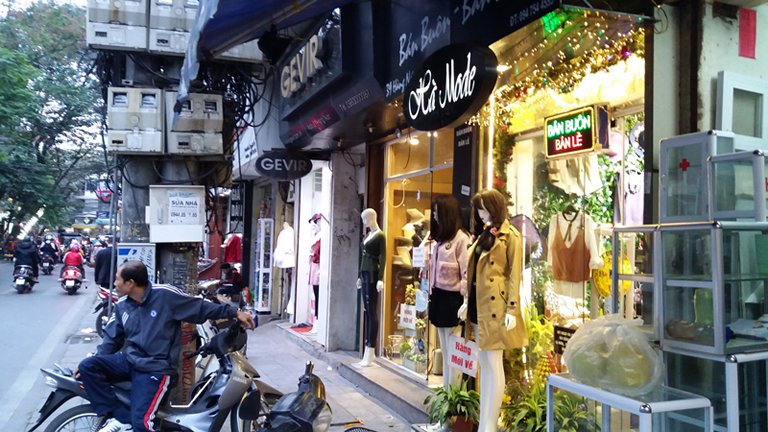 https://hkmb.hktdc.com/en/1X0A9ZPE
Vietnam's New Distribution Opportunities
Market liberalisation and foreign participation have contributed to the growth and transformation of Vietnam's distribution sector, something that bodes well for overseas suppliers looking to penetrate the Vietnam market. The traditional import channel through wholesalers and importers is expanding as these companies are increasingly searching for competitive sources of quality products in view of the booming retail market. Meanwhile, the number of foreign players and more developed local retailers who have the ability to import directly from overseas is rising. Overseas suppliers will find them viable business partners for the Vietnamese market as these companies are set to expand their sales networks in a bid to tap the growing demand from middle-income consumers for value-for-money and fashionable items.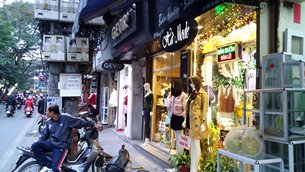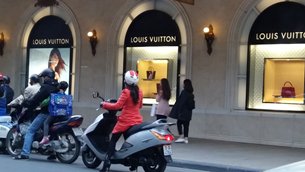 Imports Spurred by Expansion of the Retail Market
Increasing consumer expenditure has stimulated the development of the retail market in Vietnam. Retail sales grew by an average annual rate of about 17% during 2005-2015 as consumers' incomes rose. Ho Chi Minh city, Vietnam's leading business centre with a number of higher-income households, accommodates the largest retail market. The city alone accounts for almost a quarter of the country's total retail sales, followed by the 12% share of Vietnam's capital, Hanoi. As for other regions, sales are largely concentrated in coastal cities such as Hai Phong and Da Nang, while other small cities, as well as rural and mountain areas, tend to only host smaller local markets.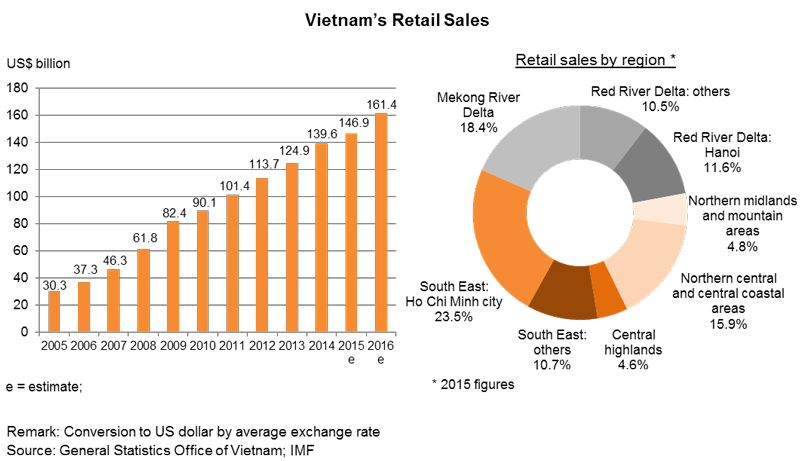 Hence, Ho Chi Minh city and Hanoi, and some of the coastal cities to a lesser extent, have become the natural entry points for distribution throughout the country of various consumer goods. With major airports and nearby seaports, the two cities are home to the majority of the country's traders, which rely heavily on transport and logistics facilities to conduct import and export trade.
Vietnam's external trade has surged over the past decade amid increasing foreign participation in the domestic economy. The majority of the country's imports are related to intermediate goods and other industrial inputs for export processing production. Consumer goods account for only about 10% of total imports, but this is rising steadily along with the increasing demand for imports from consumers.
During 2005-2015, consumer-goods imports rose by an average annual rate of 17%, on a par with the expansion of retail sales over the same period. In terms of import value, foodstuffs and general consumer items each account for about 40% of such imports, with the rest relating to pharmaceuticals and health items for domestic consumption. This is in line with the usual pattern of import rises when the absolute level of average incomes is still on the low side but improving along with economic development. In such circumstances, consumers tend to firstly consume more foodstuffs and other basic items in order to raise their living standards. A variety of imported foodstuffs, fashion clothing, consumer electronics and household appliances of better quality at affordable prices are therefore in demand – and form the niche areas for relevant suppliers to explore. (For more information about Vietnam's income level and consumers' preferences, please refer to Vietnam's Consumer Preference for "Affordable Luxuries")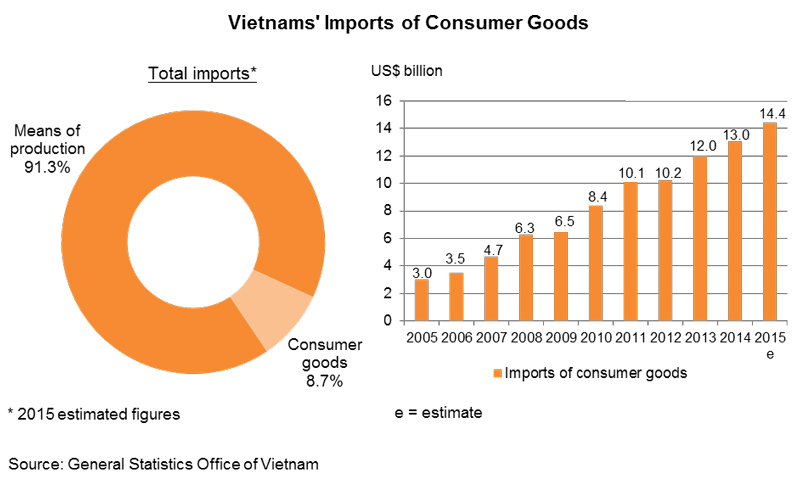 Budding Distribution Business Amid Liberalisation
Vietnam's distribution sector has also developed to become more mature in recent years. Indeed, Vietnam has adopted a liberalised regime for trading and wholesaling activities. With regard to the retail sector, it has been fully liberalised since 2009 on the back of Vietnam's commitment to its accession to the World Trade Organization. Foreign enterprises can now freely provide retailing services (including franchising services) in Vietnam, and are also free to engage in distribution services, including those of commission agents and wholesale and retail business of all legally imported and domestically produced products. [1]
The liberalisation has facilitated the development of private companies, while breaking up the previous retailing system dominated by state enterprises. Currently, some 85% of retail sales are generated by private companies and about 5% by foreign-invested enterprises, while the state sector accounts for only a tenth. [2] Likewise, domestic and foreign traders can conduct import and local distribution business freely upon appropriate registration with the government. The previous state and collective agents no longer dominate the domestic distribution business.
Today, Vietnam has a quite straightforward distribution system. Wholesalers largely act as importers at the same time, sourcing both local and foreign products for domestic distribution. Regarding local retailers, the majority are small, mainly sourcing their products via the wholesalers and/or importers with a limited business network.
Distribution in Vietnam is also affected by the country's less advanced transport infrastructure. As a result, the more mature wholesalers and retailers, and even the foreign players, tend to set up their sale networks with a primary focus on major cities along the coast, leaving the scattered markets in the mountain and rural areas for smaller local players to take care of.
Furthermore, the retailing sector is relatively immature. This can be exemplified by the fact there are fewer than 200 commercial centres in the whole country, with many of them either small in scale or accommodated in aging premises. Only a limited number of large-scale modern superstores and hypermarkets operate in Vietnam – notwithstanding the fact that the number of supermarkets, which are largely of smaller size with a gross floor area of less than 1,000 square metres, have increased rapidly in the past few years. Independent shops, traditional stalls, and other retail outlets for general consumer goods are mainly concentrated in the centre of major cities, as well as traditional market areas.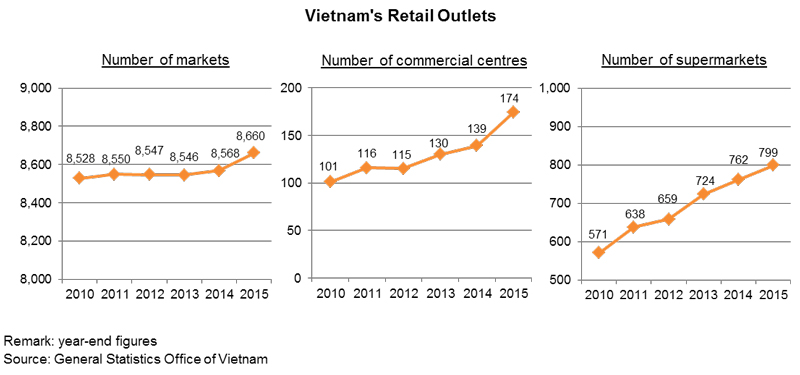 Despite the small size of the retailers, there is a lack of buying groups or cooperatives formed among them to help facilitate direct sourcing from suppliers. It follows that for those suppliers intending to penetrate the Vietnam market, it may be more effective to approach the wholesalers and importers instead of seeking direct deals with small retailers, which lack the capacity to meet minimum order requirements.
Few reputable brands have been developed by local companies in the past. And due to the smaller order size, relatively few Vietnamese wholesalers and importers would purchase from overseas suppliers in the form of OEM arrangements and request suppliers to produce according to their own designs and specifications. Small importers in particular prefer to source off-the-shelf or standard products from overseas suppliers, as their limited order quantity would not justify the design and tooling costs incurred for custom-made items. Hence, this could become a potential area for those foreign suppliers who are interested in tapping the Vietnamese emerging purchasing power with their own-design, or even their own-brand, products.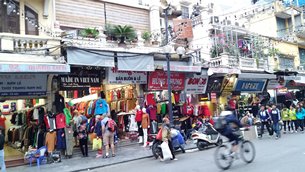 Emergence of Modern Retailers Amid Foreign Participation
A few retailers have successfully scaled up their retail networks in Vietnam's major cities and regions, with outlets and business sales developed on a regional or countrywide basis. Unlike the small players, such companies are able to raise orders that are large enough to be placed directly with domestic sources and imported from overseas suppliers.
A prominent example is the Saigon Co.op group, headquartered in Ho Chi Minh City, which has set up the supermarket chain Co.op Mart – one of the largest in Vietnam with more than 80 stores. Saigon Co.op's predecessor was a state-owned trading company. But along with the opening up of the Vietnamese economy, the company has been restructured and has modernised its business models via co-operation with foreign partners from Asia and Europe. [3]
Meanwhile, foreign players are increasingly tapping the Vietnam market by setting up a direct presence in the country. A case in point is the Big C Supercenter, which operates a number of hypermarkets or the so-called "supercenters", as well as shopping malls. The Big C Supercenter chain in Vietnam was taken over by Thailand's Central Group from the Casino Group of France in 2016 [4].
Furthermore, French supermarket group Auchan got a foothold in Vietnam by setting up Simply Mart supermarket chain in cities including Hanoi, Ho Chi Minh city and Tay Ninh. Simply Mart stores are usually a few thousand square metres, selling a wide range of foodstuff, groceries and consumer items. Other foreign examples included Family Mart (Taiwan) and 7-Eleven (US), which are expanding their convenience-store networks in major cities.
Increasing Demand for Imported Products of Better Quality
According to CitiMart, a local supermarket chain retailer with more than 40 outlets, Vietnamese consumers are more confident about imported goods due to a wide variety of choice, higher brand reputation and better quality, although local products are cheaper. Higher-income consumers especially favour imported processed foodstuffs, household and grocery items. CitiMart told HKTDC Research it had co-operated with the Japanese retailer AEON since 2014 to explore the Vietnam market. CitiMart is now working with AEON to open more new stores of about a few thousand square metres in size in major cities, in an attempt to capitalise on the emerging demand from middle and higher-income consumers.
These large-scale retailers and foreign players largely offer consumers value-for-money products and mid-range items. With a modern and comfortable shopping environment, nice product packaging and quality assurance, they are well received by city dwellers, especially the middle to higher-income consumers who are increasingly looking for quality products and retail services. Due also to the faster pace of modern city life, urban dwellers are looking for speed and convenience when shopping for daily items. And modern retailers located at convenient locations are among their favourite. In 2015, the modern retailers, including supermarkets and convenience stores, accounted for about 20% of the retail-sector business [5].
Online Sales Yet to Mature
The popularity of internet and mobile applications has stimulated the development of e-commerce in Vietnam. Many Vietnamese companies are using the internet and mobile platforms for promotional activities, and some have started to make use of online channels to explore the medium to lower-end market segment. Among others, Lazada and Zalora are examples of emerging online retail players in the Vietnamese market.
Online sales are now regarded as an important development for the retailing sector. But online market is still small at the moment. According to the Association of Vietnam Retailers, online retail sales grew by 20% to US$4.07 billion in 2015, accounting for only 2.8% of the total retail sales, reflecting the fact that the online channel is still in the early stages, due partly to the immature development of online payment. This is exacerbated by inadequate transport infrastructure and inefficient logistics services, which have hindered the delivery of goods ordered online in Vietnam.
New Channel Opportunities
Consumer demand is set to increase in Vietnam along with the booming retail market. Importers and wholesalers are increasingly looking around for suppliers of quality and value-for-money items. Due to their smaller order size, they prefer to source standard items from overseas suppliers. Also, the more mature importers largely based in Ho Chi Minh city and Hanoi are in the process of expanding their distribution networks. They have become ideal partners for Hong Kong suppliers that are interested in penetrating the Vietnam market with their own-design, or even own-brand, products.
Besides, the rise of modern retailers such as the supermarket chains and other chain stores has become a bright spot of the distribution sector. These sizable retailers mostly source directly from local and foreign suppliers. The retailers wholly owned by foreign companies tend to source the imports via their procurement offices located in popular sourcing hubs in the region such as Hong Kong or ASEAN countries. But their local offices may also take charge of certain direct imports in addition to local sourcing activities.
Larger local retailers are actively searching for competitive items from foreign suppliers. They will continue to mainly source standard items in the near future, although some of them increasingly desire to procure more products according to their own specifications or in their own names. Increases in direct imports of such modern retailers have already created added channels for overseas suppliers, who are interested in co-operating with local players in order to penetrate the Vietnam market.
---
[1] Such liberalisation measures are adopted pursuant to the Protocol of Vietnam's Accession to the WTO.
[2] Source: General Statistics Office of Vietnam
[3] Source: www.saigonco-op.com.vn/
[4] Source: www.bigc.vn/
[5] Source: Association of Vietnam Retailers (as reported by Ministry of Planning and Investment of Vietnam)
Hong Kong
Viet Nam
Hong Kong
ASEAN
Southeast Asia