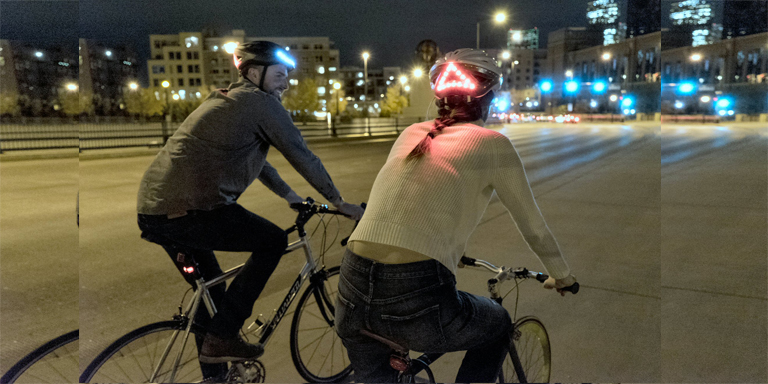 https://hkmb.hktdc.com/en/1X0A9SVT
Start-up Ride
Hong Kong start-up Lumos has developed the world's first "smart" bike helmet.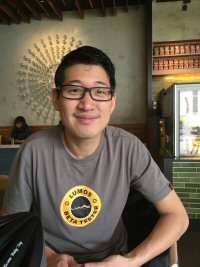 Featuring integrated lights, brake and turn signals, the Lumos Next Generation Bike Helmet is gaining traction in some of the world's biggest cycling cities, including London and New York.

The project is the brainchild of former Harvard students Eu-Wen Ding and mechanical engineer Jeff Chen, who met at a weekend hackathon, where a rough prototype of Mr Ding's cycle helmet won the competition. Initially incubated out of the Harvard Innovation Lab, the start-up moved to Hong Kong in 2014, where it's now based at the Hong Kong Science Park.

Since launching a Kickstarter campaign in 2015, the start-up has attracted more than 15,000 backers and generated more than US$1 million for its smart helmet, which retails at US$169 (HK$1,313). In January, it also won the Transport Design of the Year award in the annual Beazley's Designs of the Year competition organised by the London Design Museum, beating competition from 68 other nominees, including the Tesla Model 3.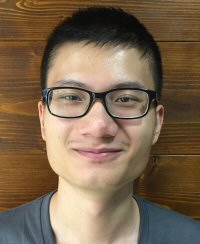 With white LED lights in the front and bright red LEDs in the rear, as well as left- and right-turn signals activated via a wireless remote, the Lumos helmet quickly generated strong positive response when it launched on Kickstarter, according to Mr Ding, who originally hails from Singapore.

"Our funding goal was US$125,000 and we hit that within the first 10 hours – there was a lot of buzz and excitement around the campaign. It looks like a regular helmet and appears familiar, but when you turn it on, it has really intuitive features. The idea for lights on a helmet isn't new but the way we executed it was, and the design was a huge factor in the appeal," he adds.

Mr Ding says that while they did not have an agenda, positive feedback the company received gave an indication of the product's market potential. "No one else seemed to be doing it and we both had entrepreneurial ambitions," he adds.

Kickstarter was the real test, however. "We'd met with hundreds of people and knew there was interest, but that's not the same as them actually giving us money." From mid-2014, the pair spent a year in Hong Kong and on the Chinese mainland preparing to launch the fundraising campaign, and find a suitable mainland factory to manufacture the helmet.

Since launching, the team at Lumos has grown from two to 10 people, and is now on the look-out for more staff as it prepares to develop more products.
Support from Backers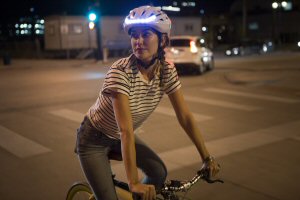 One of the toughest decisions Lumos had to make was delaying delivery of the final product. "We'd promised delivery to our backers by April 2016, and we had the helmet ready on delivery day, but it was a bit ugly and the fit wasn't good. As it was nowhere near our expectations, we decided to delay delivery."

After redesigning the helmet from scratch, the final product was delivered in October – six months later. "We'd delivered 60 helmets to beta testers and asked for their opinion. They said that functionally, it works, but there were a few deficiencies around the fit. Getting that endorsement from beta testers went a long way to allay other backers' concerns, and from the 6,000 backers at the time, we had three refund requests," says Mr Ding.
Cosmopolitan Advantage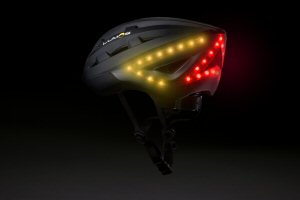 Lumos saw many advantages to being based in Hong Kong, including the green, peaceful environment at the Science Park. "The infrastructure is also very good here, and Hong Kong is a very cosmopolitan city – we were looking for somewhere with that diversity. While we knew we had to manufacture in China, we couldn't really live there, as all our business is done online – we use Facebook and Google a lot. It's a huge challenge to get online there, whereas Hong Kong has high-speed Internet access. Plus there's still that proximity to China, which is great as I go to the factory once a week," he adds.

The smart helmet may appeal more to Western markets such as the United States and the United Kingdom, where more people cycle to work and rely on lights for the journey home after dark. But Mr Ding says Lumos will target Hong Kong and mainland cyclists in the next couple of years.

Online sales will remain the company's focus, although it is open to partnering with more retailers in the future. In the UK, it is stocked in the Design Museum store, while in the US, it can be purchased at New York City's Museum of Modern Art.
Championing Safety
Mr Ding says its long-term goal is to build Lumos into a brand that champions cyclist safety, so riders feel less invisible and vulnerable on the road. "In the UK and US, cyclists are treated like second-class citizens and cars are kings of the road. As a brand, we want to recognise these realities and try to build products that help cyclists feel safer."

Lumos also hopes to partner with schools, cycling groups and associations such as the Bike2Work scheme in the UK by offering discounts on helmets. "Shipping is a huge cost for us, so if we can ship to one place, we can pass on those savings to customer – it's sort of like a local Groupon model."

With one hit product under its belt, the company says the onus is on repeating the success of their debut product. "We won't be ready to launch anything else for a while, but we plan to launch multiple products in the long-term."

Related Link
Lumos
Hong Kong
Mainland China
ASEAN