https://hkmb.hktdc.com/en/1X0A9SJ5
Hong Kong's E-commerce Ecology: Importing to China
After years of strong growth, China has become the biggest B2C e-commerce market in the world. According to China Internet Watch, the size of the country's e-commerce market in 2016 was estimated at US$899 billion – almost half of the world's e-commerce sales and 18.4% of the total retail sales in China.
Chinese consumers' desire for imported goods is surging along with the increasing disposable income of the country's population and the growing convenience of online retailing. iResearch estimated that the value of cross-border e-commerce in China amounted to US$131 billion in 2015. It is forecast to reach US$245 billion in 2020, according to a report by global consulting firms Accenture and AliResearch.
On 19 June 2015, the Chinese government released policy guidelines that included tax policies aimed at boosting domestic consumption and initiating pilot projects to promote e-commerce imports. China now allows full foreign ownership of some e-commerce businesses. Customs has streamlined procedures for the clearance of goods and allowed for their collective declaration, examination and release. Goods imported through e-commerce enjoy reduced tariffs and lower regulatory requirements.
According to HKTDC's estimates, the value of e-commerce imports into China via Hong Kong merchants or platforms was about US$15 billion in 2015. Chinese consumers' insatiable appetite for foreign goods coupled with the government's support bode well for cross-border e-commerce, offering much room for growth for the e-commerce sector in Hong Kong, as there are numerous advantages in importing foreign goods into the Chinese mainland via the city.
Overseas Purchases Channels
Chinese consumers can gain access to foreign goods via three channels:
Ordering directly from overseas e-commerce sites (e.g., Amazon, Macy's.com, rakuten.com, etc.). This type of online shopper seeks quality and authentic products. These overseas purchase activities are usually referred to as "haitao" (海淘).
Ordering through purchasing agents, who provide assistance on payment and delivery to their Chinese consumers. This type of online shopping is usually referred to as "daigou" (代購).
Cross-border e-commerce, which usually refers to overseas brands selling directly to Chinese consumers through domestic cross-border e-commerce platforms (e.g., Tmall Global (天貓國際), JD Worldwide (京東全球購), XiaoHongShu (小紅書), etc.) and cross-border e-commerce platforms in pilot cities (e.g., Shanghai, Zhengzhou, Chongqing, Hangzhou and Ningbo, etc.)
According to China Internet Watch, 60% of online shoppers buy cross-border products through domestic e-commerce channels, while 40% use overseas global e-commerce websites. Chinese online buyers' mainly make non-domestic purchases from the US, followed by Hong Kong, Malaysia, the Netherlands and South Korea. The most sought-after imported product categories are cosmetics and personal care products, food and beverages, baby products, and apparel and accessories.
Major Cross-border E-commerce Platforms in China
Tmall Global
Alibaba is China's undisputed market-share leader of e-commerce, operating three distinct platforms: Taobao, Tmall and Tmall Global. The latter, sometimes referred to as Tmall International, is Alibaba's cross-border platform. Launched in 2014, it provides a marketplace for international brands and retailers without physical operations in China to set up online stores and sell directly to Chinese consumers. Suppliers must agree to sell only genuine and overseas-sourced products. A growing number of foreign brands and retailers from more than 20 countries and territories, such as the US, Germany, Australia, New Zealand, Korea, Japan, Taiwan and Hong Kong, have already used Tmall Global as a fast track into Chinese mainland.
One prominent example [1] is American fashion retailer Macy's, which opened a store on Tmall Global as Macy's China. Previously, the retailer sold to Chinese consumers via its English-language website, then shipped goods from the US. Now, by listing on Tmall Global and warehousing in Hong Kong, the delivery lead time has been significantly reduced.
Another example [1] is Australia's Woolworths, which sells about 80 products to Chinese consumers through its Tmall Global store – a fraction of the 40,000 products available in its Australian supermarkets. The online items cover four categories: vitamins and supplements; baby; skin and hair care; and food products. Selling through Tmall Global provides a good opportunity for the brand to test market demand for these product categories as well as side-stepping a flourishing grey-market of middlemen sellers.
France's Provence region has also opened a flagship store on Tmall Global, where it features more than 100 regional specialties such as wine, olive oil and personal-care items including lavender oil, one of Provence's signature products.
Hong Kong brands that have opened an online store on Tmall Global include Maxim's, Chow Tai Fook, Chow Sang Sang, TSL Jewellery and 3d-gold Jewellery. The collaboration with the Chinese domestic marketplace gives these brands more channels to reach the vast upwardly mobile customer base on the mainland.
JD Worldwide
JD.com (Jing Dong), one of China's largest online direct-sales companies, announced on 15 April 2015 the launch of JD Worldwide, which has two cross-border models. Through the marketplace offering, foreign brands can set up their own online stores and sell directly to Chinese consumers without a physical operation or legal presence in China, and take advantage of the marketplace's well-established warehousing and logistics infrastructure.
The other option is that JD Worldwide buys inventory from overseas brands or suppliers and then sells it to Chinese consumers through its cross-border platform. In this case, JD Worldwide will be responsible for logistics and marketing.
One of Jing Dong's star recruits, Unilever, has used the platform to test demand for products that are not selling through other channels in China. Sa Sa, a leading Hong Kong cosmetics retailer, has also launched a flagship store on JD Worldwide.
Other Smaller and Specialised Cross-border Platforms
XiaoHongShu, which translates as "little red book", is a social e-commerce shopping app based in Shanghai. Aimed at 18-to-35-year-old Chinese women, the platform helps users discover and buy luxury products from overseas, share shopping tips and swap fashion ideas. With more than 15 million registered users, the app has swiftly gained the attention of shoppers and investors both in China and abroad.
Another example is VIP.com, which sells international brands and products from Korea, Japan, Europe, Australia and the US. WeChat, the dominant messaging app in mainland China, has also extended its functions to include social media and e-commerce. WeChat shops, which give users a simple and mobile access to products and a convenient way to handle payments, is fast becoming a favorite channel for many small online merchants.
Foreign brands do not need to restrict themselves to just one cross-border platform. Australia's Blackmores and some luxury brands have partnered with a number of platforms in China, while maintaining their own Chinese e-commerce sites.
Cross-border E-commerce Experimental Zones
By combining the advantages of e-commerce and bonded warehousing, cross-border e-commerce experimental zones aim to offer efficient customs processing and logistics for online merchants and marketplaces. These e-commerce pilot projects leverage ICT solutions to combine services with manufacturing, packaging and online shop-registration capabilities, aiming for faster and standardised processing of orders, logistics, customs clearance, and tariff settlement.
The State Council of China has approved the establishment of experimental zones in Tianjin, Shanghai, Chongqing, Hefei, Zhengzhou, Guangzhou, Chengdu, Dalian, Ningbo, Qingdao, Shenzhen and Suzhou. However, rules that permit the establishment of an online store by international sellers are different in each pilot city. Merchants are advised to perform their own analysis and detailed assessment of the cross-border e-commerce platforms in different pilot cities in order to find out which platforms best fit their company strategies.
Logistic Modes of Cross-border E-commerce
At present, the cross-border e-commerce models in China primarily include: B2C (集運), B2B2C (保稅備貨), and direct shipping (直郵).

B2C – orders from different online shoppers are centralised and shipped together by the overseas supplier to an e-commerce pilot city in China. Once the package arrives, the Express Mail Service (EMS) or the courier company will disassemble the package and send individual parcels to different buyers.
B2B2C – products are sent in bulk to a customs-approved cross-border e-commerce enterprise in a pilot city and stored in the bonded zone (Type B), based on the analysis and forecast of the seller. These products are then sold outside the bonded zone via e-commerce and delivered to consumers by logistics companies.
Direct shipping – in this scenario, buyers place an order directly through cross-border e-commerce websites and sellers deliver the products by mail or courier. This streamlined logistic structure and relatively simple processes apply primarily to the small-scale B2C model.
Different logistics modes have different implications. The table below highlights the features and requirements for each mode: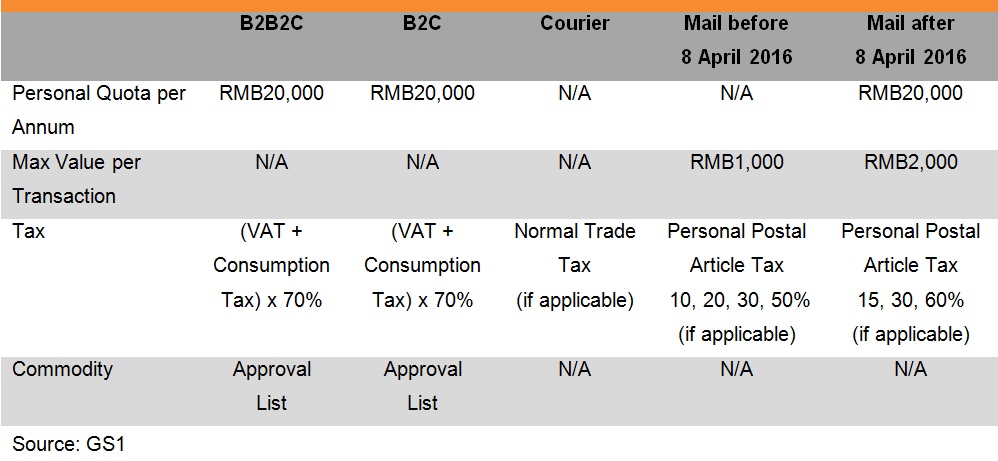 Just as brands do not need to restrict themselves to only one cross-border platform, they also do not need to stick to one import mode.
Advantages of Selling to China through Hong Kong
For a number of reasons, Hong Kong has great potential in playing a pivotal role in the development of China's cross-border e-commerce.
Tax Issue
Hong Kong companies can sell directly to mainland consumers via e-commerce platforms (own platforms or Chinese marketplaces) instead of setting up a legal entity on the mainland. Low corporate profit tax and no VAT for advertising and other professional services are just some of advantages of using Hong Kong as a base for e-commerce imports. Of course, Hong Kong and foreign e-commerce players can consider setting up a company and open a bank account on the mainland to accept payments, and arrange to remit the money out of the country by themselves. But the process will be complex and slow compared to the cross-border payment method through Hong Kong.
Trust Issue
Even though many Chinese cross-border platforms (Tmall Global and JD Worldwide) all promised that they would only sell genuine products, Chinese consumers do not appear to be totally convinced – just look at the numbers of mainlanders who visit Hong Kong regularly for shopping and the expanding parallel-import market, while most products are now available on China's domestic cross-border channels. In the e-commerce world, the source of products is still a big trust factor for mainland consumers. They prefer products ordered from a Hong Kong platform or shipped directly from the city, rather than the products they can order from home-grown marketplaces. The concern about quality and authenticity motivates mainland consumers to shop at Hong Kong companies, online and offline alike.
Regulatory Issue
China's opaque rules, regulatory practices and fast-changing policy make Hong Kong a better place to keep product stock (instead of mainland bonded warehouses) and corporate data. In Hong Kong, enforcement of legal contracts is strong, and disputes can be resolved through the independent judiciary. Intellectual-property rights are protected by the Copyright Ordinance and are rigorously enforced in Hong Kong. Alibaba Group's cloud-computing unit, AliCloud, opened its data centre in Hong Kong as a first step towards international expansion, which is significant because it demonstrates a vote of confidence in Hong Kong by the e-commerce behemoth.
Relationship Issue
Owing to the rapid increase in demand by mainland consumers for global and Asian brands, both Alibaba and JD have established offices in Hong Kong. They see the city as an ideal place to identify and better engage with major brands and retailers around the world. International foreign brands and retailers consider Hong Kong companies to be well-versed in international business practice, with more than 150 years of trading experience on the mainland. It is natural for them to extend their long-term relationship with Hong Kong companies from offline to online when comes to entering a large and complex market such as China.
Logistics Issue
The logistics industry indicates that under many circumstances, re-export shipments via Hong Kong are cheaper and faster than direct shipments from overseas suppliers to the mainland. Improvements in shipping times and costs will encourage more regional and global retailers who target mainland consumers to locate their logistics base in Hong Kong. The strategic agreement between JD and Hong Kong-based Cosco Logistics was a significant step for JD towards its goal for Asian expansion. That co-operation is expected to help JD's brand partners in Asia get their products more quickly to the company's customers in its home market. Leveraging JD's local market presence and warehousing capabilities, merchants with a presence in Hong Kong will be able to efficiently manage sales, warehousing, shipping and fulfilment to customers in mainland China directly from Hong Kong.
---
[1] Source: "Cross-border ecommerce: tips for selling online into China", ClickZ Group, 26 January 2016