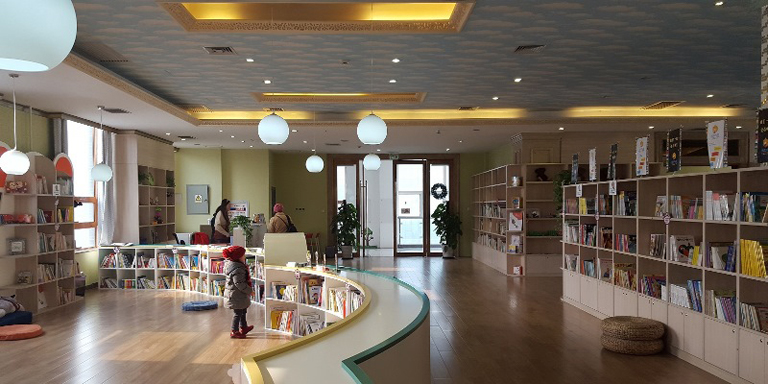 https://hkmb.hktdc.com/en/1X0A9KRL
Literary Lair
Shops catering to illustrated literature are hugely popular among families on the Chinese mainland.
Reading picture books together has become a popular element of parent-child education and bonding across the Chinese mainland. As a result, picture-book stores in various formats have opened in many major mainland cities, including Beijing, Shanghai and Shenzhen, as well as several smaller cities and towns.

As the term suggests, words play a secondary role in such publications, with the emphasis very much on illustrations. The combination of text and images tells a story and helps spark imagination among children, while helping to forge closer familial bonds.
Family Libraries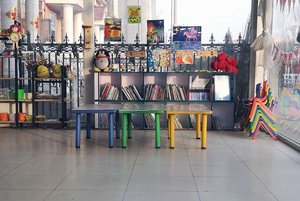 A number of the better known picture-book outlets – including Yourbay (www.yourbaychina.com), Poplar Kid's Republic (www.poplar.com.cn), Senior John (www.hui-ben.com.cn) and pkbkok.com – are nearly household names in many provincial capitals. Their success is related to an innovative approach, with many such retailers providing reading tutorials, parent-child handicraft workshops, traditional Chinese courses, even picture-book tours.

The majority of these outlets are part of well-known chains. Yourbay, for example, has some 600 branches in more than 160 cities, with the business doubling in size over the past two years. Two other retailers in the sector –Senior John and Pkbkok – each have more than 300 franchisees.

Typically, franchisees in the picture-book store market have access to hardware and software support from the brand owner, including help with library management, book-loan systems, book lists, text sourcing, staff training, offline activity programmes and promotions.

Picture-book stores typically operate on a membership basis and, in tier-one cities, annual fees start from Rmb600, with extra charges for add-on services. In terms of operational requirements, just one person can manage a small-picture book store with just enough bookshelves to serve some 100 families and complement the local public-library system. By and large, though, revenues from book rentals alone are not sufficient to sustain a business, with many operators opting to provide supplementary services.
Many of the additional services can help to maintain customer loyalty, particularly in the case of extended activities and educational initiatives. Yourbay, for instance, runs a programme designed to help build a family library for children under the age of three. It offers guidance on appropriate children's literature, as well as providing both online and offline consultations. It also provides workshops on reading difficulties and child-rearing.

Senior John offers free delivery for its online book-ordering service. Customers on a limited budget can read more at no additional cost, while an online search facility allows parents to select the right book from the comfort of their homes.

Pkbkok also offers an online book-loan service accessible through a dedicated smartphone app. Emphasising its role of serving communities, the group focuses on developing convenient bookstores that act as links between consumers and cultural/recreational businesses.
Small is Beautiful
Poplar Kid's Republic is a picture-book outlet set in the mid-to-high-end business district near Beijing's East Third Ring Road. Enjoying the top online-user rating of all such stores, it is a subsidiary of Poplar Publishing, Japan's largest publisher of children's books. Apart from its Beijing store, it also has branches in several other cities, including Shanghai and Shenyang.

Far from large, Poplar Kid's Republic's flagship Beijing store can only comfortably accommodate some 10 families. All of its bookshelves, though, are neatly arranged and clearly divided into different sections for ease of access.

The store stocks about 2,000 picture books, more than 90 per cent of which are Chinese versions of Japanese titles. It operates on a "membership + retailing" model, with paid-up subscribers permitted to borrow a fixed number of picture books and accrued reward points entitling them to take part in additional activities organised by the store.

Apart from its lending facility, Poplar Kid's Republic also organises weekend parent-child picture-book reading sessions and handicraft workshops. A winter hats party, a Halloween reading and making scented bags to mark the Double Ninth Festival were among the activities recently featured.
Picture Book Tourism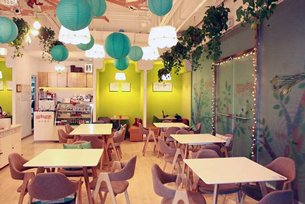 In terms of offline activities, Poplar Kid's Republic organises one or two picture book tours to Japan each year, and arranges special meet-the-author events for young readers. Last year, one such tour included a visit to Tokyo's Doraemon Museum – a repository dedicated to Japan's famous blue animated robot cat – and a chance to meet a picture book luminary from the Japanese city of Nagaoka.

Apart from tourism, picture book-themed restaurants are also seen as a promising area for future development. One such establishment is said to be proving hugely popular in north Beijing. Engagingly cozy, the restaurant is divided into three sections – a dining area, a baking island and a story-telling/fun area. The dining area has just 10 tables, while the baking island is reserved for cooking lessons. The fun area features a special book wall that stocks many well-regarded items of children's literature.

According to its owner, the restaurant also offers birthday party services at a cost of about Rmb6,000 for up to eight families. Following the success of this first establishment, plans are in place to open a second Beijing outlet.

Apart from benefits to young readers, the growing popularity of picture-book stores has also provided a valuable fillip to the jobs market, with new opportunities opening for book designers, curriculum planners, reading tutors, new-media specialists and event organisers.

For more China market opportunities, please visit: http://research.hktdc.com.
Hong Kong
Mainland China