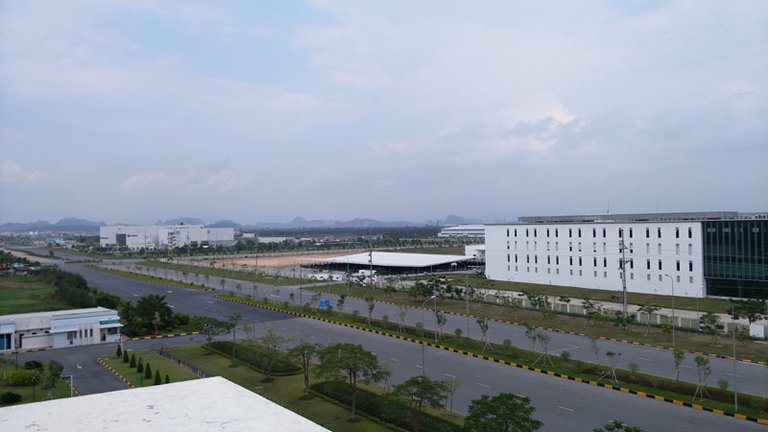 https://hkmb.hktdc.com/en/1X0A9ID5
Vietnam Utilises Preferential Zones as a Means of Offsetting Investment Costs
In order to encourage investment within its industrial zones, Vietnam has introduced a number of business incentive schemes, including tax holidays and preferential corporate income tax rates. A combination of improvements to the county's infrastructure and the availability of a youthful labour force has seen Vietnam emerge as an attractive destination for industrial investment. But its administration may still lack experience when it comes to handling the complex businesses that typify foreign investment with more complicated business models, and it is not unusual for enterprises to encounter red tapes in the course of their business. In light of this, companies should undertake a comprehensive assessment of the costs and benefits of any prospective investment in Vietnam, from both a business and a legal perspective, before making any firm commitment.
Establishing Industrial Zones: A Developmental Strategy
Vietnam is currently in the process of modernising its industrial production. One of the country's key strategies is to create a number of industrial zones as a means of facilitating industrial investment. To that end, Vietnam's Ministry of Planning and Investment is now responsible for planning industrial zone development[1], a key element of the country's strategy for attracting higher levels of foreign direct investment (FDI).
Once central government approval has been secured, local governments and authorities can set up industrial zones[2] either independently or in cooperation with private and / or foreign partners. Such industrial zones are essentially the preferential investment areas. Individual enterprises in the zones are entitled to enjoy preferential treatment, including various tax incentives.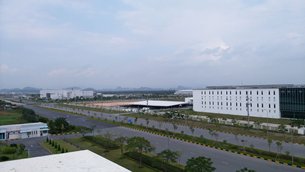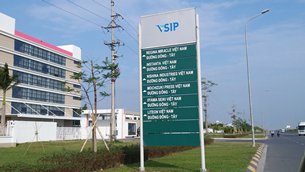 As at September 2016, there were 324 industrial zones set up nationwide, with 220 already in operation[3]. These industrial zones, coupled with 16 economic zones recently set up in the country, have together attracted foreign investment amounting to some US$150 billion by mid-2016 (in terms of registered capital)[4]. This investment amount has already accounted for about half of the total cumulative FDI inflows into the country. The occupancy rate of the industrial zones in operation is over 70% at the moment[5]. Along with such development, industrial production of Vietnam has grown steadily for the last decade, being a major driving force to economic growth.
(For more details about Vietnam's industrial production and FDI inflows, please see Vietnam's Supply-chain Opportunities Spurred by Foreign Investment)
Industrial zones are established nationwide in Vietnam. But the so-called "Focal Economic Zones", which cover a number of coastal provinces and major cities in Vietnam, have a higher concentration of the industrial zones. Taking Ho Chi Minh city, Vietnam's largest business hub, as an example, it has set up the Ho Chi Minh City Export Processing and Industrial Zones Authority (HEPZA) for years, following the implementation of the open door policies since 1986 for industrialisation and modernisation. Currently, HEPZA alone already administers more than 15 industrial zones and export processing zones, with over 900 enterprises employing some 170,000 workers there. Amid the continued inflows of FDI, HEPZA targets to attract further foreign-invested enterprises and increase the number of the zones to 20 by 2020.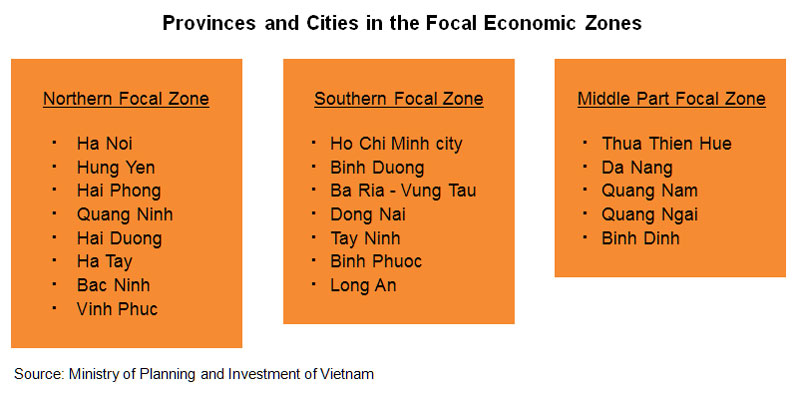 Apart from the provision of land, HEPZA has also focussed on the improvement of infrastructure as a means of supporting businesses within its industrial zones. This has included the provision of quality factory buildings and warehouses, reliable electricity and water supplies, basic telecommunications and road connections to national highways, as well the development of environmental facilities, such as waste water treatment and solid waste disposal services.
The concerns over power outages once shared by many investors in Vietnam have now been eased to some degree by increased investment in power plants and the availability of upgraded power grids. Similarly, improvements to the country's transportation networks have resulted in better primary road systems. Newly-opened highways have allowed for better connections between the major industrial sites and nearby seaports and airports. Taken together, these factors have seen Vietnam attract more and more investment inflows into its industrial zones.
Preferential Treatment for Investors
Notably, the Vietnamese government has lowered its taxes in order to stimulate economic activity and to attract further inflows of FDI. Standard corporate income tax rates, for instance, were reduced to 20% as of 1 January 2016. In 2014, the level was 22% and, before that, 25%.
In order to assist the development of the industrial zones, the government is now offering bespoke tax incentives to registered enterprises within such designated areas. These incentives include tax holidays, preferential rates for corporate income tax and a reduced personal income tax rate for employees. This has acted to reduce the burden of corporate tax upon enterprises, while assisting them in recruiting workers and staff to for their facilities within the industrial zones.
Businesses in Vietnam can also be exempted from certain import tariffs, including duties on materials, components and parts imported for the production of goods for export purposes. This is particularly helpful in the export processing business, a sector that relies heavily on imported inputs for production. All of these incentives have proved significant factors for many foreign investors when it comes to making investment decisions.
Tax Incentives for Industrial Zones: Corporate Income Tax
Standard tax rate: 20% (from 1 January 2016)

Incentive:

10% preferential rate for first 15-year period; plus

4 years tax-free holiday (commencing from the first profitable year),

followed by 50% reduction of corporate income tax for subsequent nine years.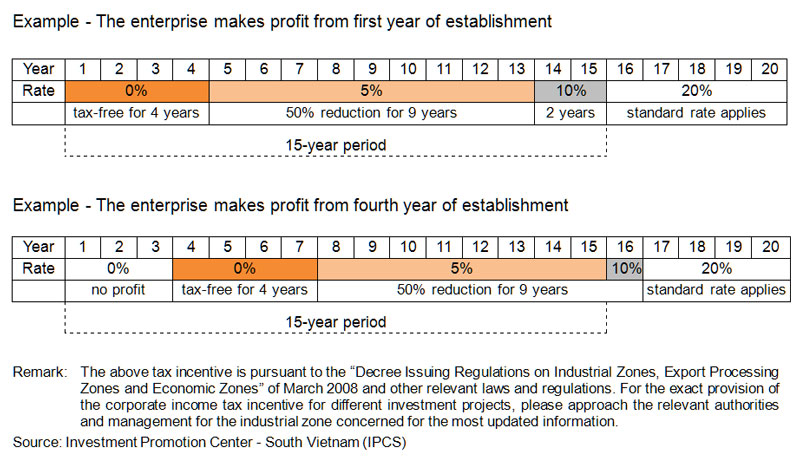 Exemption of Import Tariffs
Materials, components and parts for production of goods for export.

Equipment and machinery imported as part of the fixed assets of any enterprise.

Specialised means of transport, including technological lines that cannot yet be domestically manufactured (e.g. worker-transporting vehicles including cars of 24 seats or more and waterway craft).

Components, details, knocked-down parts, spare parts, fittings, moulds and accessories accompanying machinery, equipment and special-use means of transport.
Remark: Please refer to the original legal document for the exact provisions of the import tariffs exemption.
Source: Extract from Law on Import Tax and Export Tax of Vietnam (No. 45/2005/QH11 of June 14, 2005)
Weighing the Costs and Benefits
Vietnam has also streamlined the application procedures foreign investors are obliged to follow. Such investors are now entitled to enjoy the aforementioned preferential status as soon as they have successfully registered to operate a business in an industrial zone. In the case of the most recently developed zones, it is very often the practice of the local authority to invite foreign partners to invest in the infrastructure and basic facilities of the zone, as well as to handle investment promotion. In such instances, foreign investors can approach either the relevant local authority or the management of the zone in question in order to secure advice on the relevant investment procedure.
It should be borne in mind, however, that Vietnam is still a relatively new investment destination and that the country's administrative bodies often lack experience when it comes to handling the complexities involved with FDI arrangements. Overall, the country has a number of institutional problems that might hinder business activities. As a business grows, for instance, it is not unusual for foreign investors engaged in export processing to look to sell their goods on the domestic market. In such circumstances, any imported materials used for the production of domestically-sold goods would no longer be entitled to duty-free treatment, as such an entitlement applies to export production only. As business dealings become more and more complex, the relevant local government offices may not have a sufficiently comprehensive system in place – or lack the hands-on experience – in order to tackle the relevant customs and related taxation issues.
In the course of such business dealings, companies may also encounter certain other institutional difficulties. While imported materials for export processing production, for example, are normally exempt from standard import duties, enterprises still need to contact the local customs office for customs clearance of the imported inputs required for their day-to-day operation. In order to avoid unnecessary administration challenges, then, it is important for businesses to maintain proper book-keeping when it comes to the logging of imported materials and corresponding exports. Despite this, it is still likely that they will encounter certain bureaucracy during the administration processes, a situation that is not expected to change anytime soon. Problems such as these are likely to catch foreign investors in Vietnam off-guard and create on-going problems for their business operations. In the long term, though, the government has pledged to remove these institutional problems and improve overall administrative efficiency.
One option for foreign enterprises looking to cut through any red tape and shorten the resultant lead time is to hire local agents to help with such issues as tax returns, customs clearance and compliance and labour and sanitation requirements. Regardless of how they tackle them, however, foreign investors should always bear in mind the time and costs that these institutional problems are likely to cause. While weighing up the overall potential benefits and challenges, they should also avail themselves of the requisite professional services and make an effective assessment as to all of the associated risks and costs from both a business and a legal perspective. This would ensure they make an informed decision with regard to investment and business expansion in Vietnam, while maximising the likely sustainability of any such project.
---
[1] Pursuant to relevant enterprise and investment laws of Vietnam, as well as the "Decree Issuing Regulations on Industrial Zones, Export Processing Zones and Economic Zones" of March 2008.
[2] Apart from industrial zones, there are also small amount of economic zones and export processing zones set up in the country in order to promote investment in non-industrial business and export processing activities.
[3] Source: "Vietnam Industrial Parks Review" of the Ministry of Planning and Investment of Vietnam
[4] Figures of Department for Economic Zones of the Ministry of Planning and Investment of Vietnam, as reported by "Vietnam Business News".
[5] Source: "Vietnam Industrial Parks Review" of the Ministry of Planning and Investment of Vietnam
Vietnam
Southeast Asia
ASEAN