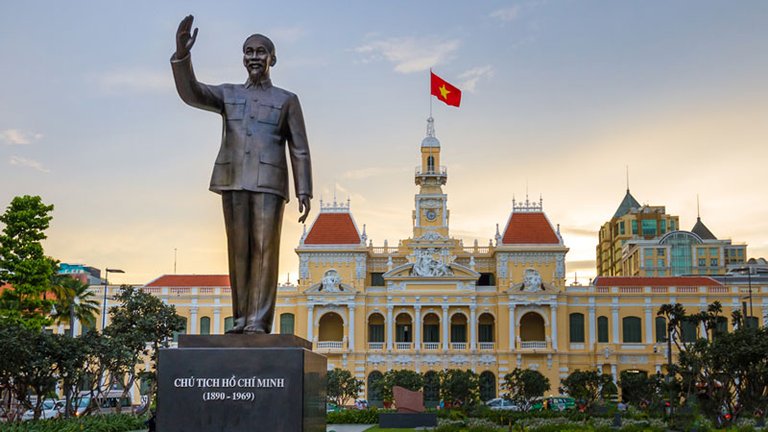 https://hkmb.hktdc.com/en/1X0A9EDH
Vietnam's Emerging Merchandise and Services Trade Opportunities
The remarkable performance of Vietnam's economy has interested investors looking for new opportunities in Asia. While the country's GDP has expanded by more than 5% annually in recent years, foreign direct investment (FDI) has been lured by its labour, production costs and tax advantages. A substantial portion of the FDI actually targets the export-processing opportunities in the country. This has not only caused a surge in Vietnam's external trade, but has also stimulated the demand for various producer and professional services. Improved income has likewise facilitated consumer spending. All these factors have made Vietnam a lucrative market among emerging Asian countries. This is notwithstanding the fact that lack of skilled workers and supporting industries has become challenges to further development of the industries, while the majority of the consumer goods distributors in the country are small and medium-sized with limited direct import capabilities.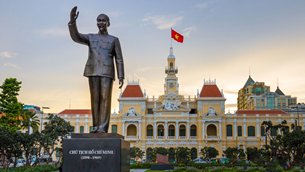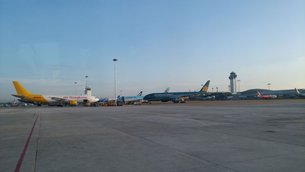 Service Demand Stimulated by Processing Production
FDI inflows into the country's export-processing sector have also been spurred by the conclusions of a number of trade deals between Vietnam/ASEAN and its trading partners, which have enhanced the country's access to overseas markets. Vietnam is a member of the ASEAN Free Trade Area, as well as a participant in ASEAN's free trade or economic arrangements with countries such as China, India, Japan, South Korea, Australia and New Zealand. Vietnam has also concluded separate free-trade deals with Chile, Japan and South Korea, which have come into force. It is also a signatory to the Trans-Pacific Partnership[1] and the EU-Vietnam freetrade agreement, which are pending for ratification by corresponding parties.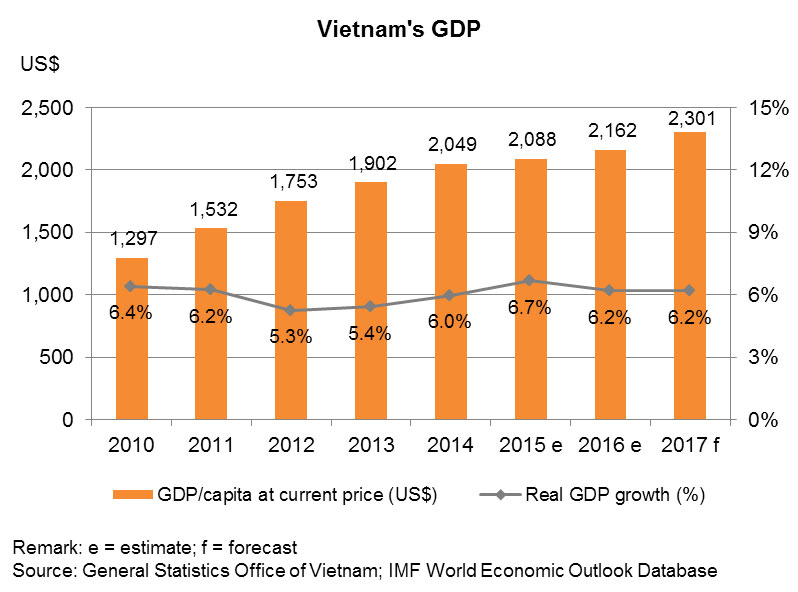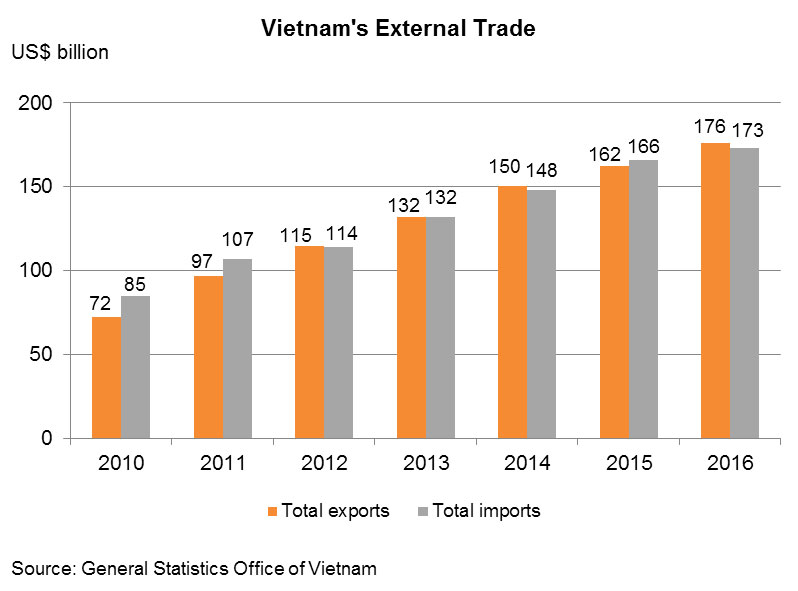 As a result of the increasing investment in the country's processing production, Vietnam's exports surged by an average annual rate of 16% to US$176 billion during 2010-2016, and its imports by 13% annually to US$173 billion during the same period. This has drawn the attention of upstream suppliers for a wide range of industrial inputs, who are interested to tap the supply chain opportunities in Vietnam.[2]
But Vietnam's industrial base is still in the early stage of development. Introduction of more sophisticated processes amid expansion in production has prompted the local and foreign-invested enterprises to seek specialist support such as engineering and tool-making services outside the country. This has created an added opportunity for competent players that can offer comprehensive industrial services to the Vietnam market.
There is also an increasing demand for other producer services in the country. A case in point is environmental services, against the background that enterprises are now required to ensure the compliance of their operations and investment projects with environmental rules and regulations. Another area is logistics, as quality integrated services on par with international standards are sought after on the back of improved infrastructure and enterprises' needs to improve efficiency.[2]
Meanwhile, economic expansion has facilitated income increases, which have sparked demand for a wide range of consumer goods. Although Vietnam's income level in general is still on the low side, consumers are increasingly purchasing fashionable products at affordable prices. Coupled with budding distribution channels and the emergence of certain retail players of larger scale, these have created additional niches for suppliers that can offer their own-design, or even own-brand, products to penetrate the Vietnam market. This is despite the fact that the majority of the distributors are small and medium-sized with limited direct import capabilities.[2]
Enhanced Vietnam-China Supply Chain Relations
Vietnam's expanding economy has also facilitated its business ties with Asia's supply chains, especially those in China. Vietnam imports vast amounts of industrial inputs to support its export-processing production. According to Vietnam's statistics, in 2016 about 29% of its imports were sourced from China, which also absorbed 12% of Vietnam's exports.[3]
China is now the world's producer of various consumer products, as well as a wide range of intermediate goods. As multinationals and other foreign investors expand their processing production in Vietnam, they have to import various parts, components, accessories and industrial materials manufactured in other countries. Such imports also include those produced by their own facilities as well as their upstream suppliers located in China.[2]
At the same time, a smaller portion of manufactured products processed in Vietnam is exported back to China as inputs for further production. This supply chain relation is enhanced by recent increases in China's outbound investment[4], under which Chinese enterprises relocate certain production facilities to Vietnam to capitalise on tax, labour and other production advantages there.[2]
According to China's statistics, its exports to Vietnam grew by an average annual rate of 18% during 2010-2016, and its imports from Vietnam by 26%. Machinery, electrical and electronic products, textiles and fabrics, base metals and minerals, and chemicals – which are largely intermediate goods – accounted for more than 70% of China's exports to Vietnam. Certain foods, plastic and clothing products, some of which are for consumer purposes, also account for a small portion of such China exports to satisfy Vietnam's consumer demand for imported products.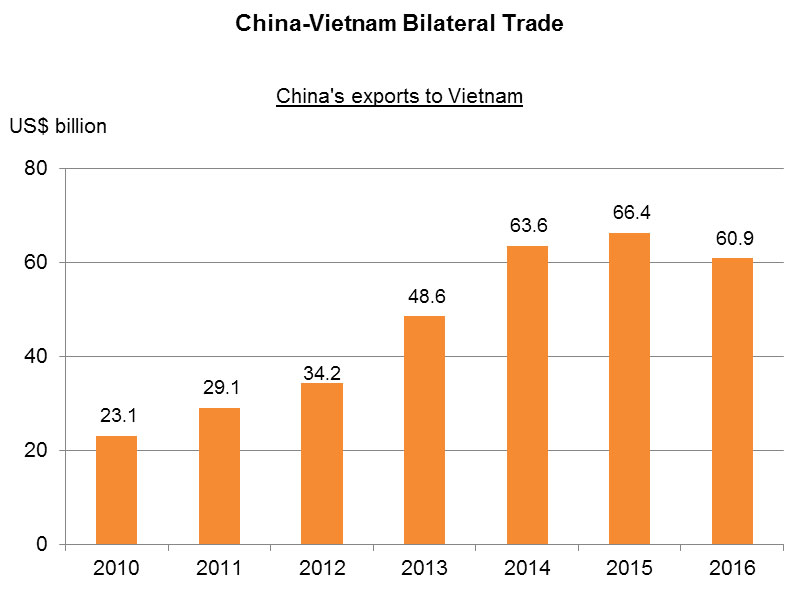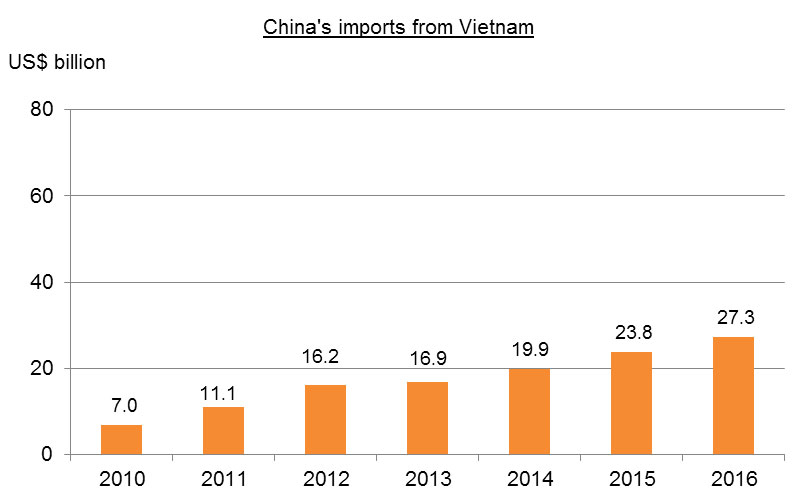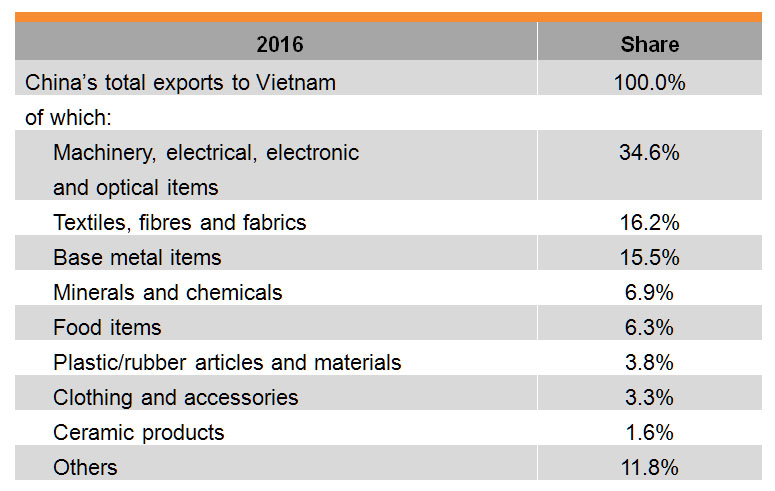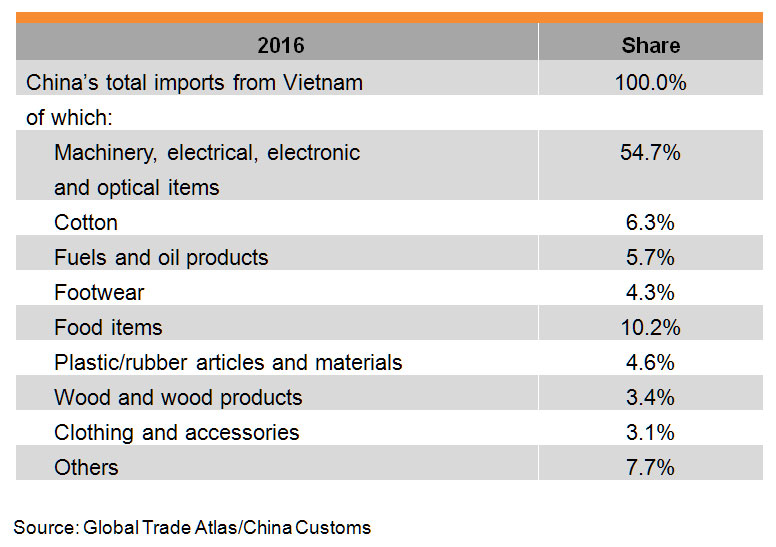 With regard to China's imports from Vietnam, machinery, electrical and electronic products also account for more than 50% of the import value, a reflection of the frequent intra-industry trade among related manufacturers with production facilities in the two countries. Certain consumer goods processed in Vietnam, such as footwear, plastic/rubber articles and clothing, and certain food items, are top on the list of China's imports from Vietnam as well. In view of the increase in spending by Chinese consumers, in the longer term China could become a lucrative market for a wide range of consumer products and quality food items processed in Vietnam.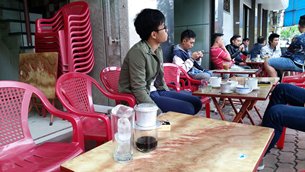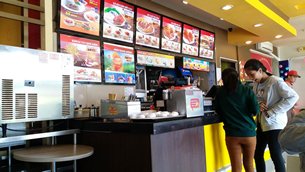 Tapping the Vietnam Opportunities
In view of Vietnam's enhanced supply chain relations with the Chinese mainland, there would be further business for competent players to explore. Hong Kong is an important trading hub in Asia, with close relations with the supply chains on the mainland and other economies in the region. Thanks also to the city's sizable business clusters comprising both local and foreign players, plus its international logistics and marketing networks, Hong Kong is in an advantageous position to tap such emerging merchandise and service-trade opportunities.
Indeed, in 2016 Vietnam was the sixth largest destination for Hong Kong's exports, which were mainly re-exports originating from the Chinese mainland (more than 60%) and other economies (over 30%). Machinery, electrical and electronic items account for the lion's share of such re-exports, of which the majority are parts and components such as semiconductors and other intermediate goods. Other re-exports include textiles and fabrics, base-metal items and vehicle parts. These obviously reflect that different industrial players are using Hong Kong's trading platform to supply a wide range of industrial inputs for processing activities in Vietnam. Likewise, Hong Kong also imports a large amount of intermediate goods from Vietnam for re-export to the mainland and other production sites, on the back of the frequent intra-industry trade in the region.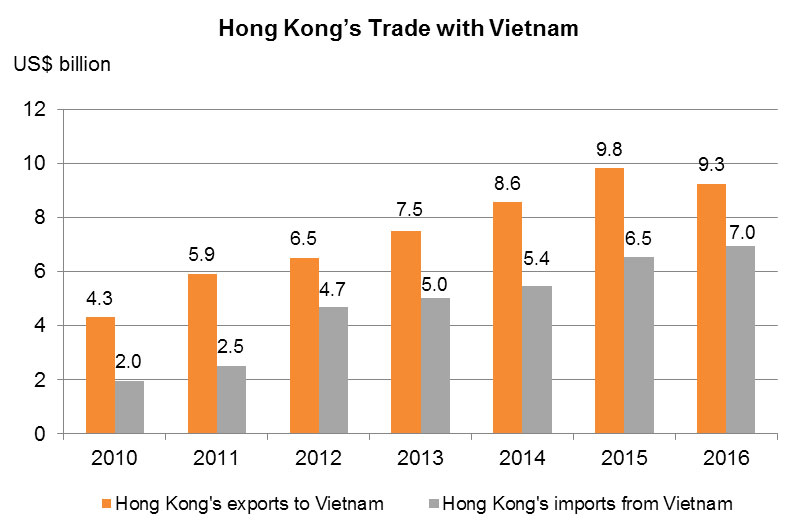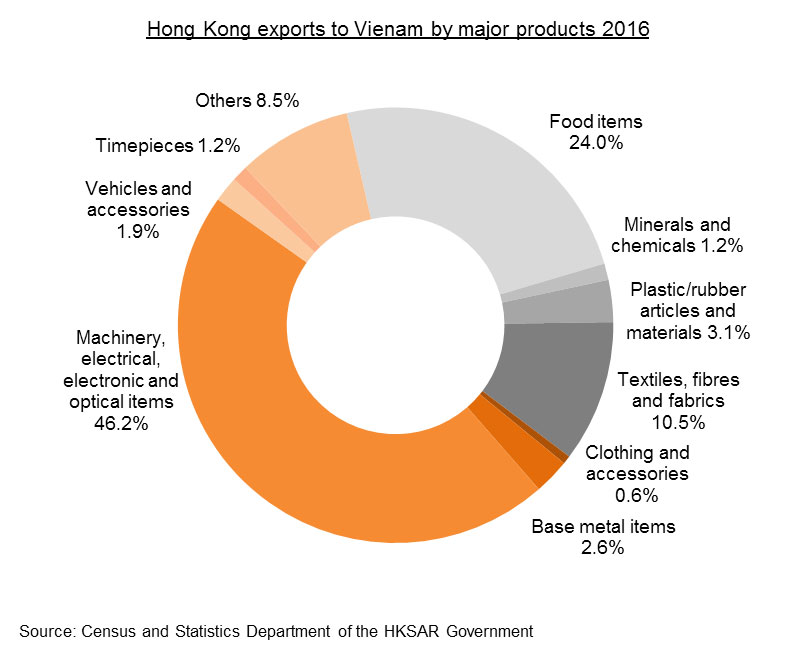 Certain consumer items are also re-exported via Hong Kong to fulfil Vietnam's increasing consumer demand. These include timepieces, fashion clothing and certain finished electronic items such as mobile phones. A number of food products, especially meat, fish and fruit items (including frozen products), account for a higher share (more than 20%) of such re-exports. This is in line with Vietnam's import pattern that foodstuffs account for about 40% of its consumer-goods imports, as Vietnamese consumers are striving to improve their living standards[5]. This is also thanks in part to the comprehensive cold-chain logistics services offered by Hong Kong players, which make the city an efficient logistics centre for food distribution in Asia.
In addition, Hong Kong is an international business hub in Asia. Service providers in the city have the expertise and connections to provide one-stop services in the Vietnam market, such as producer, logistics and environmental services, as mentioned. Hong Kong is also the preferred service platform for mainland enterprises looking to invest abroad. As business ties between the mainland and Vietnam get closer and closer, mainland enterprises are expected to utilise further professional services to support their trade and investments in Vietnam, providing added opportunities for Hong Kong's service suppliers.
Related Research Articles:
Tapping the Chinese Investment Opportunities in Vietnam's Manufacturing Sector
---
[1] US President Donald Trump signed an executive order in January 2017 withdrawing the United States from the Trans-Pacific Partnership trade deal.
[2] For more information, please refer to the related research articles mentioned above.
[3] Source: Vietnam Customs
[4] For details about China's outbound investment, please see China Takes Global Number Two Outward FDI Slot: Hong Kong Remains the Preferred Service Platform.
[5] For more information, please see Vietnam's New Distribution Opportunities.
Mainland China
Hong Kong
Viet Nam
Mainland China
Hong Kong
Southeast Asia
ASEAN