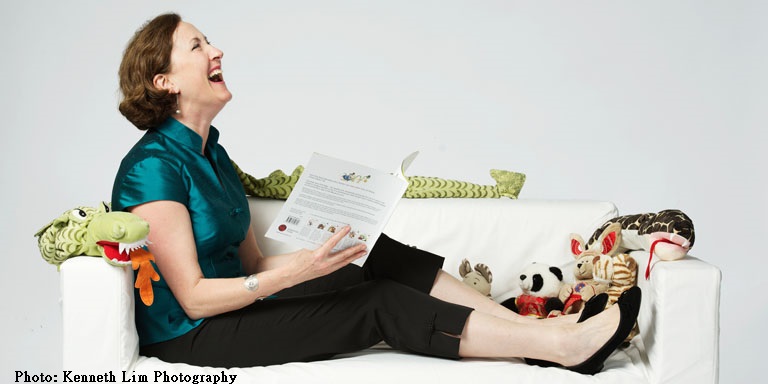 https://hkmb.hktdc.com/en/1X0A99YB
Tall Tales
Children's book writer Sarah Brennan explains why Hong Kong is an ideal base for self-published authors.
Hong Kong-based author Sarah Brennan has been writing her popular Chinese Calendar Tales series since 2007. The self-published writer set up her company, Auspicious Times, to market the children's series based on the Chinese zodiac, which to date, have sold in Hong Kong, the Chinese mainland, Australia and Singapore. Ms Brennan's passion for writing and literacy sees her travel the world and to schools and festivals around Hong Kong, including at this month's sixth Hong Kong International Young Readers Festival.

How did you become a children's author?
I've been writing since I was a kid, but I actually was a lawyer for almost 20 years. I think that helped – [you understand] how the law operates and to an extent how businesses operates. You have to make a book that's going to sell, you have to be very pragmatic in your choices and you need to be very tenacious.

[I moved to Hong Kong in 1998] and started writing a tongue-in-cheek parenting column for a local parenting magazine. [In 2004] the editor asked if I had done anything for children and he picked one of my stories and asked Harry Harrison to illustrate it. I suppose because I had a very pragmatic background I asked, "how do we sell this?" I immediately headed into the schools. Because the kids enjoyed the stories, I started being asked into many other schools. We had plenty of success and the next year the publisher and I did another book that once again sold very, very fast.

How did you get your idea for your Chinese Calendar Tales?
As I was in all these Hong Kong schools, I felt that if I was one of the kids, I would want to read something about my own culture. The Tale of Chester Choi, which is about a dragon, was published in 2007 and I decided to publish it myself. It became a Hong Kong number-one bestseller for kids, and from that book, I had the money to do a story about a rat that ends up at the Beijing Olympics. Every year after that there's been a new tale. We're now at the rooster, with The Tale of Rickshaw Rooster, and there's only the dog and the pig to go.

What are some of the challenges of being a children's author?
Gone are the days when you could write a beautiful book and rely on that to sell, or be an author who doesn't want to do the promotional work. You have to be marketable as a person and your books have to be marketable as well. It's grinding work, going on tour, going to schools, going to shops and maintaining a strong online presence.

In Hong Kong, it's acceptable to be a self-published author and from that point of view, Hong Kong is a great place. It's very pro small-business and a small melting pot with many people, so it's a great place to set up a creative industry. But of course you have to work hard. I'm a writer first and a publisher second, but publishing takes up to 90 per cent of my time. I don't get to write nearly as often as I like.

Why self-publish?
I wanted the challenge. But one of the reasons why I self-publish is because I can do things like put in rich language. A trend in the publishing industry is to dumb down the book to catch the reluctant reader, but then it's readers that want a challenge who suffer. I believe children are more intelligent and able than we give them credit for. Immerse them in rich concepts and rich words – elevate rather than dumb down.

My books are sold directly into schools and we have some statistics where my readers are 55 per cent boys and 45 per cent girls, which I think is down to Harry Harrison's illustrations, which are so much fun. It's also the kind of book – there's nothing soft or gentle or fluffy. The books are in your face, loud and noisy and boys are really responding, which is good for me as it bucks the trend that boys are reading less and less.

How do you encourage literacy and a love for books through your writing?
Little kids are given screens from the age of one or two and what gets lost is imagination, empathy – everything you get from reading physical books. Mothers and fathers have to read books. But if the first thing that parents reach for when they come home is a television, children will copy it. Parents can complain about their kids not reading books, but if the first resort of the parent is digital technology, then that will be the kid's first resort.

When I do my story readings, I have to make them fun. I get them involved in the story, in the culture and history that's in them. Harry's illustrations are brilliant and they always have ways for me to get the kids involved. When I do writing workshops, I always talk about why books are good for the brain. I hammer home about freeing time and having time to be bored because it's out of boredom that you get creativity.

With the Young Readers Festival, if kids feel they can meet an author, it brings the reality that you can also be an author. You get such a range of artists and kids will always connect with an author or an artist who becomes accessible and they become interested in reading and writing. Parents should also attend literary festivals and should be talking about it around the dinner table.

What's next for you?
In June, [Australian publisher] Allen and Unwin will publish my children's book Storm Whale, which has had the UK rights sold and will be featured at the Bologna Children's Book Fair. I have lots of plans for other series. I am passionate about Chinese history and culture and would love for kids to understand the impact Chinese civilisation has had on the world: how we were connected by the Silk Road, about the cross-cultural connections that we have. I'm also a total nature freak and have plans for a series on Australian bush animals.
Related Links
Chinese Calendar Tales
Sarah Brennan
Young Readers Festival
Books & Printed Items
Printing & Publishing