https://hkmb.hktdc.com/en/1X0A982A
ASEAN in Focus: Prospects for Production Bases in Indonesia
At a time of rising production costs across Asia, Indonesia – a country endowed with an abundant labour supply and rich natural resources – is increasingly becoming a prime manufacturing destination. Continued efforts to improve its infrastructure and administrative efficiency, along with an increasingly affluent domestic market, have allowed Indonesia to successfully compete with other members of the ASEAN Economic Community (AEC) in order to secure a larger share of the region's manufacturing investment. It has also become one of the nation's priority sectors in terms of attracting FDI.

FDI: Catching Up with Neighbouring ASEAN Countries

Not so long ago, Indonesia was noticeably lagging behind in the battle to attract investors looking for alternative production bases outside of China. The GDP contribution of Indonesia's non-oil and gas manufacturing sector stalled around the 18% mark for five years and the country trailed Singapore, Thailand, Malaysia and Vietnam in terms of global manufacturing competitiveness[1] rankings. As with many of the word's emerging economies, Indonesia was also far from free of red tape and corruption. Moreover, due to an unclear delineation of property rights, the cost of registering property in Indonesia could be twice as high as doing so in other ASEAN countries. Similarly, land use disputes, including duplicate land ownership and land management certificates, were widely reported.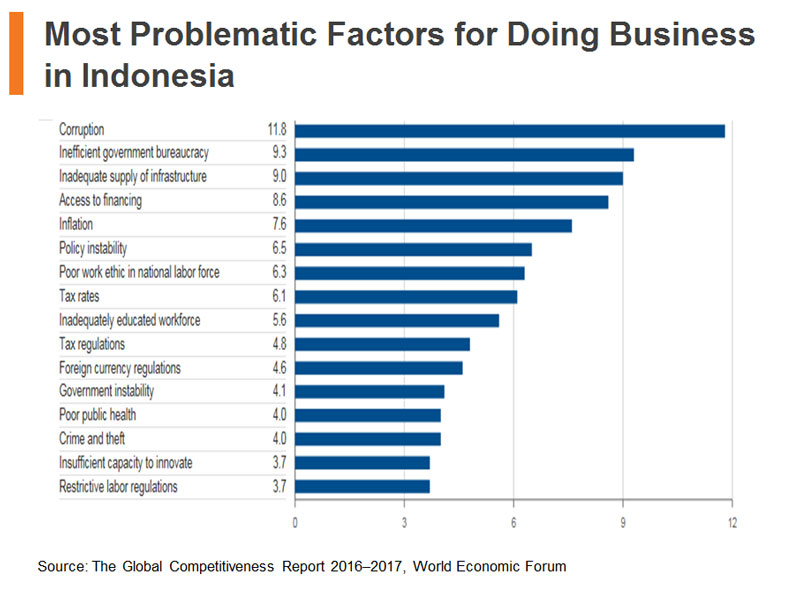 As part of the process of playing catch-up, the Indonesian government promised to combat corruption and cut bureaucracy. In line with this, since the third quarter of 2015, the Indonesian government has issued a series of Economic Policy Packages relating to deregulation, de-bureaucratisation, law enforcement and business certainty, as well as to the overall ease of carrying out commercial activities. It has, for example, combined a number of the regulations relating to national product standards – Standar Nasional Indonesia (SNI) – into one as part of a bid to eliminate unnecessary compliance expenses and improve cost efficiency.

Another sign of just how determined the country is to create a competitive and business-friendly investment climate is its new integrated one-stop service centre (PTSP). Launched in January 2015 by the Indonesia Investment Coordinating Board (BKPM) and supported by 22 Indonesian ministries and government agencies, the PTSP's remit extends across the licensing processes required for all business sectors.

Special Economic Zone (KEK)

The government assigned the status of Special Economic Zone (Kawasan Ekonomi Khusus or KEK in Bahasa Indonesia) to 10 areas specialising in particular industries, ranging from palm/rubber processing and automotive industries to fisheries, logistics and tourism. In order to attract more investment and boost trade, these KEKs offer preferential tax and customs arrangements and offer similar facilities to free trade zones (FTZ), bonded warehouses and industrial estates.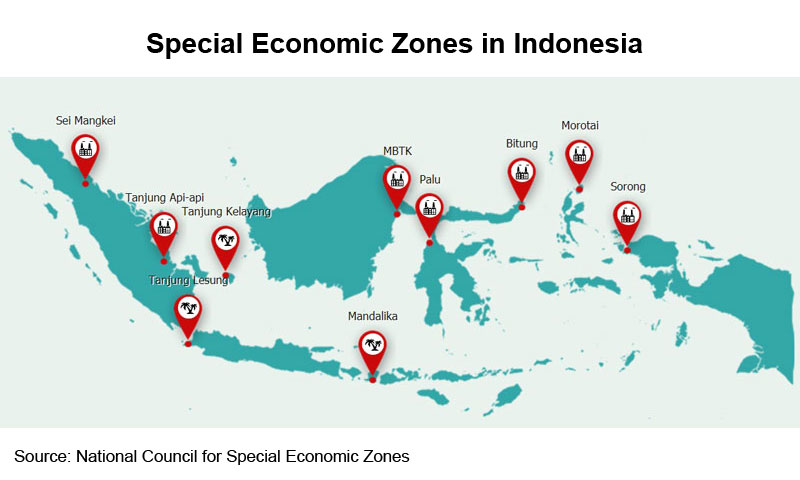 Additionally, a range of new fiscal incentives and special arrangements for land ownership have also been promised. Joko Widodo, the Indonesian President, has stated his intent to establish 25 KEK in Indonesia by 2019. These 25 are in addition to the 10 zones currently under development – Sei Mangkei in North Sumatra, Tanjung Api-Api in South Sumatra, Tanjung Lesung (tourism) in Banten, Mandalika (tourism) in West Nusa Tenggara, Maloy Batuta Trans Kalimantan (MBTK) in East Kalimantan, Palu in Central Sulawesi, Bitung in North Sulawesi, Morotai in North Maluku, Tanjung Kelayang (tourism) in Belitung and Sorong in West Papua.

Improving Infrastructure and Port Efficiency

Largely on account of its underdeveloped infrastructure, it is estimated that Indonesia's logistics costs account for up to 26% of the nation's GDP, double the figure for Singapore or Malaysia. This infrastructure deficit and the resultant unsatisfactory logistics performance have been seen as the foremost constraint on Indonesia when it comes to attracting manufacturing FDI and boosting the development of its export-oriented manufacturing industry.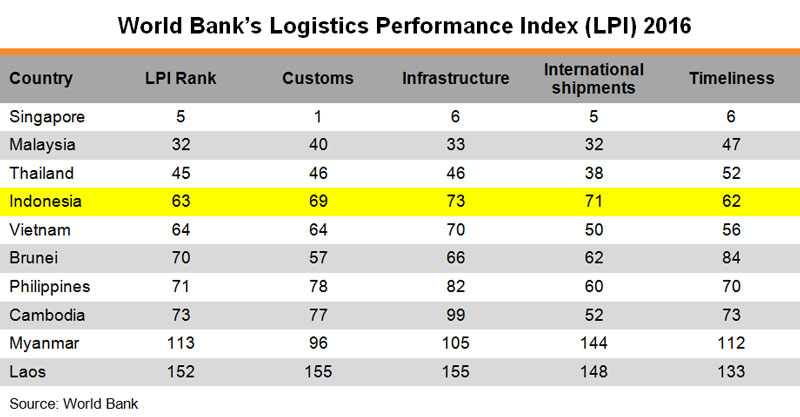 In any competition for labour-intensive, export-led manufacturing relocation and outsourcing, Indonesia underperformed compared to most of its regional peers. Between 1998 and 2015, for instance, exports of leather goods, apparel, footwear and electronics from Indonesia to the US grew far more slowly than from other countries within the ASEAN bloc. As a result, Indonesia's share of US imports of such products dwindled over the same period.


Another concern to would-be investors was the lengthy dwell times at Indonesian ports. This particular issue is known to have deterred a number of investors from relocating their manufacturing activities to the country or using it as a hub for domestic and regional distribution. While average port dwell times may have been reduced from 4.7 days in late 2015 to just over three days at present, Indonesia still cannot compete with Singapore (which averages 1.5 days) or Malaysia (three days).

The lack of an effective inter- and intra-island transport network has made domestic logistics just as complicated as international shipments. In part, this explains why people living in East Indonesia often find it cheaper to import than to buy goods from other parts of Indonesia.

In order to counter these problems, the government has announced plans to develop 24 new seaports, 15 new airports, 2,650 kilometres of new roads, 1,000 kilometres of new highways and 2,150 kilometres of new railway lines by 2019.

Going by current estimates, though, the state and regional budgets can only deliver around 40% of the total infrastructure funding required under the terms of the National Medium Term Development Plan (RPJMN) 2015-2019. Specifically, this comes to IDR 1.98 quadrillion (approximately US$142 billion) out of IDR 4.8 quadrillion (US$345 billion). It is expected that this shortfall will be covered through co-operation with the private sector on a Public Private Partnership (PPP) basis.

The Ministry of National Development Planning has issued Ministerial Regulation No. 4 of 2015 on the implementation Procedures for PPP in Infrastructure Provision. This is designed to encourage private sector participation in the nation's ambitious infrastructure development initiative by facilitating private investment and accelerating infrastructure provision, while simultaneously promoting the sharing of knowledge, experience and technology.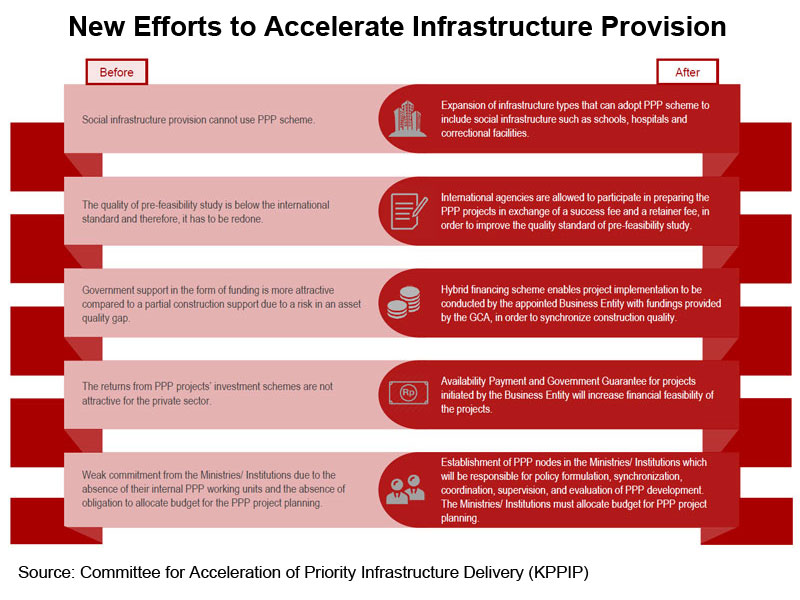 Simplified Investment Procedures for Industrial Estates

By present estimates, it could easily take up to 18 months to process all the licences necessary for a corporate business to begin the construction of a manufacturing facility in Indonesia. The standard procedure for incorporating a foreign investment company (PT PMA) alone can easily take up to 60 days. The whole investment processing period, however, can now be cut down to around one or two weeks in one of the 14 designated Industrial Estates in North Sumatra, Banten, South Sulawesi, East Java, Central Java and West Java. This is due to new exemptions from the majority of the previously necessary licences and the right to start project construction prior to obtaining construction permits.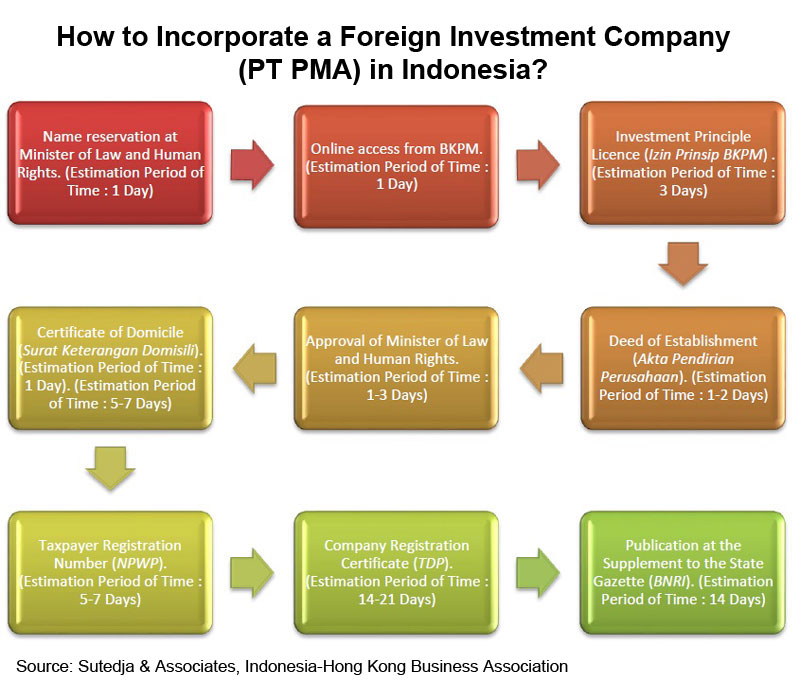 To further promote the development of Industrial Estates across Indonesia, there now exists a three-hour investment express service. This has recently been made available to all investors looking to invest a minimum of 100 billion rupiah (US$8 million) and/or to employ no less than 1,000 local workers at designated Industrial Estates. This fast-track investment licensing service includes a certificate of incorporation, approval as an Indonesian legal entity by the Ministry of Justice and Human Rights and a taxpayer Identification Number (NPWP). Most importantly, it also includes an investment licence, which also serves as a construction permit enabling the holders to immediately begin any investment related to an Industrial Estate.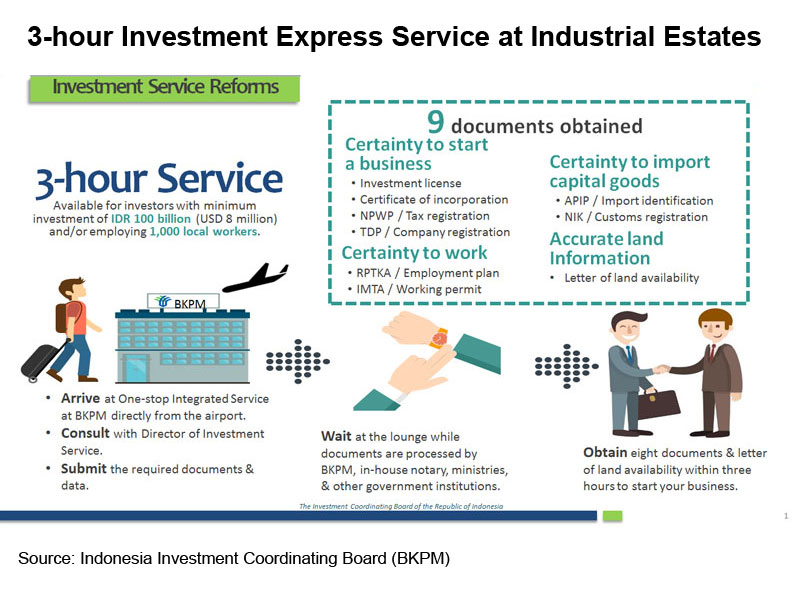 As well as the Indonesian government, an increasing number of private industrialists and conglomerates are making a considerable effort to boost the development of supplier clusters. By establishing an efficient supply chain, it is believed that manufacturers from a variety of industries could be induced to relocate and outsource to Indonesia. A prime example here is the Jababeka Industrial Estate, a signature project by Pt Jababeka Tbk, Indonesia's first publicly-listed Industrial Estate developer. Since it was established in 1989, it has come to be regarded as the country's most successful industrial estate in terms of its ability to attract both local and international businesses.

Located along the Bekasi-Cikampek industrial corridor, 35-kilometres east of Jakarta and in the heart of Indonesia's largest manufacturing zone, Jababeka offers a complete modern infrastructure set-up, including dedicated power plants and water treatment facilities, as well as direct access to highway and railway networks. It is also Indonesia's first – and so far only – integrated Customs Services Zone (Cikarang Dry Port, or CDP), offering a one-stop service for cargo handling, customs and quarantine clearance, as well as other export-import procedures.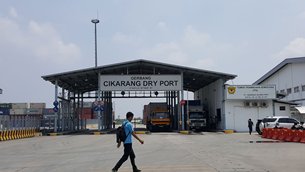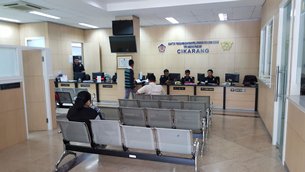 CDP is strategically located in a prestigious manufacturing and industrial area. It is surrounded by more than 10 Industrial Estates including PT Kawasan Industri Terpadu Indonesia China (KITIC) – China's first Indonesian economic and trade cooperation zone – as well as in excess of 3,000 manufacturing companies, which are together responsible for more than 60% of the throughput of Tanjung Priok, Indonesia's busiest seaport.

The dry port's importance to the on-going development of Indonesia's manufacturing industry development was further underlined in April 2011 when it became an official port of origin and destination, complete with its own international port code – IDJBK. Today, exports and imports can be facilitated directly using the multi-model transport bill of lading accepted by its 29 shipping line partners and many other logistics services providers, many of which offer both international and domestic distribution services.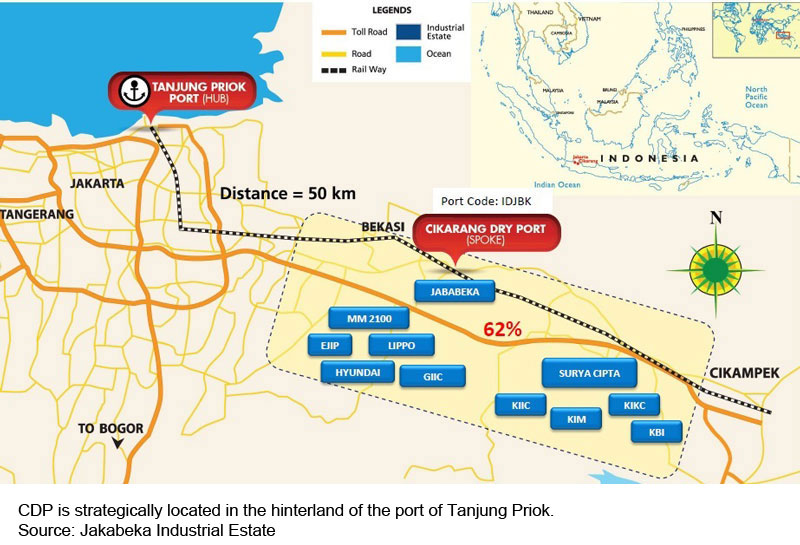 Today, Jababeka is home to a workforce of more than a million people, employed across some 2,000 different companies. In addition to its majority of Indonesian businesses, it is also home to companies from more than 20 other countries and regions, including Australia, the Chinese mainland, France, Germany, Hong Kong, India, Italy, Japan, Turkey, the UK and the US, as well as a number of its ASEAN peers, notably Malaysia, the Philippines, Singapore and Thailand.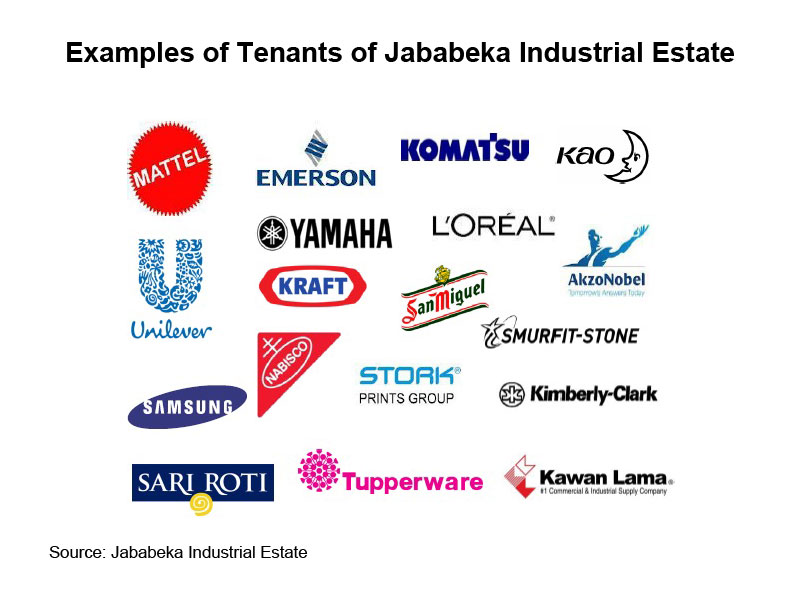 Over the long-term, more Industrial Estates are expected to replicate the success of CDP, in line with both the national manufacturing development priorities and a number of ASEAN initiatives, most notably the ASEAN Economic Community (AEC), which aims to improve intra-regional connectivity and trade within the bloc. One such estate is a new industrial complex in Kendal, Central Java, which has been jointly developed by Pt Jababeka Tbk and Singapore's Sembcorp.

Hong Kong Businesses Focussing on the Rejuvenated Indonesia

In addition to the handful of companies already operating in the Jababeka Industrial Estate, an increasing number of Hong Kong manufacturers are now interested in the relocation and outsourcing opportunities offered by Indonesia. One such business is Combine Will International Holdings Limited (Combine Will), one of the leading Original Design Manufacturers (ODM) and Original Equipment Manufacturers (OEM) of corporate premiums, toys and consumer products in Hong Kong and the Chinese mainland.

In July 2016, after careful comparison of the alternatives across the ASEAN bloc, Combine Will announced the acquisition of 28 plots (5.6 hectares) of industrial land in Central Java. In line with Combine Will's strategy of diversifying its production base, this will be the site of a new 30,000 square metre factory. By relocating its labour-intensive toy production operations, the company hopes to achieve greater cost efficiencies, primarily through lower labour costs.

In terms of toy production, however, Indonesia still lags behind Hong Kong and the Chinese mainland with regard to adherence to codes of conduct, product safety and environmental suitability. Nevertheless, Simon Chiu, the Executive Director of Combine Will, is confident that the new factory – due to be completed in the first quarter of 2017 and online by Apr/May 2017 – can make good use of the country's abundant supply of relatively cheap labour, enhancing the competitiveness of its output in its major export markets, including the US.

Despite the infrastructure constraints, Chiu believes Indonesia still offers great potential as a site for toy manufacturing relocation, especially for those manufacturers of simple items that use comparatively few electronic inputs and more plastic and textile materials. This might well be why Indonesian-sourced items have increased their share of the total US imports of ASEAN toys over recent years.

Meanwhile, the low minimum wage [2] in Central Java and its proximity to one of the country's leading export ports – Tanjung Semarang – are also making the export-led manufacturing sites outside the country's major cities increasingly competitive and viable for manufacturers.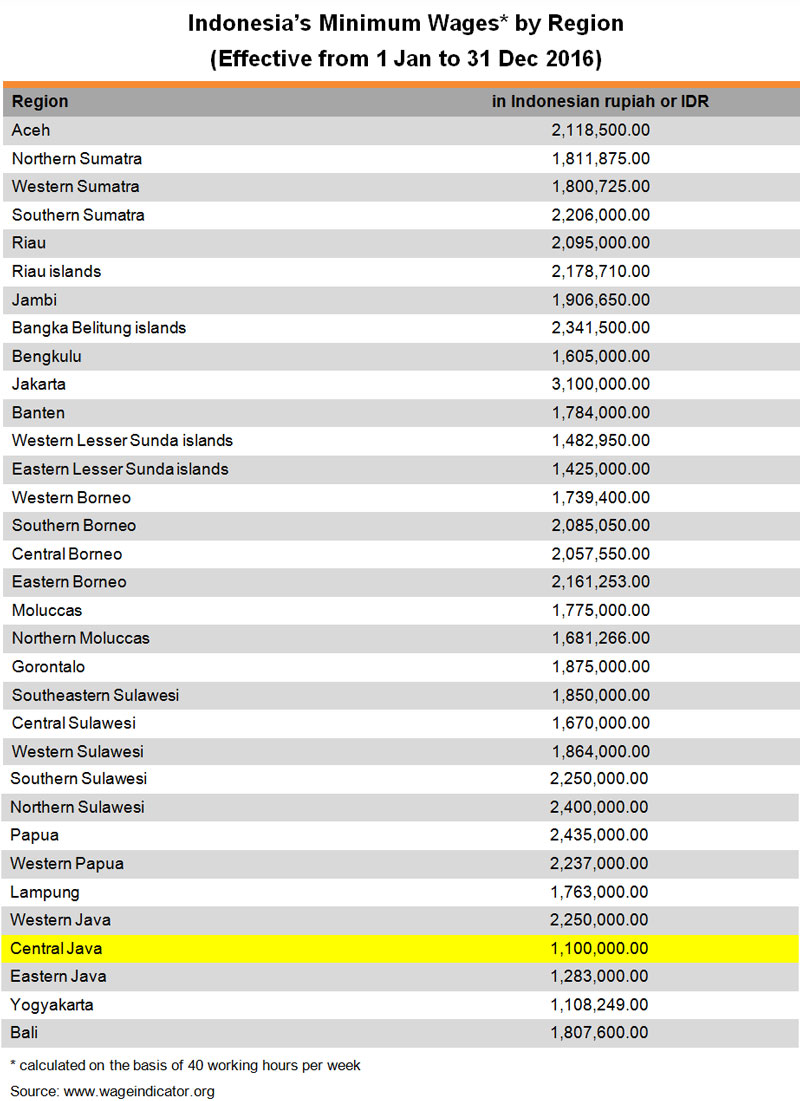 The appeal of these various production sites has been further enhanced by many of the free trade agreements that Indonesia is now a party to. The Sino-ASEAN free trade agreement, for instance, which affords duty-free status to 90% of all the products traded between China and ASEAN member states, makes manufacturing in Indonesia ideal for any company targetting both China and the ASEAN bloc.

Overall, the growing strength of its domestic manufacturing sector is set to establish Indonesia as a strong alternative production base. It has also underlined the suitability of Indonesian manufacturers as outsourcing partners for Hong Kong and mainland China-based businesses.
---
[1] Deloitte Touche Tohmatsu Limited and US Council on Competitiveness, 2016 Global Manufacturing Competitiveness Index

[2] The Indonesian government has enacted a new mechanism to determine minimum wages, which takes into account the current fiscal year's inflation and GDP growth rates. The formula to determine new (next year's) minimum wage is as follows: existing minimum wage + existing minimum wage x (the sum of annual inflation rate and GDP growth of the current year). The formula is not applicable to eight provinces – East and West Nusa Tenggara, Maluku, North Maluku, Central Kalimantan, Gorontalo, West Sulawesi and West Papua – where minimum wages are still below the government-determined basic cost of living. Instead, they will be granted an extra 5% increase every year for the next four years.
Indonesia
ASEAN
Southeast Asia