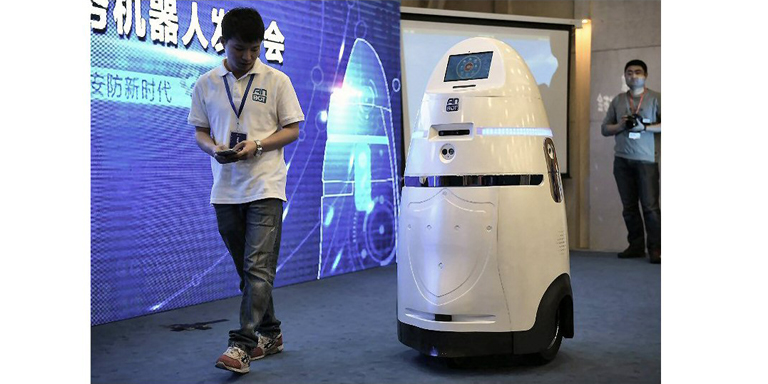 https://hkmb.hktdc.com/en/1X0A9778
China's Robo Revolution
Big data and robo-patrols are paving the way for smart and secure cities in the Chinese mainland.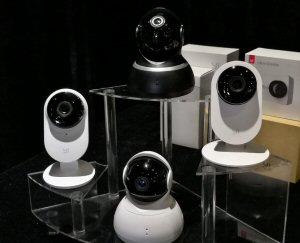 Recent developments in artificial intelligence (AI) and Internet technology have unleashed various revolutionary smart-security products in the Chinese mainland, leading to rapid expansion of the sector and offering several lucrative opportunities for tech-savvy businesses.

In recent years, intelligent remote surveillance has become a fact of life in millions of mainland households. The dawn of the two-child era has also resulted in a boost for the smart-home security market, with high-tech products embraced as a key element in monitoring the safety and security of babies and young children.

One company looking to capitalise on this application is YI Technology, the dedicated smart-camera subsidiary of Xiaomi, the Beijing-headquartered electronics giant. Last December, the company released an upgrade to its YI Dome Camera 1080P, the first generation of which sold more than three million units in the domestic and export markets in the past two years. It was also listed among the best-selling items during Amazon's 2016 Black Friday sale in the United States.

As of mid-January, sales of the new camera ranked first among similar products on the JD.com e-commerce platform. Overall, the Rmb169 (US$24.56) camera enjoyed an average positive approval rating of 96 per cent, based on a total of 22,000 user reviews.

According to a member of the company's marketing team, one of the product's key benefits is its use of recognition sensors, a feature that can distinguish the actual sound of a baby crying, reducing the incidence of false alarms. Camera footage can be accessed either via a smartphone or a PC, while the system also includes a two-way intercom facility.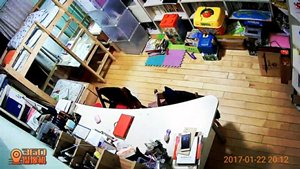 Overall, remotely monitoring children and pets, while keeping an eye out in case of fire or theft has boosted demand in smart security. It has also been fuelled by a number of Central Government initiatives, notably the Smart City and Safe City strategies, as well as the expansion of the Internet Plus digital commercial programme.

Apart from the YI suite of digital products, other market leaders in the mainland's smart-security sector include ZTE Corporation, 360 and Xiongmai. While all of their ranges have a number of individual features, several technical attributes are common to all of them – high-end motion detection algorithms (delivering considerable sensitivity), compatibility with remote smart devices, a 360-degree panoramic option, and an infrared night-vision function.
Automated Security
Recent technical advancements have also ushered in the age of robot plus security, whereby human monitoring/enforcement can be complemented by digital intervention. In line with this, the AnBot – billed as China's first intelligent security robot – debuted at last year's Chongqing High-Tech Fair.

A little shorter than the height of an average woman, the AnBot weighs about 77 kilogrammes and features an array of smart systems and sensor devices analogous to the human brain and visual/auditory senses. Its features are said to include a smart-learning function, intelligent video analysis, an autonomous patrol capability, intelligent monitoring and detection, remote aggression intervention and an auditory/visual alarm system. It has a maximum speed of 18 kilometres per hour, patrols at an average of one kilometer per hour, and is capable of 18 hours of continuous operation.

Apart from the AnBot, other mainland companies have developed intelligent security robots. Robots created by Shenzhen's Smart IOT Technology Group (CIOT), for instance, are already used at a number of industrial parks across the country.

The CIOT robot features an audio and video intercom system, indoor wireless navigation, human-computer interaction, face recognition, autonomous obstacle avoidance, self-charging and an autonomous patrol facility. It is said to be particularly suitable for use in industrial parks and premises where hazardous chemicals are stored.

The success of such systems are said to be down to several factors, most notably shortcomings from the use of human security personnel. First, there are certain areas that are inaccessible to human security guards, making them difficult to monitor. Similarly, the harsh environments and adverse conditions in some facilities make them unsuitable for human patrol.

There are also a growing number of cost issues. Wages for security staff continue to rise every year, with the problem exacerbated by rapid employee turnover and compromised reliability. Automated systems, by comparison, can be relatively cheap to operate, while retaining a high level of scrutiny and continuity of service.

According to the manager of a security firm, one intelligent security robot can manage the workload of up to four staff. As the required technology matures, applications for such systems are expected to open up in the banking, business premises, community, exhibition halls and government building sectors. Many local branches of the China Construction Bank, as well as the Foshan Administrative Services Centre in Guangdong, already rely on robotic security solutions.
Cloud Solutions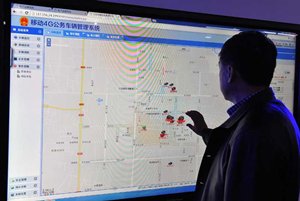 At present, the security sector is seeing traditional patrol protocols gradually being replaced by online high-definition intelligent surveillance systems. This has created soaring volume of video data, all of which has boosted demand for storage and high-end analytical systems.

In terms of storage, the challenge is to deliver continuous, stable and reliable operation, while facilitating the management of a vast volume of data. One of the most popular solutions has been the adoption of a cloud-storage system, which has the dual advantages of freeing-up a user's storage space while offering a convenient cross-region video search facility.

ZTE, for instance, offers up to 30 days of cloud storage for video data, along with several back-up security options. Not to be outdone, YI is looking to introduce an intelligent hard disk video recorder complete with a multiple encryption option and P2P remote connection technology. The latter facility is said to enable users to access a multi-screen viewing and replay option.

In the case of business users, the existing cloud monitoring protocol adopted by Hikvision, Huawei and other well-known companies in the sector is compatible with the services of the majority of hosting service providers and data analysis companies. This allows for access to a variety of intelligent video data analysis options.

Overall, the adoption of big-data technology is considered essential for maximising internal data acquisition, ensuring comprehensive structural analysis, optimising all processing, reducing costs and improving efficiency. Ultimately, integrating information sources from the security sector with data from other industries is an inevitable next step.

In terms of the application of such data, a number of European railway stations already track the flow of millions of their passengers via an array of visual sensors mounted in shared public spaces. Subsequent data analysis has allowed transport staff to optimise passenger flow and integrate such findings into departure scheduling.

In line with this, analysis of smart-security data is expected to be more widely used than just for monitoring premises and providing intruder alerts. Instead, it will provide unparalleled insights into many urban developments and commercial issues, allowing for greater than ever informed decision-making.
For more China market opportunities, please visit: http://research.hktdc.com.
Hong Kong
Mainland China