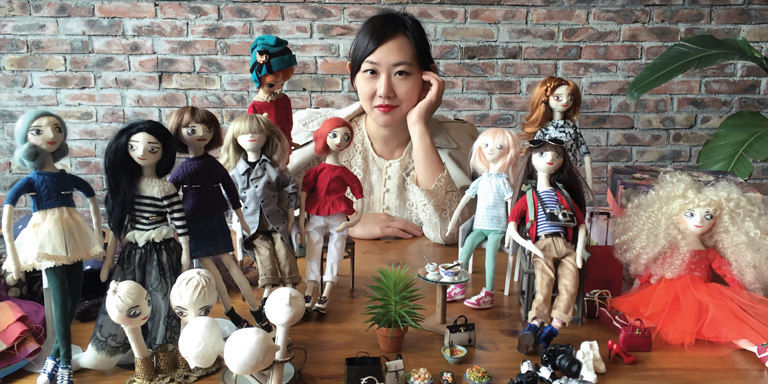 https://hkmb.hktdc.com/en/1X0A938J
Gauze and Dolls
Hong Kong design maven Ning Lau's childhood passion has caught the imagination of the fashion world.
Ning Lau has over 15 years' experience in the fashion retail industry, serving six years as Vice President of Marketing and Creative at upscale Hong Kong fashion retailer JOYCE. Before going into fashion retail, Ms Lau co-founded the Store Magazine, which was sold in Hong Kong, Taiwan, Paris and New York and was later acquired by the Asia Pacific Publishing Group. Ms Lau left JOYCE in 2013 to set up the online fashion platform whoareinvited.com, and it was during that time that the designer turned to crafting handmade dolls on the side, catching the eye of the fashion world.

She has since collaborated with major brands, including Hong Kong fashion retailer I.T and Shue Uemura, and her dolls featured at the 2015 Hong Kong Fashion Week for Spring/Summer. In her latest HKTDC partnership, Ms Lau last month wrapped up a doll exhibition at the HKTDC Design Gallery, featuring a collection inspired by some of Hong Kong's best-known cultural highlights.

How did you end up becoming a doll artist?
At the time, I was too busy running my creative online digital platform, whoareinvited, and felt very stressed. I started thinking I needed something to de-stress myself and have a more balanced life. As I'd been collecting dolls since childhood, I decided to try my hand at making my first doll. Using a wooden clothespin as the torso, I stitched together a body from cotton fabric and stuffed it with cotton. But I used the wrong clay so the head was too heavy. That first doll was called Lisa.

How has doll-making led to collaborations with major fashion brands?
I didn't realise that people would like my dolls as much as me. I design each of them to have its own character, personality and story. Since my first creation in 2015, I have made more than 50 dolls, including collaborations with I.T, Shu Uemura, and for my former employer JOYCE. As part of JOYCE's Christmas campaign, I designed 10 dolls, dressing them in a selection of archive pieces from designers like Alexander McQueen, Yohji Yamamoto and Jean Paul Gaultier. They sold out in one day.

Now I take custom orders through my Facebook page, where I try to make mini versions of my customers to make them one of a kind. It usually takes me about 30 to 40 hours to complete one doll.

Tell us more about your exhibit at the HKTDC Design Gallery.
It's my honour to be invited to do this latest HKTDC project. I've always wanted to design a Hong Kong collection as I was born and raised here. I travel to many different countries for business and pleasure, but I think there is no place like Hong Kong.

I created 10 dolls inspired by Hong Kong's popular cuisines and attractions; for example, dim sum delicacies such as shrimp dumplings, fish balls, pineapple bun, sweet and sour pork, egg tart, the Peak, Lan Kwai Fong, preserved fish, the Victoria Harbour night view and the Chinese bridal gown.

I used a selection of rich and complex fabrics to express the uniqueness of Hong Kong with fashionable make-up design and hair styling, to reflect the beautiful integration of modern and traditional Hong Kong. In addition, the exhibition launched my new product collection, Ning Lau Dollartist, comprising fashion and travel accessories.

What are your thoughts on Hong Kong design?
I think we have many highly talented people in this city based on what I've been seeing serving in judging panels over the years at design competitions. I am amazed at our young people's creativity and international outlook. And in today's digital era, the reach of our local designers is definitely global.

Is that what inspired your online fashion platform whoareinvited?
I set up whoareinvited.com in 2013 to bring together creative talents from all walks of life. The "ARE" in our name represents the diversity of our digital community, which is open to all. Each week, we introduce a group of interesting and exciting individuals, be they journalists, fashion designers, bloggers, artists, musician or readers/ followers. We showcase their work through a series of strong and impactful fashion visuals, providing a one-stop /360 degree strategic PR and marketing service, from creative concept, social media management, magazine press relations, blogger relationships, product collaborations, CRM development and photography. We have collaborated with high-profile brands, such as Hermes, Versace and L'Oreal.

What else is on your plate this year? Do you intend to eventually merge your two business interests?
I do not really have a strategic plan for my doll-making business, but I am confirming a few trips to meet doll artists in Europe, Japan and Russia in 2017, and plan to attend several doll exhibitions and trade shows. I also hope to continue creating interesting collections for my online store.

I am working on a couple of projects with fashion and jewellery brands that will be launched in the first half of this year. I would also like to spend more time expanding the product categories in my online shop. In addition, I will start doll-making workshops in July 2017, and I'm very excited about that.
Related Links
Ning Lau
whoareinvited.com
Garments, Textiles & Accessories