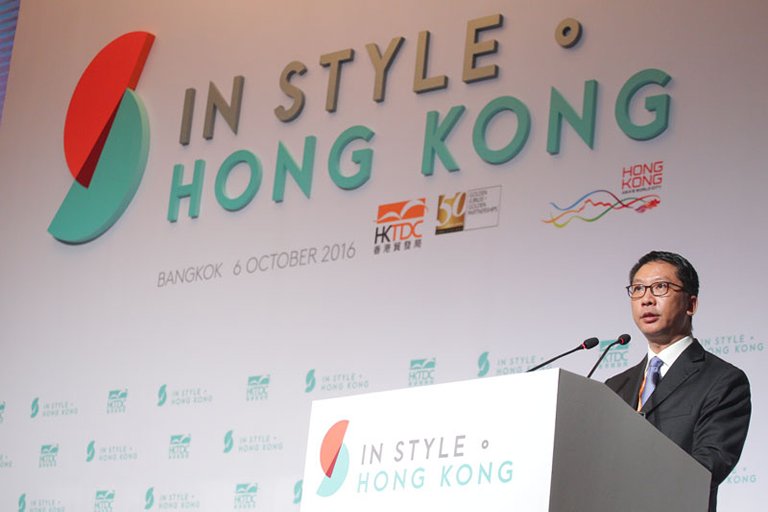 https://hkmb.hktdc.com/en/1X0A8MDT
Strong Demand for Hong Kong Services in ASEAN: "In Style Hong Kong" Research Survey 2016
Despite being at vastly different stages of development, ASEAN member countries have more or less adopted the same export-oriented development paradigm. After decades of experience gained through international trade, companies in ASEAN are now expanding beyond their borders through other channels, including such matters as franchising, licensing, subcontracting and direct investment. During the process of internationalisation, they often require external support. Even though much of the expansion will be within the ASEAN region, Hong Kong appears to be their preferred place for seeking out business partners and agents, as well as acquiring a whole variety of business services.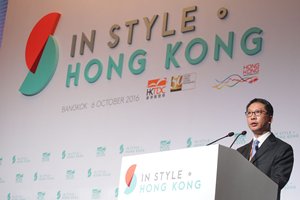 This trend emerged from a recent HKTDC survey conducted at the "In Style Hong Kong" Symposium [1] held in Bangkok, Thailand. A total of 948 completed questionnaires were received from participants of the Symposium. The majority of respondents were based in Thailand (78%) with the rest from Vietnam (9%), Malaysia (8%) and other ASEAN countries. In terms of the nature of their business, the majority were manufacturers (42%), traders (33%), service providers (28%) and retailers (21%), with some crossing business sectors.

According to the survey, 89% of respondents said that they plan to increase sourcing, production and/or R&D investment over the next three years. The prime locations for this include ASEAN countries (other than the respondents' home countries and Singapore) (43%), the Chinese mainland (43%) and Hong Kong (41%).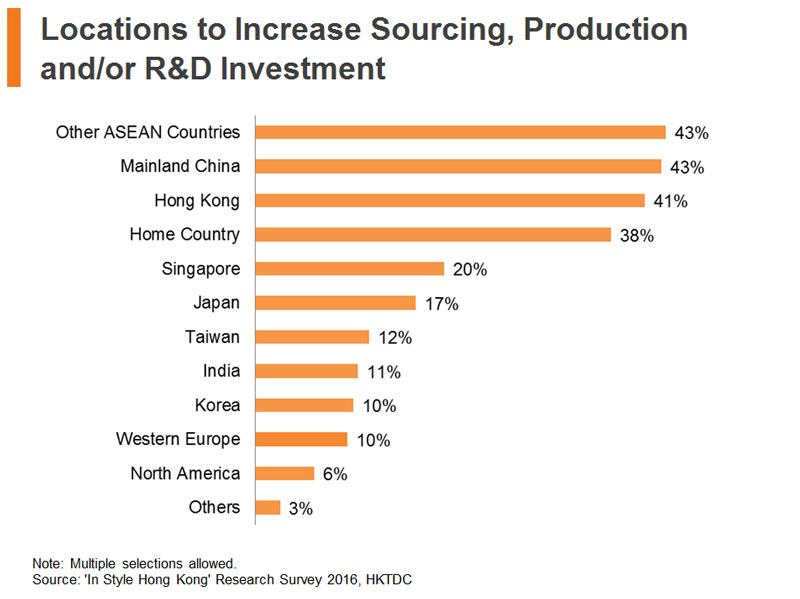 As regards market expansion, 94% of respondents said they plan to develop brands and/or increase sales over the next three years. More than half of these respondents named ASEAN countries (other than the respondents' home countries and Singapore) (51%) as their target market, followed by the Chinese mainland (41%) and Hong Kong (40%).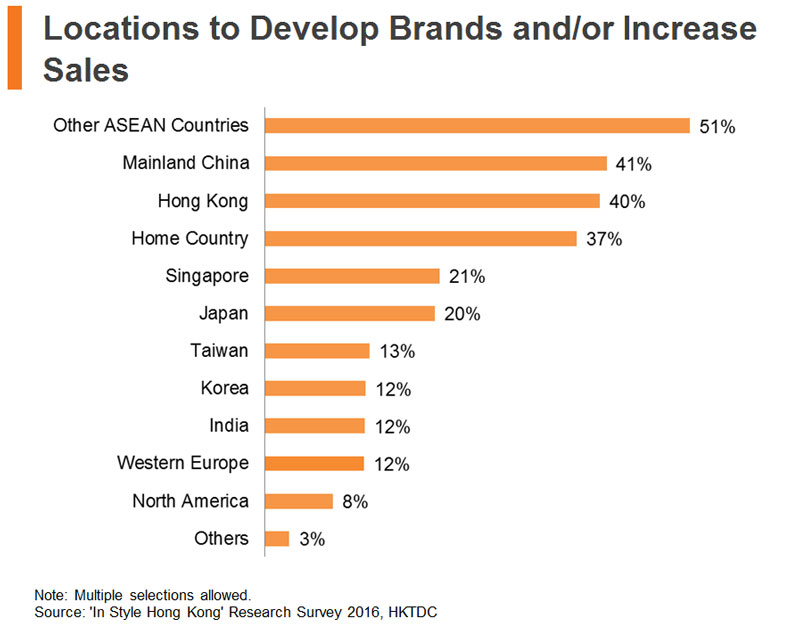 Intra-regional Investments Increasing

The survey results show that, aside from the Chinese mainland and Hong Kong, much of the expansion will be within the ASEAN region. This is unsurprising, as the region itself has grown into an attractive consumer market as well as a mature production network catalysed by the establishment of the ASEAN Economic Community (AEC) in December 2015. According to the United Nations, in 2015 intra-ASEAN investment rose by $15 million to $22.1 billion, with the share of intra-ASEAN investment in total FDI flowing into the region rising from 17% in 2014 to 18.5% in 2015. Intra-ASEAN M&A sales rose from $7.3 billion in 2014 to $8 billion, which accounted for 39% of cross-border M&A sales in the region during 2015.

By way of example, a number of Thai companies are enlarging their footprint beyond their own country. The Siam Cement Group, a building materials conglomerate in Thailand, for example, has established cement factories in Cambodia, Indonesia and, most recently, in Mawlamyine, a city in Myanmar near Thailand's border. Next year, the company is planning to open another production centre in southern Laos, betting on the strong demand for construction materials within the region [2].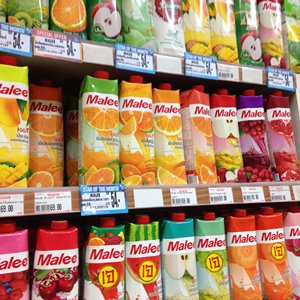 Taking the same tack is Kasikornbank, by assets Thailand's fourth-largest lender. According to Wichai Choi, Senior Vice President of Kasikornbank, the bank will continue its business development in Hong Kong and the Chinese mainland. However, Choi claims that more resources have been directed towards ASEAN countries in recent years, with new branches opened in Cambodia and Laos. More are planned in Vietnam, Indonesia and Myanmar, as the company looks to lay the ground for the increased trade and investments across the borders. Indeed, the establishment of AEC has facilitated the opening of new branches and the transfer of human resources from Thailand into these countries.

Thailand's leading fruit juice producer, Malee, has also been endeavouring to increase its foreign sales. The share of revenues generated outside the country increased from 17% in 2013 to 28% in 2015 [3]. In fact, the company has recently entered into a joint venture agreement with Monde Nissin Corporation, one of the leading food companies in the Philippines, in order to capture the fast-growing beverage market there [4].

Home-grown Brands Blossoming

As well as Malee, a rising number of home-grown brands in the region are eager to increase their overseas presence. The table below shows a number of the brands that have established their overseas presence in a variety of countries, mostly within the ASEAN region.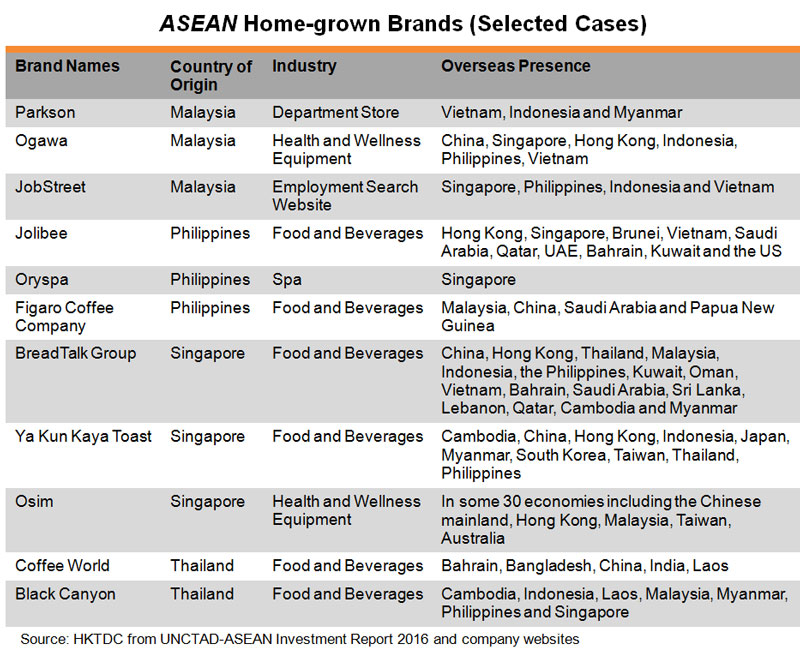 Seeking Out External Support

During the process of internationalisation, it is often necessary to seek out business partners or agents. In the HKTDC survey, 93% of respondents who already have expansion plans said that they would need to seek out business partners or agents in order to help implement their new initiatives. Over half of these respondents planned to find one in Hong Kong (52%), while others would seek theirs in ASEAN countries (other than the respondents' home countries and Singapore) (45%) or on the Chinese mainland (43%).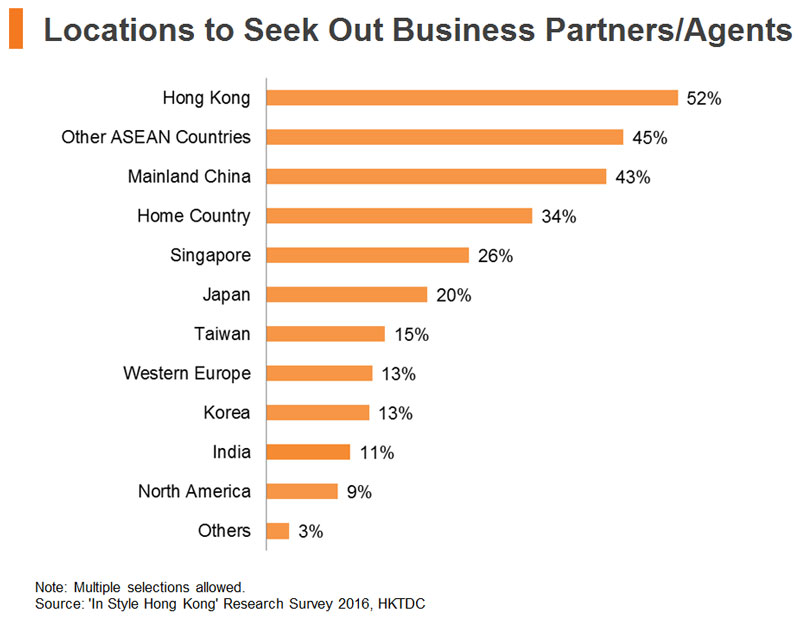 When companies attempt to expand overseas, acquiring external services is commonplace. Founded in Hong Kong in 1863, Mayer Brown JSM is now a leading law firm worldwide. The firm's Associate Director, James Rix, is based in Thailand. According to Rix, while their clients are mostly the MNCs, they are now receiving more outbound requests, as Thai corporations are keen on 'going out' and they need to leverage on the law firm's global network.

In the HKTDC survey, respondents were asked what type of external services would be required for implementing their plans for the next three years. Over half of them indicated business consulting (51%) as being necessary, followed closely by advertising and marketing (49%). Other leading choices include logistics and warehousing (44%), creative and design (43%) and finance and investment (41%).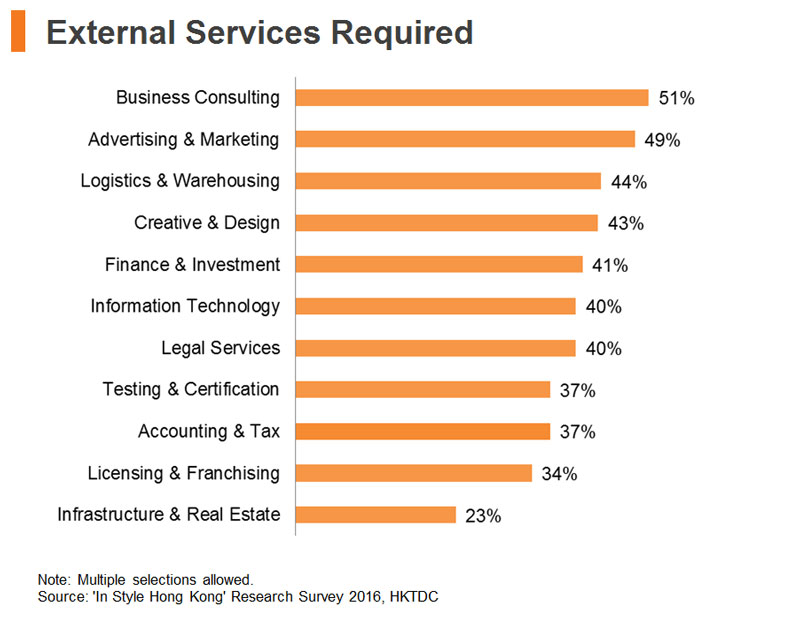 There is also the question as to where the ASEAN companies will acquire these external services – whether in their home countries, Singapore, Hong Kong and/or others places. The survey results show that respondents prefer acquiring most of these services in their home countries. The exceptions are licensing and franchising, and logistics and warehousing in which more respondents – 64% and 63% respectively – chose Hong Kong.

Outside of their home countries, respondents overwhelmingly preferred Hong Kong to Singapore for all the external services listed. The largest margins here were in the areas of logistics and warehousing (63% versus 23%), licensing and franchising (64% versus 26%), and creative and design (61% versus 23%). According to mainly Thai respondents, Hong Kong's connection with the Chinese mainland is regarded as complementary with ASEAN countries. Within the ASEAN region, Thailand is catching up as a business hub. Relatively speaking, services that are in stronger demand from Singapore are information technology (29%), business consulting (27%), and testing and certification (27%).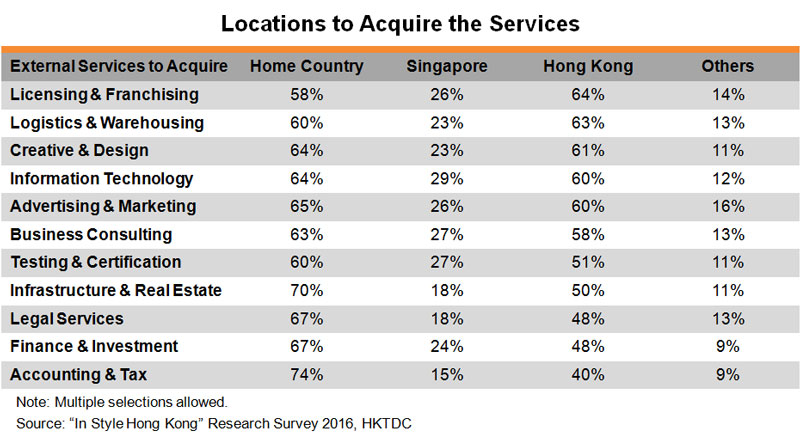 Comparing their home countries (mostly Thailand) with Hong Kong, the margins are most apparent in the areas of accounting and tax (74% versus 40%), infrastructure and real estate (70% versus 50%), finance and investment (67% versus 48%), and legal services (67% versus 48%). According to respondents, one reason for acquiring these services locally amid their global expansion is the strong presence of international players in their home countries. The above-mentioned industries are mostly professional services dominated by a number of large, international firms which have already established their presence in the ASEAN region. Services with narrower margins are those more associated with sales and marketing, where proximity to the target markets could be an advantage of the service suppliers.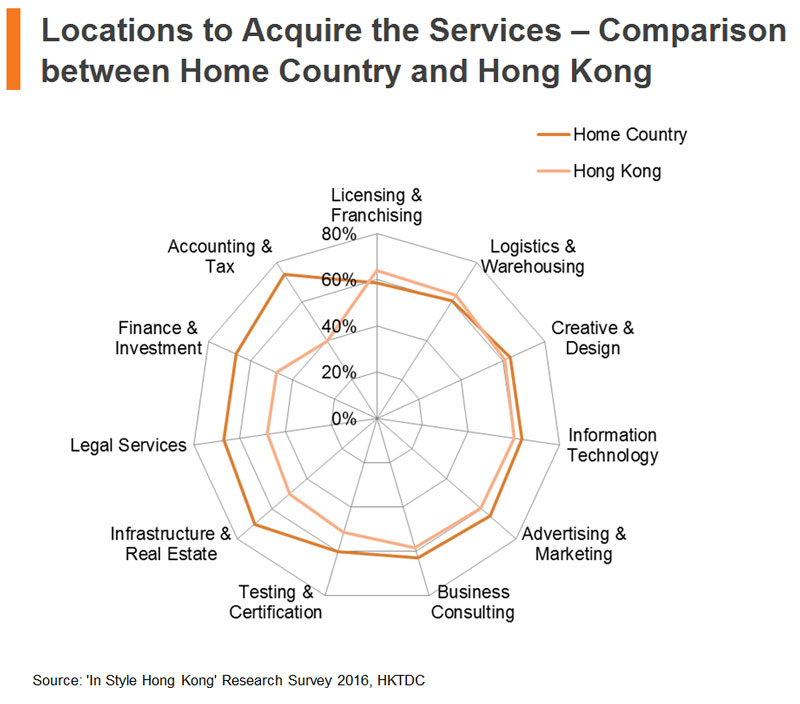 Our survey confirms the clear intentions of ASEAN companies to increase sourcing, production, R&D investment and sales over the next three years. It also confirms that Hong Kong is their preferred place to seek out business partners and agents, and to acquire various business services. Hong Kong and the 10 ASEAN member countries are negotiating for a free-trade agreement, with the aim of promoting the exchange of trade, services and investment between the two sides. If Hong Kong can receive larger market access across the services industries of ASEAN member countries, it would be a win-win situation, with those ASEAN companies wishing to internationalise standing to benefit the most.
---
[1] "In Style Hong Kong" is a large-scale signature promotion campaign organised by the Hong Kong Trade Development Council (HKTDC). The 2016 "In Style Hong Kong" was held in Bangkok, Thailand on 6 October 2016, which included a symposium featuring a range of business services to engage the Thai business elites and a series of citywide promotions to attract local Thai consumers.

[2] Source: "Thailand's Siam Cement Expanding into an ASEAN Company", Nikkei Asian Review, 28 July 2016.

[3] Source: Malee Sampran Public Company Limited, Annual Report 2015

[4] Source: "Thailand Malee Forms JV with Monde Nissin to Tap Philippines Beverage Market", Deal Street Asia, 28 September 2015.
Business Management & Consultancy
Design Services
Advertising Services
Finance & Investment
Information Technology
Legal Services
Logistics & Supply Chain
Quality Inspection and Testing
Real Estate Services
Licensing
Thailand
Hong Kong
ASEAN
Southeast Asia