https://hkmb.hktdc.com/en/1X0A8ET1
Running a Dedicated E-commerce Platform for Mainland Mothers
Interview with Jiang Yuchen, Vice President of Marketing, BeiBei Group (China) Ltd
Launched in April 2014, beibei.com (BeiBei) positions itself as an e-commerce platform dedicated to the needs of mothers. Apart from selling mother-and-baby products, BeiBei also caters to demand from the former for products and services they may need or find interesting. All products put up for sale on BeiBei are handpicked by professional buyers to ensure that the goods are genuine. Moreover, BeiBei has set up a cross-border e-commerce channel, global.beibei.com, which aims to meet the demand of mothers for foreign goods. Jiang Yuchen, Vice President of Marketing of BeiBei Group (China) Ltd, shared his experiences in running a target user-specific e-commerce[1] platform for the benefit of interested Hong Kong companies.
A Focus on Mother and Baby Products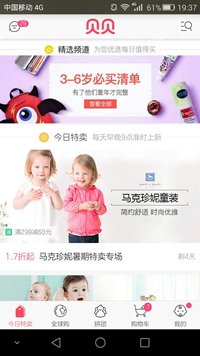 According to Jiang, big data analytics show that online sales of mother and baby products on the mainland have witnessed rapid growth and that the market potential is enormous. Actually, it is not the emergence of mother and baby product e-commerce sites that has impacted traditional retail sales channels, but rather the change in shopping behaviour of consumers has brought about the emergence of mother and baby product e-commerce sites. In the past, when consumers made purchases on taobao.com they tended to look for "product diversity, availability, and affordability". However, slowly but surely they are now going after shopping experiences that are hassle-free, and this has given birth to specialised mother-and-baby product websites such as beibei.com.
The year 2014 was one of robust growth in mother-and-baby product e-commerce platforms on the mainland. In addition to beibei.com, which went online in April 2014, other similar websites such as mia.com and babytree.com went online in the same year. Looking back, Jiang said: "As a start-up website, BeiBei had to find its market entry point. The merit of comprehensive e-commerce platforms is that they are big and all-encompassing; the downside is that they are non-specialised and messy. The entry point identified by BeiBei was meeting the stringent demands of mothers for mother-and-baby products and quality assurance." BeiBei mainly positions itself in the following two areas:
As a specialised mother-and-baby e-commerce platform

BeiBei has a team of over 1,000 staff dedicated to mother-and-baby products, a number far higher than any similar comprehensive e-commerce platforms deploy on a single product category. As such, BeiBei can provide personalised services to mothers more readily.

Unlike other comprehensive e-commerce platforms, BeiBei abandoned desktop PCs from the very beginning, choosing to focus on mobile devices and apps in its designs and user experience instead. For instance, beibei.com features a "top picks" channel to highlight its products that takes into consideration the smaller size of mobile screens relative to computer screens. Currently, about 95% of Beibei's sales come from mobile phones.
Everything a Mother Could Want
Mother-and-baby products have a relatively short life cycle. As industry sources put it, their target customers are aged "-1 to 3". When the children grow up, their customers are gone. In view of this, BeiBei places emphasis on "moms" and not merely "mother-and-baby products". Jiang said: "beibei.com is positioned as a target user-specific e-commerce platform, with mother-and-baby products being just one of its product series. We target moms and provide them with specific products and services. We focus on the demands of mothers and offer them products and services they need." Looking ahead, BeiBei has already mapped out a business strategy of "everything-for-moms".
According to Jiang's analysis, mothers aged 25-35 are the main target customers of Beibei. The disposable incomes of these post-1980s and -90s mothers are considerably higher than those of mothers before them, and their demand for quality products and shopping experiences is also higher. Likely, their demand for mobile shopping is also pronounced. Figures compiled by BeiBei show that 85% of its sales come from these post-80s and -90s mothers. Jiang further pointed out that most of these mothers were only children and brought up in a "4 grandparents + 2 parents + 1 or 2 babies" family structure. The attitude of these young mothers towards mother-and-baby products has the following three characteristics:
The products must be genuine

As mothers tend to concerned that fake products might harm the health of their children, their loyalty to shops selling genuine products is high.

User ratings are important

Mothers in this age group pay great attention to user comments. They also exchange information on mother-and-baby products among themselves, so word-of-mouth is very important to them.

Smart consumption

Growing up in the internet age, post-1980s and -90s mothers are good at obtaining all kinds of information online, hence they can easily determine the value and country of origin of products.
Non-standard Products Attract Mothers
Jiang pointed out that in the course of the development of e-commerce in the last 10 years or so, the majority of e-commerce platforms chose to start out by offering "standard products"[2], with baby formula and disposable diapers being the most popular. Because such products can easily attract customers, they naturally stimulate customer flow on e-commerce platforms. However, as the gross margin on these products is only about 2%, the profit margin of e-commerce platforms is meagre.
When BeiBei started out, it shunned the model of most other e-commerce operators. Instead, it offered "non-standard products"[3] such as children's clothing, children's footwear and toys, which are more personalised and diversified. The brand concentration of these products is lower and the price sensitivity of consumers towards them is also lower. Compared with standard products, the gross margin of non-standard products is higher.
Jiang explained that other e-commerce platforms do not choose non-standard products to start their business because having too many SKUs (stock keeping units) puts pressure on website start-ups. When BeiBei first set up its specialised mother-and-baby product e-commerce platform, it offered non-standard products in order to differentiate itself. It only introduced standard products later in order to fully meet the demands of mothers.
Mother and Baby Products Drive Sales of Other Products
According to Beibei, mothers are the main buyers and purchase decision makers for the following three kinds of products: mother-and-baby products, products for themselves, and household goods. In view of this, BeiBei rides on the attraction of mother-and-baby products to drive sales on a wide range of quality beauty and cosmetics products, garments, and household goods. Jiang said: "Mothers have stringent demands for mother-and-baby products. When they choose to purchase mother-and-baby products on Beibei, they will also buy products they need themselves on beibei.com, especially products like beauty and cosmetics products, garments, and household goods. With mothers as our core customers, BeiBei puts together all kinds of products to enrich and satisfy their shopping experience." It is understood that currently 35% of beibei.com's sales come from non-mother-and-baby products.
Establishing a Foothold in Second- and Third-tier Cities First
In order to balance scale and profit, BeiBei started targeting second- and third-tier cities first before moving into first- and fourth-tier cities. Jiang said the data showed that first- and second-tier cities account for 55% of the company's business volume, with third- and fourth-tier cities accounting for the remaining 45%. The user distribution of BeiBei is consistent with the distribution of mothers and babies in mainland cities. This confirms that BeiBei is doing well in its regional coverage.
The User Rating Business Model
Jiang stressed that "the user always comes first at beibei.com". First of all, products to be offered on the website must meet stringent appraisal criteria and suppliers are required to submit business licences, inspection reports and safety standard documents. In the case of brand licensing, certifications such as official licensing agreements must be presented. Secondly, an internal sampling team at BeiBei is responsible for inspecting random samples and products failing the inspection will be removed immediately. Lastly, the preferences and rating of users are crucial indicators. To Beibei, consumers' ratings offer the best assessment of a product. There are dedicated staff at BeiBei responsible for screening the user ratings and feedback given to products by consumers. All consumer ratings are entered into a business goodwill rating system. When the ratings drop to a certain level, the product will be taken off the shelves. Conversely, products with good consumer ratings and high sales will stand a greater chance of being promoted on the platform.
Supplier Co-operation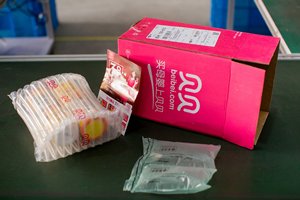 In the early days, BeiBei used to send out teams to visit prospective suppliers and invite them to work together. As BeiBei grows and achieves higher sales for its suppliers, more and more suppliers have approached the company seeking co-operation. Eligible suppliers must guarantee their products are genuine and that they can meet the company's requirements for unified packaging and delivery procedures, while BeiBei is responsible for attracting customers, marketing and promotion, sales conversion, and pre-sales and after-sales customer service.
Currently, BeiBei offers more than 5,000 different brands. The platform co-operates with most of these brands on a consignment basis, i.e. charging them a certain percentage of sales as fees. Direct sale, i.e. buying products outright from a supplier, only accounts for a small share of Beibei's business. For products where safety is the prime concern for mothers (such as baby formula and disposable diapers) and products sold via cross-border e-commerce, BeiBei adopts the direct sale mode, while other products (such as clothing, children's footwear and toys) are mostly sold according to the consignment model. As mothers' requirements for products rise, BeiBei hopes to co-operate with more brands in a bid to provide more quality products and superior services to mothers.
Meeting Growing Demand for Imported Goods
In 2014-2015, demand from mainland consumers for products offered in cross-border e-commerce was brisk. User feedback received by BeiBei showed that customers wanted the platform to offer foreign goods for them to choose from. In response, BeiBei launched a dedicated channel, global.beibei.com, in January 2015, leveraging partnerships with manufacturers in more than 30 countries and territories including Japan, Korea, the United States, Germany and Australia in a move to enrich the product categories offered on the platform. Jiang said he believed that introducing imported products had not had any negative impact on demand for the products originally offered on beibei.com. Before global.beibei.com, customers turned to other platforms to buy foreign products; however, they now have the option of doing one-stop shopping on Beibei.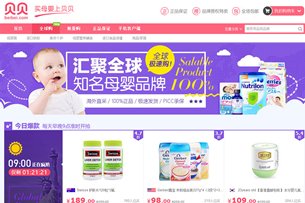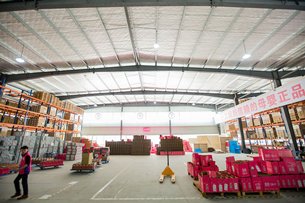 Opportunities for Hong Kong Companies
Meeting the needs of mothers is the single criterion on which BeiBei chooses its business partners. Any products meeting the needs of mothers will be put up for sale on the platform on a trial basis. What happens next depends entirely on how well the product sells. Meanwhile, BeiBei also carries out nationwide analysis of data from actual sales and uses the results as the basis for choosing products and brands for future co-operation.
At present, BeiBei works with a number of Hong Kong traders and suppliers. Generally speaking, BeiBei co-operates with traders (for example, those supplying cross-border foreign goods) in the form of "supplying goods", whereby both parties make a deal based on an agreed sale price. Where manufacturers supply goods directly, co-operation takes the form of revenue sharing, whereby the commission is generally set at about 15% of the transaction value.
For Hong Kong companies wishing to tap the mainland mother-and-baby product market, Jiang said they must understand the demands of mainland mothers aged 25-35 before deciding which products and brands to supply. Hong Kong companies are well informed about international trade and may well consider introducing more quality foreign products and brands to the mainland by way of brand licensing.
---
[1] One characteristic of target user-specific e-ecommerce is that it targets specific consumer groups and not product categories. Target user-specific e-commerce offers target consumer groups products they need and find interesting. The product categories offered may be increased or cut back according to the demand of target customers.
[2] Standard products are products with fixed stock keeping units (SKUs), such as baby formula, diapers etc.
[3] Non-standard products are products with a great diversity of SKUs, such as children's wear, toys etc.
Mainland China
Mainland China