https://hkmb.hktdc.com/en/1X0A8AZ7
CTFHOKO: Hong Kong-style Shopping Experience in Qianhai
Interview with Chan Sai-Cheong, Executive Director, Chow Tai Fook Jewellery Group Ltd
E-commerce and the demand for imported consumer products in China have grown rapidly in recent years. In response, many retailers are actively developing cross-border e-commerce in addition to their physical stores in order to further expand their customer base.
The Chow Tai Fook Global Goods Shopping Centre (CTFHOKO) in Qianhai is a shopping mall project jointly developed by Chow Tai Fook Enterprises Ltd, Chow Tai Fook Jewellery Group Ltd, and New World Development Co Ltd. Its offline experiential store located at Shenzhen's Qianhai offers mainland consumers high quality Hong Kong products as well as a Hong Kong-style shopping experience.
In an interview with HKTDC Research, Chan Sai-Cheong, Executive Director of Chow Tai Fook Jewellery Group Ltd, described CTFHOKO's operating model and the Hong Kong-style shopping experience it offers.
High Quality Hong Kong Brands and Products
CTFHOKO is located near the Guangzhou-Shenzhen Yanjiang Expressway in the vicinity of Qianhaiwan Station on the Shenzhen Metro Luobao Line. Phase I and Phase II of the shopping mall, covering a total business area of 20,000 square metres, came into operation in December 2015 and August 2016 respectively.
Hong Kong brands account for about 80% of all products on offer in the mall. These are mainly Hong Kong products and restaurants popular with mainland consumers, including Chow Tai Fook Jewellery, Sa Sa, Eu Yan Sang, Maxim's, Giordano, Tai Hing Restaurant, and Pacific Coffee. The mall mainly offers three types of core products: mother and baby, cosmetics, and health.
'Bonded Goods Display' and 'Cross-border E-commerce'
Mainland consumers can purchase duty-paid goods at CTFHOKO and take them home directly without having to go to the trouble of travelling to Hong Kong to shop. Moreover, for products on 'bonded goods display' at the mall, consumers can make purchase at CTFHOKO's cross-border e-commerce website or through the mobile app, with the products delivered to their doorstep by courier.
The CTFHOKO website offers two delivery options: Hong Kong direct and bonded warehouse delivery, with the split in consumer take-up around 40:60. Under the Hong Kong direct mode, goods are dispatched from warehouses in Hong Kong and delivered directly to the doorstep of mainland consumers by courier service. Generally speaking, Hong Kong direct products are smaller in size and higher in value (e.g. cosmetics or watches). Under normal circumstances, consumers receive the goods in 7 to 12 working days.
CTFHOKO's mainland bonded warehouses are located in Qianhai, Shenzhen and Zhengzhou, Henan, with goods delivered to the consumer's doorstep by courier after customs clearance. Bulkier fast-moving consumer goods (e.g. paper diapers or shampoo) are mostly delivered using the 'bonded warehouse delivery' mode. Consumers will normally receive the goods in 2 to 3 working days.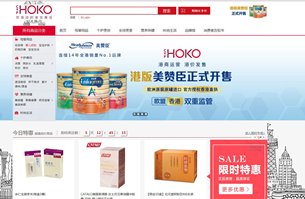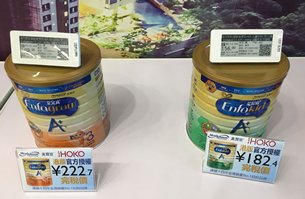 Unique Hong Kong-Style Shopping Experience
Mainland consumers not only like online shopping, but also favour a unique shopping experience. According to Chan, CTFHOKO is a Hong Kong-style shopping centre offering products from all over the world. Its design has a strong Hong Kong flavour, using Hong Kong street names and tourist spots as the theme in order to provide consumers with the experience of a Hong Kong shopping trip.
For example, the second floor of the mall is named Mongkok; signage in the shopping centre bears resemblance to that at Hong Kong MTR stations; there are Hong Kong-style street food stall seats for resting and Hong Kong style ice-cream vans. All these add to the shopper experience.
Apart from design, CTFHOKO also organises unique activities aimed at enriching consumers' experience of Hong Kong-style shopping, leisure and spending. For instance, during the trial operation of CTFHOKO Phase II, mainland shoppers were treated to a free tasting of Hong Kong snacks (e.g. egg puffs, curry fish balls, ice cream etc.), allowing them to get a taste of Hong Kong's street snack culture while shopping for Hong Kong goods.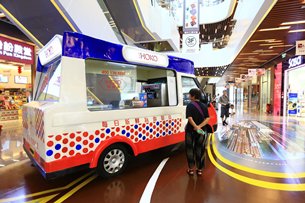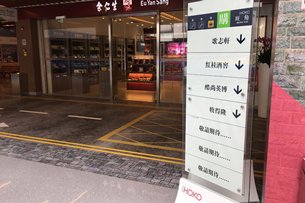 It is understood that currently visitors to CTFHOKO are mostly consumers form the south China region. Chan pointed out that as Chow Tai Fook Jewellery has set up large flagship stores in different cities across the mainland, the company would set up CTFHOKO promotional kiosks in selected flagship stores so that consumers in other cities can get to know about this shopping mall and shop at its cross-border e-commerce website.
For example, CTFHOKO has set up a promotional kiosk in Chow Tai Fook's flagship Chongqing Langqing store in a bid to strengthen promotion in the western region. To attract consumers, the mall has also set up a membership programme, offering members at different tiers various privileges, such as birthday special offers, member services, and points for cash rewards.
Opportunities for Hong Kong Companies
As the number of mainland households attaching importance to lifestyle and consumer product quality is increasing, demand for good value genuine goods is strong. At present, products sold in CTFHOKO are mainly first-line Hong Kong brands, which serve to strengthen the positioning of the mall as a Hong Kong goods centre in the mainland consumers' perception. Chan believes that Hong Kong companies that can source high quality products at competitive prices from around the world are bound to have opportunities in the mainland market.
It is worth noting that not all products are suitable for selling via the cross-border e-commerce platform, such as perishable food products with a short shelf life. Hong Kong companies wishing to tap the mainland market by way of cross-border e-commerce must be able to offer good quality products, highly reliable brands, and competitive pricing before they can win consumers' favour.
Mainland China
Mainland China