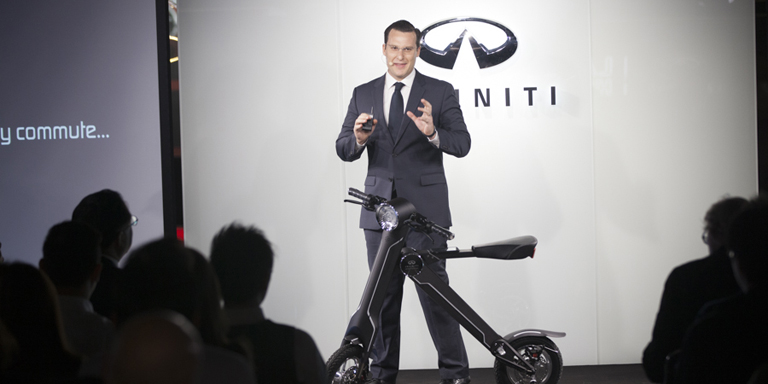 https://hkmb.hktdc.com/en/1X0A84O0
Last-mile Solution
A smartphone-controlled electric vehicle developed in Hong Kong delivers an eco-friendly transport solution.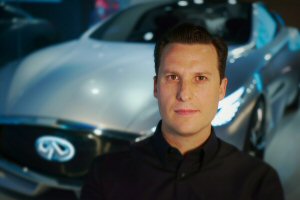 Created to help commuters travel from parking spot to downtown destination, Hong Kong company E-Cycle has developed an electric vehicle that's controlled by the user's smartphone and connects to the Internet. Designed to fit in the boot of a car, the portable device can be charged using a regular power outlet and travels up to 30 kilometres on a single charge.

The concept is the brainchild of Hong Kong-based entrepreneur Alan Cymberknoh, who in December, completed the Infiniti Accelerator Programme, which is run by start-up incubator NEST. The entrepreneur received help with product development from the luxury division of Japanese car manufacturer Nissan.

Based in Hong Kong for more than a decade, Mr Cymberknoh previously worked for Philips as a Product Manager, then developed an emergency cell phone powered by an AA battery for US telecom firm AT&T before setting up E-Cycle.

Billed as "the last mile solution company," E-Cycle's mission is to help commuters get from A to B in a smarter, cleaner and more convenient way, says Mr Cymberknoh, who was inspired to develop the vehicle after frequent trips to the Chinese mainland. "I would cross the border and see tonnes of electric bikes and scooters. But when I looked at them closely, I realised they were poorly designed and cheap-looking. The concept was there, but I was thinking, 'How can I elevate it?'"
Accelerator Success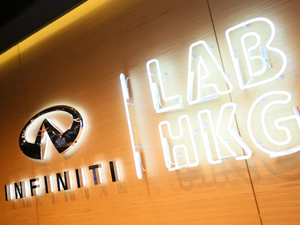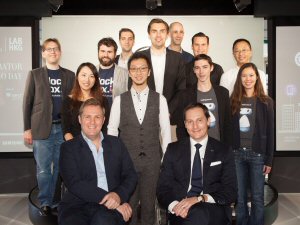 One of eight start-ups chosen to participate in the first Infiniti Accelerator Programme, which ran from August to December 2015, E-Cycle took four to five months to develop the prototype, working alongside a small team of designers. Having Infiniti headquartered in Hong Kong provided participants with a unique opportunity. "It meant we could get access to people at a very senior level, people who would usually be very difficult to reach," he says.

Mr Cymberknoh will be demonstrating the E-Cycle to key Infiniti dealers with the aim to selling them at select Infiniti dealerships from early next year. It will be sold alongside Infiniti cars or as a standalone product, both online and via retailers. "Retailers are typically very demanding on margins, but I want to keep the price point very attractive and not put a big mark-up like some retailers ask," says Mr Cymberknoh, who's aiming at a price tag of below US$1,500. The entrepreneur is considering approaching telecom companies to sell the product rather than going down the traditional retail route. "Some of the early adopters of drones were telecom operators like Verizon and AT&T. As drones are controlled by smartphones, the operators have an interest in such products," he says.
Milestone Product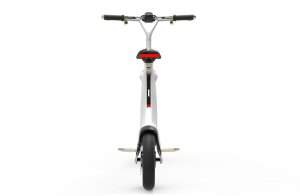 Mr Cymberknoh is quick to point out that his product is not an electric bike. "It's a new category of product – it's really a hybrid" between a bicycle and a scooter.

The company is still working on an official name for the product, and since seed funding came from Infiniti, the name will likely be associated with the car manufacturer.
Global Appeal
Mr Cymberknoh believes his product will have global appeal. "There are 40 million electric bicycles sold every year in China, one million in Europe, and barely 200,000 units in the United States, so I'm sure there is potential. Of course, we need to adapt it for different markets, but I think there is space for something like this. It's something for everyone to use: it's not a toy, or something for hipsters, it's definitely a mainstream product."
"It's something for everyone to use: it's not a toy, or something for hipsters, it's definitely a mainstream product."
The product will first be tested in Asia, with Korea, Singapore and Taiwan all under consideration before they explore the US market, where Infiniti has a strong presence. Mr Cymberknoh is also keen to see his bike on Hong Kong roads. "We need to go back to the government, as anything that has a motor currently needs to be licensed as a motorbike." He believes the bike would go down well in Lantau among ferry commuters, and staff at Hong Kong Science Park, among other locations. "We need to do some trials in different areas to demonstrate to the government that such vehicles are useful," he says.
Long-term Goals
Mr Cymberknoh is also seeking additional funding. "I'm in constant fundraising mode. We've attracted some small family-run investors, but we're still looking for more. I'm going to Silicon Valley soon and hope to raise US$250,000 at the angel round. We'll give back equity so it's a good deal for an investor."

Mr Cymberknoh is taking a long-term view on his invention. "The goal is to bring something so useful, and so nicely packaged to market that it's easy to sell. Then we can start thinking about the next-generation product. The fact that the bike is connected makes it very exciting – the number of apps we can develop is limitless. What we have today is just the beginning, and we'll continue to add more smart features."
Related Link
E-Cycle