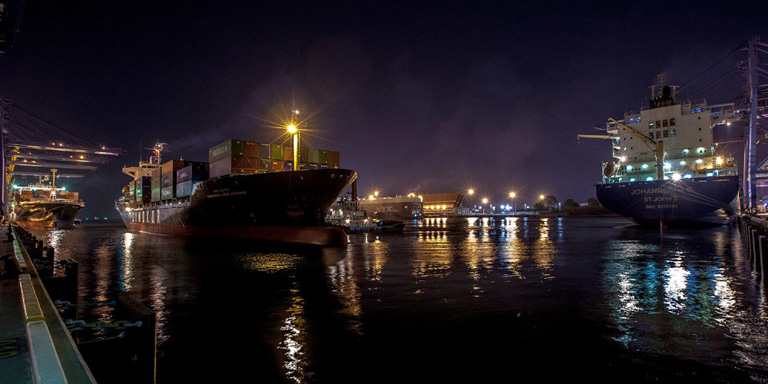 https://hkmb.hktdc.com/en/1X0A816R
Bucking the Global Trend
Suppliers in the ASEAN ports sector are riding a wave of opportunities.
Global shipping may be in the doldrums, but participants at the 14th ASEAN Ports & Shipping 2016 tradeshow and conference in July were bullish about the future. The rosy outlook is based on the need to upgrade the region's ports to handle increasing ship sizes. The optimism is also bolstered by demand for new and upgraded ports across the ASEAN bloc, particularly in Vietnam, Cambodia, Indonesia, Myanmar and the Philippines.

"The fact that container ships are getting bigger has certainly benefited us," said Yosuke Agari, a Director of ShibataFenderTeam, a Hamburg-based supplier of marine fender systems. The standard-size fender for a container port used to be a 14 or 15 cell fender. Now, a 1,700 or 2,000 cell fender is more typical."

Norway's Aanderaa Data Instruments, now owned by New York-based water solution company Xylem, which manufactures instruments for monitoring tidal activity and gathering other essential maritime metrics, also sees increased ship size as a positive business driver.

"Many of the bigger ports don't have a great deal in the way of monitoring equipment," said Stig Bjørgen Øen, Aanderaa's Business Development Manager for Marine Transport. "As ship sizes increase, though, ports will need more and more data before bringing them in quickly. It's all about maximising time usage."

Holger Schauer, Regional Sales Manager for Terex Port Solutions, a US company offering a wide range of port cranes and lifting equipment, said that the trend towards larger ships has sparked demand for new and bigger cranes, which has benefited companies like his.
Factory Relocation
Another major contributing factor to the increased optimism among exhibitors is the steady relocation of manufacturing operations from China to Vietnam, Cambodia and Myanmar. Consequently, these destination countries are upgrading and expanding their ports at all levels, as well as looking to develop new facilities, and investing in premium equipment.

"The days of customers buying the cheapest Chinese unbranded products available, with no thought of technical support, have gone," said Mr Agari. "Many have learned that this often is a false economy and are now opting for higher-quality suppliers."
Upgrading Facilities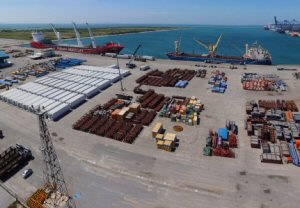 The construction of new ports has also prompted existing facilities to work harder to retain business, which has often meant investing in new equipment and systems to drive cost efficiencies. A prime example is Thailand's largest port, Laem Chabang.

"Despite last year's slowdown in Thailand's economy, the port still delivered growth of three per cent," said Chai Naganidhi, President of the Thai International Cargo and Container Terminals Association (TICTA), the trade body that represents terminal operators at the port.

"One of the key issues we've been raising with authorities, though, is infrastructure access to the port. Road access, for instance, has proved something of a bottleneck and is now a problem we have to deal with on a daily basis. On behalf of our members, we are also pushing for improvements across a broad range of other issues, including purchasing, policy, customs and marine regulations."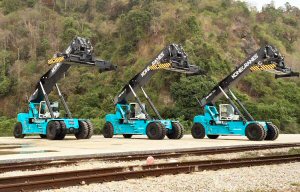 Jeffrey Foo, Regional Manager of Konecranes, a Finnish specialist in lifting equipment and modernisation services for industrial cranes, agreed. "Changes to Thailand's administration have meant that a number of long-postponed development projects are now back on track," said Mr Foo. "The country is proactively expanding its port facilities and upgrading the standards of its services on both a domestic and international scale.

"For well-established companies such as ourselves – we've been operating in Thailand for 23 years – we stand to benefit from many of these new projects."

Arno Logman, Projects and Services Manager for Bema Rail, a Dutch company specialising in rail technology and shunting systems, also believes that Thai demand for maintenance and upgrade is strong. "The Port Authority of Thailand has plans for new ports and logistic hubs, all of which will need rail connections. We expect many new job opportunities from these inland port projects.

"In the near future, though, we expect less demand for constructing new ports and an increased focus on replacement or repair, especially with regard to trolley rails. We have now developed a platform that can do the maintenance on the trolley rail level without scaffolding, which inevitably means less downtime."
Linking Islands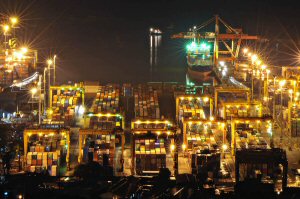 Growth is also driven by the fact that Indonesia and the Philippines, two of the fastest-growing ASEAN countries, are archipelagos and require substantial investment in domestic shipping infrastructure to connect their component islands.
According to the World Bank, about 90 per cent of Indonesia's external trade is transported via its 300 or so seaports, with inter-island shipping still the primary means of moving goods through these ports, rather than rail or road freight.

"The Philippines has been a good market, partly because of the increase in domestic consumption," said Mr Foo. "There is also the fact that a number of big companies – such as Nestlé and Coca-Cola – are constantly moving goods around the smaller islands.

"Indonesia is also trending upwards. Last year, despite the global economic slowdown, our sales were far better than those for the previous five years in the region. This year, I expect to exceed last year's sales figures in the lift trucks category."

Mr Longman also sees Indonesia as a future bright spot, saying: "We've been doing projects in Indonesia since the 1980s and it's a country we are still focusing on."
Investing in Automation
As the established ports in several countries, notably Thailand and Malaysia, battle falling throughput and rising labour costs, the need to invest in automated equipment to create more efficient and reliable infrastructure has also provided opportunities. "The move towards greater automation is definitely on the rise. More unmanned cranes and containers are now in use," said Mr Øen.

"Understandably, keeping costs down while keeping reliability up is key to remaining competitive in the long run. More automation means that more sensors are needed to be able to operate safely and effectively, which is good news for us."

Mr Schauer agreed, saying: "Remote access to managing cranes and the growing importance of data aggregation are the developing trends that are now impacting positively on our business."
Green Focus
Although in its early stages, the need for more environmentally friendly and greener port services is also starting to take hold in the region. A clear sign of this trend is the recent opening of the Teluk Lamong port in Surabaya, Indonesia's first comprehensively "green" freight handling facility.

"One of the developing trends is an increasing concern over any potential environmental impact," said Mr Schauer. "Nowadays, every single drop of spilled oil is viewed badly. Before, nobody really cared much.

"This concern is extending to awareness of the impact of noise and even light pollution. This has seen us start to offer systems with more of a green factor."

With the increasing green focus comes the need for greater monitoring, something that Aanderaa is keen to capitalise on. "Coastal monitoring programmes are now becoming more important, with steps now being taken towards more sustainable and environmental monitoring," said Mr Øen. "All in all, it's looking bright for us.

"Most of the wrecks that go down have oil on board in the form of fuel or cargo and that will eventually leak into the ocean. It's just a question of time. So these wrecks need to be monitored to see how fast they are corroding. In the long run, cleaning up disastrous oil spills is far more expensive than providing adequate monitoring."
For more market opportunities, please visit: http://research.hktdc.com/.