https://hkmb.hktdc.com/en/1X0A7VRO
Street Smart
Big data systems may be key to breaking the traffic logjam in major Chinese mainland cities.
The potential to ease traffic congestion in Chinese mainland cities was the talk of this year's Guangzhou International Smart City & Security and Protection Products Exhibition, held in August. Exhibitors promoting the use of big data to improve urban traffic, as well as its use in other applications, were among the most sought out products. The most eye-catching stands, however, featured a series of virtual reality systems capable of simulating the real-world driving environment.

According to the National Development and Reform Commission, several innovative big data platforms will come online in the next two to three years, all geared to tapping the ever-increasing volumes of information generated daily. According to research by the China Industrial Information Network, the global big data market was worth some Rmb150 billion in 2015, a 24.2 per cent year-on-year increase. In the same period, the big data market on the mainland was valued at Rmb16 billion. While accounting for only 10.7 per cent of the global market, this represented year-on-year growth of 65.3 per cent, a figure 2.7 times the global average.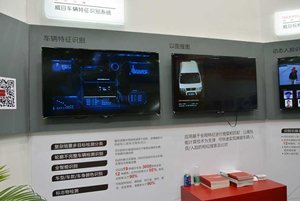 The prominence of big data at this year's exhibition also signaled the importance China attaches to big data for its smart city construction programme. A case in point is Hangzhou-based Yuantiao Tech, a company that specialises in applying big data analytics to highway statistics, providing smart-traffic information services to government departments, businesses and the public.

Yuantiao also uses big data to forecast traffic congestion, including cases resulting from major incidents. The system would help authorities to optimise deployment of traffic control officers.

Overall, the key element of big data is the core algorithm, and by specialising in big data road traffic analytics, the company believes it has a clear competitive advantage in the sector.

Eyeing another sector is Beijing DeepGlint Technology, which focuses on video big data applications. Company representatives highlighted its Weimu vehicle feature analysis system, which can recognise more than 3,000 vehicle models, 19 specific vehicle types and 12 colours. Its daytime recognition rate is above 95 per cent, with nighttime recognition falling to 90 per cent, while maintaining a 98 per cent license plate recognition accuracy. By applying the technology to public security as well as for traffic management, vehicles with forged license plates can be easily identified.
Internet-plus Products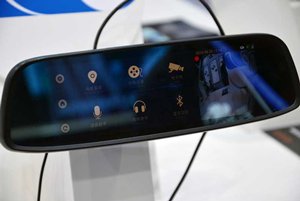 Internet-plus represents a combination of Internet information technology with more conventional approaches to create dynamic new systems. According to the latest Statistical Report on Internet Development in China, released by the China Internet Network Information Centre in December, the mainland last year was home to 688 million Internet users, while its Internet penetration rate stood at 50.3 per cent. Of the more than half of China's population with Internet access, some 90.1 per cent of these online users are on mobile devices.

One company that has embraced the Internet-plus approach is Shenzhen Yunovo Technology, which promoted its smart car rear-view mirror. According to Yan Song, the company's Key Account Director, the mirror is connected to the Internet via the Android operating system, which uses voice commands to obtain routes from built-in map software, as well as to control music players and other accessories.

According to Mr Yan, the mirror can capture traffic images with just a click, using either voice control or by pressing a Bluetooth-enabled button on the steering wheel. The mirror can store footage from 10 seconds before pressing the button and for up to five seconds after and can be automatically uploaded to the police department's traffic violation report platform.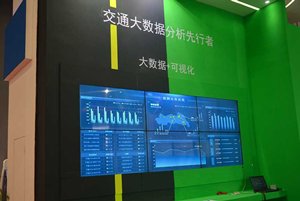 Internet-based smart products can also help facilitate traffic enforcement. The Law Enforcement Video Recorder – launched at the fair by Suzhou Keda Technology – is a smart product set to replace the current conventional approach. With 4G Internet connection and a link to a back-end management platform, it can locate police personnel, provide a live view of traffic control and deployment, while also offering real-time video surveillance.

Mobile technology currently not only maximises consumer convenience, it also enhances the credibility of big data analytics, according to Yuantiao, whose "suggest a route" function is its most popular function, to date, with consumers.

By downloading the company's app, users can identify which road sections are congested and get alternative route suggestions. At the same time, the company's big data analytics system obtains data on traffic conditions from government departments and from other users. Drivers using Yuantiao's app automatically share data with the company, providing more accurate information on real-time road conditions.
VR Technology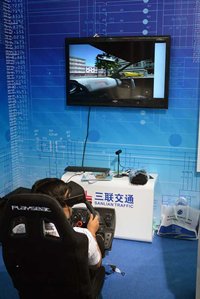 There was also a wide range of virtual reality (VR) products on offer. A large number of these exhibits used the system as part of a driver-training programme.

Among them was Shanghai Chenglian Traffic Intelligent Technology, which featured a machine that can simulate both a typical driver training ground and a more authentic urban driving environment. Trainee drivers can gain experience across various road conditions, helping them to master advanced skills in a safe environment.

According to Liu Yuan, Chenglian's Representative, the company can also customise specific scenarios for individual customers. In the case of Anhui Province, for instance, where roads are hilly, a special module could be created to simulate these unusual conditions.

Using the same VR technology, the Traffic Management Research Institute of the Ministry of Public Security has developed a safe-riding experiential system that can help build awareness of potential hazards. According to Yan Xilei, a Researcher at the Institute, people using this product can gain a better understanding of the many potential dangers facing road users.

Elsewhere at the event, an expressway-sited traffic forensics system, developed by the Zhejiang-based Senken Group automatically collects information from any location where traffic violations have been committed. Similarly, a smart traffic-direction management platform launched by Nanjing's Duolun Technology integrates real-time video footage and video recordings at key road junctions, while offering traffic direction, service direction, electronic policing and roadblock-setting functions.

For more China market opportunities, please visit: http://research.hktdc.com.
Hong Kong
Mainland China