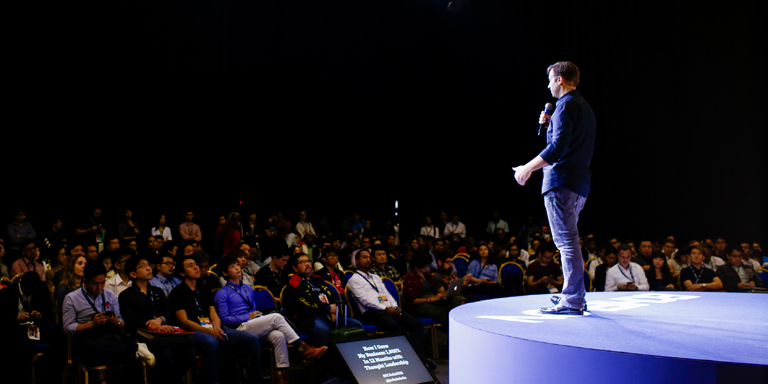 https://hkmb.hktdc.com/en/1X0A7VPQ
Year of the IoT Entrepreneur
Hong Kong is the perfect base to operate IoT businesses, which are poised for global growth.
Josh Steimle is CEO of global digital marketing agency MWI, which has offices in Hong Kong, Shenzhen (China) and the United States. A TEDx speaker and author of the book Chief Marketing Officers at Work, Mr Steimle has written extensively about entrepreneurship and start-ups for Forbes, TechCrunch, Mashable, the South China Morning Post, and VentureBeat. Originally from Los Angeles, Mr Steimle explains why emerging Internet of Things (IoT) entrepreneurs should position themselves for growth in 2017.

Tell us a bit about your background.
I cut my teeth as a web designer while still at college. By 2000 – a time when everyone was buying into the idea that the Internet would change everything – I'd started my first Internet business and brought on two partners. A lot of mistakes were made in how we grew early on: in trying to do everything for everyone, we lost our identity. At one point we had a list of more than 20 services on our website.
We honed our focus to online marketing and now only take on ancillary services when our clients demand it. The focus has paid off. Between 2013 and 2014, partner Corey Blake and I grew MWI by over 1,000 per cent and our team is growing rapidly. We have offices in three locations, and we're looking at expanding to Singapore, Australia, Europe and within the US.

Why should tech entrepreneurs position themselves for growth in 2017?
Entrepreneurs are always positioned for growth, by definition, but for IoT entrepreneurs in particular, this segment is just beginning to go mainstream. In 2014, Juniper Research came out with a report forecasting that by 2017, smart watches would displace fitness wearables as the most popular IoT wearable. Is that happening? Most definitely. That seems prescient considering the Apple Watch wasn't released until the end of 2015. That same report also predicted that wearables revenue would pass US$50 billion by 2019, up 10 times from 2014. That's just one category of IoT, and then you've got smart home devices and everything else that's growing right now. It's a massive wave IoT entrepreneurs can ride if they're smart and prepared to scale.

Why focus on Asia?
In the West, we think Asia is the world's manufacturing hub because of cheap labour. That thinking is a few decades out of date. Asia owns manufacturing because Asia knows manufacturing better than anyone else. There's talk about manufacturing returning to North America because robots will replace humans, but who's going to be on the cutting-edge of roboticised manufacturing? It's going to be Asia. Asia will continue to have the advantage when it comes to product design, development, prototyping and advanced mass-manufacturing for decades, and that all plays to what IoT needs.

Where does Hong Kong fit in?
It's the combination of Hong Kong and the Pearl River Delta, including Shenzhen. It's where East meets West. You can set up and run your business from Hong Kong with its rule of law, more familiar culture, fewer language barriers, while doing prototyping and manufacturing an hour away across the border in the Chinese mainland. There's nothing like it in the world. That's why accelerators like Brinc and start-ups like Soundbrenner and Kello are choosing Hong Kong as their base of operation. Anywhere else in China is too isolated from the West, and anywhere else outside China is too isolated from China. It's a unique combination of geography, talent and resources.
"Finance and real estate have been huge for Hong Kong in the past, but they aren't Hong Kong's future. The future belongs to entrepreneurs."
Why would Hong Kong be an effective platform for techpreneurs to base themselves?
It may sound like a small thing, but Internet speeds are a huge factor. Because of the "Great Firewall of China," websites and services like Facebook, Twitter, Dropbox, Gmail and Google Docs are blocked. You can access them with a VPN, but the speeds are typically very slow. If you add up all the time spent waiting for websites to load and files to download in China, you might be losing 30 to 50 per cent of your online time each day. If you're transferring large product design files, this can be a deal-breaker for living in China. Many people do it and get by, but some people travel between Shenzhen and Hong Kong just to have access to faster Internet – it's that important.

Hong Kong also has many trade fairs, a growing pool of investors and a language advantage since most people speak English. There are also stronger legal protections for foreign entrepreneurs. But the great thing about Hong Kong is that you can live there, run half your business there, half in the Chinese mainland, and get the best of both worlds.

What about the challenges?
Hong Kong needs more technical and creative talent, and that means changes in the education system, immigration and culture. Schools need to teach programming, art and critical thinking. The government is taking steps to make it easier for entrepreneurs to live and work in Hong Kong, which is great to see, but we need even more entrepreneurs from outside Hong Kong to come here and pass on their expertise to locals. Parents need to encourage their children to take risks rather than look for "safe" jobs. Finance and real estate have been huge for Hong Kong in the past, but they aren't Hong Kong's future. The future belongs to entrepreneurs.
Related Link
MWI