https://hkmb.hktdc.com/en/1X0A7UMW
E-commerce: Using O2O Marketing to Create a Seamless Customer Journey (Interview with Source Network Media Group)
Sandy Choi was one of the early movers venturing into the mainland Chinese market at the beginning of the digital era. She started out as a mobile-apps developer with her husband, Chois Choi, in Guangzhou, and has since witnessed many e-commerce trends come and go.

Since fast internet connections enabled mainland mobile users to access the internet anytime, anywhere, and when WeChat integrated its social and commercial networks with its electronic payment solutions in 2013, m-commerce and O2O (online to offline) commerce have become ubiquitous in China.

While most small businesses in Hong Kong are still hesitant about selling online, Chinese merchants have started to integrate their online and offline networks to create synergies. The Chois viewed this as an opportunity of a lifetime. With years of hands-on experience in the mainland consumer market, they swiftly transformed from a mobile-apps developer to a one-stop O2O marketing and cross-border e-commerce services provider, and founded Source Network Media Group.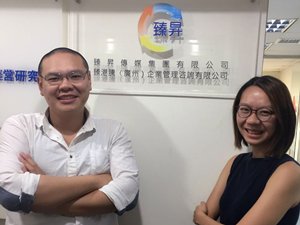 "We have been working on the mainland for more than a decade; we can see the huge gap between perception and reality of e-commerce in China,'' said Sandy Choi. "The consumer behaviour and the e-commerce ecosystem on the mainland are substantially disparate from that of Hong Kong. If an online merchant thought he could just copy his Hong Kong website and social media marketing strategies to his mainland operation, he would soon find himself in a dead end. Not only are consumers on the mainland engaged with different social network platforms, but what they consider to be appealing and engaging content is completely different."

Chois Choi added that the myriad promotional ideas found in the mainland market were dazzling and foreign to Hong Kong businesses. "Apart from discounts and group buying, there are limited time speed purchase (限時速購), sec-killing (秒殺), red packets (送紅包), and platform mileage (平台積分), just to name a few. In this constantly changing e-commerce world, Hong Kong enterprises can get easily confused."

The couple said their company's mission was to provide one-stop O2O marketing to assist Hong Kong and overseas businesses in the vast mainland market, and to help bring more quality brands and products from Hong Kong and the world to Chinese consumers.

"From registering a WeChat official account to building an online store; from creating engaging content to advising on matters of cross-border logistics and payment solutions, we provide back-to-back support to assist our clients in riding the wave of e-commerce prosperity." said Sandy Choi.

"Assisting our clients in recruiting followers is our daily routine. The best places to recruit are not necessarily shopping malls; they can be universities, residential areas, and even street-side locations, depending on clients' positioning and their target customer profile. We have an extensive network with upscale mall operators and exhibition organisers, but we also go to downtown locations to help clients execute their integrated O2O strategies."

"We also partner with experts in working out the best logistics solutions for our clients as the opaque regulations and inconsistent clearance procedures in different ports pose challenges to many online merchants. Usually we would advise our clients to keep stock in Hong Kong when starting up as this allows the highest flexibility. But when the order volume goes up, they should consider using bonded warehouses in China to achieve cheaper and faster delivery."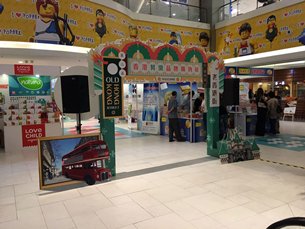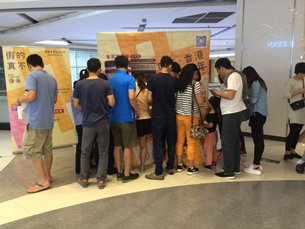 As digital connection in China continues to touch every step of the customer journey, the line between the digital and physical world is blurring. Results-driven O2O marketing campaigns – such as sample distribution, games and other activities – can bring an influx of new customers. But more importantly, through these campaigns, online merchants can invite shoppers on the spot to become a follower of their online stores. That means that these newly acquired customers can easily be reached in the future via continuous online marketing.
Information Technology
Public Relations