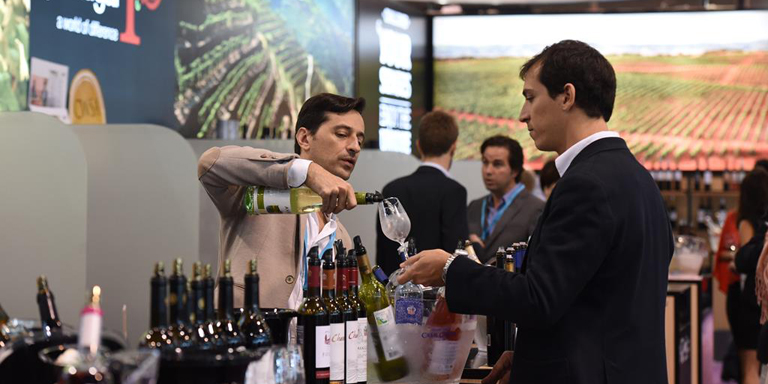 https://hkmb.hktdc.com/en/1X0A7TG5
HKTDC Hong Kong International Wine & Spirits Fair
Sparkling new business opportunities at Asia's leading wine fair happening in November.
WHAT: The region's most exciting wine and spirits event serves as a gateway for winemakers and distributors looking to enter the industry's fast-expanding Asian market.

The fair's ninth edition will offer a wide range of high-quality wine and spirits, beer and other alcoholic beverages.

WHEN: 10-12 November 2016
WHO: More than 1,000 exhibitors from 33 countries and regions are expected to take part in this year's event. More than 20,000 visitors attended last year's fair.
WHY: Wine consumption, appreciation and investment are rapidly growing in Asia, making the region a prime market for targeting new business opportunities.

Hong Kong's total wine imports were worth HK$8.22 billion in the first eight months of 2016, an increase of more than 26 per cent.

Winners of this year's Cathay Pacific Hong Kong International Wine and Spirit Competition Award will be announced on the first day of the fair.

The fair will open to the public on the last day, providing exhibitors with direct consumer feedback and the opportunity to promote their brand.

WHERE: Hong Kong Convention and Exhibition Centre, Hong Kong

HOW: The registration form is available to download.

And You Can Quote Me: "I am visiting the Hong Kong International Wine & Spirits Fair for the first time to source new wines from different places. I am particularly interested in Australian wines. So far, I've identified four wineries from Australia for red wine, white wine and sparkling wine. Discussions are also underway with a Portuguese exhibitor for red wine. This visit has proved to be very rewarding. This is a good fair allowing me to meet some niche wineries that produce good-quality wines." (Shinichi Sakata, CEO, Yotsuya Co., Ltd, Japan, talking about last year's fair.)

For more information, please visit: http://www.hktdc.com/fair/hkwinefair-en/