https://hkmb.hktdc.com/en/1X0A7S7H
Western China's High-Tech Potential Woos the Multinationals
Foreign capital has been flowing into China in recent years to tap the potential of its western region. Domestic enterprises in the coastal regions are also casting a covetous eye on the pool of tech talent and ample land and labour supply in the western region in order to tackle rising production costs and other challenges. Great efforts made by cities in the western region to improve their infrastructure, expand their transport networks and upgrade their overall distribution and logistics capabilities have turned this region not only into the target destination for industrial transfer from the coastal areas, but also the preferred destination for foreign companies looking to expand their overseas markets and Chinese companies seeking to further open up domestic sales.
Chengdu in Sichuan province, along with its neighbouring Chongqing municipality, is home to the largest industrial cluster in the western region, and is also the region's logistics centre and transport hub. The Chengdu-Chongqing district attracts the most capital from companies operating in coastal regions, as well as from foreign firms. Much of this investment is funnelled into high-tech industries, such as those involving semiconductors, computers, communications equipment and automobiles. This has helped to turn Sichuan province and Chongqing municipality from old industrial bases into China's leading modern manufacturing hubs.
Industries and production activities in the western region are diversifying and embracing higher technology as local industry chains gradually come of age. This not only leads to a sharp increase in demand for a wide range of industrial materials but also spurs demand for various types of supporting services. Business services including product design and technology solutions, brand and market promotion and international logistics should generate good market opportunities for Hong Kong's upstream suppliers of industrial materials and services.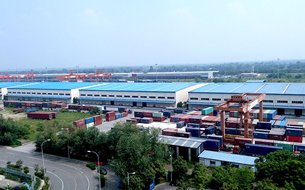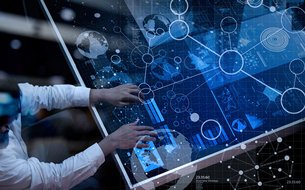 Rapid Growth of Foreign Investment in the Western Region
According to the Ministry of Commerce figures, China's actual use of foreign capital between January and August 2016 showed an annual growth rate of 4.5% (reaching US$85.9 billion), with the western region showing a higher annual growth rate of 31%. In fact, foreign investment in the western region has been growing in tandem with the development of the regional economy. Between 2005 and 2015, foreign direct investment (FDI) in Sichuan and Chongqing increased by more than 10 and 7 folds respectively, representing an average annual growth rate of 27.5% and 22%, respectively, both exceeding the national average of 7.7%.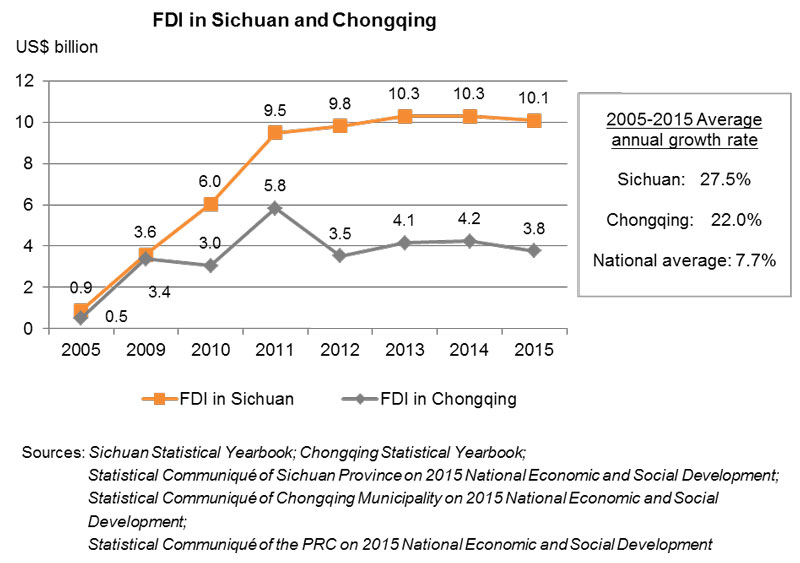 Sichuan leads the central and western regions in FDI utilisation and in attracting domestic enterprises from other provinces. For example, 271 Fortune 500 companies – including 202 overseas and 69 domestic enterprises – had established a presence in Chengdu up to March 2016.[1] This shows that like overseas companies, domestic enterprises from other provinces also hope to make the best of the advantages that these regions have to offer in order to expand their businesses.
In 2015, Sichuan's actual use of FDI reached US$10.07 billion, while investment by domestic enterprises from other provinces totalled RMB911.6 billion (about US$145 billion) during the same period, representing year-on-year growth of 3.6%.[2] Investment went to wide-ranging industries, including those involved with electronic information, equipment manufacturing, food and beverages, oil, gas and chemicals, energy and electricity, and automobile manufacturing. This suggests that foreign companies and domestic enterprises from other provinces see great potential in Sichuan's development.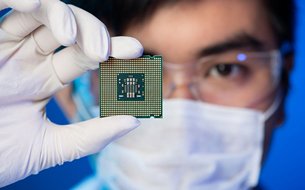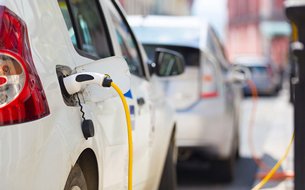 The situation is similar in Chongqing. Its use of foreign investment totalled US$10.77 billion in 2015, including US$3.77 billion in FDI. It also attracted RMB853 billion (about US$135 billion) from other provinces in the year, representing an annual growth rate of 17.7%.[3] In terms of industry sector, outside investment mostly finds its way to electronic equipment and automobile-related industries, as well as to Chongqing's financial, logistics and service sectors. In particular, more than half of the output value generated by foreign-invested enterprises in Chongqing is from the manufacturing of communications equipment, computers and other electronic equipment. In addition, about 30% of the output value of foreign-invested enterprises comes from the manufacturing of automobiles and auto parts.[4] The investment of domestic enterprises from other provinces is more diversified. Overall, outside investment in Chongqing mainly goes to high-tech industries.
Tech Giants Move into Sichuan and Chongqing
It is noteworthy that as leading investors in Sichuan and Chongqing in recent years, multinational companies and domestic enterprises are capitalising on the region's advantages to satisfy their needs for global business expansion. In the electronics sector, for instance, large numbers of electronics engineers have been trained in the western region. Chengdu and Chongqing, in particular, have an ample supply of tech talent and personnel in the electronics field. The western region also has a well-developed defence industry, with Chengdu and Chongqing as leading centres. Given that the Chinese government is stepping up its efforts to convert defence technologies to civilian use, Chengdu, Chongqing and their surrounding areas have become focal points for highly qualified personnel in the electronics and other technology sectors.
Technology Resources of Chengdu and Chongqing
Chengdu
Technology personnel number about 3.89 million (of which 1.85 million are professional technical personnel, ranking first in the western region)
53 tertiary institutions, including Sichuan University, University of Electronic Science and Technology of China, and Southwest Jiaotong University
67 national-level collaborative innovation centres, key laboratories, engineering technology research centres and other types of research and development platforms
Chongqing
More than 890,000 technology personnel
67 tertiary institutions, including Chongqing University, Chongqing University of Technology and Chongqing University of Posts and Telecommunications
More than 1,000 research institutions
Source: Chengdu Investment Promotion Commission; Chongqing Municipal People's Government
Chengdu and Chongqing boast the largest clusters of electronic industries in the western region. For example, the Chengdu High-Tech Industrial Development Zone is home to more than 200 high-tech companies, including Intel and Texas Instruments, and has formed a relatively complete system of integrated circuit industries. Figures released by the development zone suggest that one out of every two notebook computers in the world has its CPU packaged and tested in Chengdu. For upstream parts and components, there are advanced TFT-LCD production lines, LCD glass substrate and other new display projects in the development zone. BOE Technology, a mainland-based group, is investing to build a Gen 6 LTPS/AMOLED production facility in Chengdu.
After relocating part of its production line from Shanghai to the western region a few years ago, Intel now air freights the chips produced in its factories in the United States, Israel, Dalian and elsewhere to Chengdu for packaging and testing. They are then shipped by air to various parts of China or exported to markets around the world, some via Hong Kong. This makes Chengdu one of the main packaging and testing centres for Intel chips produced around the world. Intel is currently upgrading its Chengdu facility, and plans to transfer some of the extended production lines in Israel to Chengdu.[5]
Texas Instruments is also upgrading and expanding the capacity of its packaging and testing facility in the development zone. Foxconn also has production plants for tablet computers, smartphones and relevant parts and components in Chengdu, and started to produce notebook computers for Apple in the city in mid-2016.[6]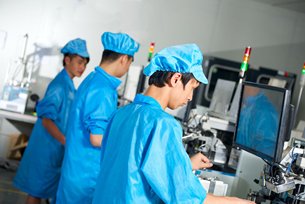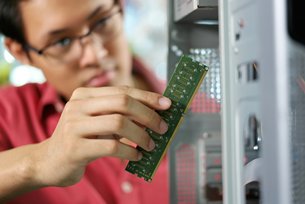 Apart from Chengdu, Sichuan province has another cluster of manufacturers of electronic goods. These include local companies such as Changhong (colour TVs) and Chengdu Guoteng Communications (telecoms/data equipment), together with a supply chain capable of supporting their production activities. Domestic enterprises from other provinces, such as TCL and Lenovo, and foreign companies like Dell, have also invested in Chengdu to produce HDTV, computers and other information-technology products. These, together with the high-tech companies mentioned above, are contributing to the gradual improvement of Chengdu's – and even Sichuan's – overall supply chain.
As for Chongqing, the China Silian Instrument Group (electrical equipment, semiconductors and LED products) and CISDI Engineering (energy saving, environmental protection and information-technology equipment) have all made significant headway in the electronics sector and have joined the ranks of China's top 100 electronics enterprises. Overseas high-tech companies are also actively investing in Chongqing. In particular, HP has increased the capacity of its production plant in Chongqing, and the computers and other information products produced there supply the booming domestic and global markets. Taiwanese manufacturers of information-technology equipment such as Acer, Quanta, Inventec and Foxconn are also setting up plants in Chongqing. These are directly responsible for the surge in Chongqing's output of computers and other electronic products in recent years.
In fact, due to the policy support given by the municipal government for electronics manufacturing, information technology and other industries, Chongqing's high-tech industries have been expanding for some years. For example, the Chongqing Liangjiang New Area was established in mid-2010 as a national-level development zone, with a status similar to that of Shanghai's Pudong New Area and Tianjin's Binhai New Area. With electronics as one of its target industries, Liangjiang offers preferential land policy, subsidy, credit support and other incentives to investors. Another example is the Chongqing Xiyong Micro-Electronics Industrial Park, which is actively wooing investors from sectors including information technology, integrated circuits and software. Liangjiang and Xiyong have bonded facilities to attract export-oriented production activities.
Against these backdrops, Chengdu and Chongqing have developed into important bases for the electronics industry, and their achievements are clearly evident. The following are some of the latest figures provided by the Chengdu High-Tech Industrial Development Zone, in mid-2016:
The chips of 50% of all notebook computers produced globally are packaged and tested in Chengdu
Two-thirds of iPads produced around the world are manufactured in Chengdu
40% of notebook computers produced globally are manufactured in the Chengdu- Chongqing district
Sichuan and Chongqing as Gateways to Domestic and Overseas Markets
As well as being technology centres, Sichuan and Chongqing are the transport hubs of western China, accessible to cargo transport and logistics networks. Under the "Go West" strategy, they have in recent years substantially upgraded their infrastructure, expanded their road and water-transport networks and improved their overall logistics distribution capacity with the central and coastal areas. Chengdu and Chongqing have also strengthened their air and rail links with other countries, including the China-Europe express freight-train services between Chengdu and Lodz in Poland and between Chongqing and Duisburg in Germany. This has completely changed the old impression that the western region is not in a good position to engage in production activities relating to international trade.
[Note: For more details about the China-Europe express freight-train services, please see: China-Europe Trains: The Express Route for Belt and Road Businesses]
Sichuan's population of some 81 million people used to be the main source of migrant workers in China's coastal areas. However, as the cost of living rises in the coastal areas and employment opportunities increase in the western region, many migrant workers are heading home to look for jobs. Chongqing, with a population of about 30 million, has ample labour supply as well. In view of these factors, growing numbers of domestic companies and foreign-invested enterprises operating in the coastal areas are relocating their production facilities to Sichuan and Chongqing, in part to keep their workers engaged while expanding their production capacity.
The governments of Sichuan and Chongqing are also actively looking for companies wishing to shift their businesses inland from the coastal areas where operating costs are high, and are wooing investors of more high-tech industries to set up production plants in this region. Combined with the fact that many multinational and domestic high-tech and electronic enterprises have already moved into this region in recent years, this has stimulated demand for all types of producer goods and prompted some upstream materials suppliers to follow their clients and invest in Sichuan and Chongqing in order to tap the growing market for industrial materials.
These developments have not only turned the western region into a destination for coastal enterprises to transfer some of their more high-tech production, but also made the region an ideal place for foreign and domestic enterprises to expand their businesses and further open up overseas markets and domestic sales. With the continuous flow of investment from outside, the sales value of the Sichuan and Chongqing electronics industry soared to RMB404.8 billion and RMB295.4 billion, respectively, between 2010 and 2014, representing an average annual growth rate of about 30% and 76%, respectively.
The industries in Sichuan and Chongqing have also evolved from having a majority of domestic sales to being export-driven. Exports by the electronics industries in Sichuan and Chongqing in 2014 accounted for 62% and 74%, respectively, of the total sales value, and their total export delivery value ranked fourth and sixth, respectively, among all provinces and municipalities in China. The main export items include computers, integrated circuits and telecommunications products. On the other hand, although the domestic sales ratios of the electronic industries of these two places have been on the decline, the actual sales values have been increasing, although the growth rate is trailing behind that of exports. This shows that more and more domestic companies and foreign-invested enterprises are using Sichuan's and Chongqing's leading-edge in technology, labour supply and other resources to expand domestic and overseas markets.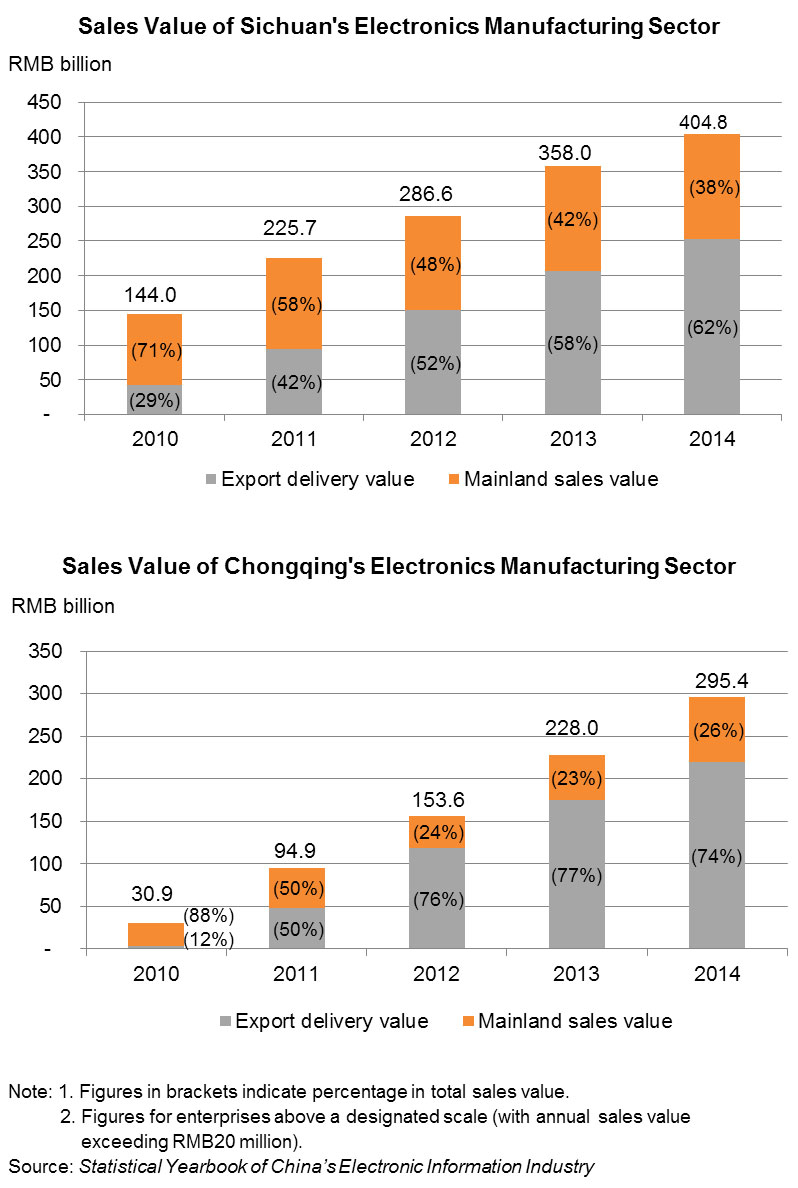 Implications for Hong Kong Businesses
An increase in investment by outside enterprises reflects the growing attention directed towards the western region. Sichuan and Chongqing have a wealth of technology talent and an ample supply of labour. The region's rich market potential is favourable for the development of manufacturing clusters of electronics and other more high-tech industries. At present, not only multinational companies but also big mainland and Taiwan companies are investing in Sichuan and Chongqing. Upstream suppliers have also followed in their clients' footsteps to this region in order to tap the growing market for industrial supplies. The efforts made by the local governments to lure more businesses from the coastal areas where operating costs are high will further stimulate demand for various types of production materials. This will generate opportunities for Hong Kong suppliers of upstream materials.
On the other hand, Sichuan and Chongqing are aiming for a higher technological level and are heading in a more service-oriented direction in their industrial development. Their governments welcome modern services in addition to manufacturing in the hope of achieving diversification. Electronics manufacturing has been extended to cover areas such as communications systems for transportation and rail transport, global positioning systems and logistics management. Greater importance is attached to the research, development and the application of new-energy vehicles to help boost the Sichuan-Chongqing region's automobile sector. Local enterprises also hope to strengthen co-operation with technology and service sectors in other regions to increase their competitiveness and open up more domestic and overseas markets. Apart from opening the doors for Hong Kong technology companies to enter the western China market, these developments will also generate good opportunities for Hong Kong service providers, such as those providing business services in product design and technology solutions, brand and market promotion, and even international logistics.
With their maturing industry chains and more efficient logistics distribution systems, Sichuan and Chongqing offer an additional option to Hong Kong companies that are considering moving their coastal production facilities and expanding their production capacity inland. Moreover, the supply chain links between Sichuan and Chongqing and the coastal areas are getting closer. As their downstream clients are increasingly being tempted to invest in the western region, Hong Kong's upstream suppliers may need to consider how they can move inland with their clients or find other ways to give them support.
[Note: For more details on the direction of industrial development of Sichuan and Chongqing and the current situation of industrial relocation, please see Relocating to Chengdu and Chongqing: The Implications for the High-tech Sector]
---
[1] Source: Chengdu Investment Promotion Commission
[2] Source: Statistical Communiqué of Sichuan Province on 2015 National Economic and Social Development
[3] Source: Statistical Communiqué of Chongqing Municipality on 2015 National Economic and Social Development
[4] Source: Chongqing Statistical Yearbook
[5] Source: Chengdu High-Tech Industrial Development Zone
[6] Source: Chengdu High-Tech Industrial Development Zone
Logistics & Supply Chain
Technology
Electronics & Electrical Appliances
Mainland China
Hong Kong
Mainland China
Hong Kong