https://hkmb.hktdc.com/en/1X0A7QQ4
A Mansion's Musical Rebirth
A private mansion from Hong Kong's colonial days is re-purposed as a cross-cultural music academy.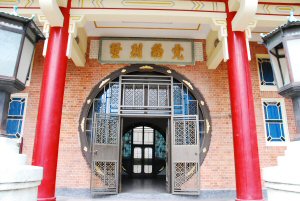 The Haw Par Mansion, a Grade 1 heritage building, was built in the 1930s by entrepreneur and philanthropist Aw Boon Haw, who established the herbal medicine brand Tiger Balm.

At the time when successful Chinese businessmen were setting up bases in Hong Kong as a measure of their social status, the Burmese-born businessman opened a factory in Hong Kong and often travelled to the city on business. His second wife, Tan Kyi Kyi, "adored the atmosphere of Hong Kong," so he built for her the mansion on Tai Hang Road, a popular area for well-off families. The estate, on Hong Kong Island, included a substantial private garden, as well as an elaborate public garden, the latter since demolished for redevelopment.

The three-story mansion is an example of Chinese eclectic-style architecture, featuring rich Chinese architectural detail for its appearance, and Western spatial planning and construction method. The mansion, with its private garden, is said to be one of the few surviving examples of such style in Hong Kong.
Beloved Bing


Bing Thom had been in robust health when he was struck by a brain aneurism, which claimed his life on 4 October, according to Bonnie Thom, his wife of some 50 years.

Mr Thom was working on three projects in Hong Kong: the Haw Par Mansion revitalisation, Chicago Booth Business School's campus on Mount Davis, and the Xiqu Centre, new Chinese opera house at the West Kowloon Cultural District, which Mrs Thom described as her Hong Kong-born husband's "homecoming project."

Mr Thom founded his firm, Bing Thom Architects, in 1982, and opened a Hong Kong office in 2013. He is described in a company statement as "one of Canada's most admired and accomplished architects, a dedicated and artful citybuilder whose global reputation was closely tied to Metro Vancouver, a region he cared for deeply and did much to protect and to improve."

Mr Thom's commitment to using architecture to improve the urban environment was recognised by a range of honours, including the Order of Canada, the Golden Jubilee Medal, honorary degrees from Simon Fraser University and the University of British Columbia, the Margolese Prize, an honorary professorship from Tongji University in Shanghai, and the RAIC Gold Medal, the highest honour given to a Canadian architect.
Cross-cultural Vision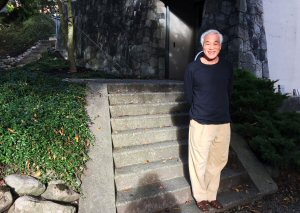 In 2011, then-owner Cheung Kong (Holdings) Ltd handed the mansion and its private garden to the government for preservation through the Revitalising Historic Buildings Through Partnership Scheme. The not-for-profit Haw Par Music Foundation was established for the implementation and future day-to-day operation of the revitalised project, and Vancouver-based architect Bing Thom, who passed away in Hong Kong this month, was appointed as the project's lead architect.

Born in Hong Kong, Mr Thom moved to Canada as a child. The late architect was highly regarded for his iconic cultural projects in North America, including the Chan Centre for the Performing Arts in Vancouver, and Arena Stage, a regional theatre in Washington DC, as well as cultural centres in the Chinese mainland cities of Shijiazhuang and Tianjin. He was also well-acquainted with Tiger Balm heiress Sally Aw, the adopted daughter of Aw Boon Haw, who died in 1954.

Mr Thom competed for and won the project based on his idea to turn the mansion into a music conservatory and public cultural venue. The HK$167.3 million project is government-funded, topped up by private donations. Construction began in June and the venue is scheduled for completion in 2017 under its new name Haw Par Music Farm.
Community Benefit
The building is being restored with minimal intervention to preserve its significant defining elements. It will be furnished with original pieces and artifacts currently stored in the mansion, and from the Aw family's private collection.

Apart from providing music education, Haw Par Music Farm will offer social outreach programmes designed to encourage students to participate in community service. It will also bring benefits to the underprivileged group by offering scholarships, bursaries, music therapy and appreciation classes to the elderly.

Roger Wu, CEO of the Haw Par Music Foundation, said the project will serve a dual purpose: conserve the unique heritage landmark for public enjoyment, and provide a cultural environment for the people of Hong Kong to study Western and Chinese music.

In an interview shortly before his unexpected passing, Mr Thom expressed the hope that the project would also further boost Hong Kong-Canada cultural relations.
Canada Connection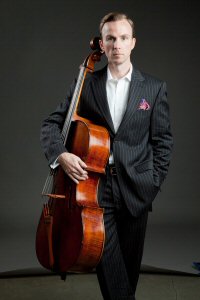 The Vancouver Academy of Music (VAM) is a strategic partner of the Haw Par Music Farm project, and worked closely with Mr Thom as part of a global team of experts overseeing the heritage revitalisation.

Joseph Elworthy, Executive Director of the 49-year-old Canadian musical institution, will assist in the curriculum development for the new school, ensuring the most current and progressive music education methods are delivered to Hong Kong.

"The rich history of Haw Par Mansion, now brought back to life by means of a music school, is a fascinating proposition," said Mr Elworthy. "The mansion has been an historical gathering place for cultural activities, such as salon concerts and musical soirees. How wonderful it will be to add to Hong Kong's vibrant cultural scene by recreating these historical cultural gatherings."

Mr Elworthy believes Haw Par Mansion will be one of the world's most unique settings for musical education. "I am hugely excited by the prospect of VAM faculty and our talented students coming to Hong Kong to perform and participate in educational-exchange opportunities," Mr Elworthy said, adding that "it will ultimately be the musical programmes and the students themselves who will revitalise the soul of this wonderful space."

Related Links
Bing Thom Architects
Haw Par Music Foundation
Vancouver Academy of Music
Education & Training
Design Services