https://hkmb.hktdc.com/en/1X0A7QP5
Plywood Perfect
Hong Kong start-up studio launches an innovative DIY line of furniture.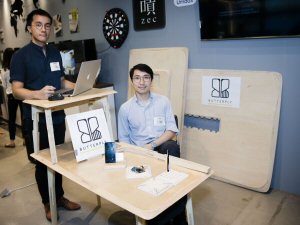 Hong Kong is awash with flat-pack furniture. The demand for flexible, functional and compact furniture has made China, including Hong Kong, one of the fastest growth markets for the world's biggest furniture brand, Ikea. But two enterprising Hong Kong architects decided that the market wanted more.

Their idea for an elegantly crafted furniture range with a designer aesthetic, affordable price and ease of assembly gave birth to the ButterPly collection, currently in production after a successful crowdfunding campaign on Kickstarter in September.

Hong Kong-born architects Dennis Cheung and Nick Gu met while pursuing their master's studies in the United States: Mr Cheung at the Massachusetts Institute of Technology; Mr Gu at Harvard University. After returning to Hong Kong, they established their design studio, Upscaling Operations (UPSOP), in 2015.

The studio has already notched up a string of accolades, including a Design for Asia merit award (environmental design category) and an honourable mention in the International Design Awards for the interior design of SR hair salon, a project completed in 2015 using abandoned teakwood flooring panels from vacant Hong Kong buildings.
Reinventing Plywood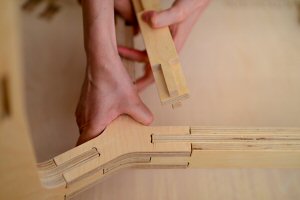 While working on design projects in the commercial-retail and residential sectors, the young designers, both 29, wanted to do more with the plywoods and veneers they had been working on in graduate school. To achieve that, they first had to challenge the perception held locally of plywood as a rather industrial product, and the notion of flat-pack furniture as cheap and disposable.

"We wanted to change people's mindset by showing that DIY furniture is not necessarily inferior in terms of material or design, and that designer furniture need not be an expensive luxury item," Mr Gu said.

And so the design concept for ButterPly – its name derived from the metamorphosis of a butterfly – was born. Its aim is to blend the beauty and functionality of wood to form a stylish, practical desk for the home and workplace.
"We wanted to change people's mindset by showing that DIY furniture is not necessarily inferior in terms of material or design, and that designer furniture need not be an expensive luxury item."
The craftsmanship of the desk, available in three sizes, is inspired by traditional Japanese and Chinese wood joinery, which is assembled without need for fastenings. A design feature is the interesting ergonomic curving on the edges, along with flexible modular organisers for holding keys, pens and mobile phone.

In addition to the aesthetic and functional value of plywood, the UPSOP founders believe that the material is a sustainable choice. They will exhibit the piece at this month's Eco Expo Asia, an international trade fair on environmental protection, in Hong Kong.
Greener Choice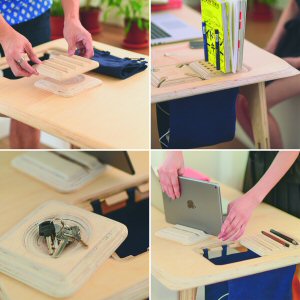 The raw material is plantation timber sourced from Russia, so ButterPly production, they said, involves no destruction of hardwood forests. They are then shipped to the Chinese mainland for manufacturing, a process that is itself resource-efficient as it minimises wastage.

"Plywood is made from layers glued together, utilising the whole log, whereas for solid timber furniture, you have to discard the knots and parts of the wood deemed 'not pretty' enough," Mr Cheung explained.

Wood has low-embodied energy, so is more easily recyclable than many other materials, and is a renewable resource if it is plantation timber. Unlike other flat-pack furniture made from MDF or honeycomb board, which has a lifespan of only a few years, ButterPly is made to last – another of its environmental credentials.

ButterPly's manufacturing process meets American formaldehyde emission standards (under the California Code of Regulations) and from its retail launch early in 2017, the range will be Forest Stewardship Council (FSC)-certified.
Hong Kong Advantage
The Kickstarter campaign exceeded its funding target, and backers are expected to receive their desks in December. Starting in January 2017, the desk will be sold online via the UPSOP website, and at retail outlet Backers, a crowdfunding product concept store at the K11 mall in Tsim Sha Tsui. The retail price point – from HK$1,390 to HK$6,820, depending on the size – will, according to the designers, make it around half the price of similar hardwood desks on the market.

UPSOP is Hong Kong-based, but has a global vision. Its founders eventually plan to expand to the US, but say Hong Kong has provided an effective start-up platform.

"Hong Kong gives us easy access to the Guangdong area, enabling close connections to manufacturing and production bases," Mr Cheung said. "I think a lot of designers in Hong Kong should take advantage of this to further understand how Chinese factories, and indeed, how the whole supply chain works. We are in a good position in Hong Kong due to the city's geographical location."

The small footprint of Hong Kong itself also makes it easier to build relationships with potential business partners, Mr Gu added.

"We envisage a much wider furniture range under the ButterPly brand and hope to work with bigger furniture retailers in the future," Mr Gu said. "We are in discussions with some already that are showing interest in our designs."
Related Links
ButterPly
Eco Expo Asia
UPSOP