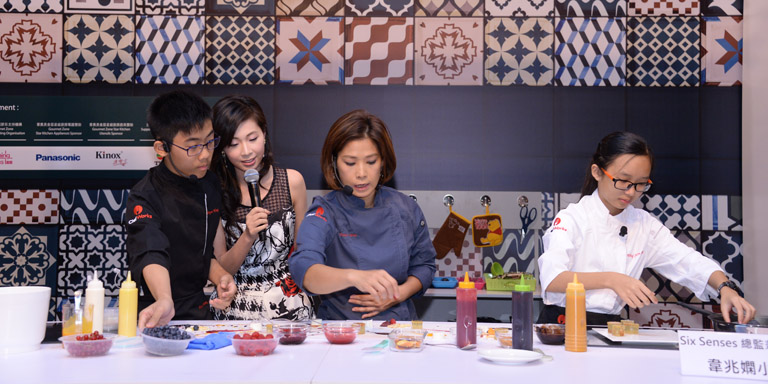 https://hkmb.hktdc.com/en/1X0A7LWD
A Thai Twist on Hong Kong Flavours
Local celebrity chef Denice Wai designs delectable menus for "In Style • Hong Kong" promotion in Bangkok.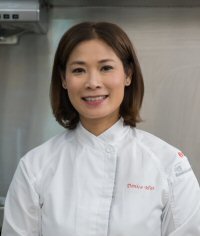 Inspired by her beginnings helping out at the family's Chinese cuisine catering business in Hong Kong, Chef Denice Wai went on to gain professional training and establish a career in Canada. Since returning to Hong Kong in 2004, she has established the 6 Senses Cooking Studio, launched her own line of gluten-free baked products and hosted several TV and radio cooking shows. Ms Wai strives to share her passion for cooking with the local community through innovative recipes that balance tradition, locally accessible ingredients and healthy eating.

As the "Chef • In Style" for HKTDC's "In Style • Hong Kong" promotion in Bangkok, Thailand, Ms Wai has created unique menus featuring the iconic flavours of Hong Kong designed to appeal to Thai palates. Bangkok residents will have a chance to enjoy her signature menus this September and October at the Four Seasons Chinese restaurant, Gokfayuen and B.Duck Café.
Why did you decide to participate in "In Style • Hong Kong?"
I find that Thai people love to eat, like a lot of Asians, and they really love to explore new styles of cooking and cuisine. So for this trip, I especially wanted to introduce traditional Chinese cuisine to them. I found that they like the way Chinese food is cooked. It's different from Thai cuisine, which is usually deep-fried or eaten as salad or in a cold dish. The way I wanted to present Chinese cuisine to them is by using a simple way to cook a tasty dish.

I want to share my experience and knowledge of traditional Hong Kong cuisine and traditional Chinese dishes to ethnic Chinese people, because they don't have that privilege to really taste what we call the traditional dish in their country. A lot of traditional dishes are fading or might disappear; it's like a dinosaur. When I talk to young chefs, especially in Chinese cuisine, I ask them, "Do you know the correct way to cook this or present this?" and they will just tell me the quickest and easiest way. To me, it seems like a loss of Chinese cuisine.
How did you create these four dishes to feature at the event?
The purpose of the Bangkok event is to promote special Hong Kong dishes, so they will understand more about Hong Kong cuisine. So when I determine my recipes, I think about the Thai people and the ingredients, whether they can consume them or whether they can purchase them in Thailand, and include a traditional touch for the dishes. I will also base the dishes on the backgrounds of the individual restaurants. Like for B.Duck Café, they only serve desserts and snacks, so that's why I designed recipes that focus on traditional Hong Kong-style desserts, plus a little bit of traditional Chinese style, too. The Four Seasons Chinese restaurant is more of a Hong Kong-style Chinese restaurant that serves traditional dishes like roasted duck. I decided to create a traditional smoke fish dish for them that my dad used to cook. When I design recipes, I will focus on the individual's background first and the origins, whether they can consume or purchase the ingredients.

You set up your business 6 Senses Cooking Studio in Hong Kong. What prompted your return to the city?
I moved to Canada a long time ago by myself but I came to back to Hong Kong because my mom was suffering from a diabetic coma. My family has a history of diabetes and cancer. When I came back to Hong Kong, I still remember observing my relatives and how they were not eating healthily. My family's health history greatly influenced my cooking. It seemed like a mission that I have to come back to Hong Kong to not only take care of my mom's health, but to share what I have learned in Canada about cooking and how to maintain a healthy lifestyle. That's why in 2004, I came back to Hong Kong to set up 6 Senses. I think we are the first private cooking studio to use organic products in all our cooking classes and I think we were also the first studio to introduce low sugar and low-fat diets to Hong Kong people.

How have healthy cooking trends impacted the Hong Kong culinary scene?
Once we opened 6 Senses in 2004, there were many corporations and individuals asking us to specially tailor menus for them. I think we helped start the trend and gradually people spread it out in the community. It creates more competitors, but my mission is much more focused on sharing what I know, so overall this is a gain for us. The trend will continue because I will keep inventing something different to share. My culinary background is much more on the Western side, but I use a lot of Chinese recipes with gluten-free and organic ingredients too and teach my students to create new styles of Chinese cuisine. When I create recipes or a menu, I focus on the special needs of people, such as diabetics or those with food allergies or conditions like autism. I use East and West cooking methods and ingredients in my recipes, so I share a more fusion style of healthy cuisine.
Related Links
In Style Hong Kong
6 Senses Cooking Studio