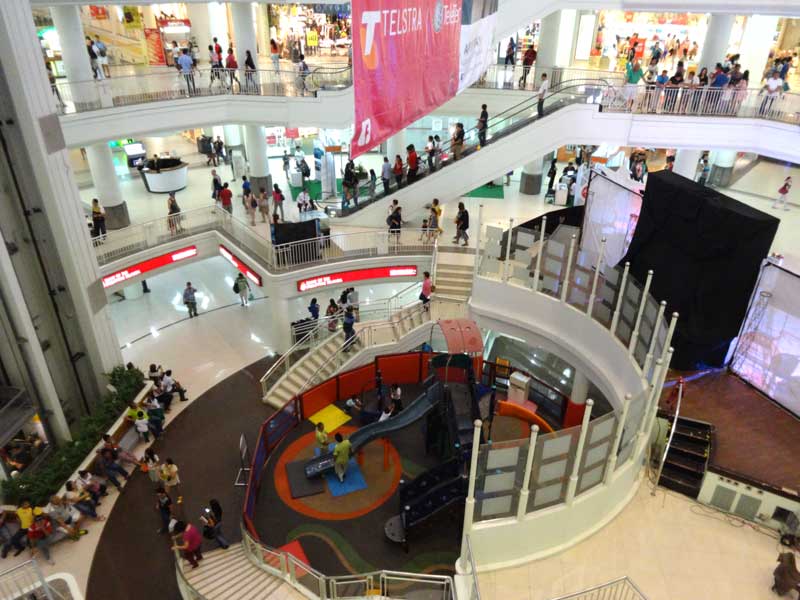 https://hkmb.hktdc.com/en/1X0A7HH4
Modern Consumerism in ASEAN: An Ever Evolving Retail Landscape
The ASEAN retail landscape is evolving along with rapid economic growth and technological change.
In the first article of this series Modern Consumerism in ASEAN: Market Overview, we discussed the potential of ASEAN markets from the demand side. In this article, we focus on the supply side and give an overview of the retail landscape of ASEAN countries. Discussions will focus on ASEAN-5 countries (Indonesia, Malaysia, the Philippines, Thailand and Vietnam), as they are the largest growth markets among ASEAN member states.
Evolution of Modern Retail
In contrast with the stagnant retail sectors in many developed markets, the ASEAN retail market is underpinned by optimistic consumers and growing demand. The consumer goods retail sales value of ASEAN-5 alone is expected to reach US$800 billion in 2016, about a quarter of that of China (see figure below).
While retail in ASEAN-5 countries largely comprises the informal sector, especially in the Philippines and Indonesia, large shopping malls housing supermarkets, department stores and international brands are increasing in numbers. Many ASEAN consumers visit large shopping malls not only to purchase goods, but also for leisure, social activities and the enjoyment of air conditioning. Middle-class and affluent consumers in ASEAN-5 countries favour imported goods and international brands, and such lifestyle preferences are driving growth in organised retail in major ASEAN cities. Kuala Lumpur, Manila, Bangkok and Jakarta are ASEAN-5's retail hubs, with Ho Chi Minh City (HCMC) and Hanoi in Vietnam, and Surabaya in Indonesia, rapidly catching up.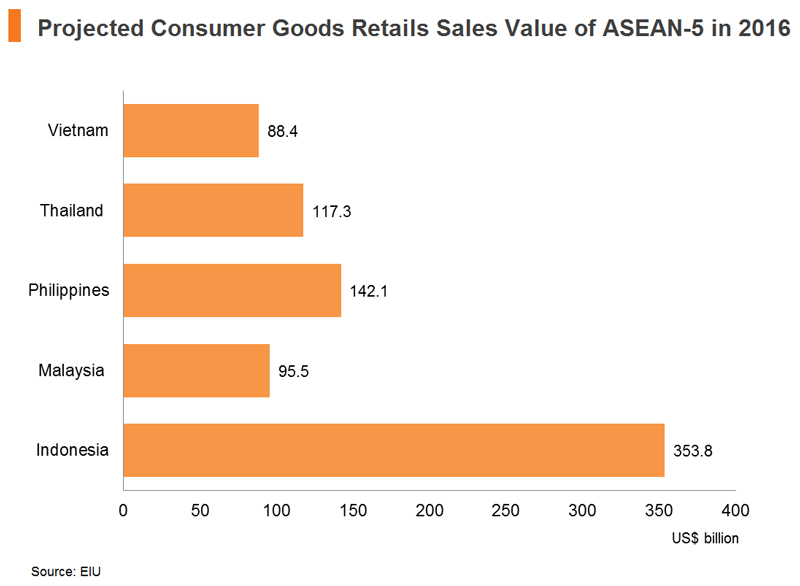 Supermarkets and department stores are the retail sectors in ASEAN-5 with a higher participation of foreign investors. Large international companies such as AEON (Japan), Tesco (UK), Dairy Farm (Hong Kong), E-Mart (South Korea) and Auchan (France) are major players. Bangkok (23), Ho Chi Minh City (9), Manila (24) and Jakarta (24) are where international companies have preferred to set up stores in ASEAN countries. (The numbers in brackets indicate the respective number of retail FDI entrants in each city in 2015)[1]. It is worth noting that retail operators tend to invest and operate in ASEAN-5 countries through partnerships or franchises with local companies, as full ownership of foreign companies in the retail sector is often restricted.
More recently, online retail has become increasingly popular. In particular, the rising penetration of smartphones has driven the growth of e-commerce.
The table below shows the projected retail growth rate in ASEAN-5 countries. Internet retail is expected to show phenomenal growth, particularly in Vietnam and Indonesia, whose main drivers for growth are the enthusiasm for retailers of all sizes to enter the market and the availability of numerous payment methods. E-commerce will be discussed in further detail later in this article.
In terms of store-based retail, the ASEAN-5 countries are forecast to sustain moderate growth. The Philippines and Vietnam, the two fastest-growing economies in ASEAN-5, will have the highest retail growth rates. Malaysia's store-based retail growth is on the slower side as its market is more mature, and much of the future retail sales growth is expected to be absorbed by internet retail.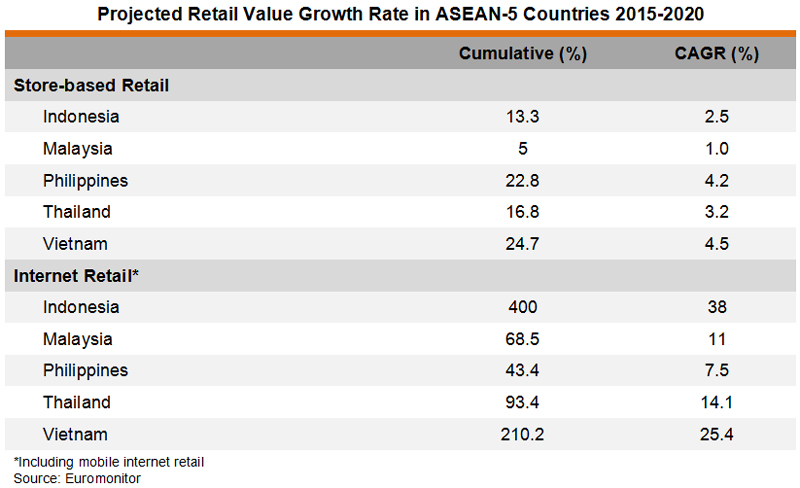 Retail Outlook in ASEAN-5
International brands have spearheaded their market penetration strategies to best exploit the pent-up consumption power of ASEAN consumers. While store-based retail outlets are likely to remain dominant in ASEAN-5, each country within the group has a different level of retail development and outlook.
Thailand and Malaysia have a more developed and organised retail sector. Large shopping malls and international and local retail chains are common in their urban areas and big cities. Store-based retail growth in these two countries is comparatively moderate as their markets are more mature; hence they expect relatively lower economic growth among the countries of ASEAN-5. Meanwhile, Thailand has a higher level of foreign retailer participation, especially in the hypermarket and department-store sectors. Big C (France's Casino Group), Tesco Lotus (UK) and Takashimaya (Japan) all have expansion plans in Thailand.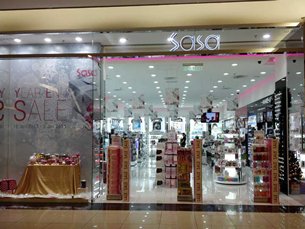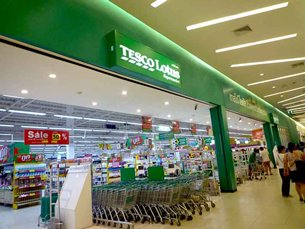 Foreign companies such as AEON and Tesco dominate Malaysia's hypermarket and superstore sectors. However, Malaysia has very specific restrictions on foreign retail ownership. Generally, companies are required to allocate at least 30% of their equity to Bumiputera (ethnic Malays and other indigenous people), with certain degrees of flexibility. It is suggested that Hong Kong companies looking to sell into Malaysian store-based channels work with existing retail operators or set up specialty stores to establish brand presence.
The level of foreign equity share allowed in different retail channels in Malaysia is summarised below:

Vietnam has the most optimistic retail outlook among ASEAN-5 countries. Benefiting from robust economic growth, Vietnam's per capita income has increased by 42% from 2011 to 2015, generating considerable consumer demand. Foreign ownership can be up to 100%, except in six prohibitive areas including finance and defence. Furthermore, modern retail in Vietnam is at an initial development stage, so there is plenty of room for further growth. All these factors are helping to generate a modern retail boom in Vietnam's major cities. Between 2016 and 2018, HCMC and Hanoi are expected to have new retail Net Leasable Area (NLA) supply of 430,000 square metres (sqm) and 420,000 sqm, respectively[2]. Large integrated commercial complexes with retail, office and hospitality floor space are being built, such as the Berjaya Vietnam Financial Centre in HCMC.
Small local stores dominate retail outlets in the Philippines and Indonesia, while large department stores and international brands tend to be restricted to Manila and Jakarta. Consumers with strong purchasing power in these two countries prefer to buy imported discretionary items rather than locally made ones. Foreign participation in the retail market continues to face restrictions in the Philippines and Indonesia despite gradual market liberalisation in recent years. For instance, foreign investors are not allowed to own land in the Philippines. Furthermore, they are required to invest a minimum of US$2.5 million and sell one-third of their equity stake in the Philippines to the public within eight years of operation.
As mentioned earlier, the Philippines has strong projected store-based retail growth among ASEAN-5 countries. Retail growth will be generated mainly by consumption of consumer durables and fast-moving consumer goods (FMCG) in small local stores, although larger modern retail outlets have been growing steadily in larger cities. That being the case, while the number of small retail outlets is still far from sufficient to serve people scattered on different islands, this kind of retail landscape is likely to persist in the short-to-medium term as expansion of large stores is difficult outside the major cities in these two island countries. Such conditions contribute to the strong e-commerce growth prospects in the Philippines and Indonesia, as outlined below.
E-Commerce as a Growing Retail Channel
Online retail currently accounts for less than 2% of total retail in ASEAN-5 countries. The table below – comparing the internet retail landscape between the ASEAN-5 countries, China and the United States – shows there is a lot of scope for ASEAN-5 countries to catch up with the vibrant Chinese and US online retail markets. The amount of internet retail accounts for a tiny proportion of total retail value, especially in Indonesia and the Philippines. However, this new mode of distribution is projected to grow rapidly as development of modern retail in ASEAN is confined to the big cities. Consumers with strong purchasing power in the second- and third-tier cities tend to shop online. This offers great opportunities for Hong Kong companies, in particular SMEs, to supply products to online platforms there without incurring substantial capital costs.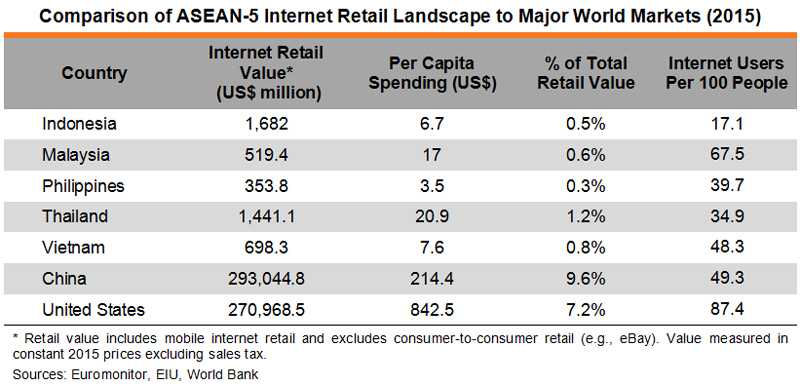 With more than 15,000 suppliers, Lazada Group is by far the largest online shopping platform in Southeast Asia, with a strong presence in bigger and higher-income economies, namely Malaysia, the Philippines, Singapore, Thailand and Malaysia. This platform is an "online department store", selling a wide range of products from electronics, fashion, health and beauty items, sports equipment, and toys to alcohol and spirits. Zalora is the most popular online fashion shop among ASEAN countries, stocking European, American and local brands. The table below shows a comparison of the key figures of Lazada and Zalora with the world online shopping giants Alibaba and Amazon.

Even though there is a huge gap between the major platforms in ASEAN and the world giants, online shopping in ASEAN countries has huge potential considering the market of 630 million people. It is worth noting that China's Alibaba Group bought a controlling stake in Lazada of US$1 billion in 2016, making the deal Alibaba's largest overseas investment. In turn, this reflects the company's confidence in ASEAN's sales potential and particularly the positive outlook of its e-commerce market.

E-commerce, through mobile devices and social-media platforms, is poised for rapid growth. For example, more than 50% of Lazada's orders are generated from mobile. ASEAN has an overall mobile penetration of 110% across the region and smartphone penetration is expected to be more than 55% by 2020 in ASEAN-5 countries, which are also increasingly open to 3G and 4G networks.
ASEAN is also the world's second-largest Facebook user community. With its tech-savvy youngsters accounting for a sizeable chunk of the population, online shopping and Facebook shops are gaining popularity in ASEAN countries. This trend is especially noticeable in second- and third-tier cities where the varieties of goods in physical stores are very limited.
In island countries such as Indonesia and the Philippines, urban development is a challenge for their governments. Indonesia's population is concentrated on the Java Islands, which are a narrow strip of islands with a long coastline. The urban population accounts for only 54% of the country's total. The Philippines' population is even more dispersed – its densest population is in Manila and the south of Luzon but large numbers are spread across different islands such as Cebu and Mindanao. The urban population accounts for only 44% of the total. Very often sea transport is the only affordable option for the movement of people and goods in these two countries, which largely limits retail operations. In comparison, even though Thailand has a similar urban population level of 50%, it is a peninsula with both land and sea freight available across the country.
Bearing in mind the high set-up and operation costs of a network of brick-and-mortar shops serving a large dispersed population in Indonesia and the Philippines, e-commerce has a distinct advantage – by removing the issue of distance, making a large variety of goods accessible to remote consumers.
In spite of the strong growth potential, e-commerce in ASEAN is facing several challenges. Logistics and distribution capacity, particularly last-mile handling, needs to be further upgraded to provide reliable and quality delivery of products, especially in Indonesia and the Philippines.
The availability of a secure online payment platform is limited and credit-card usage is not as common as in more mature markets. However, this situation is improving with more payment options catering to the needs of ASEAN consumers. As the popularity of credit cards remains low in ASEAN-5 countries and online payment security is a concern, cash on delivery, payment at convenience stores and ATM transfers are available for e-commerce transactions. However, online payment systems for local markets are being developed, such as Tokopedia in Indonesia and Mobivi in Vietnam.
ASEAN-5 countries are expected to experience a retail boom, with an evolving retail landscape comprising an increasing number of large shopping malls in major cities and a fast-growing e-commerce sector.
---
[1] Retail Hotspots in Asia Pacific 2015, CBRE April 2016
[2] CBRE, June 2016
Garments, Textiles & Accessories
Footwear
Indonesia
Malaysia
Philippines
Thailand
Viet Nam
ASEAN
Southeast Asia