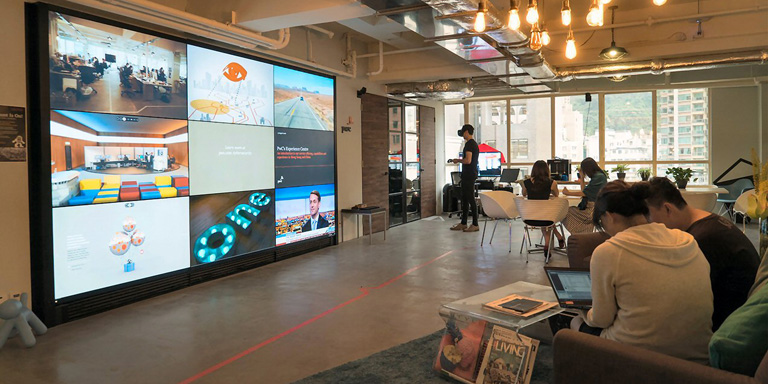 https://hkmb.hktdc.com/en/1X0A74UU
Innovation City
A surge in the number of innovation experience centres in Hong Kong is helping transform the city into a knowledge-based tech economy.
Private companies, institutions and government organisations are walking the talk when it comes to developing Hong Kong as an innovation hub of Asia-Pacific. To mark its 25th anniversary in Hong Kong, Microsoft opened, in March, a new office and Microsoft Experience Center at Cyberport.

The centre serves as a "showcase of a modern workplace and of our close collaboration with local partners to drive continued innovation in this cloud-first, mobile-first world," said Horace Chow, General Manager of Microsoft Hong Kong.

The cloud mix in Microsoft's Hong Kong revenue today is 30 per cent, with the company projecting the figure to rise to more than 40 per cent by the end of the fiscal year. With increasing demand for cloud computing, Microsoft Hong Kong reports drastic year-on-year growth in cloud revenue for both enterprise and SME markets.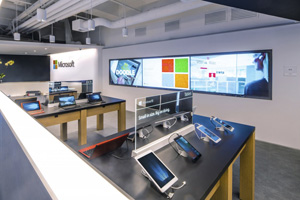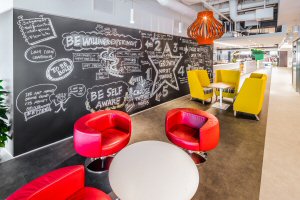 Commitment to Hong Kong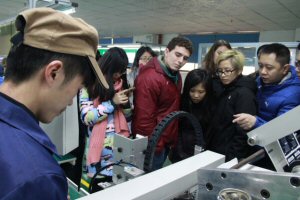 Mr Chow said the new centre was also testimony to its commitment to helping develop Hong Kong's ICT industry, and building Hong Kong as a hub of innovation.

The new centre's design seeks to encourage collaboration with customers and partners, including local start-ups, through interactive displays of joint innovations. At its launch, the centre offered an initial 50-plus digital solutions and demonstrations, with many more planned.

Designer Yvonne Chow from workplace design specialist M Moser Associates, said image is vital for companies today – no matter how big their brand. "The most important thing is how innovative you are, how easily [a customer] can approach you, how much you care about others, how quickly you can resolve customers' concerns," said Ms Chow, who was lead designer on the Microsoft project. "There are more and more start-ups in the market that are extremely creative and full of energy. How to compete with them is very challenging."
MIT Unveils Hong Kong Innovation Node


The prestigious Massachusetts Institute of Technology (MIT) has officially launched its Innovation Node in Hong Kong, marking "the beginning of MIT's commitment to building a long-term presence in Hong Kong."

In his welcoming remarks at the June opening, MIT Provost Martin A Schmidt said the node – first announced in November 2015 – would serve as an important gateway for MIT in China.

"It will open the doors for MIT students and faculty to access the unique resources and opportunities available in Hong Kong and the Pearl River Delta," said Professor Schmidt.

The node's inaugural programme, MIT Kickstart, brought together students from MIT and Hong Kong for a week-long immersive experience in technology-based entrepreneurship. Working as international teams, the students were able to refine an idea, build a prototype, learn from industry experts, and explore the thriving start-up scene in Hong Kong and Shenzhen. The programme culminated in prototype demonstrations by individual teams.
PwC Talent Ecosystem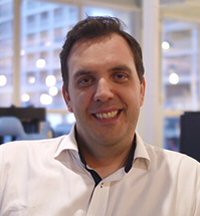 Professional services firm PwC opened its Hong Kong Experience Centre in February. The centre is described as a virtual and physical talent ecosystem designed to nurture the seed of a client's next big idea, and take it to market faster.

Located in Wan Chai, the Experience Centre "forms an integral part of PwC Consulting and its vision to deliver digital solutions underpinned by the analytics and business execution skills that helps employees and clients co-create innovation solutions," said Colin Light, PwC China and Hong Kong Experience Centre and Digital Services Leader.

"We are increasingly seeing more CEOs drive the digital transformation agenda across C-suite teams and departments," Mr Light said. "It was a natural decision for PwC to respond to this business need by creating a collaborative environment for C-suites to innovate future products, services and businesses."

Companies must evolve to survive in today's digitally disruptive economy, he added. "We believe digital and analytics services will be a core function in companies within the next three to five years."
Successful Start
PwC's Experience Centre is a purpose-built facility, where clients are immersed in various themed zones – based around marketing and branding, IT awareness (including digital threats) and virtual reality – manned by specialist personnel who can help clients build those capabilities. It enables the firm to combine the best of its traditional business and technology consulting expertise, with the creative capabilities of a digital agency, Mr Light said.

Given Hong Kong's "fantastic start-up community" and PwC's established relationships with Hong Kong-headquartered multinational corporations and significant family businesses, the city offers a perfect platform for this concept, he added.

"We've managed to attract new and exciting talent from a range of industries in Hong Kong, including creative/advertising talent, through to leading data scientists and Fintech experts. The venue has hosted industry-leading events, such as our digital summit, jointly run with Google for 40 leading CEOs and CMOs [Chief Marketing Officers] from Hong Kong; and we've achieved incredible client work already, including designing and incubating a highly disruptive digital insurance business to be headquartered in Hong Kong for a global financial services client."
Fintechs Flourish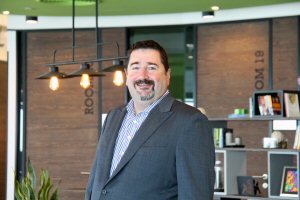 Also this year, Cyberport Management Company Ltd (Cyberport) expanded its Smart-Space – a facility operational since 2010 – with the addition of a dedicated co-working space to foster Fintech innovation. Microsoft has come on board as technology support partner.

Mark Clift, Chief Operating Officer at Cyberport, said Smart-Space FinTech is designed to be a creative environment "with plenty of selection in rooms and spaces for digital entrepreneurs to jam ideas.

"We have roomy hang-out areas for our digital entrepreneurs to chat with each other during their break times; pool tables for them to relax and mingle; individual phone booths and conference rooms for more private discussions," he said. "Each area is themed differently while sharing the functionally designed elements."

All six locations within Smart-Space combine interesting and innovative materials, ample space and vibrant colours to form a multitude of formal and informal spaces for different uses, Mr Clift said. "The new Smart-Space FinTech takes this to the next level by incorporating Bloomberg and Thomson-Reuters terminals, pumping real-time news to these Fintech talents."
Innovation Leaders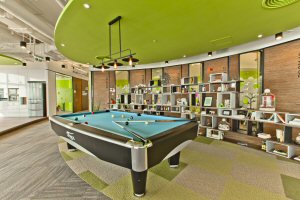 Cyberport has been a leader in driving digital tech innovation in Hong Kong for more than a decade, Mr Clift said. Last year, Cyberport organised more than 100 events for the digital tech industry, attracting participants from key sectors of the start-up ecosystem, including digital entrepreneurs, investors and technology experts from many verticals.

When great minds come together at events that encourage innovation or introduce trending technical topics, "great business contacts are made," he said.

Centres of innovation are vital for an industry like Fintech to develop and flourish, added Mr Clift.

"Already, more than 100 Fintech companies call Cyberport home. Going forward, talks, seminars and workshops with a Fintech focus will be held at our designated Smart-Space to further nurture these talents and attract more talents. All these will enable Cyberport and other ecosystem resources to leverage and build upon each other."