https://hkmb.hktdc.com/en/1X0A74F9
O2O in the Mainland Watch Market: A Hong Kong Success Story
Interview with Renley Group Executive Director Gary Lau
The Renley Group was established in 1983 as an OEM (original equipment manufacturer) producing 4,000 watches a month. Today, the group has production facilities in Hong Kong, the Chinese mainland and Switzerland and is involved in various aspects of the watch industry, such as parts production, dealership, wholesaling and retailing. Group Executive Director Gary Lau's overview of the Hong Kong and mainland watch markets and his analysis of the characteristics of the mainland watch retailing market should provide a valuable reference to companies looking to enter the mainland market.

Demand for Watches is Changing

Many young people use smartphones to check the time these days, but most white-collar workers still wear watches. Apart from telling the time, a watch can project a person's image – for example, a graduate who wears a watch to a job interview gives the impression of being punctual and prudent. It may even serve as a status symbol. Due to China's tax system [1] and exchange-rate regime, a mainland consumer would pay about 30% less for a particular watch in Hong Kong than they would pay on the mainland. Lau says mainland consumers account for about 80% of retail watch sales in Hong Kong and that local residents do not have a strong desire to buy timepieces. Demand by mainland consumers for high-end watches sold in Hong Kong has fallen in recent years, and although some have turned their attention to mid-range watches, the diminishing spending desire of mainland tourists in Hong Kong will still have an impact on the retail sales of timepieces in the local economy.

New Prospects Brought by Smart Watches

The smartphone craze that has swept the world in recent years has spurred the growth of wearable devices, especially smart watches, creating new opportunities for the traditional watch industry. In Lau's opinion, traditional mechanical watches are more meticulously designed and their craftsmanship may even lead them to be seen as pieces of art. "Smart watches are more popular among young people," says Lau. "Even those not in the habit of wearing watches have taken to them, and they are beginning to match their timepieces with their outfits and the occasion, such as wearing traditional watches for formal events. In the long run, smart watches will enrich the variety of timepieces and make consumers pay greater attention to things like matching." However, Lau admits that demand for traditional watches may be affected.

While smart watches are set to gain an increasing share of the market, manufacturers of traditional watches may decide not to develop them because of the large amounts of capital and manpower it would involve. Smart watches are electronic products, and although some parts such as straps and cases could be shared with traditional timepieces, the basic production technologies and equipment required are fundamentally different. Some traditional watch production companies will therefore outsource the development of smart watches and concentrate on their core business.
Physical and Online Stores Complement Each Other

Renley has sales channels in Hong Kong and on the mainland. The group decides strategies for brand sales, product categories, price positioning and so on based on the characteristics of the local retail market. It has five Global Timepieces shops and four brand stores in Hong Kong and four Yingshishang outlets in mainland department stores that attract customers with a multi-brand strategy. Yingshishang draws customers with overseas brands of casual and business watches, which it relies on to boost sales of its own Temporis timepieces. The watches sold at Yingshishang are priced between RMB1,000 and RMB5,000. By comparison, the watches sold at its physical stores in Hong Kong are all priced above HK$5,000 and most are top international brands, including Swiss brands such as Jean d'Eve, Buler and Sultana.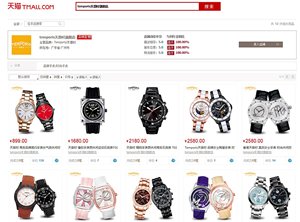 The rental costs of mainland physical stores are rising, but the number of shoppers is falling, as many mainland consumers turn to online shopping. "Most of the watches sold online are priced below RMB1,000," says Lau. "Some Hong Kong firms are selling watches within the range of several hundred yuan online in the hope of expanding the mainland market using the small profits-quick returns strategy."

Most companies adopt both the online and offline models when marketing products on the mainland, but they must have an all-round strategy to avoid competition between their online and physical stores. For example, if the price of a watch is the same both online and in physical stores, consumers are likely to prefer to try it out in physical stores before buying, which would affect online turnover. If the price of the same watch were lower online, it would entice customers to buy online, affecting the turnover of physical stores. Therefore, Temporis sells different models online via its Tmall flagship store to those it sells at its Yingshishang physical stores, avoiding direct competition by using product differentiation for its two retail models.
"Made in Hong Kong" Watch Brands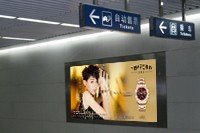 Temporis is a brand of Hong Kong-made watches, which enter the mainland market tariff-free under the Mainland-Hong Kong Closer Economic Partnership Arrangement (CEPA). In Lau's opinion, "made in Hong Kong" products attract attention on the mainland because consumers have confidence in products made here, giving Hong Kong-made goods a definite edge. Mainland consumers have become more brand-aware in recent years, rather than just focusing on style and price. Temporis engages a famous Hong Kong actress as a brand ambassador to highlight its Hong Kong connection and to reinforce its image as a stylish brand.
Temporis mainly sells stylish women's watches and its clientele mainly comprises women aged between 20 and 40. It has a team of Hong Kong designers, which releases 10 new designs a year. "On the mainland, women pay more attention than men to the matching of their clothing and accessories," says Lau. "They match their clothing with watches, handbags, earrings and other accessories when they go to work, and go home and get changed if they have dinner appointment with friends after work. They also change their watch and other accessories." Therefore, mainland women consumers have a high demand for watches with unique styles.
Brand-Dealership Co-operation

Watches are subject to wear and tear during exhibitions and throughout the selling process. Famous brands have greater bargaining power and usually cooperate with dealers by way of outright sale, with the dealers/retailers bearing the costs of wear and tear. New brands have less bargaining power, so they may have to sell on commission and bear the costs of wear and tear in order to enter leading stores. Brand-holders may also have certain requirements for dealers/retailers. For example, Renley Group requires retailers of Jean d'Eve to set up sales counters of a given size, with each counter showcasing at least 20 Jean d'Eve watches, in order to project a strong brand image.

Recommendations for New Brands

Lau has the following recommendations for Hong Kong firms planning to enter the mainland market with a new brand:

1. Know your competition: What is special about this new brand considering there are identical or similar brands in the mainland market?

2. Concentrate on brand positioning: The mainland market is huge and new brands should devote more human resources to developing and consolidating their positioning. In terms of gender difference, a new brand may first open up the market with men's watches and gradually extend to women's watches. In terms of product types, a brand may start with fashionable watches before branching out to other types of timepieces.

3. Advertise aggressively: A company needs to devote considerable resources to build up the reputation of a new brand. Social media (Weibo and WeChat), the internet (digital advertising) and billboards and outdoor advertising are effective publicity channels on the mainland.
---
[1] Consumers must pay a tariff (11-20%) and VAT (17%) when they buy watches on the mainland. Consumers must pay a tariff (11-20%) and VAT (17%) when they buy watches on the mainland. If a watch is priced at RMB10,000 or higher, consumers are required to pay an additional 20% consumption tax.
Mainland China
Mainland China