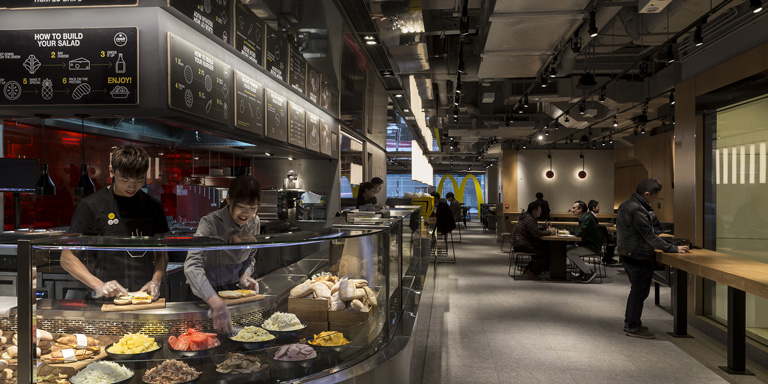 https://hkmb.hktdc.com/en/1X0A71KD
Design Gives Brands a Winning Edge
Proactive companies in Hong Kong are investing in design to update their image and retain customer loyalty.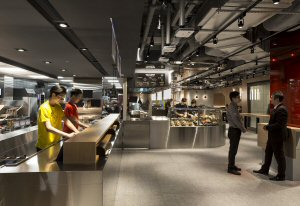 When fast-food giant McDonald's unveiled its new concept store in Hong Kong in December 2015, it was described in the media as "barely recognisable" from the brand of old.

Bright colours and glaring neon – once the staple of the iconic fast-food eatery with outlets in some 119 countries – have been replaced by muted hues and subdued lighting.

A "theatre kitchen," where customised dishes are prepared in full view of customers who "create" their taste from the fresh ingredients on display, replaces the back-of-house grill.

Mark Landini, Creative Director at Landini Associates, a global studio based in Sydney, Australia, designed the concept, which has since been rolled out to two more McDonald's outlets in Hong Kong and is now going worldwide. The firm is currently replicating the model at franchise outlets in India, Singapore, the Chinese mainland, Qatar and Dubai.
Classic Stage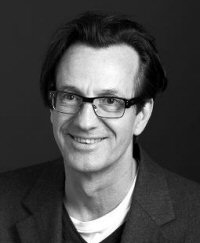 The design uses three base materials – steel, glass and concrete – which Mr Landini describes as a classic "stage" able to accommodate more frequent, less substantial brand refreshes that he sees as essential for F&B and retail operators in today's increasingly competitive commercial environment.

Apart from having a "cool, hip" vibe appealing to modern generations, this particular design makeover is affordable to implement, which makes for a viable business proposition, he explained.

It also proves the theory that a "cheap" product offering doesn't need to be inferior, Mr Landini says. Just as visionary retailers such as Uniqlo, Zara and H&M turned affordable fashion on its head by investing in upmarket store design, and bringing garments from catwalk to consumer at lightning speed, McDonald's, through the brand's most significant revamp in decades, has done the same with fast food.
Wind Down Time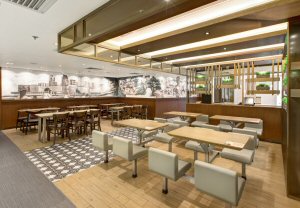 Apart from a new menu, the key to the success of the revamp, Mr Landini believes, is because it offers a much quieter space than the busy, fast-paced burger joints of old.

"Twenty years ago, speed and consistency meant everything to McDonald's," he said. "Now, people are looking to slow down a bit. Retail, including food, is becoming more of a leisure activity, where people want to de-stress, calm down and turn off. By making McDonald's less noisy, it's a place where they can come and relax."

"Thank goodness the creative team looked forward rather than reinventing traditional," posted one customer on social media. "Today's consumers don't need as much entertainment; they need minimal, functional spaces with great materials. Hope this makes it to the US soon."
A Favourite Reimagined
Café de Coral Group, a homegrown Hong Kong restaurant operator in business since 1968, has begun to reimagine its best-loved brands. The Café de Coral outlet in Harbour City, Tsim Sha Tsui, described by designer Candice Chan, Creative Director of J Candice Interior Architects, as a fifth-generation interpretation of the brand, has a soothing, sophisticated New York bistro vibe.

An interior where customers feel inclined to linger longer is a far cry from the restaurant's original raison d'etre, envisaged by the late Victor Lo, Café de Coral Group's founder, to provide affordable, fast-food meals for working-class customers.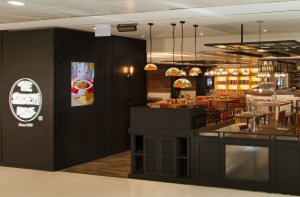 But these days the chain, which has some 330 outlets in Hong Kong and 120 on the mainland, serving about 300,000 meals daily, has to satisfy the demands of different customers. "It may be executives in a rush with their busy schedule, young couples seeking a quiet corner, or a corporate group requiring a communal space to collaborate their ideas," she said. The restaurant's new design caters to this by creating pockets of interesting zones, each with its own characteristics. The food choices, likewise, have become more multicultural, ranging from Chinese hot pot to Italian pasta.
Another of the group's brands, Spaghetti House, has also gone upmarket at its Sha Tin outlet. Its redesign replicates a casual yet modern Italian trattoria, including long tables for food-sharing as is the Mediterranean way. "This one-of-a-kind Italian trattoria will not only be a place for patrons to dine in but also be a space to have fun," says Ms Chan.
The Journey Begins
British luxury travel agency Jacada Travel picked Hong Kong, ahead of its London, UK, and Cape Town, South Africa branches, to launch its new-concept Explorer Lounge. Opened in Central in October 2015, the sophisticated space is decked out as a round-the-world adventure, with vintage maps, interesting trinkets, handicrafts and souvenirs collected by staff members on their own travels around the globe. Clients sit on comfy sofas and discuss their plans with Jacada's travel professionals over a cup of tea or glass of wine.

Alex Malcolm, Jacada Travel founder and Managing Director, said the idea behind the concept is to promote the notion that "the fun doesn't start at the beginning of your trip, but from the moment you step into The Explorer Lounge. Hence, we've created a space that reflects the Jacada Travel experience: relaxed, stylish and inspiring," he said.

When planning the company's expansion to Hong Kong, Mr Malcolm soon realised that clients "really wanted to come and visit us to talk through their trips."

"This presented us with a unique opportunity to extend the travel experience into the booking and planning process itself," he said.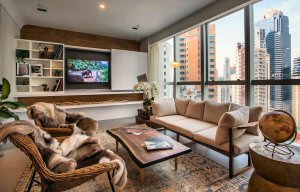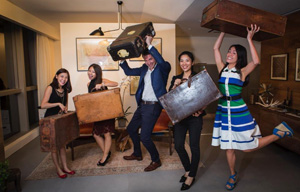 Of the decision to debut the concept in the company's Asian hub, rather than its UK headquarters, Mr Malcolm said: "I think it's really down to Hong Kong being compact, as well as the value of face-to-face interactions in this city as opposed to London. In Cape Town, all of our clients are already travelling, so we'll often come out and visit them at their hotel or a local restaurant instead if they'd like to meet."
Business Benefits
The business rationale is that, by encouraging people to visit the lounge, and putting them at ease in a homely and warm environment, they'll be more relaxed and open, Mr Malcolm explained.

"This helps us to understand them better, and ultimately, create trips that are more tailored to their personality. We are, in essence, a people business where the personal connection is paramount and this really helps us to provide a better service.

This also gives the brand an edge in a rather crowded travel market.

"As people step inside, they get a feeling of the kind of luxury, relaxation and personality we like to put into all of our trips," Mr Malcolm said. "Guests often comment how relaxing it is. I think that helps to strengthen the connection between our guests and our travel designers, as it feels like you're visiting the home of a well-travelled friend."

Business is "doing very well," he said. "We have an expanding team and I'm delighted by the reception of the Explorer Lounge in Hong Kong."
Related Links
Café de Coral
J Candice Interior Architects
Jacada Travel
Landini Associates
McDonald's
Spaghetti House
Food & Beverages
Design Services
Australia
Hong Kong
Australasia