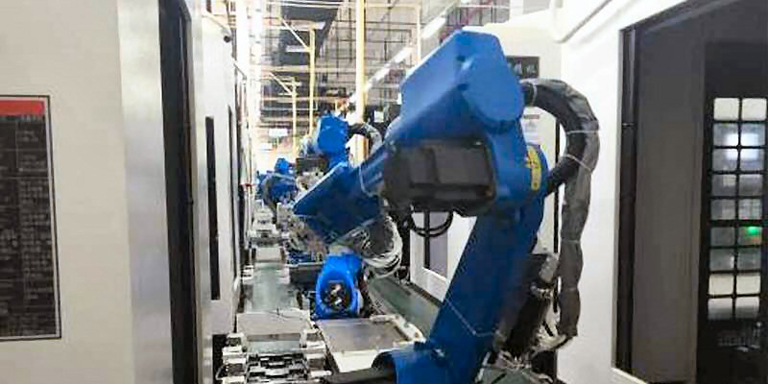 https://hkmb.hktdc.com/en/1X0A71EJ
Automating Guangdong's Industrial Base
Hong Kong manufacturers in the Pearl River Delta region may qualify for government subsidies to help increase automation in the sector.
In line with its industrial transformation and upgrading programme, Guangdong is seeking to raise the automation level of its manufacturing and processing base. Following the recent introduction of an initiative to stabilise the level of foreign trade, Hong Kong companies in Guangdong should look to capitalise on the government's subsidy programme to upgrade their industrial facilities.

In early June, the Guangdong provincial government published its economic blueprint for overhauling the region's industrial base over the coming years. The plan focuses on six distinct areas: enhancing export benefits; implementing a proactive import policy; advancing the innovative development of foreign trade; strengthening fiscal, tax and financial support; raising the standard of customs clearance facilitation; and optimising the foreign trade environment.

Among its priorities is the innovative development of the processing trade, which covers a wide range of activities and requirements. They include abolishing the examination and approval requirement related to processing activities, as well as enhancing the level of supervision required in the sector. Streamlining the management of the province's bonded processing handbook and overseeing the introduction of Internet+ processing trade and domestic sale facilities is a priority, as well as simplifying and properly regulating the sale and disposal of surplus materials relating to both the processing trade and processed products. Finally, there is the challenge of reclaiming land vacated by relocating processing operations and re-purposing it for use in the commercial, tourism and elderly care sectors.

The blueprint also specifies that in the case of industrial land legally acquired by businesses in the processing sector, land transfer fees may be paid by installments in line with the agreed contract terms. In the case of priority industrial projects requiring extensive land-use, the reserve land-transfer fee must be at least 70 per cent of the standard fee.
Rising PRD Costs
Production costs in the Pearl River Delta (PRD) region continue to climb and many businesses believe that the region is no longer ideally suited to the needs of the processing trade. This has resulted in a number of such businesses either relocating to lower-cost mainland regions or moving to alternative Southeast Asian countries.

Speaking at the Dongguan-Hong Kong Joint Conference in Hong Kong in June, Yang Xiaotang, Deputy Mayor of Dongguan, said rising production costs were inevitable despite the local government's best efforts to rein them in. He urged businesses attending the event to raise their level of automation, to cut their reliance on expensive labour. He said Dongguan is working closely with the Ministry of Industry and Information Technology and the Chinese Academy of Engineering to boost local automation initiatives to ultimately raise domestic production levels.

At present, there are more than 6,000 Hong Kong-backed businesses in Dongguan. The majority of these companies are engaged in labour-intensive processing activities, primarily in the more traditional industries. In view of the current uncertainties in the global economy and the gradual transformation taking place across the Chinese mainland's manufacturing sector, such businesses are obliged to stay up-to-date in order to remain competitive.

With Dongguan proactively supporting moves towards greater automation, Hong Kong companies can benefit from government subsidies, technical support and staff training on offer. This will enable them to improve their production facilities, enhance the technology content of their products, while reducing reliance on the labour force.
Automation Funding
In January 2016, the Dongguan municipal government published the report, "Automation and Smart Equipment: Creating an Advanced Manufacturing Base with a Global Reach (Dong Fu No. 1 [2016])." According to the document, over the next five years, the Dongguan city finance department will allocate some Rmb200 million a year to nurturing greater automation. This will see support provided for some 2,000 automation projects, which aims to encourage more than half of the larger businesses in the region to undertake a substantial programme of technological renovation.

In 2014, Dongguan announced three similar programmes: "Accelerating the Development of Automation and the Smart Equipment Industry, Accelerating Automation for Dongguan Enterprises (2014-2016)" and "Implementing and Managing the Dongguan Automation Fund." At the time, it was resolved that, from 2014 to 2016, Dongguan would commit Rmb200 million a year to support businesses looking to upgrade their automated facilities.

The fund would focus on businesses characterised by repetitive processes, a need for intensive labour support or those that entailed considerable danger to human operators. It was felt that businesses in the electronics, machinery, food, textiles, garment production, furniture, footwear, chemicals and logistics sectors would benefit most from greater automation.
Success Story
A clear success case has been the Janus (Dongguan) Precision Components Co, a business that has been investing in automated processing since 2014. Previously, assembly of the company's mobile phone components was carried out manually, turning out some 500 units an hour. Once human operators were replaced by an automated production line, the company started producing more than 1,100 units per hour, with the system replacing some 24 workers across combined day and night shifts.

In 2014, Janus was among the first businesses to benefit from Dongguan's automation fund. With the company receiving a Rmb4 million grant from the local government, it was the largest beneficiary of the initial funding round.
Surge in Expert Demand

As Dongguan's campaign for higher levels of automation gathers speed, there's been an increase in demand for properly qualified technical support. At the Conference, Willy Lin, Deputy Chairman of the Federation of Hong Kong Industries, called on the Dongguan city government to provide the necessary technical training and to subsidise companies looking to train staff.

Dongguan currently has a great demand for suitably qualified staff, especially robotics engineers, automation design engineers, non-standard automation designers and automation project managers. Companies are said to be offering salaries of up to Rmb10,000 for candidates with experience in integrated automation systems and project design and development. At the higher end of the scale, properly qualified automation testing and application engineers can expect to attract a monthly salary of up to Rmb20,000.

For more China market opportunities, please visit: http://research.hktdc.com.
Hong Kong
Mainland China