https://hkmb.hktdc.com/en/1X0A6ZV8
Iran Unbound: Balancing Opportunities with Practical Business Risks
Iran is on course to become one of the fastest growing economies in the MENA region following the removal of nuclear-related UN sanctions as of January 2016.
After a recent field trip to Iran, HKTDC Research published the first article of its Iran series, Iran Unbound: A Land of Business Opportunity, to provide an update on the country's broad economic development and business opportunities following the removal of nuclear-related sanctions. This article, the second in the series, supplements the first by taking a closer look at the practical business challenges for overseas companies wishing to reap first-mover advantage. For companies contemplating entry to the Iranian market, they need to carefully weigh the opportunities against short-term uncertainty and practical business risks.
Undoubtedly, the lifting of nuclear-related United Nations (UN) sanctions against Iran in January 2016 will improve the country's economic and business outlook, as well as its attractiveness as a location for inward foreign direct investment (FDI). The newfound optimism, however, is premised on Iran being able to expeditiously re-establish trade, financial and investment links with western countries – and this process may not be as straightforward as would appear on the surface.
Primary Sanctions Remain despite Secondary Sanctions Removal
Subsequent to the lifting of UN nuclear sanctions, foreign firms can expect to gain from the opening up of the Iranian market, as it is a huge market that has been shut off for many years from trade with and FDI from many western countries. Nevertheless, Hong Kong companies should carefully consider their next steps and be aware of the restrictions that remain on doing business with and investing in Iran. First and foremost, the UN sanctions that were removed in January 2016 formed only part of a wide range of economic, trade, scientific and military sanctions imposed over the years not only under the banner of the UN, but also unilaterally by the US and the EU. There is therefore a degree of complexity to complying with the remaining sanctions. This, combined with many legacy issues in Iran, presents uncertainty in the short term, and hurdles for overseas companies to overcome.
Prior to the creation of the Joint Comprehensive Plan of Action (JCPOA) that was implemented in January 2016, Iran had been subject to multiple sanctions imposed over the past two decades by the UN, US and EU. The JCPOA was instrumental in removing mostly "secondary" sanctions imposed by the US on both domestic and foreign businesses, in particular banks, involved in Iran, as outlined in The Comprehensive Iran Sanctions, Accountability, and Divestment Act of 2010. In 2012, Iran's international banking activity suffered a huge blow as almost all of the country's banks were cut off from the global financial transaction system. Together with the threat of other non-US financial institutions risking severed access to the US banking system by not complying with this embargo, this turned into an effective driver for severing Iran's financial and trade links with western countries.
It cannot be over-emphasised that those sanctions not covered by the JCPOA are still in place. In addition to the "primary" US sanctions, these include EU and US sanctions targeting terrorism and human rights violations. All secondary US sanctions targeting non-US persons or companies were lifted; however, US persons and companies remain banned from engaging in business with Iran under the primary US sanctions.
In particular, the ban on the use of US dollars in the US banking system to finance Iranian trade is still in place. In other words, US banks are not permitted to process any dealings with Iranian financial institutions or US dollar transactions with Iran by American or US-based companies. Intuitively, this would suggest non-US banks, including both European and Asian banks, may have greater latitude than their US counterparts in resuming banking and financial transactions with Iran.
Why Designated Entities Matter So Much in Doing Business with Iran
The US government has made it clear that it has no objection to non-US banks engaging with Iranian banks and companies, provided that the latter are not on the List of Specially Designated Nationals and Blocked Persons (SDN List) maintained by the US Department of the Treasury's Office of Foreign Assets Control. However, the US has warned repeatedly that the Islamic Revolutionary Guard Corps (IRGC) controls broad swathes of the Iranian economy, and both US and EU sanctions against it remain in place.
Although the US, EU, and UN have removed sanctions from several hundred Iranian banks and companies, concern remains strong that the activities of these banks and companies may be unchanged in terms of their direct or indirect relationships with the IRGC. It is likely that many are pseudo-private entities linked to the IRGC and other parastatal organisations. Moreover, it is not entirely clear what would happen to a non-US company with interests in the US – for example, a bank subsidiary set up on US soil – if it were found to be dealing with an Iranian company no longer on the SDN list but linked in some way to the IRGC.
Major European Banks Hesitant to Resume Iranian Banking Services
Predictably, major international banks have been cautious about entering the Iranian market in light of lingering post-sanctions uncertainties. In light of this hesitancy, US Secretary of State John Kerry met with European business leaders in London in May 2016, telling them that they "should not use the US as an excuse" for not dealing with Iran. In his meeting with executives from nine leading European banks[1], he noted that "European banks, as long as it's not a designated entity, are absolutely free to open accounts for Iran, trade, exchange money, facilitate a legitimate business agreement, bankroll it, lend money."
Another factor central to the cautious attitude of the major European banks is the threat of substantial penalties payable to the US government in settling US claims of violations of its sanctions against Iran.[2] In particular, international banks which have subsidiaries in the US are worried that they could face penalties even if they were found doing business with Iranian entities connected with the IRGC inadvertently. In other words, primary US sanctions are likely to remain a deterrent for some companies to do business with Iran.
Without a doubt, the JCPOA opens up a host of business opportunities in the post-sanctions era, in particular for European companies. In the case of Germany, its automotive, mechanical engineering, energy, technology, construction and health sectors look set to benefit considerably. In addition, there have been reports over the past few months of some European banks – including Germany's DZ Bank, Belgium's KBC and Austria's Oberbank and Raiffeisen Bank – starting to resume banking ties with Iran. These banks have been handling transactions for their European clients doing business in Iran, including opening letters of credit (LCs) for Iranian businesses.
Worth noting is that DZ Bank – a major German bank with branches, subsidiaries and representative offices in key financial centres around the world, including in New York – came quickly to the fore. It ranked fourth by assets among the German banks in 2015. In the end, foreign banks will make their own decisions on whether to engage in banking ties with Iran. Hong Kong companies intending to do business with Iran are strongly advised to check with individual banks for clarification.
Iranian Bank Links Being Slowly Restored
In its ongoing attempts to diffuse uncertainty, the Iranian government has indicated that foreign banks will benefit from extending their business by setting up branches in the country. The Iranian Financial Ministry and the Central Bank of Iran (CBI) have also called on Western countries to take more concrete steps towards international economic cooperation.
Since February 2016, some 30 Iranian banks have rejoined SWIFT[3] after being cut off for four years. In addition, Iranian banks are preparing to upgrade their financial infrastructure after years of neglect. It has also been reported that the CBI has moved to implement new rules against money laundering and terrorism funding to facilitate relations with foreign banks.
In June 2016, the CBI chief remarked that the JCPOA was a big achievement, but that Iran had yet to exploit all of the deal's potential and should continue "applying force to other parties to fulfill their commitments enshrined in the JCPOA". He was hopeful that improvements in Iran's international banking ties would help lower the transaction costs of currency exchange for Iranian financial institutions.
Nevertheless, it might take quite some time for European or Asian banks to take the lead in setting up branches on Iranian soil, as they are still warming up to normalising banking activities with Iranian banks and companies. Recent reports have suggested Iran may wish to lure international banks into the country's free zones, in particular Kish Island, in order to establish an offshore financial centre modelled on the Dubai International Financial Centre (DIFC) in the UAE.
In the meantime, banking ties with the west are only being restored very slowly, and the majority of Iranian companies are likely to continue to find it hard to obtain capital, at least in the short term.
Challenging Business Environment
During its years under heavy sanctions, Iran tried to foster a very liberal investment regime, allowing foreign companies to register business entities with 100% FDI in most economic sectors. However, the country's economic landscape has suffered enormously over the past two decades. In that regard, partial removal of some sanctions is unlikely to lead to an immediate makeover of Iran's fortunes due to the many legacy problems created by many years of being deprived of access to capital, technology and international best practices.
The resumption of international banking will surely help Iran over time, but the country's business environment will likely remain challenging for a while. According to the World Bank's Doing Business Report 2016, Iran ranked 118th out of 189 economies in the world and 11th out of 20 in the Middle East and North Africa region. It fared better only than countries badly affected by wars and adverse security and austerity conditions, but performed worse than any of its GCC[4] counterparts. In the areas of trading across borders (167th), protection of minority investors (150th) and paying taxes (123rd), Iran rated very poorly.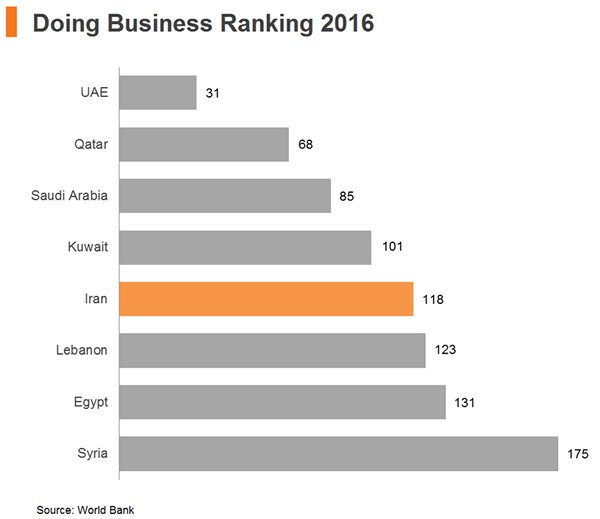 Below is a cobweb figure based on World Bank survey statistics contrasting the ease of doing business in the UAE (ranking 31st) and Iran (ranking 118th) on respective indicators, showing that with the exception of starting a business, Iran considerably trails the UAE in other indicators, in particular paying taxes and trading across borders[5] (also see the section further below on Bad Debts and Fiscal Deficits Will Take Time to Fix).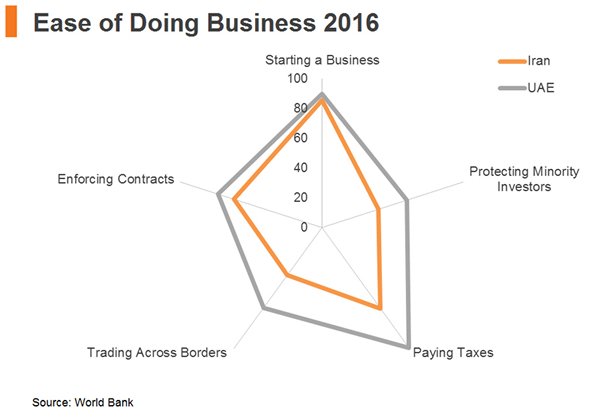 Apart from its lack of ease of doing business, Hong Kong companies need to take note that Iran ranked 130th out of 168 countries in the Transparency International's Corruption Perceptions Index in 2015, far behind its neighbours such as Qatar, the UAE and Saudi Arabia, which ranked 22nd, 23rd and 48th respectively. As such, Hong Kong companies doing business inside Iran can expect problems arising from bribery and corruption practices, which will not go away soon despite a reformist government receptive to normalising links with the west.
Doing business on the ground in Iran requires a good understanding of its regulatory environment and business culture. As alluded to, Iran is liberal enough to allow foreign companies to register business entities with 100% FDI. In fact, it is recommended that Hong Kong companies, especially those with little to no local experience, pair up with a local partner. Finding one that offers a good fit for a Hong Kong business may be challenging, however, as the Iranian party may not have any experience of dealing with foreign companies.
Hong Kong companies should also be careful to ensure their potential business or equity partner is not listed under US sanctions. Avoiding parties directly or indirectly linked with such designated parties may necessitate significant due diligence.
Acknowledging some if not all of these on-the-ground problems, President Rouhani, who is committed to carrying out business reforms, has introduced one-stop windows for businesses and simplified administrative procedures in order to create a more business-friendly environment, especially for FDI. In addition, the plans to remove foreign exchange restrictions and multiple currency regimes, which will unify the foreign exchange market for FDI, are also seen as a huge step forward. Hong Kong companies intending to do business with or invest in Iran have to be mindful that the implementation of reforms in the country is likely to be slow at first, owing to the challenges created by years of unreformed bureaucracy. Notably, the persistence of influential Iranian parties opposed to economic liberalisation and foreign investment in the country may take time for the reformist government to address.
Uncertainty over Legal System Could Dilute FDI Interest
At present, the main FDI law in Iran is the 2002 Foreign Investment Promotion and Protection Act (FIPPA). This grants foreign investors privileges including permission to invest in all sectors (e.g. agriculture, transportation, communications, water and energy supply) where private sector activity is allowed, permission to hold up to 100% of shares in Iranian companies, and the right to unlimited transfer of capital and dividends abroad.
Despite these positive measures to attract foreign investment, inward FDI stood at just US$2.05 billion in 2015, compared with US$10.98 billion for the UAE and US$8.14 billion for Saudi Arabia, according to data from UNCTAD. In the short term, uncertainty in the legal system may prompt overseas investors to continue to adopt a wait-and-see approach.
During its many years of isolation under western economic sanctions, the Iranian economy was generally not open to foreign investment. As such, legal ordinances to protect foreign investors, such as those that permit the repatriation of capital and enshrine freedom of contract, remain largely untested. They may, therefore, require further refinement and the emergence of "success cases" to boost the confidence of prospective foreign companies, including those from Hong Kong. An upcoming article in the Iranian series will touch on setting up FDI entities in different places of the country, including free zones, special economic zones and science parks.
Bad Debts and Fiscal Deficits Will Take Time to Fix
With Iran expected to gradually re-establish links with western banks, trade finance will become increasingly available over time. However, Iranian banks' own strength and balance sheet health varies considerably, and domestic bank credit may not be easily forthcoming. In fact, many Iranian businesses rely on cash-based transactions, or source credit from non-bank middlemen and relatives, to be viable.
At a macro-level, Iran has a high level of non-performing loans – estimated at US$40 billion – in its banking system. According to the IMF's latest Article IV report, Iranian banks, particularly the state-run giants that dominate the sector, are in urgent need of repairing their balance sheets.
Alongside the issue of bad debt, Iran also suffers from an underdeveloped tax system, with about 40% of the economy exempted from paying taxes due to a lack of economic and fiscal database and the wide range of tax exemptions and privileges granted to a large number of companies and individuals.
In the Iranian calendar year 1394, which ended on 19 March, 2016, the government recorded a budget deficit equal to 2.58% of the country's GDP. Although some relief is expected from access to around US$100 billion of frozen assets in the current Iranian year, the government's finances will remain under pressure, especially with continuing low oil prices.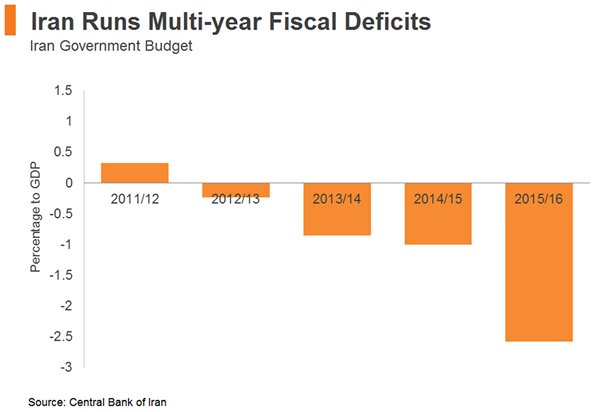 To cut expenditure, in April 2016 the Tehran parliament approved a bill to remove cash subsidies to 24 million Iranians. Although the measure is beneficial for the economy's long-term sustainability, this may reduce Iran's private consumption expenditure and hence slow economic growth in the short term. Certainly, it may take time for Iran's reformist government to fix its fiscal deficits and the banking sector's bad debt problems in the post-sanctions era.
In its fact-finding trip to Iran, HKTDC Research met with many business associations and companies in different cities who expressed a keen interest in trading with Hong Kong. Many enquired as to how to set up banking accounts in Hong Kong to facilitate sourcing through the city. Meanwhile, HKTDC has appointed agents in Tehran and Mashhad to help Iranian companies attend Hong Kong's trade fairs. Ultimately, Hong Kong exporters should take note of Iran's rapidly changing market conditions, and be careful to check the credibility of their Iranian counterparties in order to mitigate risks.
Know the Iranians
In the Middle East, care and sensitivity must be exercised in matters relating to religious beliefs and cultural practices. In the specific case of Iran, Hong Kong companies need to be aware that Iranians are Farsi-speaking and the majority of them are Shiites, unlike the Arab-speaking Sunnis that dominate in most Middle East countries. Therefore, one must not conflate Iran's Persian culture with the Arab culture.
Iran, like most other Middle East countries, has a relationship-oriented culture. Hong Kong companies looking to enter the Iranian market should therefore be prepared to accept Iranian customs and social practices. For example, the working week in Iran begins on Saturday and ends on Thursday at noon. Friday is a Muslim holy day for Iranians and should be avoided when scheduling meetings, along with other Muslim holidays such as Ramadan.
While perceptions are strong that Iranians are conservative and difficult to do business with, there is in reality a whole generation of younger Iranians who yearn to resume business and cultural contact with the outside world. Thanks to increased access to the mobile internet, and prevalent use of social media, many Iranians are modern in thought and technology-savvy, while many affluent Iranians are established consumers of imported goods or foreign-brand goods made domestically. In the end, Hong Kong companies should be aware of the business potential arising from cultivating long-term relationships with Iranians, who prefer to do business with those they know and respect.
Summary
The removal of many international sanctions on Iran in early 2016 looks certain to boost the country's economic prospects. However, enhancement of the investment climate in the medium-term notwithstanding, Hong Kong companies need to be aware of many western companies' lingering concerns over remaining "primary sanctions", and of the practical difficulties of doing business in the post-sanctions era.
Following years of isolation from the global financial and trade system, the country's reformist government will need time to help Iranian companies re-connect with the western world, reform its economic structures, and reduce the cost of doing business in the country, in addition to addressing macroeconomic issues and fostering a level playing field for all investors. Hong Kong companies should test the market carefully, finding the best match for their business model before gradually expanding business ties with the Iranians.
---
[1] These banks included Deutsche Bank, HSBC, Credit Suisse, Santander, Royal Bank of Scotland, Societe Generale, Barclays, Standard Chartered and BNP Paribas.
[2] Prior to the JCPOA implementation, European banks – including BNP Paribas, UBS, HSBC and Standard Chartered – were subject to fines related to US sanctions breaches. In the case of BNP Paribas, it was fined more than £5.2bn.
[3] The Society for the Worldwide Interbank Financial Telecommunications (SWIFT) is a global organisation that handles secure transactions and communications between banks worldwide.
[4] Gulf Cooperation Council (GCC) comprises of six Middle Eastern countries—Saudi Arabia, Kuwait, the United Arab Emirates, Qatar, Bahrain and Oman.
[5] The performance of a country relative to another country with respect to any Doing Business indicator is measured by the gap between their frontier scores, and a higher frontier score for an indicator shows a better performance in terms of best regulatory practice.