https://hkmb.hktdc.com/en/1X0A6I2G
China's 13th Five-Year Plan: Business Opportunities Under the Two-Child Policy
When China first implemented reforms and began to open-up in 1979, it introduced the one-child policy in an attempt to control the country's population growth. It was not until 2013 that China began to relax the one-child policy by allowing couples to have two children, provided that at least one of the parents was an only child. In the face of a shrinking labour force and an ageing population, China's 13th Five-Year Plan sets out that a two-child policy is to be implemented across the board, allowing all couples to have a second child.
In the past 10 years, there has been an average of about 16 million births a year in mainland China. With the introduction of the two-child policy in 2016, the population is expected to grow at a considerable rate. Meanwhile, members of the mainland's only-child generation are reaching the stage of starting their own families, and as this generation is much more willing to spend on high-quality products and services than their parents, mainland mother and baby products as well as the childcare services market are likely to generate a host of business opportunities for industry players.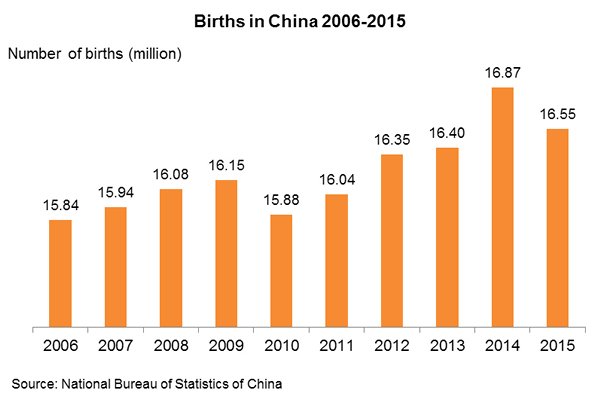 New Second Children to be Concentrated in Urban Areas
According to figures released by the National Health and Family Planning Commission, about 90 million mainland couples of childbearing age will benefit from the two-child policy. It is projected that during the 13th Five-Year Plan period, the number of births will range between 17.5 million and 21 million a year. Although these figures might not tally with official estimates, the expected increase in births is bound to expand the mainland market for mother and baby products and related services. According to forecasts by the National Health and Family Planning Commission, 76% of the new second children will be born in urban areas. Based on the CBME China Child, Baby and Maternity Consumer Report 2015, urban families spend on average 11% of their monthly household income – or about RMB1,012 – on raising a child. If one million second children were born in the country a year, they would generate extra business opportunities worth RMB9.23 billion for the urban mother and baby products and services market. Furthermore, as household income increases, so will the amount spent on raising children.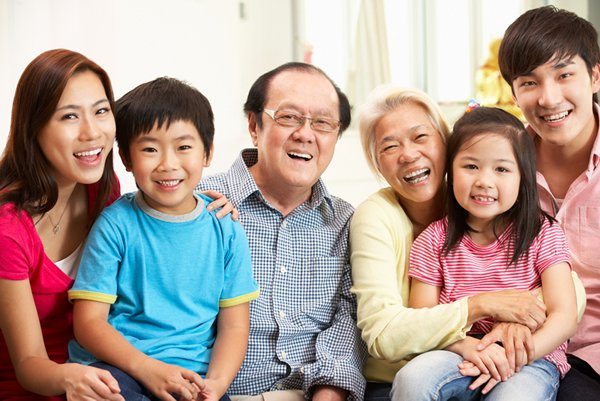 Quality Imported Mother and Baby Products in Demand
The rise in the number of births will directly bolster the demand for mother and baby products such as baby foods, clothing, toys, bathing items and daily necessities. According to data released by AC Nielsen, China's baby and infant fast-moving consumer-goods industry[1] grew by 18% in 2015, with sales amounting to RMB103 billion. Of which, baby foods and childcare products rose by 15% and 23%, respectively, higher than the overall sales growth of baby and infant fast-moving consumer goods.
Frequent negative reports about the safety of some mainland mother and baby products have caused concern among many parents. Some who are convinced that "higher price means better quality" are willing to pay more for imported products considered to be safer and of better quality. Today's new mainland parents are mostly of the post-80s and post-90s generations, the majority of them being the only child in a family that is used to seeking quality of life. As such, they have a high desire for imported baby foods and mother and baby products, especially baby and infant formula, clothing and toys. According to the HKTDC Research report China's Baby Boom Dividends, 65% of the parents surveyed tended to buy baby and children's brands/products from Hong Kong and overseas because they are skeptical about the quality of those made on the mainland.
Focus on Function of Mother and Baby Products
Mainland parents not only care more these days about the quality and safety of mother and baby products, but also have higher requirements for products with specific functions. For instance, in order to meet the different requirements of parents and babies, milk bottles come in various designs, such as bent ones which allow parents to hold it with ease and curved ones which can help train babies to hold it themselves. As mainland consumers seek increasingly sophisticated and professional mother and baby products, industry players should pay attention to market segmentation and launch products with innovative designs to gain consumer favour.
Hong Kong companies should also keep an eye on the maternity products market. The growing number of working mothers on the mainland not only have considerable purchasing power, but are also willing to pay more for attractive and practical maternity products. For example, working mothers need maternity wear suitable for the workplace, while those breast-feeding might require breast pumps and cooler bags that are easy to carry. Therefore, the potential of the maternity and mother and baby products market should be tapped.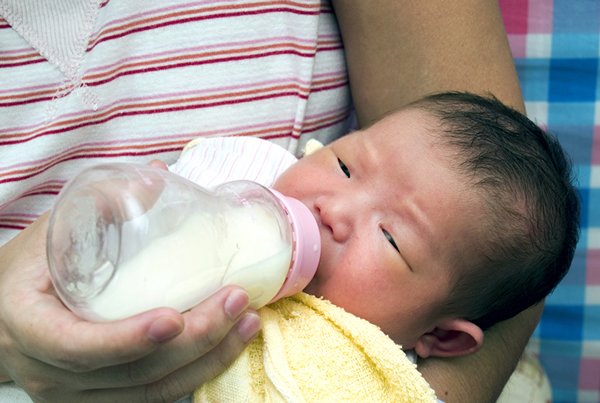 Increased Demand for Mother and Baby Services
As the government fully rolls out the two-child policy, many post-70s and post-80s middle-class couples are likely to consider having a second child. According to estimates by the National Health and Family Planning Commission, among the women likely to benefit from the two-child policy, about 60% are above the age of 35 and 50% are over 40. As this growing number of pregnant women of advanced maternal age would need more frequent maternal check-ups, the demand for mother and baby health services and related medical staff would rise considerably. At the same time, the two-child policy is also expected to increase demand for maternity home-care services. In the long run, the additional number of newborn babies should stimulate the demand for childcare services, early childhood education, and children's entertainment. This would in turn create new opportunities for Hong Kong service suppliers. For example, a Hong Kong ballet school for children plans to open two kindergartens in Shenzhen this year before expanding to other mainland cities.
As the two-child policy directly boosts the demand for mother and baby services, industry players should enhance their services for parents and children in order to increase their competitiveness. For instance, the catering industry could promote kid's menus to attract families with children; large shopping malls could offer children's playrooms or childcare service to allow parents to shop freely; and malls could set up baby rooms with diaper changing tables, milk-bottle warmers and heat lamps. Such family-friendly facilities could increase a mall's competitiveness. With this in mind, Hong Kong's interior-design companies could provide planning and design services to mainland shopping malls, while its property-management companies could train the shopping-centre staff and help them to understand the needs of parents and children.
Complementary Physical Stores and Online Shops
Although the mainland online-shopping market is developing in leaps and bounds, some parents still prefer to buy mother and baby products at physical stores where they can inspect the products in person before making purchases. However, as China is so vast it is difficult for enterprises to open physical stores in each and every city or region, and so online stores remain an indispensable sales channel. According to Larry Kung, co-founder and chief operating officer of Leyou Babies to Kids – a baby and infant products company that operates more than 400 physical stores, an online shopping mall and an app on the mainland – the online experience alone cannot fully meet mothers' desires to "see, smell and touch" the real product. This explains why the company has developed online-to-offline (O2O) sales. (For details, please see China's Children's Clothing: An Online-to-Offline Case Study.)
Hong Kong companies should note that many mainland parents purchase baby and children's products via online stores and apps, where they can also obtain knowledge on child-rearing and exchange information with other parents. One survey shows that 93.6% of mainland mothers have downloaded mother and baby apps onto their mobile phones, mainly to obtain knowledge about child health (95.4%) and exchange information via social media (82.6%)[2]. In view of this, Hong Kong companies should, in addition to selling products, provide information on child-rearing and new products via online shops and apps, thereby establishing a channel to interact and communicate with consumers and enhancing consumer loyalty.
Conclusion
Mainland parents are becoming increasingly demanding where quality of life for their children is concerned as they hope to give their offspring more novel experiences. Therefore, they are prepared to pay more for imported quality products. Thanks to Hong Kong's position as an international metropolis, Hong Kong companies not only have wide exposure to the outside world but also have easy access to advanced foreign child-rearing concepts and related products. Therefore, they have a definite edge in developing the mainland baby and children's products market. Hong Kong companies wishing to establish a foothold in the mainland market must have a long-term vision and the ability to strictly control product quality. Since the mainland baby and children's products market is flooded with low- to medium-range goods, only high-quality products can stand out from the sea of brands amidst intense competition.
The main opportunities arising from the mainland mother and baby services market are in mother and baby health services, childcare services, and early childhood education. As the great number of international medical and health service organisations in Hong Kong can provide comprehensive prenatal and postnatal check-ups for women and their babies, there is a lot of scope for them to cooperate with mainland medical organisations. At the same time, Hong Kong's pool of professional personnel, with its rich experience in international pre-school and early childhood education, can train mainland teachers and design teaching curriculums for the mainland. Indeed, some schools in Hong Kong are already preparing to set up on the mainland or to cooperate with mainland schools.
As 2016 is the first year of the 13th Five-Year Plan period, the effect of the two-child policy is likely to surface this year and next. Although the actual number of births could differ from official estimates, the steady number of babies born on the mainland in the past 10 years plus the additional births likely to be brought about by the two-child policy will undoubtedly generate new opportunities in the mainland mother and baby products and services market. Hong Kong companies should be prepared to capture business opportunities that arise as a result.
---
[1] The fast-moving consumer goods industry covers: baby foods, drinks, instant foods, personal care, beauty care, home care, dairy products, grains and sideline products.
[2] Research on Big Data and Commercial Value of Mother and Child Mobile Health
Mainland China
Mainland China