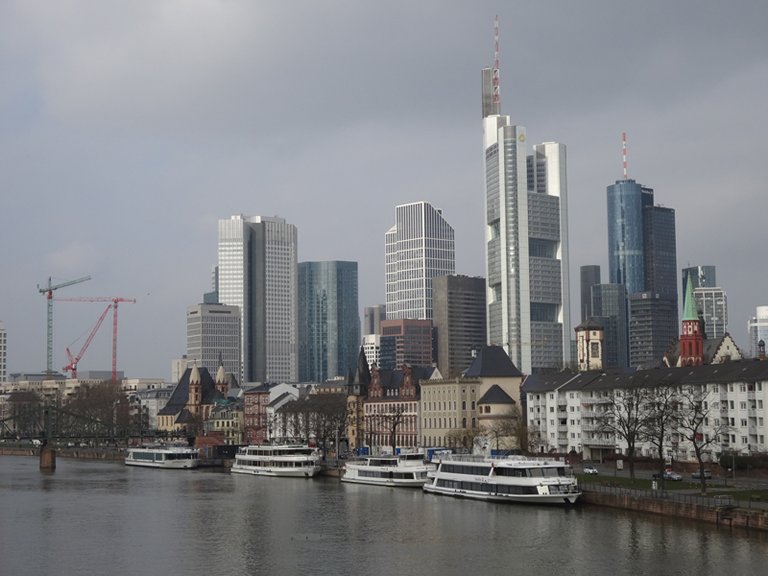 https://hkmb.hktdc.com/en/1X0A6AMK
Germany: Frankfurt – an ODI Hub for China
The German city of Frankfurt is the biggest financial services centre in continental Europe. Situated on the banks of the River Main, the city is styling itself as "Mainhattan", given the presence of a large number of financial industry heavyweights, including the European Central Bank (ECB) and the German Central Bank (Deutsche Bundesbank), which are both headquartered there. This most international of German cities, it is also becoming a focus for the development of the pioneering financial technology (FinTech) industry. Thanks also to Frankfurt's highly efficient multimodal (sea-air-road/rail) transport system and the city's emergence as Europe's first renminbi payment hub, many Chinese companies have taken advantage of its ready access to the European consumer and capital markets, making it a natural outbound direct investment (ODI) hub for Chinese companies interested in conducting business in the European Union (EU).

Frankfurt as a financial centre in continental Europe

Frankfurt has long been Germany's financial capital and, more recently, continental Europe's biggest financial services hub. The city is not only home to the German and European central banks but also to major pillars of the European system of financial market supervision, such as the European Systemic Risk Board (ESRB), the European Insurance and Occupational Pensions Authority (EIOPA), and the European Banking Federation. Germany's largest banks – Deutsche Bank and Commerzbank – are based there, as is the German Stock Exchange Group, Deutsche Börse AG – the operator of the Frankfurt Stock Exchange (Börse Frankfurt), which generates about 90% of the country's total stock market turnover. China's five largest banks – Bank of China, Industrial and Commercial Bank of China, China Construction Bank, Bank of Communications, and Agricultural Bank of China, also have a significant presence there.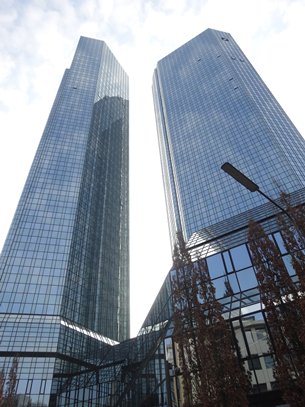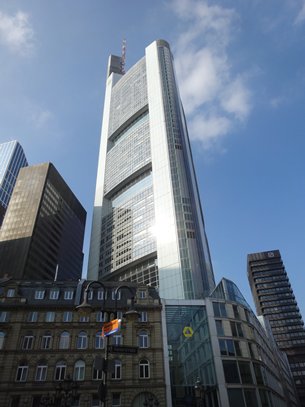 A proposed merger between Deutsche Börse AG and the London Stock Exchange (LSE) would make LSE-Deutsche Börse the world's biggest stock exchange operator by revenue and the second-largest by market value, trailing only the Chicago Mercantile Exchange (CME) Group. The new company would be jointly headquartered in Frankfurt and London. The merger would also reinforce and enhance Frankfurt's standing as a financial centre, following a decade in which its competitiveness has been in decline. Tracked by the Global Financial Centres Index (GFCI), Frankfurt was ranked sixth in terms of competitiveness – behind only London (first) and Zurich (fifth) in Europe – when the index was first published in 2007, but 18th – behind London (first), Zurich (sixth), Luxembourg (14th) and Geneva (15th) in Europe – in 2016.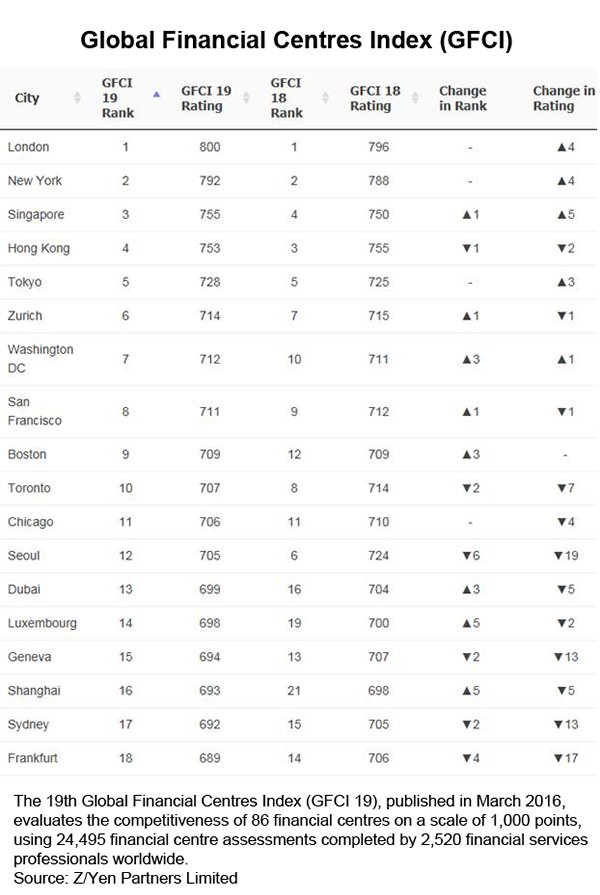 Frankfurt as a darling to Chinese investors

Another unrivalled advantage Frankfurt has as a financial centre is the close link between the financial sector and the real economy. As one of Germany's advanced manufacturing bases, 9% of all German products are made in the Frankfurt Rhine-Main (FRM) region, which also hosts one of the largest state-of-the-art insulin manufacturing plants in the world, operated by Sanofi.

The region's all-rounded multimodal connectivity includes Europe's busiest cargo airport, which handled more than two million tonnes of cargo last year, eight inland cargo ports providing access to important waterways, and the Frankfurter Kreuz – the most heavily used road interchange in the centre of the European highway system. Furthermore, the purchasing power of Frankfurt's inhabitants, which is 15% above the national average, engenders a strong customer base for Chinese manufacturers and has helped to make Frankfurt a darling for many export-oriented foreign companies.

Since 2005, when the German-Chinese bilateral investment protection agreement came into force, Chinese investment in Germany has risen steadily, from €235 million to €1.2 billion in 2013. Nowadays, some 900 Chinese companies are active in Germany, focusing on sectors such as mechanical engineering, electronics, consumer goods and information and communication technology (ICT).

Frankfurt is the largest city in the German federal state of Hesse. The state is the biggest recipient of Chinese investment, accounting for 60% of the country's total, and boasts a lively Chinese business community consisting of about 600 companies, including China Telecom, Huawei Technologies, ZTE, TP-Link, KONKA, Midea, Haier, Qube Hotel, Yunda, Hongfa, Kingfa, Air China, China Eastern Airlines & Shanghai Airlines, China Southern Airlines, Sinopec and many SMEs.

To help facilitate the growth in Chinese interests in the region and to support their needs regarding trade and investment in continental Europe, Frankfurt has become the first renminbi (RMB) offshore clearing hub on the continent. Since November 2014, it has been possible to clear and settle payments denominated in RMB directly with the Chinese mainland, Hong Kong and other offshore RMB centres via the Frankfurt branch of the Bank of China (BOC), the clearing bank chosen by the People's Bank of China (PBoC). As an integral part of the PBoC's long-term strategy of RMB internationalisation, the strengthening of the RMB offshore market can give international and Chinese mainland traders and investors a more viable option of paying their counterparts in RMB in an efficient and convenient way with lower transaction costs.

With respect to the desire to gain access to the German and European capital markets, more than 30 Chinese companies, including China Specialty Glass AG (specialty glass manufacturing), Ming Le Sports AG (sportswear manufacturing), Ultrasonic AG (footwear manufacturing), United Power Technology AG (engine-driven power equipment manufacturing), Youbisheng Green Paper AG (environment-friendly linenboard manufacturing) and Zhongde Waste Technology (energy from waste technology) have so far listed on the Frankfurt Stock Exchange (Börse Frankfurt).

Last year, 24 companies listed on the Frankfurt Stock Exchange, raising a total of €7 billion (US$7.8 billion). Also in 2015, the Chinese rating agency Dagong Global Credit moved its European headquarters to Frankfurt from Milan after seeing an urgent need for an innovative credit rating system to support the evolving investment trends such as initial public offerings (IPOs) and mergers and acquisitions (M&As) by companies ranging from state-owned enterprises to small, private Chinese entities.

Frankfurt as a FinTech promoter

To stay competitive and ahead of the dynamic financial industry development, Frankfurt – riding on its proximity to institutional support and a vibrant industrial base – has been quick to respond to the increasingly popular trend for FinTech start-ups and investment. Home to 56 out of 250 German FinTech start-ups in 2015 (a 22% increase from 46 in 2014), the greater Frankfurt area – or the Rhein-Main-Neckar region – is the second most important FinTech hub in Germany, behind Berlin.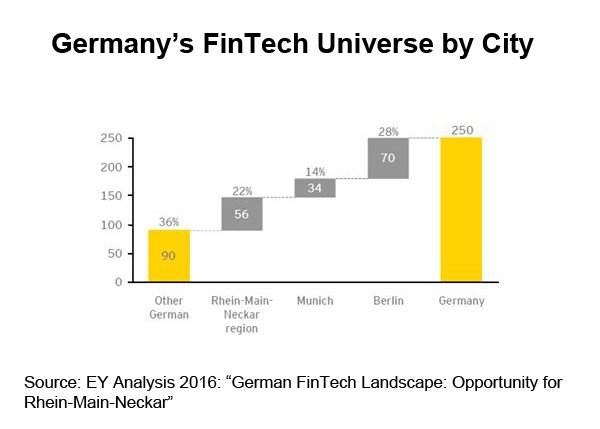 Frankfurt was generally not known in the past for its innovation, especially when compared to other German cities such as Berlin. But the state and federal governments have been lobbying for a fair share of the latest FinTech developments to stay and grow in Frankfurt.

As a step to bolster the FinTech scene, Frankfurt Main Finance – the marketing organisation of the Frankfurt financial centre – has set up Dialogforum FinTech, in which 44 interested parties exchange ideas and coordinate their activities in fields such as services for FinTech start-ups, financing, marketing, regulation, international partnerships, research and academics, networking and the establishment of a strong FinTech hub in Frankfurt.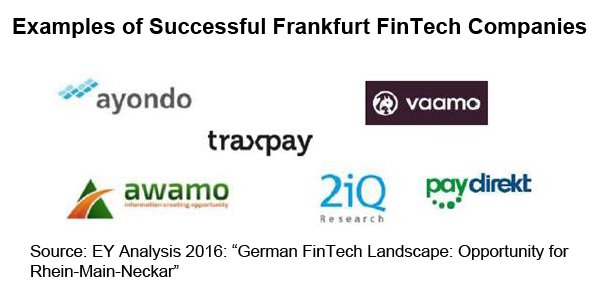 Following Deutsche Börse's €65-million takeover of 360T AG, a foreign exchange trading platform, in 2015, it has provided fully equipped premises in Frankfurt and on-site support from its Venture Network to help FinTech start-ups develop their business concepts and companies. In addition to such indispensable infrastructure, Deutsche Börse's new initiative offers young FinTech companies an attractive environment in which to stay close to established financial institutions and market regulators. This is expected to strengthen Frankfurt's unique role in promoting and expanding knowledge about risk management and regulations such as compliance management under Europe's big but disintegrated regulatory financial environment, making the city a ready laboratory for many types of FinTechs, especially RegulationTechs.

How Hong Kong can play a role?

Possessing definite advantages and extensive experience in helping Chinese mainland enterprises make overseas investments, Hong Kong can play a pivotal role in the expected surge in Sino-European trade and China's ODI to Europe under various development visions, including China's Belt and Road Initiative (BRI) and Germany's Industrie 4.0, which aims to integrate advanced network and information technology with its industrial production system to further enhance the country's industrial efficiency.

With about 60% of Chinese outbound direct investment being directed to, or channelled through, Hong Kong, the city, as a regional financial centre in Asia, will continue to be the bridgehead for mainland Chinese enterprises exploring "going out" in innovative ways by investing in greenfield schemes and joint investment projects such as smart cities/factories embedded with digital processes using the Internet of Things (IoT) and Big Data, or conducting M&As. Hong Kong is ideally placed to help German enterprises and technology owners look for investment partners from Asia.

On the back of Hong Kong's robust protection of intellectual property rights (IPRs) and full range of professional services, the city is an ideal platform to facilitate technology transfer to mainland China from Germany. With respect to the "new" environmental protection and urbanisation development directions stipulated in China's 13th Five-Year Plan, for instance, Hong Kong's environmental protection and urban planning and management companies can be ready cooperation partners for related Chinese players who are interested in undertaking technology investment in Germany in order to gain access to advanced German technology and expertise.

Investment opportunities linked to the Belt and Road Initiative include cooperation in logistics along and beyond the Eurasian landbridge, maritime finance (to which KfW Development Bank and Deutche Bank are leading the way in Germany) and infrastructure bidding, management and financing – highly sought-after in Germany by private insurance companies looking for more lucrative investment opportunities in the low interest rate environment across the eurozone.

With respect to the vibrant FinTech development in Germany, although Hong Kong is yet to evolve into the most attractive destination for greenfield FinTech projects, it can serve as a risk manager, assisting German FinTech companies in screening prospective investors from the Chinese mainland and other parts of Asia. This is particularly useful when German companies encounter problems with their potential mainland Chinese investors, and when it comes to advising on such highly sought-after resources as government incentives and incubation schemes, accelerators, angels and venture capitalists, which are commonplace in Hong Kong [1] but less so in Europe.

By representing German start-ups and helping them find partners in Hong Kong and the Chinese mainland, connecting them with relevant financial sector regulators and guiding them through setting up procedures such as office rental, incentive application and contract signing (e.g., the inclusion of the arbitration clauses stipulated by the home-grown Hong Kong International Arbitration Centre), Hong Kong's financial services companies can be ideal facilitators of Sino-German FinTech collaboration.
---
[1] Startmeup.hk is a one-stop portal to the start-up community in Hong Kong, listing the latest start-up events and various resources including government incentive and incubation schemes, accelerators, angels and venture capitalists.
Germany
Western Europe