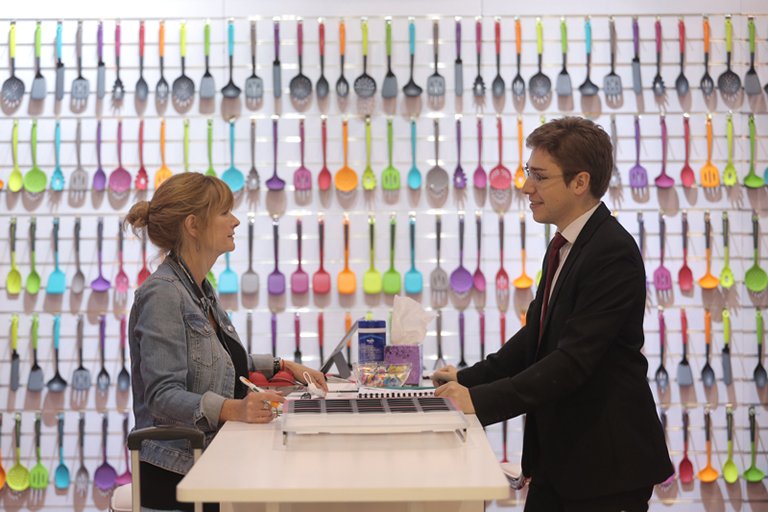 https://hkmb.hktdc.com/en/1X0A69XC
HKTDC Hong Kong Houseware Fair 2016: Buyers' and Exhibitors' Survey
Eco-friendly products have the greatest potential, while exhibitors are more confident than buyers with regard to sales for 2016. These findings were among the key results of a survey conducted among 525 exhibitors and buyers at the HKTDC Hong Kong Houseware Fair (20-23 April 2016).

A majority of respondents cited kitchenware and gadgets as the next most viable sector after eco-friendly products. Today, the terms "kitchenware" extends well beyond equipment and utensils for cooking, eating, storing or serving food. It also includes a number of labour-saving tools and gadgets, such as garlic peelers and herb scissors. In terms of changes to distribution patterns, the industry increasingly sells via online channels, using these to demonstrate the innovative features of many specialty kitchen tools and gadgets.

According to a significant number of buyers, Hong Kong's houseware suppliers particularly excel when it comes to complying with safety and environmental regulations/standards, and product functionality. On the downside, they believed greater effort should go into price competitiveness, branding and innovation.

Exhibitors More Optimistic

This year, exhibitors have become more confident about future sales prospects. In the 2016 Survey, 79% of exhibitors expected sales to either increase or to maintain the same level, compared to 72% last year. Those expecting an increase in sales this year leapt from 36% to 51%. By contrast, buyers were less optimistic this year, with 76% expecting sales either to increase or to maintain the same level, compared with 86% in the 2015 Survey.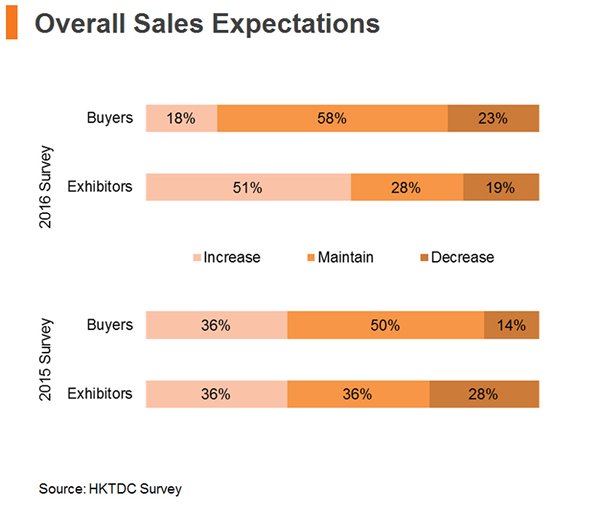 Price or cost pressures, however, for both exhibitors and buyers is abating. A greater number of this year's respondents expected to see a decrease in their prices/costs, at all levels compared to 2015. A net 44% (49% minus 5%) of exhibitors expected an increase in their production or sourcing costs for 2016, compared with 47% of exhibitors (51% minus 4%) in 2015.

Similarly, the net percentage with regard to exhibitors' FOB prices went down to 9% from 12% last year. For buyers, the net percentage of respondents anticipating their sourcing costs to greatly increase was 3% (21% minus 18%), dropping from the 44% (50% minus 6%) of 2015.

Meanwhile, retail prices for houseware were expected to edge up in 2016. Some 21% of buyers predicted a rise – against 16% who anticipated a fall – but the margin is much narrower than last year (27%).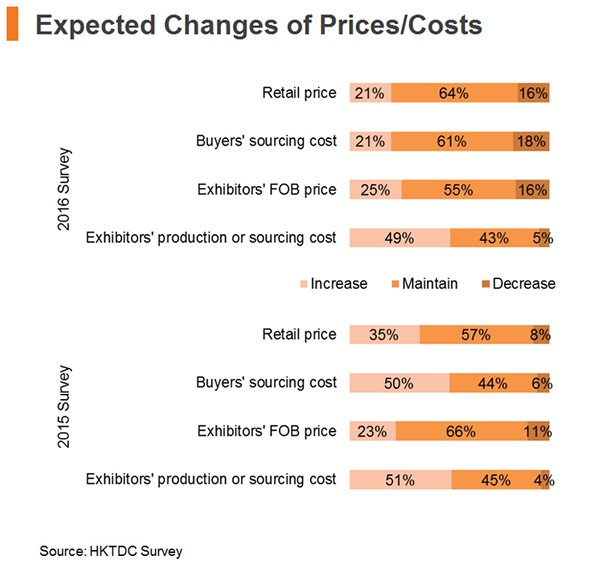 Outlook Improves for Most Asian Markets

In terms of market prospects, buyers were asked to rate their sentiments on a scale of 1 to 5, with 1 indicating the market will be "very unpromising" over the next two years and 5 indicating it will be "very promising". The Chinese mainland stands out as the most promising houseware market for the next two years, with a rating of 3.48. Next came South Korea (3.46), followed by Japan (3.36). In the case of the Asian markets, with the major exception of the mainland, there was an improvement in market sentiment in 2016. Aside from Asia, buyers were mostly optimistic about the North American market, although its rating dropped to 3.3 from the 3.55 recorded in the 2015 Survey.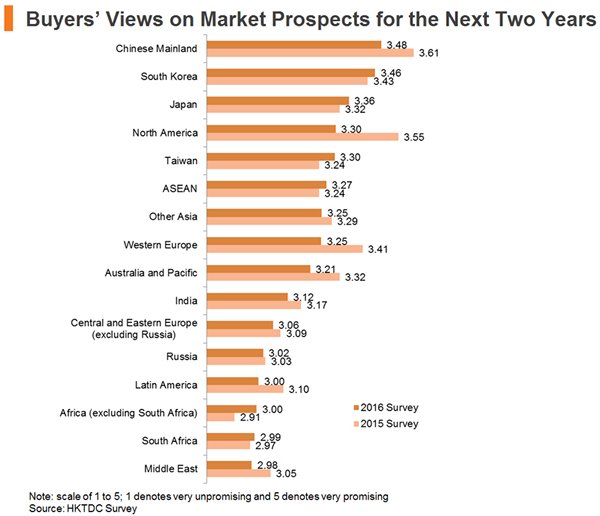 Eco-friendly Products Offer the Greatest Potential

When asked for category-specific predictions, 16% of all respondents saw eco-friendly products as offering the greatest potential for growth in 2016, followed by kitchenware and gadgets (14%), and interior decor and handicrafts (12%).

According to suppliers, eco-friendly products align not only with consumer concerns about the environment, but also encourage pro-environment designs. Eco-friendly materials and packaging also help manufacturers save on costs. While the term kitchenware encompasses a broad range of equipment for cooking, eating, storing or serving, a number of special tools and gadgets – such as garlic peelers and herb scissors - are notably gaining in popularity.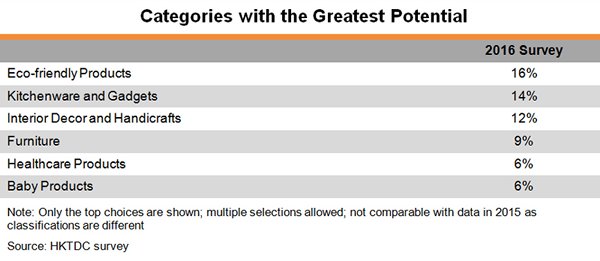 As to product styles, simple design (50%), stylish design (43%) and multi-functional (38%) are the most popular. A number of respondents highlighted the move towards using bright colours in home design. This brings with it a corresponding demand for tableware and decorative fabrics, utensils, lampshades and kitchenware in vibrant colour palettes in order to facilitate mixing-and-matching. Tech gadgets, such as digital volumetric spoon scales, have also started to enter the kitchen sphere.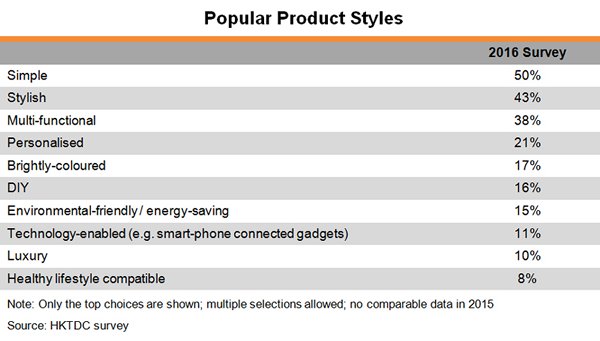 Price Becomes Key Concern

On a scale of 1 to 5, buyers were asked to rate the extent to which they agreed or disagreed on what were the major concerns of houseware consumers in their markets. 1 denoted "completely disagree" and 5 denoted "completely agree". Overall, buyers strongly agreed that houseware consumers were increasingly concerned about price, rating it 4.15, up from 3.9 in the 2015 Survey. Other top concerns included quality (4.14), practicability (4.14), material (4.13) and aesthetic design (4.09).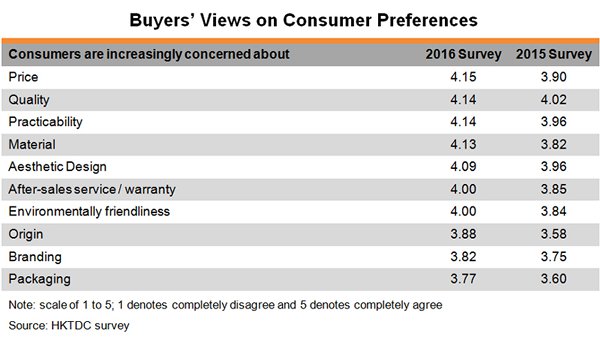 With regard to consumer behaviour, buyers largely agreed that consumers continued to conduct more price comparisons (4.04), increasingly relied on online reviews and social media as sources of product information (4) and made more online purchases (3.91). These views were ranked in the same order as last year, but with higher ratings.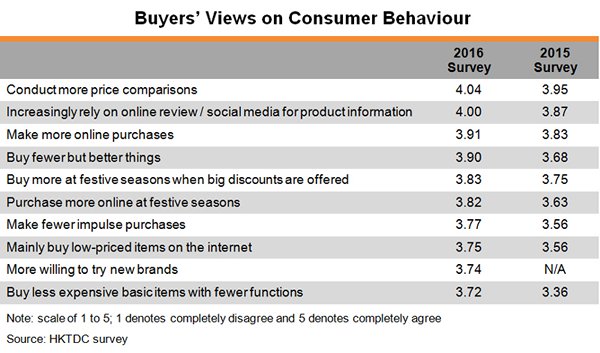 Online Channels: Good for Showcasing Specialty Kitchenware

While the volume of e-tailing business has increased, there has been slower growth than was expected in the near term. This year, 30% of respondents were engaged in e-tailing a, up from 24% in the 2015 Survey. Among those not engaging in e-tailing, only 7% planned to introduce e-tailing within the next two years, compared with 12% in the 2015 Survey.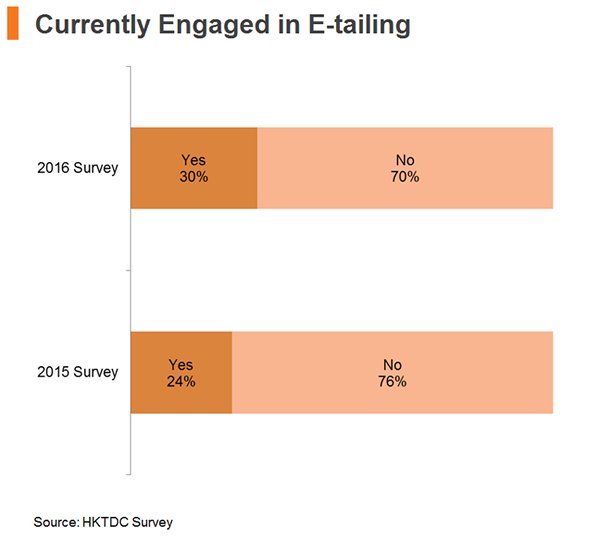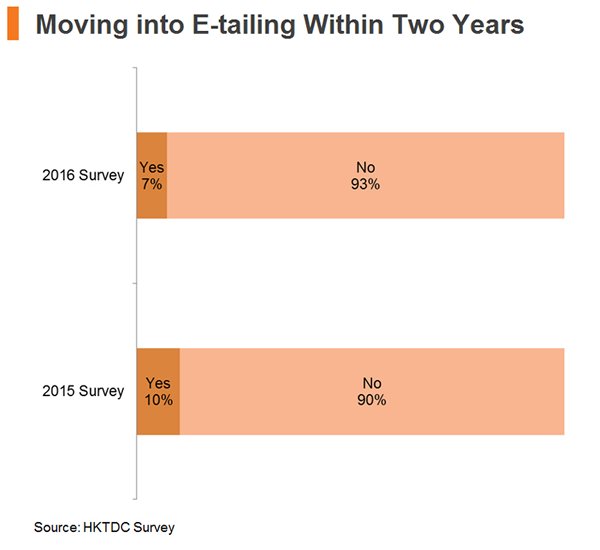 The majority of those already involved with e-tailing, as well as those planning to begin e-tailing, indicated that they sell/will sell kitchenware and gadgets (23%), followed by interior decor and handicrafts (19%) and furniture (10%). According to a number of existing e-tailers, online channels are especially good for showcasing specialty kitchenware, allowing customers to view and share videos that demonstrate the innovative features of specialty kitchen tools and gadgets.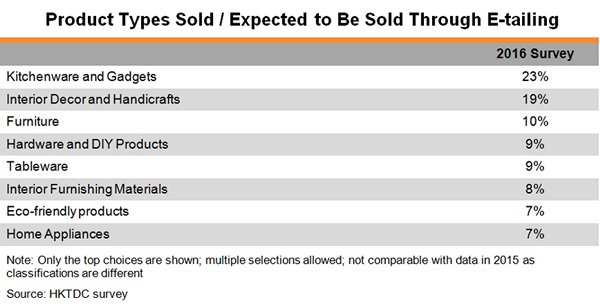 Hong Kong Suppliers: Good at Compliance

Buyers were asked to indicate their overall level of satisfaction with Hong Kong's houseware suppliers on a scale ranging from "very unsatisfied" (1) to "very satisfied" (5). On average, buyers gave ratings of between 3.74 and 4.05 in the nine areas evaluated. This was up from the range of 3.48-3.9 recorded in the 2015 survey. The best performing areas were compliance with safety regulations/standards (4.05), compliance with environmental regulations/standards (4), and product quality (3.97). Buyers were comparatively less satisfied with Hong Kong suppliers in terms of price, brand and innovation. Compared with 2015, Hong Kong suppliers were rated higher in most of these areas, except for product functionality and innovation.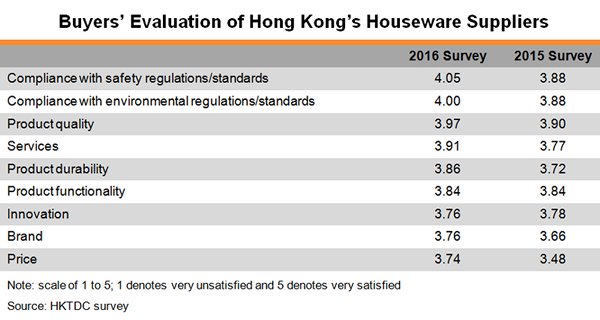 Profile of Respondents
222 exhibitors – 25% from Hong Kong, 71% based elsewhere in Asia (excluding Hong Kong) and 4% from the rest of the world
303 buyers – major markets in Asia (58%), Europe (21%) and North America (14%)

The HKTDC Hong Kong Houseware Fair took place from 20-23 April 2016 at the Hong Kong Convention and Exhibition Centre.
Gifts & Premiums
Household Products