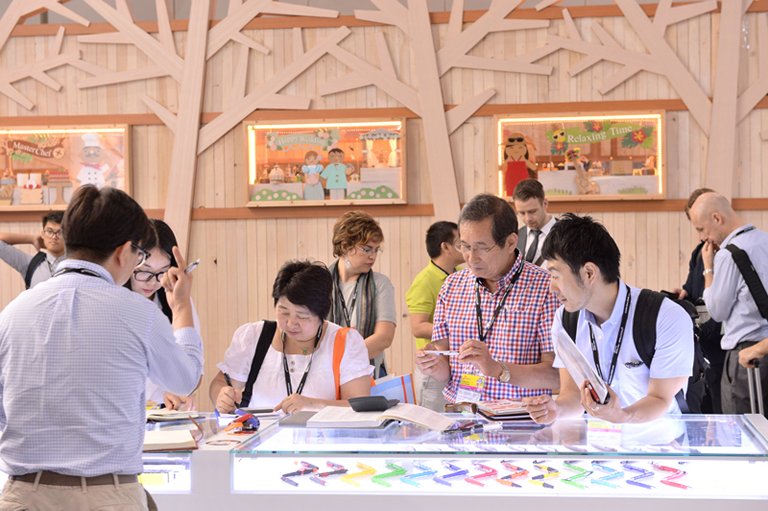 https://hkmb.hktdc.com/en/1X0A68WG
HKTDC Hong Kong Gifts & Premium Fair 2016: Buyers' and Exhibitors' Survey
Figurines and decorations are expected to offer the greatest potential according to exhibitors and buyers at this year's HKTDC Hong Kong Gifts & Premium Fair. The category is common online, with close to one-third of surveyed e-tailers selling figurines and decorations. Thanks to the increased use of electronic personal devices, items such as power banks, selfie sticks and mobile stands remain popular.

The findings came from a survey of 922 exhibitors and buyers conducted during the 27-30 April event. Overall, survey respondents expect a weak outlook for 2016, with international buyers seeing Asia – in particular, the Chinese mainland and Japan – as their most promising markets over the next two years. In fact, the stronger yen has supported the import demand, according to a number of Japanese buyers. Aside from Asia, buyers also show considerable faith in the North American market.

In addition to the headline trends, a number of developments are seen as likely to reshape the market. Consumers have higher expectation on the product quality and are increasingly concerned about aesthetics, price, materials and practicability of products. Compared with last year, buyers are more satisfied with Hong Kong giftware suppliers, especially in terms of innovation, product quality and compliance with safety regulations/standards.

Asia the Bright Spot in Weak 2016 Outlook

Compared with last year, both buyers and exhibitors have less confidence in their sales outlook. 71% of buyers and 66% of exhibitors expect their overall sales to increase or maintain the same in 2016, compared with 88% and 78% respectively last year.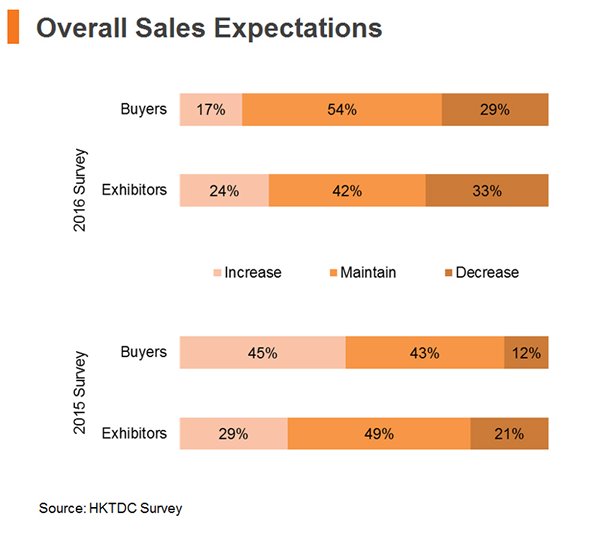 The majority (95%) of exhibitors expect production or sourcing costs to increase or maintain in 2016, but in general they anticipate no change in their FOB prices, alongside 18% expecting an increase and another 18% anticipating a fall. Buyers, on the other hand, anticipate higher sourcing costs in 2016, with 22% expecting an increase and 12% anticipating a drop. However, the margin of 10% is significantly narrower than last year's 51% (56% minus 5%), implying a significant easing of upward cost pressures. As such, the retail price of gifts and premium products is generally expected to go down in 2016, with 20% of buyers predicting a fall against 17% who anticipate a rise.

With regard to market prospects over the next two years, buyers are most positive about Asia. The four most promising markets, in descending order, are the Chinese mainland (rated 3.49 on a scale of 1 to 5), Japan (3.33), other countries in Asia (3.27) and ASEAN members (3.24). Asia aside, buyers have most faith in North America (3.23). Compared to last year, however, buyers were less optimistic about most markets, with the exception of Japan, with buyers' rating increasing from 3.26 to 3.33. According to a number of Japanese buyers, only a stable and mild growth in the gifts and premium market is expected, but the stronger yen has boosted import demand. As to other markets, the ratings of a number of emerging countries and regions, namely India, Central and South America, Africa, Central and Eastern Europe and the Middle East, fell below 3 this year, signalling a rather negative view.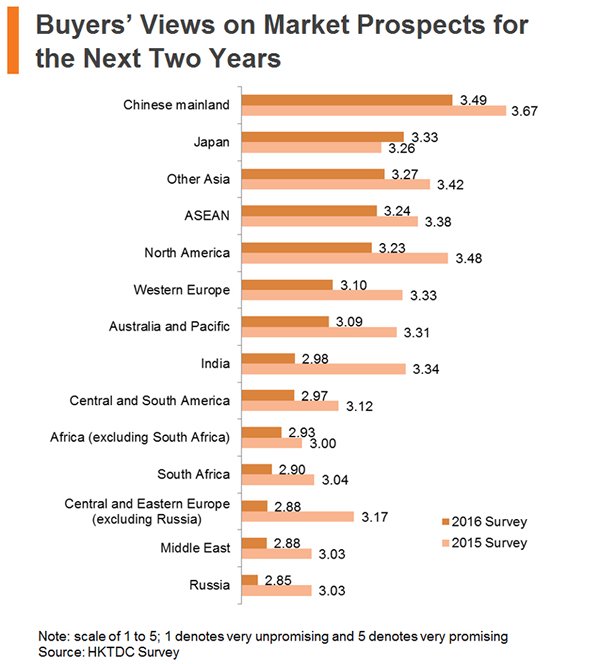 Figurines and Decorations Hit Shelves

In terms of category-specific expectations, most respondents identified figurines and decorations (13% of those surveyed) as offering the greatest growth potential in 2016. This is followed by tech gifts (12%) and fashion jewellery and accessories (10%). Figurines and decorations received much more attention compared with last year. According to a number of buyers, there is a growing market for high-quality, intricately detailed figurines and collectables based on characters from movies, comics and video games. A number of Hong Kong companies are well-known in the global market for making high-end, realistic figures. On the other hand, although tech gifts such as power banks, selfie sticks and mobile stands remain popular, promotional gifts and premiums saw a decline in popularity to 10% in the 2016 Survey, from 17% last year.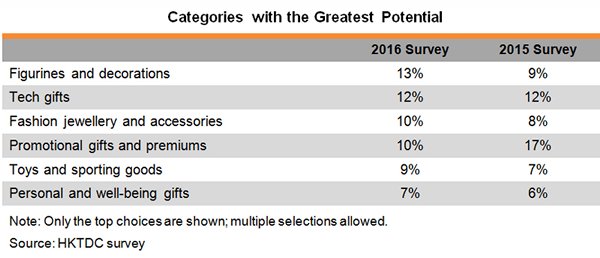 Higher Quality Expectation

Buyers were asked to rate, on a scale of 1 to 5, what they see as the major concerns of consumers in their markets, with 1 denoting "completely disagree" and 5 denoting "completely agree". The results show that users of gift items are increasingly concerned about the quality (4.14), aesthetic design (4.11), price (4.1), materials (4.1) and practicability (4.08) of products.

Consumers in developed economies are seen as especially concerned about whether products are environmentally-friendly. As a result, buyers are particularly interested in gift items made of natural and eco-friendly materials, while favouring simple but stylish packaging that can reduce transportation and overall packaging costs. By comparison, the branding of products is now considered to be the least important aspect.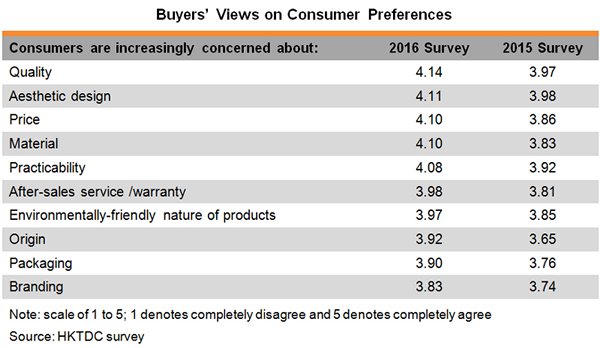 As in other product sectors, consumers are seen as increasingly likely to shop online for gift items. According to the buyers surveyed, consumers now conduct more price comparisons (4.08) and increasingly rely on online reviews/social media for product information (4.03). Industry players should make better use of online and network marketing as the impact of recommendations and referrals through social media has been proven significant, according to some respondents.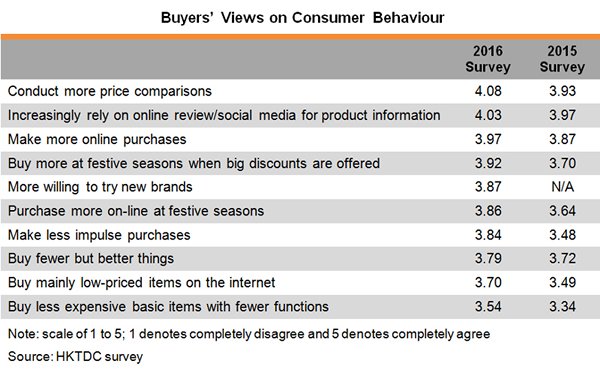 In 2016, 27% of respondents were engaged in e-tailing business, a rise from 23% last year. For those who have not engaged in e-tailing business, 10% said they planned to introduce e-tailing within the next two years, compared with 12% last year. Overall, the trend of going online is seen as rising in the gift and premium industry, but not very rapidly.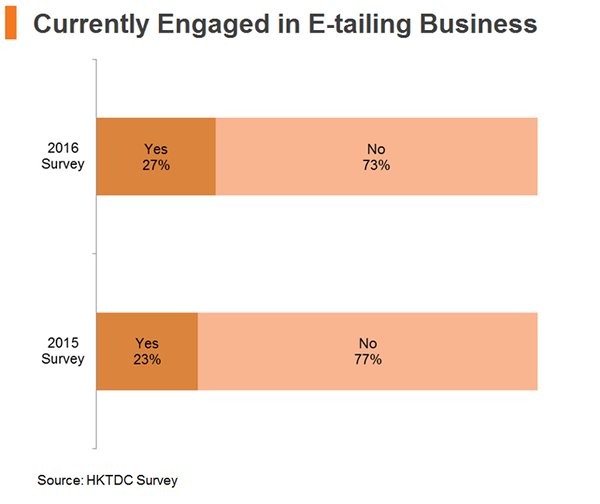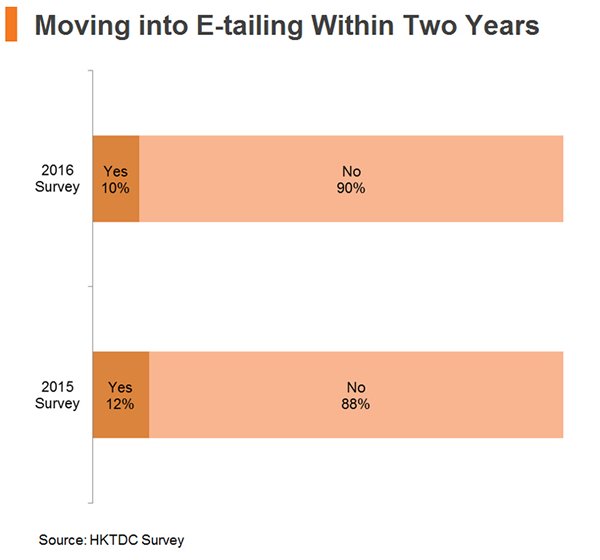 Among those who either engage in or are going to engage in e-tailing, the majority said they sell/will sell figurines and decorations (32%) through this platform, followed by fashion jewellery and accessories (17%), and promotional gifts and premiums (15%). Compared with last year, figurines and decorations saw a significant increase from 14% to 32%.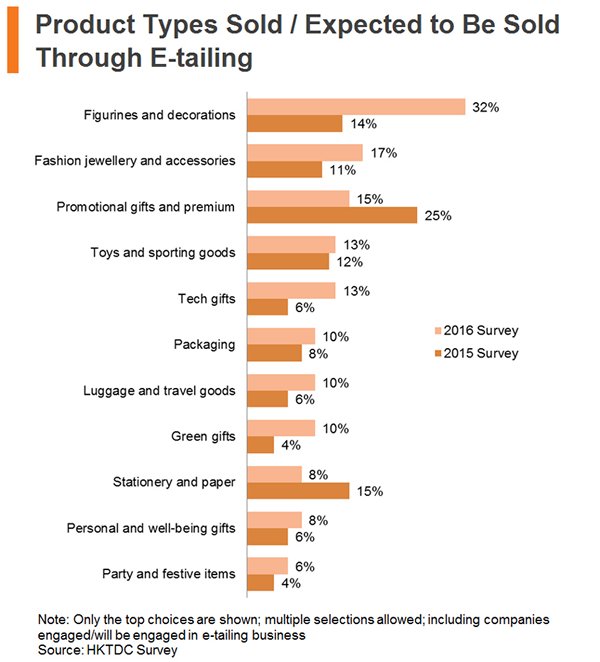 Hong Kong Suppliers Getting more Innovative

Hong Kong's giftware suppliers are consistently rated highly by overseas buyers. On a scale ranging from "very unsatisfied" 1 to "very satisfied" 5, buyers give, on average, ratings between 3.74 and 4.04 in the nine areas of evaluation, up from the range of 3.58 to 3.92 in the 2015 survey. In particular, buyers are most satisfied with Hong Kong suppliers' innovation (4.04), product quality (4.02) and compliance with safety regulations/standards (4). Innovation is also the area which saw the biggest improvement in the 2016 Survey, jumping from 3.8 to 4.04.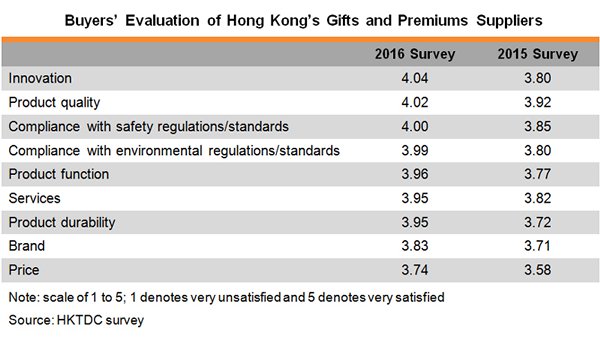 Profile of Respondents

431 exhibitors – 42% from Hong Kong, 55% based in Asia (excluding Hong Kong), 3% from the rest of the world.
491 buyers – major markets in Asia (60%), Europe (20%) and North America (14%).
The HKTDC Hong Kong Gifts & Premium Fair took place from 27-30 April 2016 at the Hong Kong Convention and Exhibition Centre.
Gifts & Premiums
Household Products