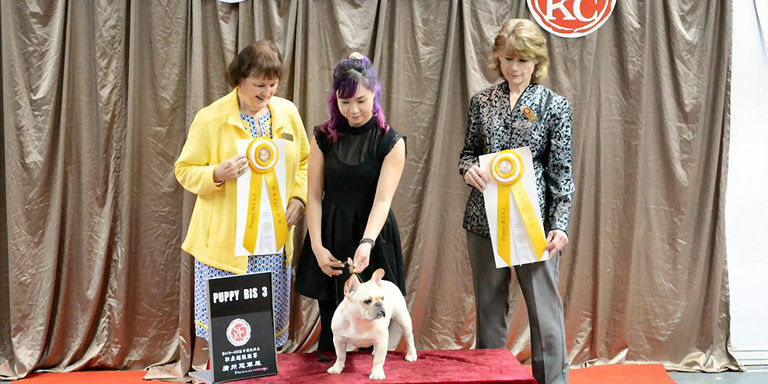 https://hkmb.hktdc.com/en/1X0A68KS
Smart Pet Products
Innovative pet-care gadgets were the rage at this year's Guangzhou International Pet Industry Fair.
Exhibitors at the March Fair expressed confidence in the Chinese mainland pet industry. Smart pet products showed strong growth, while pet health products and services were more personalised and professional. Pet food quality was also a focus for many exhibitors, responding to greater knowledge of pet health among pet owners.
Multiple Functions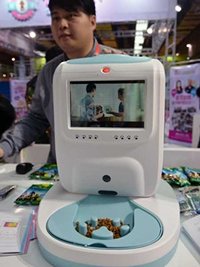 Many exhibitors offered smart pet products with novel designs and diverse functions, such as the Pet-Tower from Hong Kong's I Pet Interactive Technology. The product pairs an automatic pet feeder with a mobile app, allowing owners to feed pets remotely, either at pre-set times or through the Internet. Owners can also monitor their pet's activities in real time through the feeder's built-in camera. The product's display screen was highlighted as a competitive advantage over similar products in the market.

When an owner isn't home on time to feed their pet, they can do it remotely through the smart phone app. Using the feeder's built-in camera and screen, the owner can also store their image on the feeder, which will call the pet when it is time to eat.

Company representative Liang Dawei designed several videos for the feeder and tested them on different pets. These videos can be downloaded via the app with the aim of preventing boredom or to discourage destructive behaviour, while the pet owners are away.

The Pet-Tower can dispense food portions and store the feeding record in the cloud for owners to track. When food levels run low, the app can alert the pet owner to replenish supplies online.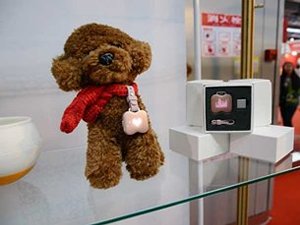 The feeder is priced at Rmb1,500 and attracted interest from buyers around the world, including Spain, Italy, France and the United States. Mr Liang said the first order from Italy was for 50,000 units.
The need for a feeding and exercise schedule was the reason behind the smart pet tracker by Wuxi software developer, Jiuyuan. Company Sales Director Wu Pengfei said that the iMcon tracker comes in two versions. Using Bluetooth to connect with a tracker worn around the pet's neck, the tracker will send an alert to the owner's smartphone if the pet runs beyond a given distance, while the professional version is GPS-enabled for greater range. The stylish tracker comes in various colours.

Jiuyuan raised money through crowdfunding on JD.com at the end of February and early March this year and has already received orders for more than 3,000 units.
Pet Health Priority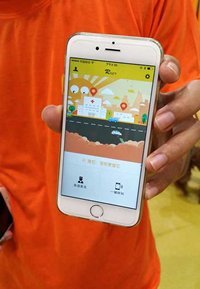 Many exhibits at the event focused on pet health. The Rvet mobile phone app, developed by Shenzhen-based Great Sun Network Technology, offers a professional vet service. According to Great Sun's Marketing Director, Han Xue, users need only tap a key on the app to receive a call from a qualified vet. The app teams up with well-known animal hospitals to provide round-the-clock service. Launched in November 2015, the app already has about 100,000 registered users. Mr Han expected the number of registered users to rise to between 200,000 and 300,000 this year.

The Pet-Tower from I Pet was also designed with pet health in mind. According to Liang Dawei, the raised pawprint inside the feeding bowl was devised in line with dogs' eating habits. The raised design can prevent the dog from eating too fast, while a weight sensor under the bowl that measures uneaten food, adjusts the next amount dispensed to avoid over-feeding.
Pet Market Promises Great Potential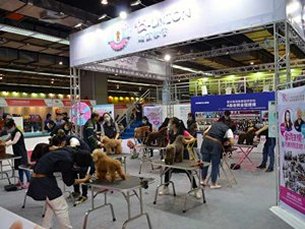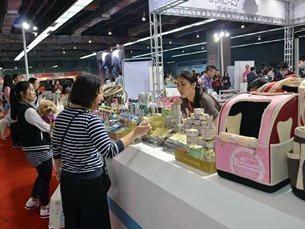 Despite market expansion, the mainland pet care sector still lags behind other countries in terms of price-competition and service quality, according to some exhibitors.

I Pet's Mr Liang said the mainland pet sector trails behind not just in technology but also in professional standards. Many animal hospitals charge unreasonably high fees, making it very costly to keep pets. Other countries have animal drug dispensaries, which are not yet common on the mainland.

Mr Liang's company has imported a wide variety of high-quality pet drugs to help pet shops build their image as animal dispensaries. It can also help pet owners save on vet fees.

I Pet has also collaborated with pet groomers from Taiwan to provide onsite training. Mr Liang said that despite its many shortcomings, the mainland pet industry holds great potential, especially in the areas of pet supplies, pet food, pet health and pet grooming.

For more China market opportunities, please visit: http://research.hktdc.com.
Mainland China
Hong Kong
Mainland China