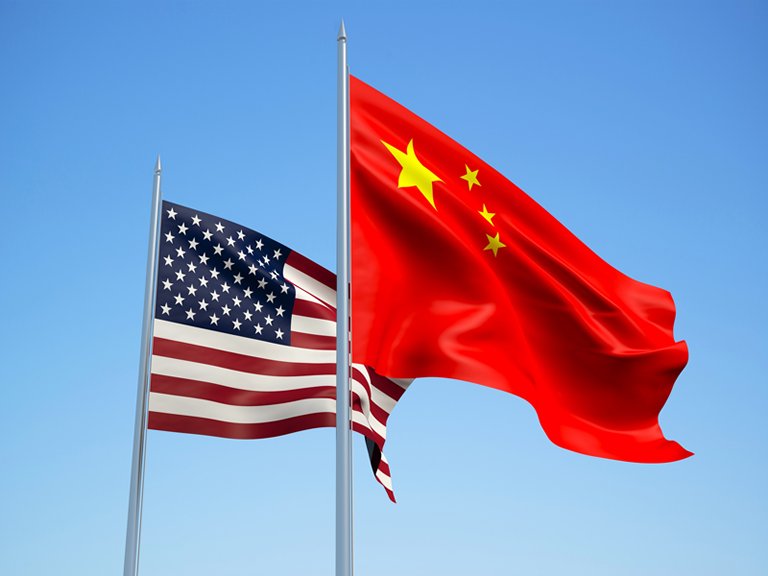 https://hkmb.hktdc.com/en/1X0A5ZV8
Sino-American Trade Relations in the Lead-up to the 2016 US Presidential Election
November's upcoming US presidential election could have a clear impact on economic and trade relations between the US and China. Despite this - and even with the China-bashing rhetoric already in play - Sino-US relations are not expected to undergo any major changes in direction in the months ahead. The Obama administration has generally emphasised co-operation over confrontation in its dealings with the mainland. This has seen it opt to conduct such dealings through a number of bi-lateral channels, including the Joint Commission on Commerce and Trade (JCCT) and the Strategic and Economic Dialogue (S&ED). It does, however, remain committed to ensuring the vigorous enforcement of US trade laws, and is expected to pursue multi-faceted policies in order to address various trade-related issues.

Continued Engagement with China

Pursuing robust engagement with China remains a top priority for US trade and economic officials, something clearly outlined in the administration's 2016 trade policy agenda issued in March by the Office of the US Trade Representative (USTR). In the past year, steady progress has been achieved in resolving a number of bi-lateral obstacles at the regular JCCT and S&ED meetings. For example, the most recent JCCT meeting, held in Guangzhou in November 2015, resulted in progress on a number of issues, including competition, trade secrets, government support, medical devices and technology policy.

In addition, a high-level meeting between US President Barack Obama and Chinese President Xi Jinping last September resulted in a commitment from both sides to constructively manage their differences, while strengthening co-operation across a variety of areas, notably the prevention of cybercrime, wildlife trafficking and ocean conservation. The two sides also agreed to continue pursuing a common vision in order to address climate change, strengthen multi-lateral development financing and make additional progress on bi-lateral investment issues.

Several sticking points remain in the Sino-US relationship, however, including traditional issues such as China's perceived failure to effectively enforce intellectual property rights (IPRs), the alleged undervaluation of the Chinese currency, and the mainland's industrial policies, as well as other restrictive practices seen as hindering US exports.

The USTR has highlighted the on-going efforts to favourably resolve a trade dispute with Beijing relating to taxes on smaller aircraft, in addition to the conclusion of an agreement following clashes over a far-reaching export subsidy programme said to extend across various sectors and dozens of sub-sectors.

Currently, the administration is hoping to intensify negotiations with Beijing in order to reach agreement on a bi-lateral investment treaty that embraces the principles of openness, non-discrimination and transparency, provides pre-establishment national treatment and employs a negative list approach when it comes to identifying exceptions. The US will also continue to work towards securing China's participation in the pluri-lateral Government Procurement Agreement, which will support a rebalancing of the bi-lateral trade relationship by expanding US sales into China's large government procurement market.

Robust Trade Enforcement

At the same time, Congress and the Obama administration continue to believe in a vigorous trade remedy regime as an essential element of US trade policy. This is seen as enabling the domestic manufacturers of a range of products to compete on a level playing field with foreign goods that are illegally subsidised, sold at less than fair value or both.

By far the most significant recent development in the area of trade remedies and trade enforcement was the February 2016 passage of the Trade Facilitation and Trade Enforcement Act of 2015. This includes provisions on trade facilitation and enforcement, import safety, IPR protection, trade remedies, duty-free entry, customs brokering and also trade partnership programmes. According to the USTR, the bill will better enable the US to enforce the groundbreaking intellectual property, labour, environment and other commitments it secured as part of the Trans-Pacific Partnership (TPP) deal.

In its December 2015 report to Congress on China's World Trade Organisation (WTO) compliance, the USTR indicated the US will continue to vigorously pursue increased benefits for US businesses. The administration intends to use all available tools to achieve these objectives, including the pursuit of productive, outcome-oriented dialogue in both bi-lateral and multi-lateral settings, plus the vigorous use of enforcement mechanisms, where appropriate.

The USTR stresses that, as in the past when dialogue has not been successful in resolving concerns, it will not hesitate to invoke the WTO's dispute settlement mechanism where appropriate. Indeed, the Obama administration has been a fairly active user of this mechanism. Along with two new WTO cases against China in 2015 regarding export subsidies and tax measures on certain domestically produced aircraft, it has filed 10 of the 17 cases launched against China since its entry to the WTO in 2001.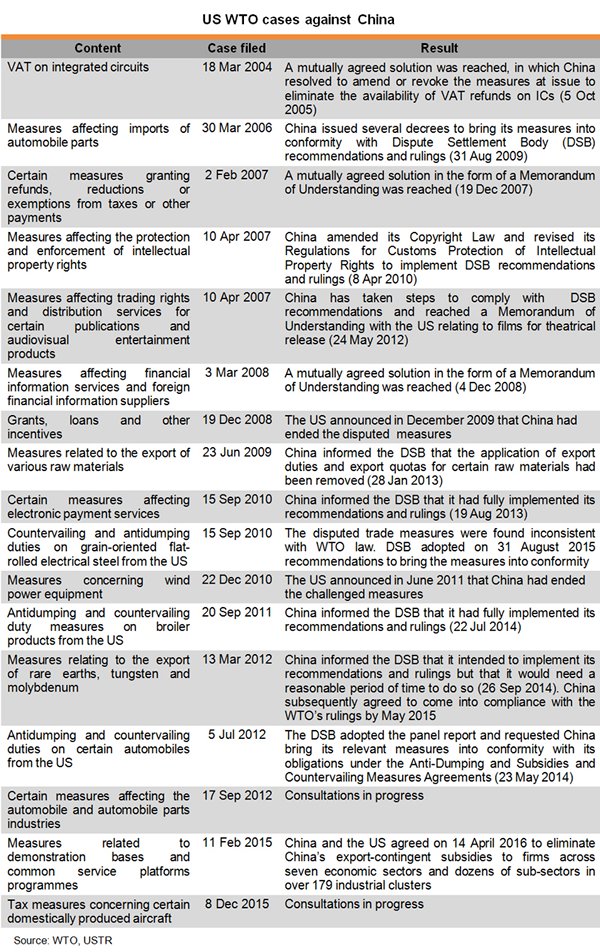 Similarly, the US will continue to rigorously enforce US trade remedy laws when US interests are being harmed by unfairly traded or surging imports from the mainland. The US is expected to file additional antidumping (AD) or countervailing (CV) duty actions against China this year. The US initiated seven new AD investigations and five new CV proceedings on mainland products in 2015.

A provision in China's WTO accession that has implications for calculating AD duties on US imports from the mainland may be highlighted during the second half of 2016, and may feature in the presidential campaign. The provision in question allows WTO members to use calculations in AD proceedings that are not based on the actual costs of mainland producers if the latter cannot demonstrate that market economy conditions prevail in their industry. The US has used this provision to automatically assign non-market economy (NME) status to goods imported from China, which typically results in higher AD duties than would otherwise be the case. However, this provision will expire on 11 December 2016.

China contends that as of 11 December 2016 WTO members will have to stop using NME-type methodologies altogether with respect to Chinese goods. However, the US and others contend that they should continue to be allowed to use such methodologies after 11 December 2016 if the petitioners can clearly show that market economy conditions do not prevail in the industry at issue. Private-sector supporters of this position argue that China's central government still wields significant control over the national economy, often to the detriment of foreign competitors, and that a broad granting of market economy status would further exacerbate the harm caused by government policies.

The US Department of Commerce (DOC) has taken the latter position, saying there is no provision in US law requiring China to be treated as a market economy country for AD purposes after 11 December 2016. Instead, the DOC plans to consider market economy status for China on a case-by-case basis within the context of individual AD proceedings. The Obama administration is unlikely to budge on this sensitive issue regardless of whether Beijing threatens to pursue litigation at the WTO, although the US would likely abide by an eventual decision against it by the multi-lateral body. While this issue is probably too technical to be seriously considered during the presidential campaign, candidates on both the Democratic and Republican sides may be expected to oppose market economy status for China even more vigorously than the Obama administration.

Lingering Currency Issues

Many US lawmakers remain concerned about the alleged undervaluation of the Chinese currency RMB, which depreciated against the US dollar by over 4% last year and rebounded by a scant 1% during the first quarter of this year. They have urged the Obama administration to adopt a firmer stance on this issue. However, legislative efforts to adopt significantly more stringent approach have been unsuccessful time and again, and the chances that any new attempts might be successfully pursued this year are slim.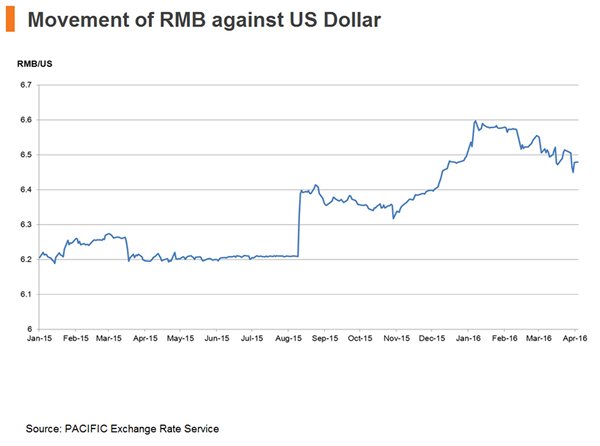 The recently approved Trade Facilitation and Trade Enforcement Act of 2015 does not, for example, include a controversial provision that would have required the DOC to initiate a CV duty investigation or review to determine whether currency undervaluation by a foreign country is providing a countervailable subsidy, directly or indirectly, to its exporters or products.

Furthermore, the US Treasury has not designated China as a currency manipulator in its semi-annual report to Congress on international economic and exchange rate policies. Despite the recent depreciative pressures on the RMB, the report observed that the Chinese currency had appreciated by nearly 30% in real effective terms since June 2010. The US believes the key factors that have driven this appreciation remain in place, namely strong external balances that include a sizeable and growing current account surplus, sharply improved terms of trade and on-going net inflows of foreign direct investment (FDI).

The US Treasury, however, also considers that while prospects for the near-term evolution of the RMB are difficult to assess, the Chinese currency remains below its appropriate medium-term valuation. The Trade Facilitation and Trade Enforcement Act of 2015 allows the US government to pursue specific remedial actions against trading partners that fail to adopt appropriate exchange rate policies. The Act has also given the US government additional tools to strengthen trade enforcement.

IPR and Industrial Policies a Matter of Concern

The widely perceived lack of effective enforcement of US IPR in China remains a key issue in Sino-US trade relations. The USTR noted in its December 2015 report to Congress on China's WTO compliance that inadequacies in China's IPR protection and enforcement regime continue to present serious barriers to US exports and investment. As a result, China remains on the Special 301 Priority Watch List, which includes countries that do not provide adequate levels of IPR protection or enforcement, or of market access for persons relying on IPR protection. US officials are especially concerned about the protection and enforcement of trade secrets in China. The USTR points out that thefts of trade secrets that benefit Chinese companies have occurred both within and outside the mainland, and believes that offenders in many cases continue to operate with impunity.

In this regard, the US has urged Beijing to update and amend its trade secrets-related laws and regulations, particularly the Anti-unfair Competition Law, and to consider issuing judicial guidance to strengthen its trade secrets regime. The US has also continued to engage China on a range of patent and technology transfer concerns relating to pharmaceuticals, while working with China on other important issues, including a series of JCCT and S&ED commitments designed to foster a better IP environment that will facilitate increased sales of legitimate IP-intensive goods and services.

US officials are further concerned by China's pursuit of industrial policies that seek to limit market access for imported goods, foreign manufacturers and foreign service suppliers, while offering substantial government guidance, resources and regulatory support to mainland industries. The USTR states that the principal beneficiaries of these policies are state-owned enterprises (SOEs), as well as other favoured domestic companies attempting to move up the economic value chain.

US officials are particularly uneasy about a series of measures that would ostensibly impose severe restrictions on a broad range of US and other foreign ICT products and services. President Obama and President Xi agreed in September 2015 on a set of principles for trade in information technologies. Additional important commitments were made by China in a subsequent S&ED meeting in June and a JCCT meeting in November.

Other industrial policy matters mentioned in the USTR's December 2015 report to Congress on China's WTO compliance include certain technology transfer provisions; export restraints that would result in unfair treatment between mainland and foreign downstream producers; tax rebates and related policies; an import ban on re-manufactured products; and issues relating to standards and technology, government procurement, investment and trade remedies.

Export Controls: A Potential Irritant

Under the US' Export Administration Regulations (EAR), licensing is required for exports of dual-use goods and technology listed on the Commercial Control List (CCL). There is also an Entity List that includes organisations identified by the DOC's Bureau of Industry and Security (BIS) as engaging in activities related to the proliferation of mass destruction capabilities. For companies on the Entity List, there is a license requirement for all items subject to the EAR regulations and a license review policy of presumption of denial. This applies to any transaction in which items are to be exported, re-exported or transferred to any of these entities, or where they act as purchaser, intermediate consignee, ultimate consignee or end-user.

In early March 2016, BIS added three entities in China and one in Iran to the Entity List. BIS determined that one of the Chinese entities – ZTE Corporation – had planned and organised a scheme to establish, control and use a series of shell companies to illicitly re-export controlled items to Iran and that the other three entities were involved in this scheme.

Later, however, BIS issued a temporary general license that suspends restrictions on exports of goods subject to the EAR from the US to ZTE Corporation and ZTE Kangxun Telecommunications Ltd. BIS notes that this temporary general license is renewable if the US government determines that these entities are timely in performing their undertakings to the US government and otherwise cooperative in resolving the matter. For the other two entities (Beijing 8-Star and ZTE Parsian), there will continue to be a license requirement for all items subject to the EAR, and a license review policy of presumption of denial.

While amendments to the Entity List are relatively common, these restrictions are particularly significant because ZTE Corporation is a major global supplier of telecommunications networking equipment and the fourth largest smartphone supplier to the US. Indeed, these restrictions by BIS, though watered down subsequently, could potentially cause friction between Washington and Beijing in the run-up to the US presidential election.

The Path Forward

By all indications, anti-China rhetoric is expected to intensify in the lead-up to the November election as leading presidential candidates have made trade with China an issue in their campaigns. On the Republican side, Donald Trump has stated repeatedly that if elected he will impose new trade barriers on China. On the Democratic side, Hillary Clinton has been more measured in her approach to trade, but she has refused to support the TPP deal and commented that some TPP rules would provide loopholes for China to go around trade agreements.

The volume on anti-trade policies is likely to increase in the coming months as TPP is unlikely to be ratified before the November election. As such, candidates running for the presidency will be pressured to take a position on trade, and this is likely to be an anti-trade and anti-China position in order to garner votes. Attempts to appear tough on China trade issues could flare up in head-to-head battles between Donald Trump and Hillary Clinton.

However, while anti-China sentiment may escalate in the run-up to the November election, neither Congress nor the Obama administration are expected to deviate significantly from the policies they have pursued to date on China. In general, Washington is expected to continue to work bi-laterally with Beijing to resolve outstanding issues in a concerted effort to encourage continued growth in US exports to the mainland. US trade enforcement efforts will also remain vigorous, while the number of AD and CV duty orders on Chinese products will likely grow this year, with a significant number of proceedings being concluded in the coming months.

When outstanding issues cannot be resolved through collaborative means, the US administration will continue to use the WTO dispute settlement mechanism. Dialogue mechanisms such as the JCCT and the S&ED will be used to steadily achieve additional progress, and the administration will continue to strengthen its economic relationship with the Asia-Pacific region by supporting the ratification of TPP and pursuing other agreements.
USA
North America
Mainland China