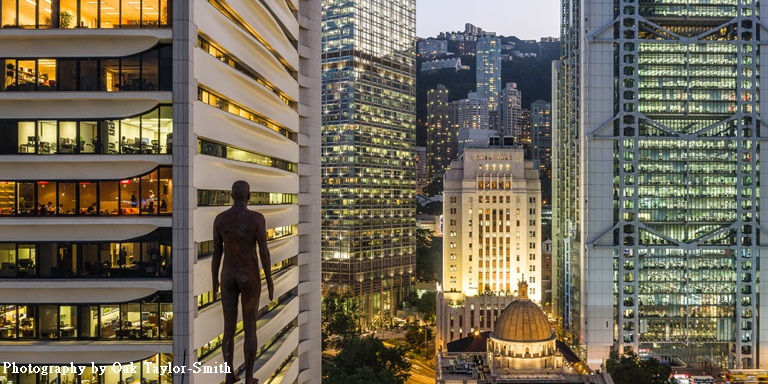 https://hkmb.hktdc.com/en/1X0A5ZSB
Art for All
Hong Kong's growing appetite for public art has been boosted by a series of successful exhibitions.
Greg McNamara is not a man to adopt half-measures. That was evident when launching his independent art consultancy and curatorial company McNamara Art Projects earlier this year. After collaborating on a commercial project with Ben Brown Gallery to present works by Japanese photographers Nobuyoshi Araki and Hiroshi Sugimoto, the former advertising professional went big on his first public exhibition with an extensive installation by the English sculptor Lynn Chadwick.

"In my opinion, it's the best thing we could have done," says Mr McNamara. "I thought I'm not going to do something unless it's the best thing and it's really going to make a splash and engage with the public audience." The exhibition has set a new benchmark by engaging the community and creating a buzz throughout Hong Kong's media. Five of the artist's most substantial metal sculptures were placed in key locations across Hong Kong, with the main exhibition at The Rotunda in Central's Exchange Square.
Committed to the Cause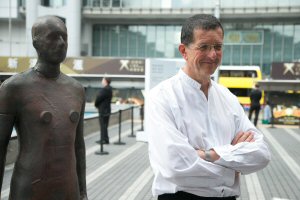 Shipping such a wide range of sculptures from Britain to Hong Kong was no mean feat logistically or financially, but Mr McNamara is dedicated to continue bringing public art to the city. He views the enterprise as an education – and an experience – for Hong Kongers.

The Chadwick exhibition of monumental artworks is one of several recent public art exhibitions, including Antony Gormley's Event Horizon and Art Basel, which are changing the face of public art in Hong Kong.

Mr McNamara credited Event Horizon, curated by Giant Communications' Managing Director Cassius Taylor-Smith, as kick-starting a change in the way public art is viewed in Hong Kong. The exhibition featured 31 life-like sculptures, looking out into space, installed at street level and on building tops in Hong Kong's Central and Western districts. The exhibition, which commenced late last year and runs until the middle of this year, has been billed as the city's biggest public art exhibition.

"What Cassius did was fundamental because they went and did a very, very controversial thing," says Mr McNamara. "What is amazing is people who normally would never have interacted with the arts or with public art were suddenly awake to this notion of public art."
Centre for Sales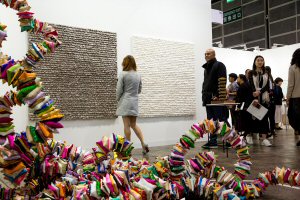 Both exhibitions have capitalised on a growing appreciation for art and rise in collecting. This year's Art Basel Hong Kong drew more than 70,000 visitors, including directors, curators, trustees and patrons from over 100 leading international museums and institutions.

"Art Basel had an enormous turnout," says Henrietta Tsui, founder of Galerie Ora-Ora in Hong Kong, one of this year's exhibitors. "Galerie Ora-Ora has had an exceptionally strong year for sales, with works going to collectors from America, United Kingdom, Australia, mainland China, Taiwan, Hong Kong and more. We have completely sold out of one of our artists," says Ms Tsui.

Art Basel Hong Kong has drawn visitors from overseas, including Hollywood celebrities. A parallel sales event, Art Central, logged 32,000 visitors this year, slightly more than the previous year.
Appreciative Audiences
There is no doubt that art appreciation in Hong Kong is rising and young people are engaging with art more regularly than they may have in the past. Mr McNamara aims to host at least one, if not two, major public art shows per year and is dedicated to funding this through the commercial side of McNamara Art Projects, which includes sourcing and selling works for private clients.

"The business is not purely philanthropic, there is a commercial aspect," he says. "A lot of the finance I make from that, I invest into the public side."
New Horizons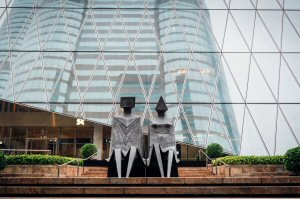 The decision to exhibit the Chadwick Collection in Hong Kong was partly due to local developer Hongkong Land's desire to bring the artist's work back to the city, 24 years after it was first shown at The Rotunda, as well as his friendship with the Chadwick Estate.

For Mr McNamara, the collection was perfect for maximum public engagement.

"His art is at a very superior level but everyone can relate to it," he says. "You don't have to know about art or art history to enjoy it. You can just see it and enjoy it for what it is."

With the success of the Chadwick exhibition, Mr McNamara is looking at taking the sculptures next to South Korea and Japan. As for his next major public art project, Mr McNamara is keeping his cards close to his chest, but is ready to further test the Hong Kong public's artistic nous. "I have a few ideas in terms of the artist and the direction I want to go in," he says.

"There are many mediums in art and different periods and ways in which people can engage with it. This [Chadwick Collection] is very easy to engage with. The next one I want to do would be something more experiential and immersive."
Related Links
Antony Gormley
Art Basel in Hong Kong
Event Horizon
McNamara Art Projects