https://hkmb.hktdc.com/en/1X0A5Z5Y
Capitalising on China's New Advertising Media (2): Expanding the O2O Consumer Market
In China, with internet and mobile communication applications rapidly becoming ubiquitous, consumers are increasingly searching for information on products and services via online platforms and social media. With online shopping having expanded at a very fast pace in recent years, this has led companies to gradually shift their advertising and marketing focus towards online and digital media platforms. Nevertheless, while consumers have adopted the new media, they are still influenced by traditional media and channels and are carrying out consumption through online-offline (O2O) activities. In effect, the challenge for advertisers in China is how best to consolidate various media channels in order to carry out advertising and promotion activities more effectively. This offers opportunities to advertising companies capable of offering integrated solutions.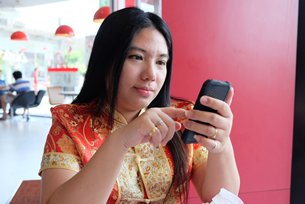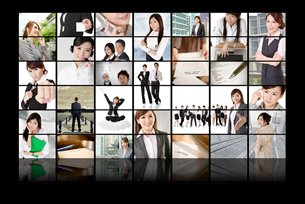 Internet Craze Still Unfolding
China's Internet craze and the ubiquity of mobile communication applications are reshaping social life and consumption patterns. Figures from the China Internet Network Information Center [1] (CNNIC) show that, by the end of 2015, the country's Internet penetration rate had reached 50.3%, while its netizen population hit 680 million. Therefore, many suppliers of products and services want to step up their efforts in carrying out online advertising and marketing as a way to give themselves more room for market development. Advertising companies are also increasingly staging various advertising and publicity campaigns for their clients on varied online platforms. As a result, turnover in Internet advertising in China has been increasing rapidly in recent years, reaching RMB150 billion in 2014, and is likely to exceed the combined turnover [2] of traditional media, including TV and newspapers, in the next two years.
The CNNIC figures reveal that more than 90% of China's netizens access the Internet via mobile phones and other terminal devices. Due mainly to the popularity of mobile Internet applications and smartphones, mobile devices are gradually becoming their primary means of Internet access. The largest group of netizens is young people, aged 20-29, who constitute 30% of the total, followed by the 30-39 and 10-19 age groups (24% and 21% respectively). But netizens account for a lower share among the groups aged 40 or above. Meanwhile, the average monthly income of more than 80% of netizens is RMB5,000 or less, and some 40% have a monthly income of between RMB2001 and RMB5,000. Those with incomes of more than RMB5,000 account for only 17% of the total [3].
Against this background, advertising and promotion campaigns carried out online are mostly focused on the spending power of young netizens with a middle-level income. Online advertisements and promotional messages are designed in line with young people's tastes and embedded in popular apps such as instant messaging, search engines and online videos.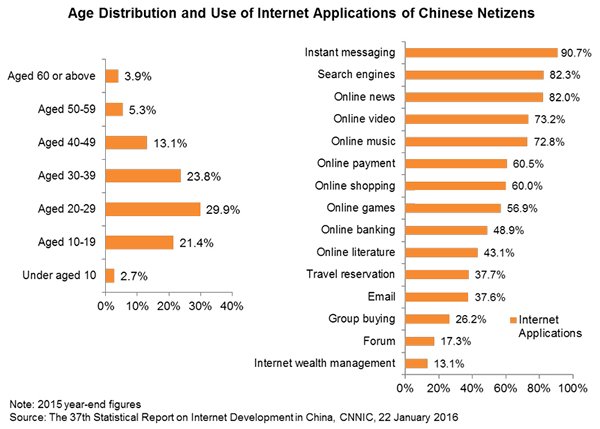 Meanwhile, e-commerce activities in China have also grown by leaps and bounds. In particular, sales through online shopping have been expanding at a rapid pace. In fact, they multiplied more than threefold, from around RMB800 billion in 2011 to RMB3,800 billion in 2015, posing a threat to physical store sales and grabbing the attention of large numbers of businesses. Many suppliers of goods and services have set up online stores through various e-commerce platforms while also focusing their marketing and advertising resources on the Internet and other digital media. Their intention is to open up the online market through new media channels and to further promote their brands.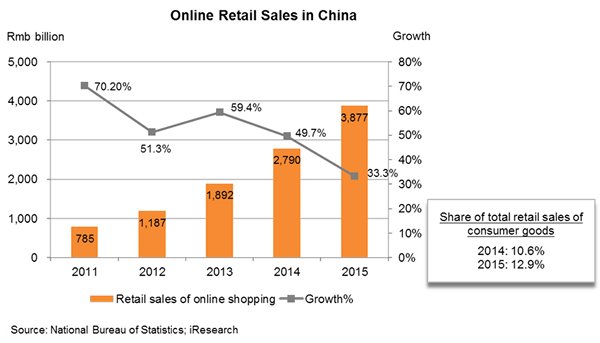 [Note: For more details on the development of new advertising media, please see Capitalising on China's New Advertising Media (1): New Media to Stimulate Market Demand]
Balancing Traditional and New Media
After several years of rapid growth, online shopping activities in China are actually showing signs of moderating. Their growth rate dropped from a high of 70% in 2011 to 33% in 2015. Moreover, sales from online shopping still represent a small fraction – about 13% in 2015 – of the total sales of consumer goods, indicating that most shopping and spending activities are still carried out through physical stores.
In fact, during the visits to the Bohai Rim and Yangtze River Delta regions, HKTDC Research discovered that though many consumer brand enterprises in the mainland are taking the development of online sales seriously, they do not neglect sales promotion activities and customer services in their physical stores. A representative from Suning.com, the B2C online shopping platform for the well-known mainland electrical appliance brand Suning, mentioned that the rapid growth of online shopping activities in the mainland in recent years had helped the group's online sales. However, Suning still allows its customers to experience its services through an extensive physical network. Customers can then place orders either through the online platform or in stores, swiftly and with great convenience. The group also offers door-to-door courier delivery or allows customers to pick up goods from stores and uses the latter network to offer nationwide warranty services. In other words, the group is actually developing its online and offline channels simultaneously to raise its overall market share [4].
For certain products, or among consumer groups with higher incomes, the level of online shopping tends to be higher. In a few consumer surveys carried out by HKTDC Research in major mainland cities in 2015, mainland consumers with middle-class incomes or above revealed a higher level of online shopping for certain products such as audio-video equipment (15.1%), small kitchen appliances (17.7%), wearable electronics (22.4%) and garments (17%). For consumers in certain cities, particularly those in coastal first-tier cities, levels of online shopping are even higher. Nevertheless, physical stores are still the main sales channels in the consumer market.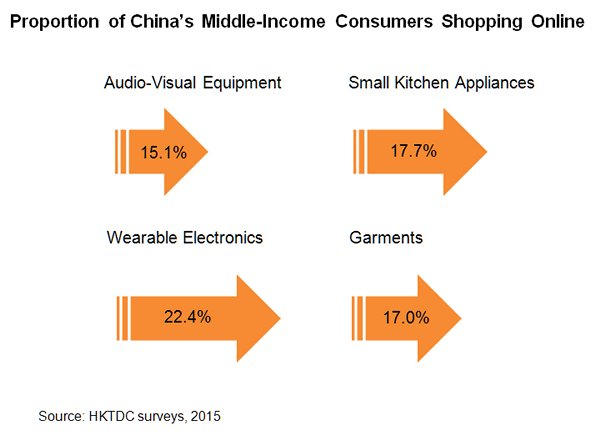 [Note: For survey details, please see China's Small Electrical Appliances Market: A Consumer Survey, China's Electronics Market: A Consumer Survey of Audio-Visual and Wearable/Connected Items and Garment Shoppers in Chinese Cities: The 2015 Survey.]
According to a survey report by an American company engaged in digital marketing services [5], in 2015, 50.4% of the time spent consuming media by an average Chinese adult is on various digital media. In particular, time is spent mostly on mobile digital media such as mobile phones and tablets, while the rest of the time is spent on traditional media, especially TV. Consumers are found to be spending some equal time on digital and traditional media.
From this, it can be seen that online shopping and other online activities have already become a part of the everyday life of consumers, especially younger ones. This means there is huge room for growth for suppliers of goods and services. Yet currently these online activities still account for a minor share of the overall consumer market and consumers have not forsaken traditional media. So in developing promotion strategies and planning advertising campaigns, suppliers and advertising players should not ignore traditional sales channels and related promotion activities.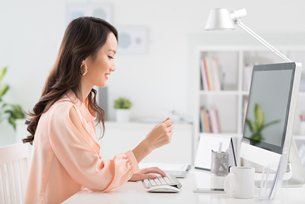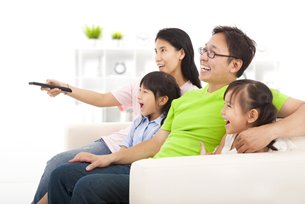 Leveraging O2O Advertising Channels
When consumers shop for different products and services, they are influenced by different information sources. For instance, according to the 2015 HKTDC Research survey on middle-income mainland consumers' behaviour in buying consumer electronics (including audio-visual and wearable items), 47% said they would first seek the opinions of relatives, friends and colleagues. Some said they would also rely on product information provided by shops and at promotion counters (34%), while others said they would pay heed to TV/radio commercials (28%). Meanwhile, only 20% of respondents said they would consider online reviews/comments and only 15% would refer to other online information.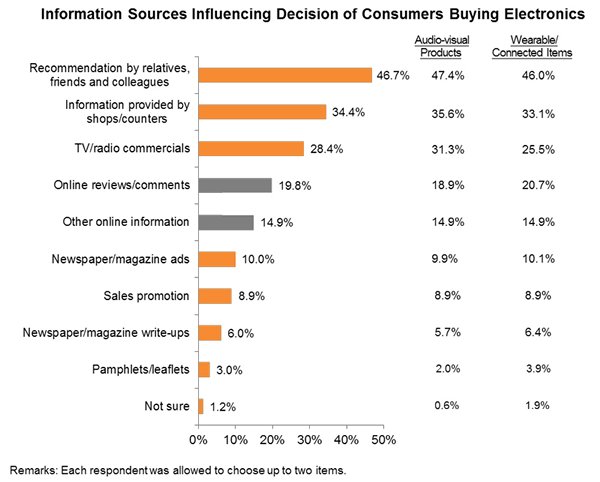 Source: HKTDC Survey 2015; China's Electronics Market: A Consumer Survey of Audio-Visual and Wearable/Connected Items
Some consumers added that they would check out the product's in-store and online information before committing to a purchase at their preferred shop or website, accounting for 29% of the total surveyed consumers. They included: 12% would visit physical stores first to view the product before making comparisons online and then returning to the physical store to buy it; 10% would make enquiries online and then make a direct online purchase; 3% would choose a product in-store then buy it online; and 2% would choose their preferred product online, visit a store to view and feel it, then finally go back to the online shop to buy it.
Ultimately, however, making enquiries at physical stores and buying direct at the store remains the most common shopping habit among the majority of consumers purchasing electronics, accounting for 71% of all respondents. When buying audio-visual products, up to 77% of consumers said they would make purchases this way, although that drops to 66% for wearable/connected items. This shows that when buying wearable/connected items, consumers tend to undertake O2O shopping activities more than when they purchase audio-visual products, reflecting the different degrees of influence exerted by online and digital media.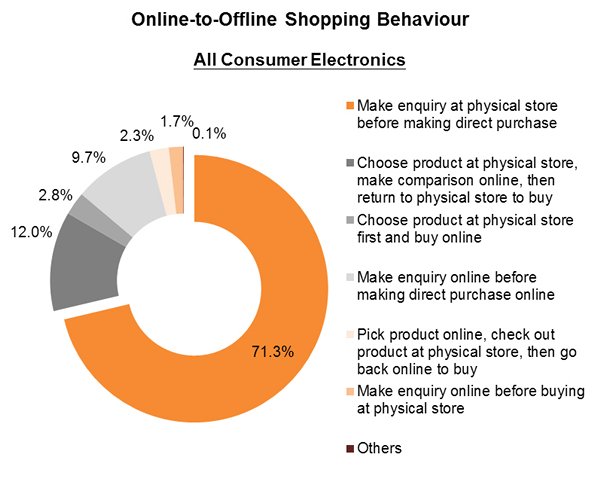 Source: HKTDC Survey 2015; China's Electronics Market: A Consumer Survey of Audio-Visual and Wearable/Connected Items
Implications for Hong Kong Companies
Given the ubiquity of the Internet and mobile communications applications in the mainland market and the sustained growth in e-commerce activities such as online shopping, it is imperative that Hong Kong advertising companies approaching the mainland advertising market can help their clients to carry out marketing via online platforms and related new media. In the mainland itself, the number of advertising companies engaged in online promotion activities, particularly small- and medium-sized ones, has been increasing continuously. Price-cutting to seize market share has become commonplace, resulting in fierce competition.
The performance of traditional media in the mainland advertising market has remained stable, however, and the influence of such media on consumers is in no way diminishing. Moreover, a number of consumers are engaging in so-called O2O consumption patterns by checking information both from physical stores and the Internet before making purchases at their favourite store or website. In other words, how best to integrate online and offline advertising and marketing activities is the key to successfully cracking the mainland advertising market.
Furthermore, while advertisers are attaching increasing importance to carrying out advertising and marketing activities via the Internet or new media, for suppliers of goods and services, the main objectives remain increasing sales through market expansion, building their reputations and developing their brands. Digital media are for the time being mostly aimed at the younger set of consumers and may not be so effective in reaching out to older or wealthier consumers. Therefore, in offering advertising services to mainland clients, Hong Kong companies should focus on both traditional and new media channels, use online resources appropriately and devise full-service solutions that can help with clients' long-term expansion and brand development strategies.
---
[1] Source: The 37th Statistical Report on Internet Development in China, CNNIC, 22 January 2016.
[2] For more details on turnover in internet advertising in China, please see Capitalising on China's New Advertising Media (1): New Media to Stimulate Market Demand
[3] 2015 year-end figures
[4] Suning.com, a B2C online shopping platform under the Suning Commerce Group, is mainly involved in the sales of traditional household appliances, 3C appliances and general household items. For more details, please visit www.suning.com.
[5] Source: eMarketer, June 2015 (For more details, please see Capitalising on China's New Advertising Media (1): New Media to Stimulate Market Demand)
Design Services
Information Technology
Telecommunications
Mainland China
Hong Kong
Mainland China
Hong Kong