https://hkmb.hktdc.com/en/1X0A5WB1
Kazakhstan Welcomes China's Belt and Road Initiative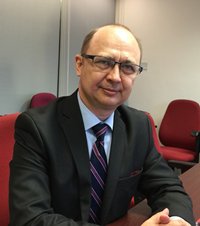 Rafis Abazov (RA), visiting professor at Al Farabi Kazakh National University in Kazakhstan, tells HKTDC Deputy Research Director Pansy Yau (PY) Chinese investments in the region are both timely and welcome.

Pansy Yau (PY): China proposed building the Silk Road Economic Belt with a view to boosting economic cooperation with Kazakhstan and other Central Asian countries. But traditionally Russia, Turkey and countries in the west have much stronger economic ties and influence in the region than China. Will the Belt and Road Initiative change the landscape of regional cooperation in Central Asia?

Rafis Abazov (RA): Everything is changing in light of the current international political and economic situation. For example, just a couple of years ago, the west (effectively Russia, Eastern Europe and Western Europe, for Kazakhstan) was the main economic and political partner of the region, accounting up to 60-70% of the international trade for Central Asia. However, today, Central Asia including Kazakhstan is more involved in trade and collaboration with China and East Asia and there is small but steady decline in trade with Russia, Turkey and Western Europe.
A couple of factors have contributed to the significant changes in recent years. These are (1) the collapse of oil, energy and commodity prices in the international market, and (2) the trouble between Russia and the western European partners, which has affected all relationships between the west and the east.

In view of these economic and political difficulties, the One Belt One Road Initiative from China is very timely. This is because it offers new opportunities for trade and investment. For example, because of economic difficulties, Russia is now not readily able to invest in Kazakhstan. Western Europe and the US are also facing all kinds of challenges and not investing much. So, at this time, China being willing to come and invest in different projects is very welcome.

Pansy Yau (PY): How do you think the Eurasian integration project (the Eurasian Economic Union) and China's Belt and Road Initiative (BRI) will complement each other to build closer economic relations in the region?

Rafis Abazov (RA): As mentioned, some will think that Kazakhstan and Central Asia will be more involved with Eastern Europe, but others will think that China will offer more new opportunities to Central Asia under the BRI. Probably both are correct.

Though we are still a close partner to Russia and Eastern Europe, the BRI program will open a door for Kazakhstan to the east. I believe Kazakhstan businesses and the Kazakhstan government are now more open in dealing with Chinese companies and collaborating with the Chinese. Five to ten years ago, when Kazakhstan still had a lot of investment offers from different players such as Russia, Western Europe and the US, China was only one of many players. Very often Kazakhstan would choose western players as its partners. For example, according to official statistics by www.invest.gov.kz, Kazakhstan received about US$28.8 billion of the FDIs in 2012, however, the investments decline almost by half in 2015. Now Kazakhstan has less opportunities and offers, so they would act differently. They are more open in dealing with the eastern partner, i.e. with China.

Pansy Yau (PY): What benefits can the BRI bring to the development of Kazakhstan and what are the likely opportunities for investment?

Rafis Abazov (RA): The Belt and Road Initiative is viewed as an opportunity to build a bridge between the east and the west, where Kazakhstan and Central Asia have been playing this role as a bridge for many centuries on the Silk Road.

A route from China will go to Europe via Central Asia, via Kazakhstan. It requires a lot of investment in infrastructure. According to the UN data, the quality of infrastructure of Kazakhstan is not very good, its highways rank 170th in the world, its seaports rank 158th in the world. From another statistical source, only 5% of the highways in Kazakhstan are class A according to international standards, while 17% of its roads are below class 3 standard. All these indicators suggest that Kazakhstan, as a developing country, needs a lot of investment into its infrastructure, including roads, railways, airports and so forth, to bring them up to international standard. Some experts estimate that the country needs up to US$100 billion of investments into infrastructure in the next few years and it needs expertise to manage these large inflow of projects.

Surrounding this transportation infrastructure development, there are other opportunities. Nowadays people talk about the concept of dry ports – logistic centres on the land that handle goods and containers carried by trucks and railways. Kazakhstan has started building at least five dry ports, and of our neighbours Kyrgyzstan has indicated it needs to build two, Uzbekistan two or three, and Tajikistan five. This means they need the entire infrastructure including construction of terminals, storage space and other facilities to handle the goods.

And of course when we are talking about international travel, with more business people coming to Kazakhstan, there is also a need for construction of office buildings of international standard to meet the demand. So Kazakhstan is emerging and developing and it has a whole list of things to develop to international standard.

Pansy Yau (PY): Will there be opportunities in services and manufacturing? What plans does Kazakhstan have for its future development?

Rafis Abazov (RA): The Kazakhstan government introduced several ambitious programs including Kazakhstan Strategy 2050 and Nurly Zhol (Bright Road) in order to address economic and social challenges of becoming a member of the club of 30 most prosperous countries. I would like to highlight three areas for international collaboration.

Firstly its ambition to build a new "Hong Kong" in Central Asia as for almost five years now, has been striving to build Almaty as a financial centre for central Europe and Eurasia. Our government has always looked up to the regional roles of London and Hong Kong to build a strong banking sector to handle all kinds of financial operations and transactions. While more than a dozen of the banks in Kazakhstan are now privatised, they still need to work hard to ensure these institutions can function well. They want their banks to be well designed, well developed, well capitalised and to work according to international standards. So in the financial and banking sector, they will need a lot of collaboration with international players who have experience and expertise.

Secondly, for the manufacturing sector, the Kazakhstan government is not very happy with just exporting commodities such as oil, gas, metal and coal to the international market. They would like to process at least some of these commodities in their own territory to have more added value. They would like to export more in the forms of manufactured or semi-manufactured goods. Therefore they need to build industrial and manufacturing infrastructure. The current infrastructure was built in the 20th century. They were good before, but most technologies have become outdated. To modernise the manufacturing sector, the government needs not just to renovate what they had from the past, but basically to build many things from scratch.

Thirdly, Kazakhstan is a huge country with a lot of land for agricultural purposes. Actually the government is willing to develop agriculture as a third major sector besides finance and manufacturing. They would like to produce agricultural products according to international standards and international demand. Right now, organic fruits, organic meat and organic vegetables are very fashionable and command a premium. The Kazakh government would like to tap into this particular market. But again, Kazakhstan had a strong agricultural sector by 1991. However, agricultural production today has different requirements, different standards and different market demands, so Kazakhstan need to regenerate the whole sector with better planning in farming, introducing knowledge-intensive technologies into agricultural sector and into food-processing to meet demand in the international market and domestically. China is just next door – so, if China decides to import more organic food such as milk, eggs, meat, etc., there would be much greater demand for produce from Kazakhstan that has no contamination, no chemicals and no genetic modification.

Pansy Yau (PY): For foreign investors who are not familiar with Kazakhstan, what are the major challenges in doing business?

Rafis Abazov (RA): There are three main areas that investors have to be careful about.

(1) Regulation
The Kazakh government is quite strict in enforcing regulation now. This is because in the 90s, when Kazakhstan was a newly independent country, there were no proper rules and requirements for a lot of investment projects. As a result, they missed out a lot of things like regulation of industrial pollution, enforcement in project development and financial arrangement, etc. Now, the regulatory system and requirements are quite established and the government will seriously enforce the regulations.

(2) Perception
Sometimes people would think Kazakhstan is a developed country as it is among the 50 most developed countries in the world, but sometimes they would think Kazakhstan is underdeveloped, with only desert and camels. Both are not true: Kazakhstan is not a very well developed economy, but at the same time it is not a very underdeveloped country. It is somewhere in the middle. Kazakhstan is now a lower middle income country. It means we have to understand the development level, and study the market, study the demand, study the requirements and initiatives from the government to decide where would be the opportunities and what kind of investment will get support from the government.

(3) Business culture
It is important to understand the business culture in Kazakhstan, which is very different from others. For example, unlike the Germans, who are very on time and disciplined, Kazakh people will have a different concept of time and a different concept of business relations which moves in much slower speed compare to many other countries. This is not because they are bad – it's just due to having a different culture. Therefore it is important to understand how they think and how they act to build the relationship and built the expectation.

Pansy Yau (PY): So far we have been talking about foreign investors going into Kazakhstan. How about Kazakh companies investing in other countries? Hong Kong is an international financial centre. Will Kazakh businesses use Hong Kong as a platform to raise funds and seek development opportunities? How would you compare Hong Kong and London?

Rafis Abazov (RA): During the good days when oil and other commodity prices were high, Kazakh banks and sovereign funds invested a lot in different international projects. They invested in Russian businesses, Ukrainian businesses, Georgian businesses, etc. They invested in Eastern Europe and all the way to Africa, but they did not pay much attention to Asia. Basically, Kazakh investors were not very aware of Asia. Hong Kong can visit Kazakhstan to promote its advantages, such as its position as a door to Asia and Southeast Asia, its abilities and expertise to help Kazakh banks, sovereign funds and pension funds do better, and the possibilities for the financial sector to explore new opportunities and directions for investment. For example, I have heard that pension funds in Kazakhstan have for several years got an annual return on investment just above zero in real terms. So if any Hong Kong companies can offer them expertise to do better, there would be opportunities. The sovereign fund is also adopting this strategy: they would look for better investment directions with higher returns. As of today, of course, the sovereign funds of Kazakhstan are not the largest in the world, but they are among the big international players. Especially when oil and other commodity prices come back to a higher level than today, the sovereign funds will grow and need to look for new investment opportunities with good, safe returns.

Comparing Hong Kong and London, I can observe that some shifts have taken place. For example, London was the star in the past where many businesses and people from Kazakhstan would look at. They would send their children there for education, invested their money in properties and other businesses there, and London would handle the IPOs of Kazakh companies. London was a centre for all financial products, but now Kazakh businesses and people are ready to discover the eastern direction of Hong Kong. I don't think Kazakh people will either choose London or Hong Kong – probably both would be attractive to them. It is now important for Hong Kong to show its competitive advantage, what it can offer, and what it can do, then it may be able to attract more attention, more business deals and opportunities from Kazakhstan.
Mainland China
Mainland China