https://hkmb.hktdc.com/en/1X0A5VYH
Capitalising on China's New Advertising Media (1): New Media to Stimulate Market Demand
Chinese enterprises are attaching increasing importance to advertising to promote their original design products and branding business. With the rapid growth of Internet and mobile communications, new media that make use of digital platforms for promotion and marketing have mushroomed. This has stimulated the rapid growth of China's advertising market, making it the world's second largest after the US. However, as the number of advertising companies increases, market competition also intensifies. Nonetheless, Hong Kong remains the first port of call for mainland companies looking for marketing services and promotion strategies. Hong Kong's advertising companies are of the capabilities to satisfy mainland advertisers' needs for long-term development. They not only render advertising services, but also take into consideration of branding and product design at the same time in order to deliver a total solution to their clients. This gives Hong Kong companies a leading edge in opening up the mainland's advertising market.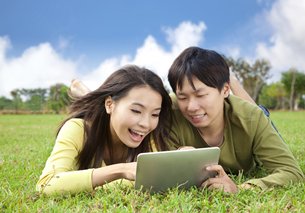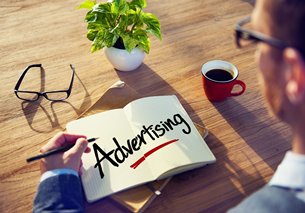 Advertising and Promotion Support Transformation and Upgrading
In recent years, with the slackening of the global economy, China has settled into a "new normal" of slower growth compared to the rapid growth of past years. The Chinese government hopes to upgrade the quality of China-manufactured products and beef up the competitiveness of its manufacturing sector. The policy paper "Made in China 2025", issued in May 2015, clearly encourages enterprises to strengthen quality and brand building and propel a shift from "made in China" to "created in China". Besides guiding enterprises to shift from OEM to ODM, and to exporting their own brand products, other key points set out in the paper include strengthening relevant marketing services, increasing the intensity of advertising and promotion, stepping up the use of the Internet, and carrying out targeted marketing in line with the development of branding. [1]
In fact, Chinese enterprises have been seeking ways to transform and upgrade themselves and beef up their competitiveness for some years. HKTDC Research conducted three questionnaire surveys – in the Pearl River Delta (PRD), Yangtze River Delta (YRD) and Bohai Rim regions – between 2013 and 2015. The findings show that the main direction of mainland enterprises in transformation and upgrading is to enhance their design and high-tech R&D capabilities and to develop and promote own-brand products in the hope of further opening up export and domestic markets. [2]
In terms of expanding market development, Chinese enterprises are attaching increasing importance to advertising, in line with their strategy of promoting original design products and brands. In tapping the domestic market, in particular, they have devoted more and more resources to advertising in recent years. Besides stimulating product sales in the short-term, they also hope to reinforce their overall corporate and product image.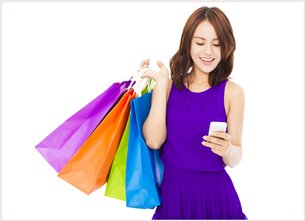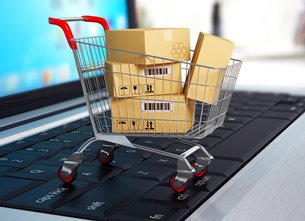 Statistics show that China's advertising market has seen rapid expansion in recent years, with total advertising industry revenue increasing by more than seven times from only RMB71.3 billion in 2000 to RMB597 billion in 2015, representing an average annual growth rate of 15%. Between 2010 and 2015, in particular, advertising industry revenue increased by 1.6 times, with average annual growth rate reaching 21%.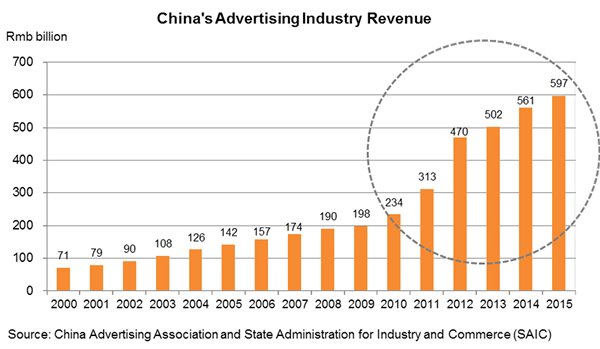 The remarkable performance of China's advertising business actually benefited from its booming consumer market in recent years. Growing sales revenue means the sectors and enterprises concerned can allocate more resources for market promotion and advertising. Meanwhile, as the income levels of Chinese consumers increase, consumer demand also shifts from low-end products to branded products and services of high quality. Different sectors are losing no time in tapping consumers' increasing purchasing power through advertising. Their increased spending on advertising makes China one of the world's key advertising markets. According to figures compiled by the China Advertising Association, China overtook Brazil, Japan, Germany and France to become the world's second largest advertising market in 2013, trailing only the US. The information announced by the SAIC also reveals that China's advertising market has continued to be ranked as the world's second largest for the years 2014 and 2015.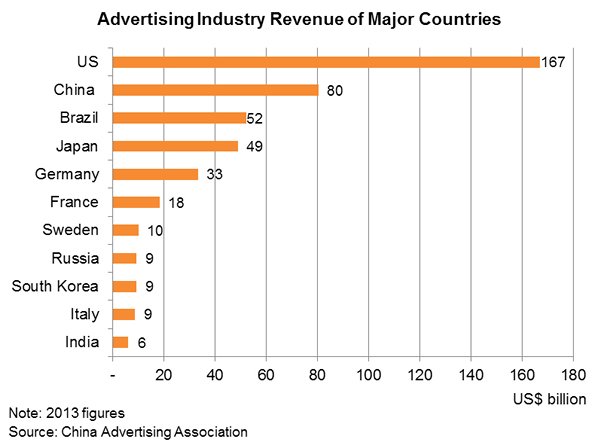 The categories receiving the biggest share of advertising spending include high sales value categories such as automobile and real estate. Advertising spending on these categories recorded growth rates of 38% and 44% respectively in 2013. As middle-class consumer demand grows, cosmetics, sanitary products and food/health food, mainly targeting the middle classes and upwards, also become major advertising spenders. This is particularly true for cosmetics, which is considered to be a luxury category. In 2013, advertising spending on this category accounted for 77% of total advertising spending for cosmetics and sanitary products. Most of the advertising companies are based in first-tier cities such as Beijing, Shanghai and Guangzhou, where there are many corporate headquarters and large consumer bases. For example, Beijing alone had a 36% share of the nation's total advertising revenue. Provinces such as Jiangsu and Zhejiang which have a large number of branded enterprises are also major bases for advertising companies. [3]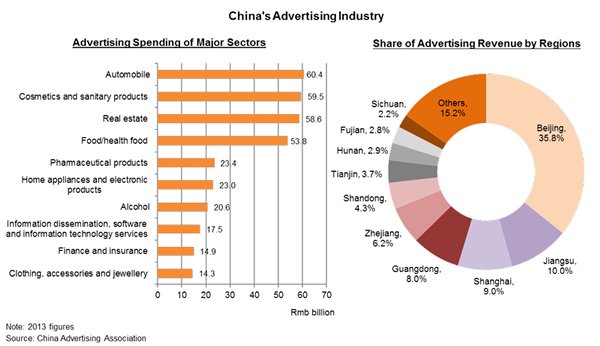 Impact of New Media on Traditional Advertising
With the swift popularisation of the Internet and mobile communication applications in recent years, new media that make use of web and mobile platforms for promotion and marketing have mushroomed, and this has significantly changed the advertising landscape. Notably, after rapid growth in 2011-2012, the growth of China's advertising market started to fall. This is particularly true for traditional media such as television and newspapers. Although they remained the biggest advertising media in the market and accounted for about 30% of advertising revenue in 2013, they registered negative growth in the same year. Meanwhile, advertising on radio and in periodicals also showed moderate growth, while the revenue of advertising on Internet platforms, including fixed-line and mobile networks, showed rapid growth of 62%, 48% and 46% in 2011, 2012 and 2013, respectively. As mobile phones become an indispensable part of people's everyday life and with the continuous development of technology around video, social media and mobile communications/apps, the Internet has become an important advertising channel in the China market.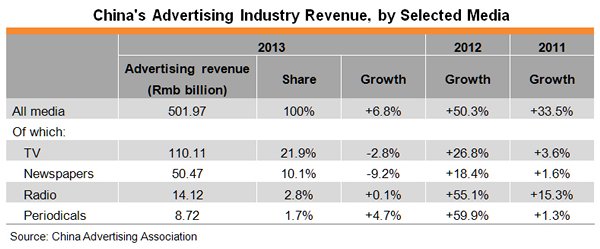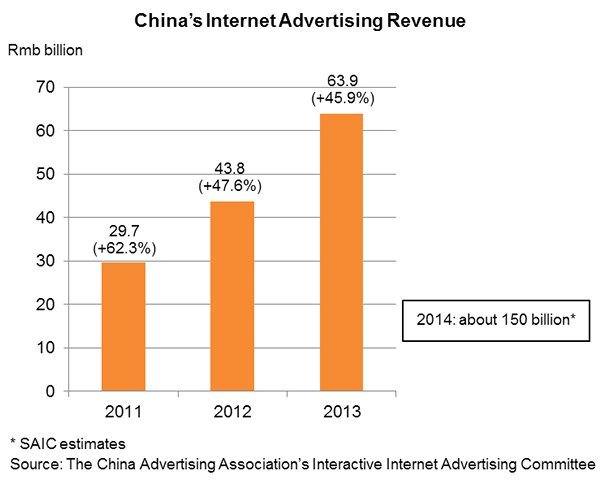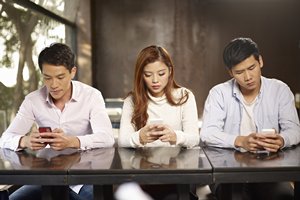 Technological progress has become a key growth driver for China's advertising industry in recent years. According to SAIC estimates, Internet advertising revenue reached about RMB150 billion in 2014. Although advertising on traditional media, especially printed media, was lacklustre, Internet advertising has seen rapid growth at an annual rate of over 40% in recent years and is expected to exceed the combined turnover of TV and newspapers in two years. [4]
Advertising Media Reshaped By the Internet
Apart from such traditional channel as television, consumers now mainly obtain information regarding consumer products and services from the Internet and other digital media. According to a survey conducted by a US company, the average time spent by Chinese adults on major media increased from 4 hours 58 minutes a day in 2011 to 6 hours 8 minutes a day in 2015. The increase in time spent on digital media was particularly obvious, soaring from 1 hour 47 minutes to 3 hours 5 minutes a day. Consumers mainly use mobile devices like smartphones and tablets to browse for the information provided by mobile media.
According to figures released by the China Internet Network Information Center (CNNIC), China had 688 million Internet users as of December 2015, accounting for half of the total population of the country, with an Internet penetration rate of 50.3%. [5] The popularisation of mobile Internet makes it possible for more people to use mobile phones to access the Internet. Internet users may use mobile phones and devices such as desktop computers to access the Internet, but the number of Internet users who only use mobile phones for access accounts for 18.5% of the total number of Internet users in the country. Against this background, using the Internet for advertising has become an important promotional channel for marketers.
[For more information on China's netizens and Internet usage, please see Capitalising on China's New Advertising Media (2): Expanding the O2O Consumer Market]
The China Advertising Association told HKTDC Research that mobile devices are changing people's lifestyles. Product and service suppliers, as well as other advertisers, are now prompted to make greater use of mobile and other digital media for advertising and promotion. These have in turn affected the design, creation and production of advertisements. In view of the characteristics of mobile phones, which have small screens but excellent mobility and connectivity compared with other media or platforms, advertising companies are making use of digital technology to open up new advertising sphere. Some of them are even making use of advanced big data analytics technology to track and trace the surfing habits, payment transactions and online shopping preferences of Internet users to enable targeted marketing. With such analytical approach, they hope to discover the information and services needed by individual clients and accurately provide information to target consumers and client groups via mobile phones and other devices, thus improving advertising efficiency.
Meanwhile, many advertising companies are making use of digital technologies in combination with mobile communications networks and outdoor advertising media, in the hope of more effectively conveying the messages of their clients. For example, more and more advertisers are encouraging consumers to scan the QR codes of outdoor advertisements at shopping malls and subway stations, or outside shops, with their mobile phones, for more information, or to enjoy discounts and special offers. They also team up with e-commerce websites, media and social networking platforms for information on browsing, ordering, and online shopping and payment.
Also, certain new technologies help to reduce the cost of outdoor advertising. For example, advertising companies are making use of large format inkjet printing, as well as LED displays and TV screens of different sizes, to design more novel advertisements for advertising and promotion at shopping centres, subway stations, airports and other spaces, as well as on buses, and in taxis and elevators. In this sense, outdoor media have become an advertising channel not to be overlooked, with some market insiders estimating that the share of outdoor media in China's advertising market exceeded 15% in 2015.
Expanding the O2O Consumer Market
In China, with Internet and mobile communication applications rapidly becoming ubiquitous, consumers are increasingly searching for information on products and services via online platforms and social media. With online shopping having expanded at a very fast pace in recent years, this has led companies to gradually shift their advertising and marketing focus towards online and digital media platforms. Nevertheless, while consumers have adopted the new media, they are still influenced by traditional media and channels and are carrying out consumption through online-offline (O2O) activities. In effect, the challenge for advertisers in China is how best to consolidate various media channels in order to carry out advertising and promotion activities more effectively. This offers opportunities to advertising companies capable of offering integrated solutions.(More …)
Nevertheless, the business of traditional media, especially TV, has not in fact shrunk dramatically. The findings of the above survey also show that adults still spent an average of up to 2 hours 45 minutes a day watching TV during 2011-2015, and that there was no significant change during those five years. The same is true for radio. The only difference is that people were spending significantly more time with digital media. Moreover, many TV, radio and print media had undergone transformations of their own and were combining new technology with online platforms to provide all kinds of entertainment and advertising information to their audiences through diverse channels. Thus, TV and other traditional media still reported stable market performance in spite of the growing share taken by new media. They will therefore remain important channels not to be overlooked by advertising companies and advertisers in the medium term.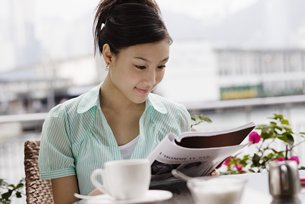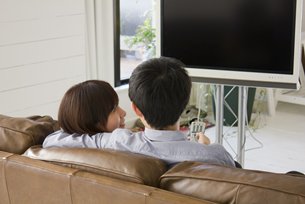 Implications for Hong Kong Companies
The rapid growth of China's advertising market, coupled with swift changes in technology, has meant that more and more advertisers are hoping to use new technologies and new platforms to promote their businesses. This provides huge opportunities for advertising companies. Meanwhile, in order to cater to the changing market ecology and advertisers' needs, advertising companies have introduced all kinds of new network and digital technologies to provide cross-media services to clients. The number of advertising companies has seen rapid growth in recent years, soaring by 1.7 times to 672,000 in 2015, making competition increasingly intense. However, the number of advertising industry employees only doubled, to about 3 million, during this period, a significantly slower growth rate.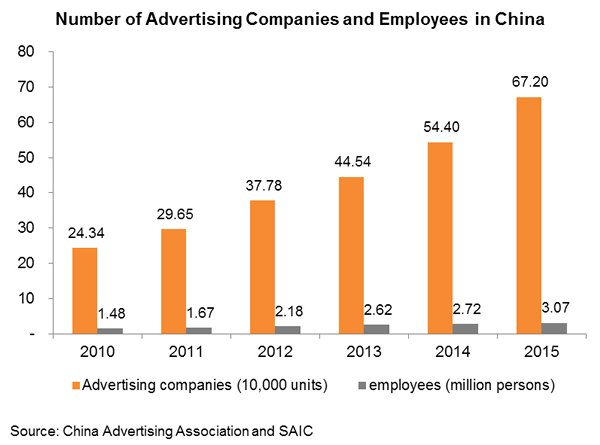 The reason for this situation is that most of the newcomers in this industry are small and medium-sized enterprises. With their strength in information technology, they can provide advertising and marketing services to clients using different web and e-commerce platforms, without large manpower input. Their entry into the market not only diversifies advertising services but increases competition. For example, China's leading online shopping website, Dangdang, told HKTDC Research it invites different web services and advertising companies to tender proposals for advertising services each year in a competitive bidding process. [6]
Against this background, Hong Kong advertising companies may face keen competition when they enter the mainland market. For example, cut-throat competition is common on the mainland in the provision of stand-alone services. They also need to have the ability to provide cross-media services to satisfy different needs of advertisers. Despite these, Hong Kong still has an edge in the mainland market, especially in the provision of full-service solutions. Given that many mainland enterprises are aspiring to transform and upgrade their operations, they have a keen demand for advice on how to promote or develop their brands and continue to look for outside support.
HKTDC's survey shows that (i) product development and design services, (ii) brand design and promotion strategy services, and (iii) marketing strategy services for developing new business and new markets are the services most sought after by enterprises in the PRD, YRD and Bohai Rim regions as they seek to transform and upgrade. Meanwhile, Hong Kong remains the first port of call sought by the surveyed enterprises for these services. [7]
Although mainland advertising companies are now providing a wide range of media advertising services, they have yet to offer quality services to integrate different media platforms and formulate overall marketing and advertising strategies. Relatively, Hong Kong companies not only have global vision, but they are also good at satisfying the long-term development needs of their clients. When providing all-round brand and product marketing and promotion services to clients, they focus on individual advertising and promotion projects, while offering advice on brand image, market positioning, product design, brand training and other areas. They can effectively assist mainland enterprises to transform and upgrade their businesses with a view to expand sales in both the domestic and overseas markets.
---
[1] For more details on "Made in China 2025" and relevant market promotion services, please see Marketing Services Demand in China (1): Upgrading Design and Branding.
[2] For more details on the transformation and upgrading of Chinese enterprises and changes in their business strategies, please see Outbound Investment of Chinese Enterprises: Hong Kong the First Port of Call for Professional Services.
[3] For more details on brand development in China, please see Marketing Services Demand in China (1); Upgrading Design and Branding.
[4] Source: Speech by Zhang Guohua, Director of Advertising Supervision and Management of SAIC, at the 13th China Internet Advertising Summit, held in Xi'an in October 2015.
[5] Source: 37th Statistical Report on Internet Development in China, released by CNNIC on 22 January 2016.
[6] Dangdang is one of the world's leading online retailers. Since opening in 1999 as an online seller of books, it has expanded into a platform selling a wide range of general merchandise products. Apart from books, it is currently focusing on the sale of four product categories, namely mother-and-child, cosmetics, clothing and household merchandise. See www.dangdang.com for more details.
[7] For more information, please see Marketing Services Demand in China (1): Upgrading Design and Branding.
Design Services
Information Technology
Telecommunications
Mainland China
Hong Kong
Mainland China
Hong Kong