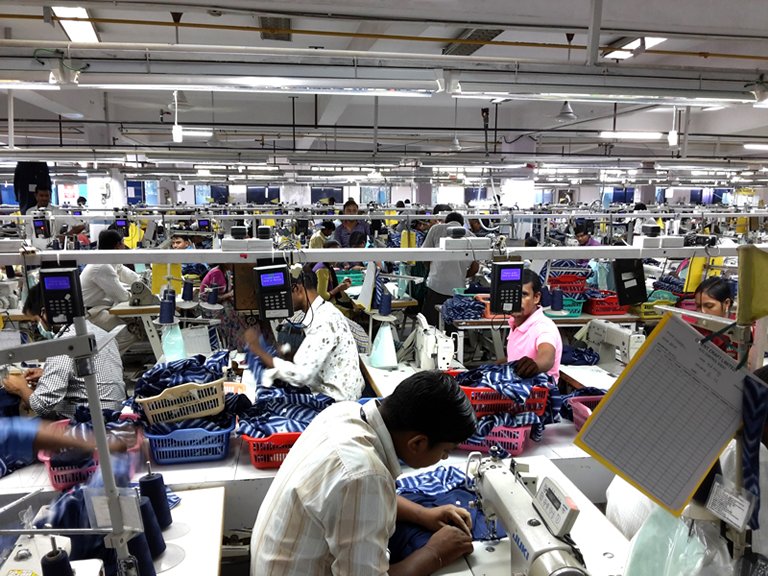 https://hkmb.hktdc.com/en/1X0A5PYZ
Make in India: Production Relocation Opportunities for Hong Kong Garment Companies
As a leading textile and garment exporter, India offers an increasingly attractive production environment for Hong Kong garment companies to consider relocation.
For Hong Kong companies that have been producing on the Chinese mainland, there is little doubt that China-made garments have sold well in all of the major markets in the world, basically dominating these markets over the past two decades thanks to supply chain efficiency and largely competitive landed costs. More recently, China's comprehensive advantage has tarnished somewhat due to soaring production costs and difficulty in worker recruitment.
With global garment demand remaining relatively weak on the whole, many international buyers tend to focus on supplier cost control, as they find it hard to pass on higher prices to consumers. Evidently, there has been an increase in reports of buyers further diversifying procurement orders and migrating low-end and labour-intensive production outside China. In view of this, HKTDC Research has embarked on a search for alternative production bases in the region, attempting to inform Hong Kong companies of the availability and conditions of relocation opportunities. This includes India, Asia's third largest economy, and the world's second most populated country, expected to overtake China to become the most populous by 2022.[1]
The suitability of India as an alternative production base for Hong Kong labour-intensive manufacturers is being examined critically, based on HKTDC Research's recent field trip to India, visiting many Indian states. The first article in the series, Make in India: An Alternative Production Base with a Huge Local Market, provided a bird's eye view of India's manufacturing landscape and its general business environment, followed by the second article on Gujarat, the home state of Prime Minister Modi Make in India: The Gujarat Production Base Opportunity. This article, the third of the India series, analyses India's garment sector, assessing factors behind the suitability of the country for Hong Kong garment manufacturers to consider factory relocation.
India: an Under-estimated Garment Producer and Exporter
The strength of India as a textile and garment producer on a global scale naturally pales in comparison with China. India's status as a major garment exporter is often under-reported, and its potential as a producer is also under-rated, despite its population size, demographic advantage and verticalised supply chain. Based on WTO figures, India ranked fourth among Asia's top garment exporters in 2014, trailing China, Bangladesh and Vietnam.[2] India's major garment export markets include the US, EU and UAE. If textile products were added to garment products, India would rank second in Asia after China.[3] As discussed in sections further below, India is second only to China in Asia with a strong niche in vertical production integration due to its strengths in cotton and man-made fabrics.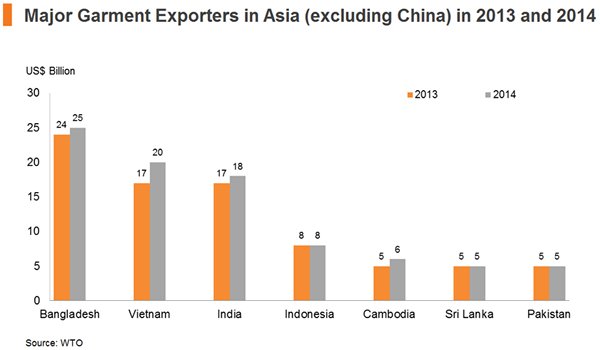 In the recent search by many Hong Kong companies for alternative production bases, Southeast Asian countries like Vietnam have apparently stolen all the limelight. In contrast, the awareness of India and its relevance as an alternative production base for garment production is not considered especially high among Hong Kong companies. Nonetheless, India may justify serious re-consideration due to the force of changes emerging over the past two years, particularly after the 'Make in India Initiative' was launched by the Modi government in September 2014, which is a serious attempt to give a makeover to India as a global manufacturing hub.
More Sourcing of Indian Garment Exports Anticipated
India ranks among the top textile and apparel suppliers to both the US and EU markets and is expected to continue doing well in its export markets. According to a 2015 US survey study,[4] US companies acquired their apparel products from more than 40 countries/territories during the year. Among the top 10 sourcing destinations, eight were in Asia. China was the undisputed leader in terms of garment sourcing, with 100% of the respondents buying from this world factory of readymade apparel, followed by 80% sourcing from Vietnam, 67% from India and 53% from Indonesia. Notably, onshore sourcing was important too, with 50% of the respondents still getting their apparel from US suppliers.
Further, based on scores compiled from the weighted rankings of how strongly the survey respondents expect to increase or decrease sourcing from a given place, it was revealed that there was stronger interest over the next two years in sourcing from Asia, particularly Vietnam, India, Bangladesh and Indonesia. In comparison, China scored the lowest among 27 destinations in terms of the tendency of US apparel companies to alter sourcing over the next two years.[5] Not surprisingly, the strong trend towards Vietnam has arisen as a result of many factors, including its proximity to China as a nearby destination for Chinese manufacturing relocation, and anticipation of duty preferences due to its participation in the Trans-Pacific Partnership (TPP), especially to the US market.[6]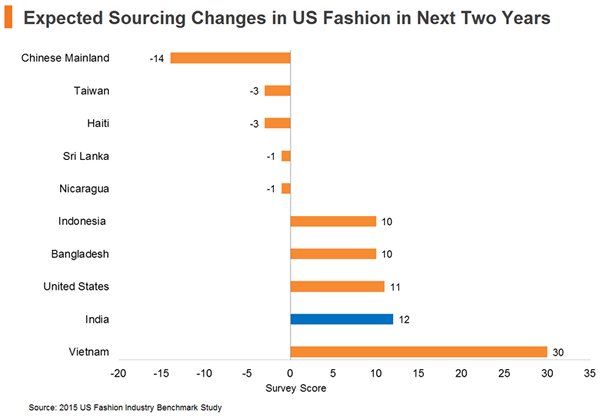 Why Textiles and Apparel Matter So Much to India
India's textiles and apparel sector is one of the oldest industries in the country. In a 2015 industry report, the market size of India's textiles and apparel industry was valued at about US$108 billion and expected to reach US$223 billion by 2021.[7] The labour-intensive sector is estimated to contribute about 5% to India's GDP and 14% of industrial production, creating direct and indirect employment for, respectively, some 45 and 60 million people, making it the country's second largest employer after agriculture.
The Modi government is expected to issue the much-awaited National Textile Policy to present a future roadmap for the textiles and apparel industry, probably before the end of April 2016. It is expected to formulate schemes for the entire value chain and address concerns about skilled workforce and transportation cost. In particular, the policy aims to create 35 million new jobs by attracting foreign investment, spurring textiles and apparel exports to some US$185 billion by FY2024-25. Meanwhile, India realised textile and garment export earnings worth some US$41 billion in FY2014-15,[8] accounting for some 17% of total merchandise exports and making the industry a key foreign receipts earner for the country.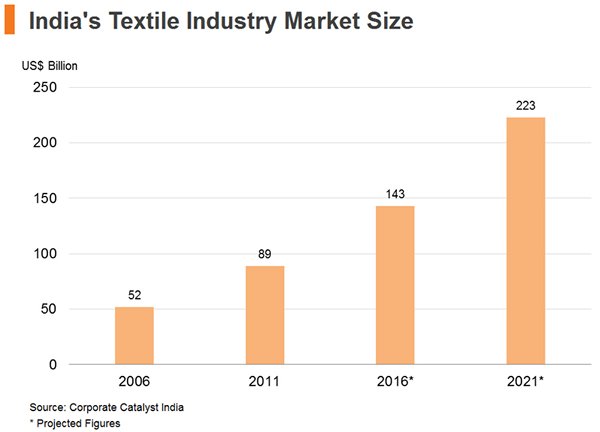 India's Textiles Exports Steam Ahead Despite a Fragmented Supply Chain
While India ranks as the world's second largest exporter of textile and garment products, its textiles supply chain is notably complex and fragmented, from material procurement to shipping final products. With a large agricultural sector, India is first in global jute production, and is the world's second largest cotton and silk producer. India's cotton production is expected to eclipse China to be the world's largest producer in 2016. The textiles industry accounts for about one quarter of the world's spindle capacity and 8% of global rotor capacity. After natural and synthetic fibres are converted into yarn, part of them are sent for subsequent weaving, knitting and fabrics processing, including dyeing and printing in the country, with some yarns then exported to the US, EU and other markets.
A strong yarn producer globally notwithstanding, India is characterised by the co-existence of many big factories utilising power-looms, and a much greater number of small-scale, labour-intensive weaving and knitting setups. The millions of handlooms highlight the country's strong handicraft traditions, which form a major component of the Indian textiles industry. While there are thousands of textiles weaving and processing factories in India, many of them are focused on the domestic market, with products falling short of the standards for garment exports.

Garment making is the last stage of the textiles supply chain before reaching market. In recent years, India has become a key garment outsourcing hub for international buyers because of its improved product quality at relatively competitive prices. Also attracted by India's domestic market, apparel brands such as Hugo Boss, Liz Claiborne and Diesel have already started operations in India. India's Reliance Brands has partnered with many international brands to open stores targeting the expanding local market, including Ermenegildo Zegna, Kenneth Cole and Paul&Shark.
The garment manufacturing sector in India consists of more than 75,000 production entities, most of which are small and cater for domestic consumption. Large garment manufacturing entities are present and engaged in both domestic and export-oriented production, though many of them may need to import fabrics made to satisfy foreign buyers' orders. While India can be considered largely possessing a self-equipped textiles supply chain, there is further room for improvement, as acknowledged by the Indian government. This may include the development of textile clusters to produce quality fabrics and accessories for export-grade garments, shortening the supply chain, upscaling certain parts of the supply chain, improving inventory management, and reducing logistics costs.
Most of these manufacturers are concentrated in eight regions, with Tirupur, Ludhiana, and Kolkata being the major manufacturing locations for knitwear, and Bengaluru, Delhi, Noida, Gurgaon, Mumbai, Jaipur and Indore specialising in producing woven garments. The figure below shows the locations of major textiles and apparel manufacturing zones in India.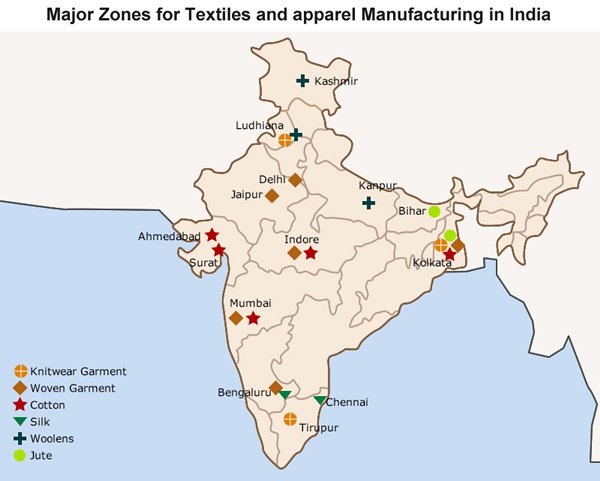 The Indian Government is Fostering a Better Textiles Environment for FDI
In order to create jobs and boost domestic manufacturing, the Modi government launched the 'Make In India Initiative' (MIII) in September 2014, under which, the textiles and apparel industry is one of the 25 target sectors. First and foremost, the foreign investment process is made much simpler, with 100% FDI allowed to establish production sites in India under the automatic route.[9] India's textiles industry has experienced a rapid increase in the FDI inflow, which reached US$1.59 billion in FY2015 from US$1.42 billion in FY2014. In the five years to FY2015, FDI in the textiles and apparel industry grew at an average annual rate of 14%, with increased collaboration between international and Indian companies reported.
To facilitate textiles and apparel exports, India has implemented several export promotion measures, such as the Focus Market Scheme (FMS), Focus Product Scheme (FPS) and the Market Development Assistance (MDA) Scheme. Under the FMS, financial assistance is provided for export promotion activities on focus countries. Exports of specified technical textile products covered under the FPS are entitled for duty credit scrip equivalent to 2% of freight on board (FOB) value. Under the MDA, financial assistance is provided for a range of export promotion activities implemented by Textiles Export Promotion Councils. The government has also proposed to extend 24/7 customs clearance facility at 13 airports and 14 seaports to speed up clearance of import and export cargo.
Textile Parks and Special Economic Zones for Textiles and Apparel Making
Under the Scheme for Integrated Textile Parks (SITP), the Modi government provides assistance for creating infrastructure in textiles parks to the extent of 40% of the spending with a limit up to about US$6.2 million (Rs.40 crore).[10] India's Union Textile Minister indicated in February 2016 that approval has already been given for setting up 24 new textile parks. Textile parks are expected to be an integral part of the National Textiles Policy, with the Modi government expecting investment of US$4.6 billion (Rs.30,000 crore) in a total of 74 textile parks. Further, it has recently come up with the Revised Textile Upgradation Fund Scheme (RTUFS) to give capital subsidy in setting up new textiles and apparel making units, while helping existing units to bring in modern machinery and increase output. The government is hopeful that India's share of the global textile and apparel trade will double from around 5% currently by FY2025.
Garment manufacturers engaged in export business are also encouraged to establish their production sites in Special Economic Zones (SEZs) scattered in different Indian states, which are fast developing industrial parks with plug-and-play options for smaller manufacturers. Production units in SEZs are eligible for tax holidays, duty exemption on imported or domestic procurement and other taxes, such as service tax. There are more than 50 SEZs for the textiles and apparel sector in various Indian states, as shown in the table below.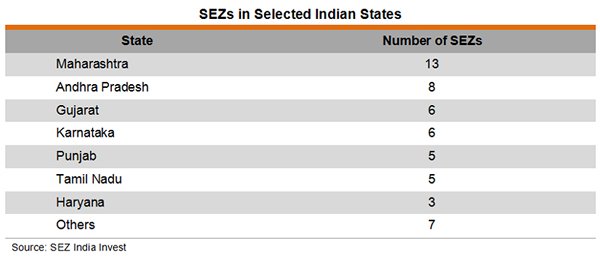 Good Supply of Young, Low-cost Garment Workers in India
As the world's second most populous country, expected to ascend to the top position by 2022, the Indian median age of 27 is now way below China's 37, also ensuring an abundant supply of young workers for many years to come. Given the labour-intensive nature of garment making, labour cost is a key consideration for manufacturers, and India has an advantage in this aspect. At present, India's Central and State governments fix the minimum wages in different work categories. Under the 1948 Minimum Wages Act (MWA), the Central government determines the minimum wages in 45 categories, with the states in control of nearly 1,700 categories.
It should be noted that, however, the national floor of a daily minimum wage of US$2.4 (Rs.160), like the MWA that appears outdated, is hardly binding and is rendered largely irrelevant for the sake of cross-country wage comparison. While the Modi government has attempted to undertake a series of labour market reforms, parliamentary opposition would likely delay any speedy approval for the foreseeable future. While India's complex labour laws and high cost of hiring and firing in labour-intensive industries including textiles and apparel may appear to be a deterrent in factory relocation considerations, India has not suffered from the extent of labour activism prevalent in many Southeast Asian countries seen over the past two to three years.
To develop a better understanding of prevailing minimum wages for garment workers in India, the figure below lists the respective minimum wages in different Indian states. It is also worth noting that there is no significant minimum wage difference between skilled, semi-skilled and unskilled garment workers in India. The figure further below uses the minimum wage paid to garment workers in Gujarat as a proxy for India in cross-country comparison.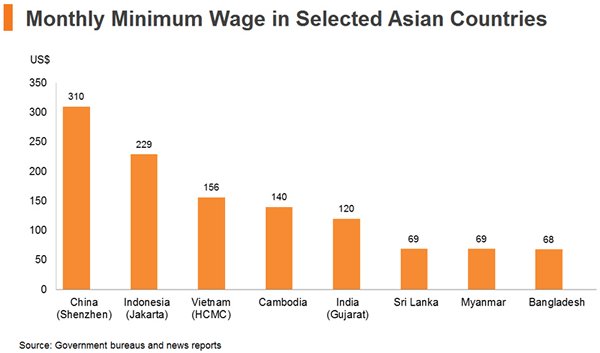 In short, India's labour cost for garment manufacturing is much lower than that of China, and is comparable to that of Vietnam, which has been a popular location for Hong Kong manufacturers setting up factories in recent years. Regarding industrial relations with Indian workers, assistance available from management committees in textile parks, industrial parks and SEZs would make it easier to adjust to the Indian production environment, which is being upgraded by both the Central and State governments.
Given the importance of garment manufacturing to the Indian economy as said above, India has established various training centres and institutes for the textiles and apparel sector, such as the National Institution of Fashion Technology (NIFT), to ensure a good supply of workers and talents along the supply chain of the industries.
During the field visit in India, HKTDC Research visited garment factories and talked to factory managers. It was found that some garment manufacturers have set up their own training centres to benchmark workers' production capability. According to them, it takes three to six months to train a worker and six to 12 months to train a line manager. Aside from providing in-house training, some garment factories would dedicate 2% or more of their annual profit to providing community services in the local areas. This serves to promote a factory's image and make it easier to recruit future workers for the factory.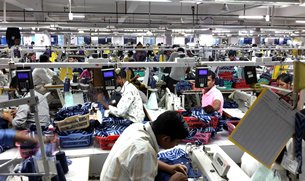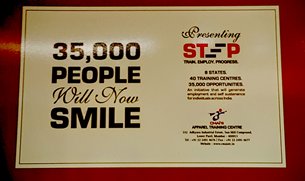 India's Free Trade Agreements and Preferential Market Access
On the whole, Indian exports are not subject to especially high import tariffs in such markets as the EU and US. According to the WTO, 67% and 76% of Indian non-agricultural exports to the EU and US respectively in 2013 were duty-free (59% and 51% for China), with simple average tariff rates of 4.5% and 3.7% (13.3% and 4.3% for China). Take Indian apparel exports to the US in 2014 under HS 61 and 62 categories for example, the average duty rates were about 12% and 10% respectively based on WTO calculations, which were largely in line with those for China. For Hong Kong companies considering diversification or relocation of their garment plants to India, this would imply that apparel exports from India would not be worse off in duty rates compared with apparel exports from China to the US market.
In 2015, the US renewed its Generalised System of Preferences (GSP) with retrospective effect to 2013. The GSP programme allows Indian exports to obtain concessional duty treatment in respect of 3,500 tariff lines in the US market. However, the GSP programme specifically excludes certain "import sensitive" products, including textiles and apparel, and limits the quantity or value of any one product imported from any one country, while both GSP country and product eligibility are subject to annual review.
Meanwhile, India is keenly aware of the importance of FTA in boosting trade. While not yet a member of the TPP, India is undertaking negotiations with the EU, while participating in the Regional Comprehensive Economic Partnership (RCEP) and reviewing existing FTAs with ASEAN and Korea.
Chinese FDI in India Set to Surge on the Back of MIII
In February 2016, Maharashtra hosted a weeklong MIII summit, which witnessed keen participation from many overseas countries including China, the latter of which organised delegations including the China Council for Promotion of International Trade (CCPIT) and the Suzhou and Hunan governments to attend the event. Interest from Chinese manufacturers in India was reported to be good, with some MOUs signed.
At the event, it was reported that MOUs with thousands of local and foreign companies with pledged investment of about US$230 billion (Rs.15.2 lakh-crore) in diverse sectors were signed, including manufacturing and textiles. As the host state, Maharashtra signed some 2,600 MOUs valued at about US$120 billion (Rs.7.94 lakh-crore), which it sees as having the potential of creating nearly 3 million jobs.[11]
China became India's largest trading partner in 2008, yet Chinese FDI inflows to India totalled only US$1.2 billion between 2000 and September 2015, which was about 0.5% of India's inward FDI during the period. In the wake of Modi's MIII, however, Chinese investors have warmed up considerably, with Dalian-based Wanda announcing in 2015 investment worth US$10 billion over the next decade to construct industrial townships and retail properties, and electronics-maker Foxconn preparing to invest US$5 billion alone in Maharashtra. Further, Chinese internet giants Alibaba, Baidu and Tencent have also concluded deals with Indian start-ups, along with about 100 SME Chinese enterprises that have promised investments worth US$1 billion.
For the textiles sector, Shandong-based Ruji has entered into a minority joint venture with Reliance Industries in a newly formed textile firm, which received the clearance from Competition Commission of India (CCCI) in March 2015. Following the footsteps of the bigger Chinese enterprises, smaller players including garment manufacturers could likely jump on the MIII bandwagon in coming years. That said, India is not an entirely hassle-free location, but as explained in the first article of this series, Make in India: An Alternative Production Base with a Huge Local Market, India is making big strides forward, with the MIII and the National Textiles Policy being reckoned as multi-year initiatives for driving the country ahead.
Specifically, the Indian government realises the importance of the textiles and apparel sector for industrial production, jobs and exports, and has stepped up efforts in enhancing the value chain. For Hong Kong garment manufacturers keen on considering an alternative production base, probably diversifying part, if not relocating the whole of their China-based factories, India stands a good chance of providing a suitable operational environment over the longer haul, based on its supply of young workers, established supply chain and supportive government policies.
---
[1] The UN projects world population to reach 8.5 billion by 2030, driven by growth in developing countries including India.
[2] Hong Kong would have ranked as Asia's third largest garment exporter after China and Bangladesh in 2014 but for the fact that more than 99% of the garment exports of US$20.5 billion estimated by the WTO consisted of re-exports, the bulk of which were China-originated products.
[3] India's textile exports in 2014 amounted to US$18.3 billion, according to WTO figures, which was only one-sixth of China's, but significantly more than the textile exports of each of the other Asian garment-making countries, most of which relied on textile imports.
[4] 2015 US Fashion Industry Benchmark Study, United States Fashion Industry Association. The study surveyed executives from 30 US fashion companies, including clothing brands, retailers, importers, and manufacturers; 60% of the companies have more than 1,000 employees. Some 30% and 40% of the respondents had regional operations in Asia (ex-China) and China respectively.
[5] The 27 countries/regions, in order of increasing sourcing interest over the next two years, included China (the Chinese mainland), Taiwan, Haiti, Sri Lanka, Nicaragua, Other Asian countries, Other Central American/Caribbean countries, Thailand, Oher African countries, Other European countries, Dominican Republic, Cambodia, Egypt, El Salvador, Myanmar, Jordan, Guatemala, Mexico, Philippines, Pakistan, Honduras, Indonesia, Bangladesh, United States, India and Vietnam.
[6] The Trans-Pacific Partnership Revisited
[7] The study was undertaken by strategic advisory firm Corporate Catalyst India.
[8] India's fiscal year starts from 1 April to end-March of the following year. The coverage of textiles and garments in the country's estimate may not be identical to that used by the WTO, thus resulting in differences between two sets of export figures.
[9] Under the automatic route, foreign investment proposals will not be subject to any government approval, provided that the requisite documents are filed with the Reserve Bank of India within 30 days of receipt of funds.
[10] One crore equals 10 million and one lakh equals 100,000. One lakh-crore is equivalent to 1,000 billion. The US dollar-Indian rupee exchange rate stood at 66.5 as at end-March 2016.
[11] The big companies that signed MOUs during the Make In India summit in Maharashtra included Mahindra & Mahindra (Rs.8,000 crore), Mercedes (Rs.1,200 crore), Ascendas (Rs.4,571 crore), Raymond (Rs.1,400 crore) and Sterlite (Rs.60,000 crore), Pepsico and Coca Cola. (Source: 'Make in India Week' gets Rs 15.2 lakh crore investment commitments)
Garments, Textiles & Accessories
India
Other Asian Countries