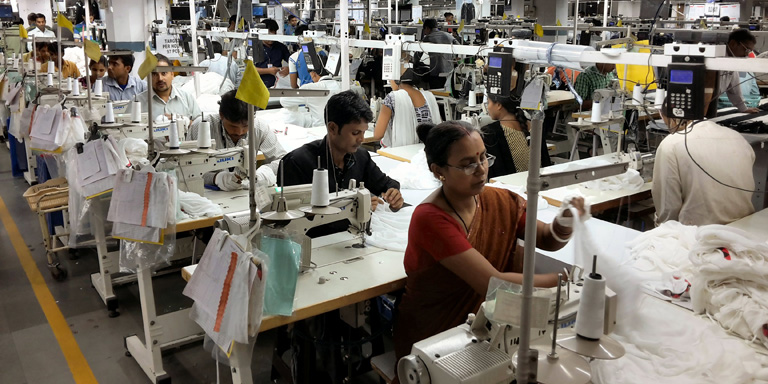 Make in India
The world's second-most populous country is seen as an attractive alternative production base, with strong retail prospects.
The sustained rise in production costs on the Chinese mainland has eroded the competitive edge of many Hong Kong companies with labour-intensive factories on the mainland. As a result, many have been seeking alternative production bases in the region. A recent fact-finding trip to India by the HKTDC Research has concluded that Hong Kong companies can consider relocating their production base to South Asia's largest economy.
"Take garment manufacturing as an example," said Dickson Ho, HKTDC Principal Economist (Asian and Emerging Markets). "The Indian garment manufacturing industry has been expanding exports in recent years, with many major exporters successfully building contacts with international buyers. With advantages of raw materials and prospects of vertical integration, India is a strong production base and a location worth considering for factories engaged in labour-intensive manufacturing, such as garment-making."
"India is a strong production base and a location worth considering for factories with labour-intensive manufacturing."
Export Recovery

Hong Kong exports may have turned a corner, according to the latest study by the Hong Kong Trade Development Council's (HKTDC) Research. The latest HKTDC Export Index edged up to 37.3 in the first quarter of 2016 (1Q16), up 5.9 from 4Q15, the highest level since 2Q15.

"Despite the decline of export activities in most industries, the rise of the index might indicate that the export market is stabilising. Therefore, exports at the moment are projected to level off at the 2015 level," noted Nicholas Kwan, HKTDC Director of Research.

Exporters' confidence improved for all major export markets, according to Daniel Poon, HKTDC Principal Economist (Global Research). "The indices, however, were still below 50, signalling that exporters are cautious towards the prospects of the export market."

Among the four major markets, Japan recorded the highest reading, which increased by 0.8 quarter-on-quarter to 47.4, followed by the United States (46.3), the Chinese mainland (45) and the European Union (44.8).

Of the major industries, the indices for electronics, toys, jewellery and machinery recorded an increase, with electronics seeing the greatest leap, reaching 38.4, up 7.1 from 4Q15. The indices for clothing and timepieces, however, reported lower readings, with the timepiece industry sliding by 5.3 to 33.2.

The trade value index and procurement index in the first quarter of 2016 saw a rebound. The former rose to 41.6 from 38.6 in the fourth quarter of 2015, while the latter edged up to 36.3 from 35.9 in the same period.
Foreign Investment Welcome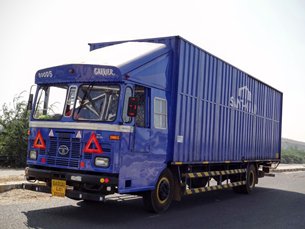 Mr Ho pointed out that as a production base, India enjoys many advantages, including relatively low taxes under free trade agreements inside and outside the region, labour costs that are lower than that of the Chinese mainland, a growing labour productivity (for instance, in 2014, a growth rate of 3.8 per cent), and the presence of major ports. With a strong logistics performance in South Asia, India fares well compared to other production bases in the region.

He added that the Indian government has introduced several business-friendly policies to encourage foreign direct investment (FDI). For instance, more sectors are open for FDI, with simplified government-approval process. Specific investment incentives are provided for selected industries, including the electronics sector, with tax incentives offered for exporters.

With India's notoriously complex laws and regulations, however, Mr Ho advised companies to initially consider opening factories in industrial parks. Western India's Gujarat state, for instance, provides a relatively stable electricity supply and transportation system connecting industrial areas and ports. Some smaller industrial estates even offer plug-and-play services for smaller manufacturers.
Retail Opportunities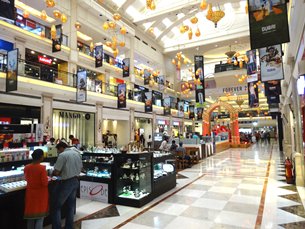 At the moment, a number of international businesses, such as Coca Cola from the United States, Hitachi from Japan, Bosch from Germany and Baosteel from China, have established factories in India.

Mr Ho also indicated that with the world's second-largest population, India's retail landscape is fast evolving, currently estimated at about US$600 billion with an average annual growth of 12 per cent. With the surge of middle-class consumption, the retail sector is projected to keep expanding, offering good prospects for Hong Kong brands.

For more market information, please see the HKTDC Research Report: "Make in India."
Garments, Textiles & Accessories