https://hkmb.hktdc.com/en/1X0A5JIX
China-Kazakhstan Border Co-operation in Xinjiang
Xinjiang plans to become a regional transport hub under China's Belt and Road Initiative. This mainly involves building three transport routes across the autonomous region. The middle route runs across the Central China Plain to Xinjiang through the second Eurasian land bridge and extends to Central Asia and Europe through two ports, one of which is Khorgas.
Located in the Ili Kazakh Autonomous Prefecture of Xinjiang, Khorgas borders Kazakhstan and is 90 km from Yining, 670 km from Urumqi and 378 km from the Kazakh city of Almaty. It is China's closest port to Kazakhstan and Central Asia and the largest highway port in western China. Cargo passing through Khorgas accounted for half of Xinjiang's import/export volume in 2014. The Khorgas Railway has also started operation since December 2012.
In September 2011, the State Council issued Several Opinions on Supporting the Building of the Kashgar and Khorgas Economic Development Zones, which clearly spelled out the relevant supporting policies and established Khorgas' special position in the opening up of Xinjiang, and indeed China, to the outside world. Khorgas was officially established as a city in September 2014 and combines the characteristics of a border area, a customs checkpoint, a commercial city and an international city. It is positioned as a gateway for international trade "linking the east and the west" and a bridgehead for opening up to the west.
A Logistics Hub for Trade with Central Asia
Khorgas, the westernmost port of China, is an important trading port between China and Kazakhstan as well as a node for the opening up of Xinjiang and China as a whole to the Silk Road Economic Belt and other countries and regions. An increase in Chinese exports to Central Asia in the past few years has attracted many logistics service suppliers to set up business in Khorgas. Apart from local firms, there are also logistics companies from other provinces. These serve not just local enterprises in Ili and Xinjiang but also provide transportation, customs clearance and other logistical support to traders and manufacturers outside the northwestern region in their exports to Central Asia. According to reports, the number of companies providing foreign-related warehousing and logistics services in this city has increased from 13 in 2013 to 49 at present. The number of international freight forwarding agents has also increased to 100.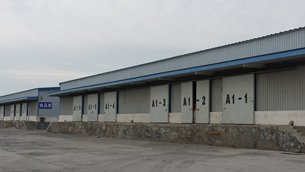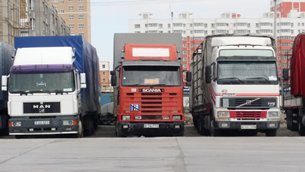 The head of a Khorgas-based warehousing and logistics company told HKTDC Research his business offers a one-stop service in close collaboration with other logistics companies, including customs clearance for Chinese exports and imports from Kazakhstan. Goods from mainland cities are first stored in customs-supervised warehouses and reloaded onto trucks from Kazakhstan after completing customs and quarantine declaration formalities for export as Chinese trucks are only permitted to go 6km beyond the customs checkpoint. Generally speaking it only takes about one day to complete customs clearance on the Chinese side. The goods will be under customs supervision until customs clearance in Almaty, on the Kazakhstan side.
The price of products exported to Central Asia has increased due to improvements in their quality over the past few years, he observed. For example, some exported shoes have an ex-factory price of RMB400 but may retail at over RMB1,000 a pair. Some fur coats from places such as Hebei and Shandong, meanwhile, have a unit price of over RMB6,000. Hong Kong companies interested in venturing into Central Asia may consider using the logistics services available at Khorgas to solve logistics and customs clearance problems when exporting goods to these markets.
The International Border Cooperation Centre: A Frontline for 'Opening Up'
The China-Kazakhstan Khorgas International Border Cooperation Centre (hereafter referred to as the Centre) is the main focus for implementing the development strategy of building an international trade corridor connecting east and west. As a bridgehead for "opening up" to the west, the Centre – a cross-border economic and trade zone and investment cooperation centre – is a joint project undertaken by China and Kazakhstan. Its aim is to promote economic development in the border areas and reinforce China's economic and trade ties with Central Asian countries such as Kazakhstan.
Located in an area straddling the China-Kazakhstan border, the Centre has a total area of 5.28 km2 and is managed in a closed way. The Chinese section has an area of 3.43 km2, while the Kazakh section has an area of 1.85 km2. It is mainly for trade negotiations, exhibition and sales of products, warehousing and transportation. It has hotels and commercial and financial facilities and hosts all types of economic and trade fairs. With trade liberalisation, goods, people and vehicles may move freely across the border here. General trade, border trade, tourist shopping and other forms of trade exist side by side. Goods entering the Centre are considered as exports, and tax rules for general trade apply to goods entering the Chinese section. Travellers entering the Chinese section of the Centre may bring in duty-free items worth up to RMB8,000 per person per day. The Centre may be viewed as a pilot transnational closed free trade zone.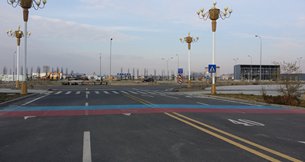 Since the opening of the Centre in April 2012, a number of duty-free shops selling imported goods such as cosmetics, wine from Georgia, chocolate from Kazakhstan, and other goods, have started operations in the Chinese section. Most shoppers are from the mainland. According to Khorgas' customs statistics, 3.66 million tourists visited the Centre in 2015, up 120% year on year. Commercial projects in the Kazakh section are now under way and are expected to bring Chinese consumers more European products upon completion.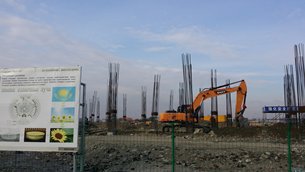 Apart from duty-free shops, a number of business centres have also been completed and opened. They include the Yiwu International Trade City, which is similar to the small commodity cities in Yiwu, Zhejiang province. This business centre is home to many wholesalers and retailers of goods from all parts of the country. It mainly targets Central Asian markets, particularly traders from Kazakhstan, with light industrial goods made in China.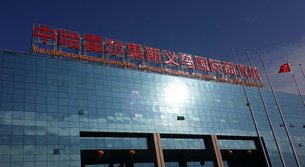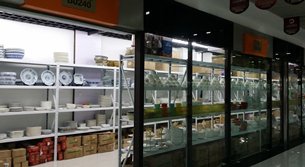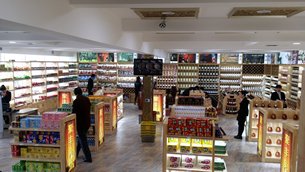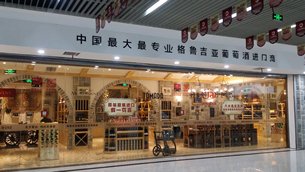 Besides allowing the Centre to function as a free trade area, the State Council also gave the green light to the building of a support zone for the Chinese section 1km south of the Centre. This provides as industrial base for supporting the Centre's development. Its main functions include export processing, bonded logistics, warehousing and transportation. The two are run on the "front shop, back factory" model. Goods entering the support zone from outside are bonded and must be declared to Chinese customs according to general import rules when they leave the zone. Goods entering the zone from other parts of the mainland are treated as exports and are eligible for tax refunds. Transactions between enterprises within the zone are exempt from VAT and consumption tax. The support zone has a planned area of 9.73 km2 and has started operating after passing an acceptance test in September 2015.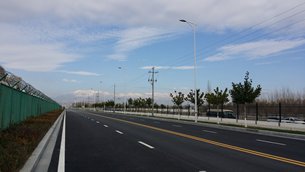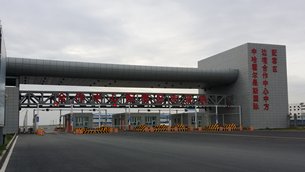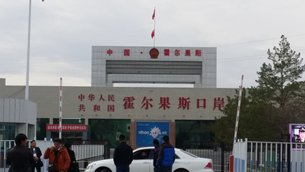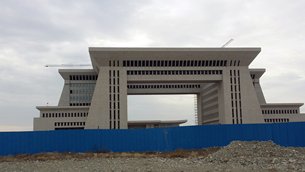 The Centre and its support zone effectively upgrade Khorgas' trading functions, including foreign trade, product display and sales, warehousing, transportation, tourism and other commercial services. They also provide a key trading centre for China, offering processing, manufacturing, regional sourcing, and transit and transport, for companies to target Central Asian markets. By promoting the export of Chinese goods to Central Asia and the import of goods from Central Asia and even Europe, they merit the attentions of Hong Kong companies interested in tapping business opportunities in Central Asia.
Mainland China
Mainland China