https://hkmb.hktdc.com/en/1X0A5F0R
A Belt and Road Development Story: Trade between Xinjiang and Central Asia
Geographically, Xinjiang borders a number of Central Asian countries, including Kazakhstan and Kyrgyzstan. With improved transportation and access, Xinjiang's ports have become China's coastal and central regions' gateways for export to Central Asia. According to Xinjiang's customs statistics, the freight volume of its ports increased from 20.93 million tonnes in 2009 to 46.65 million tonnes in 2014, while the total value of their imports and exports soared from US$22.29 billion in 2009 to US$46.14 billion in 2014.
A Vital Role in China's Trade with Central Asia
Besides functioning as a transportation channel, Xinjiang also serves as a trading platform for Chinese goods destined for Central Asia. Although market demand in Central Asia weakened in 2015 due to economic, exchange rate and other factors, Xinjiang's exports of light industrial products, machinery and electronic products, as well as of processed food, continued to grow thanks to rising demand for Chinese products in the Central Asian markets over the last few years. In addition to local products, buyers from Central Asia are also eager to source goods manufactured in other parts of China, including the Yangtze River Delta and Pearl River Delta regions. This makes Xinjiang a trading platform for sales to Central Asia.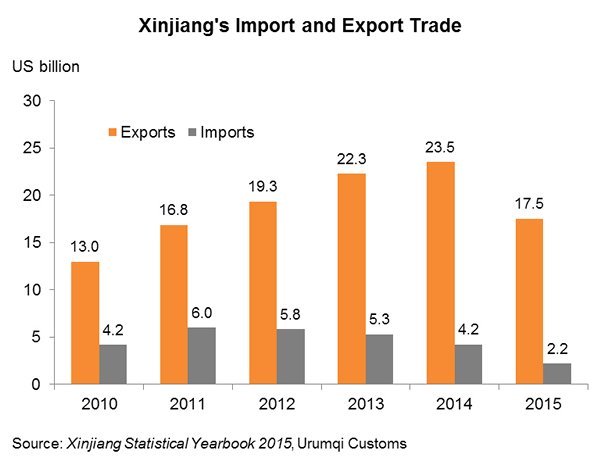 Xinjiang mainly trades with the Central Asian countries. Customs statistics show that as a result of falling demand in Central Asia, Xinjiang's total import and export value dropped to US$19.68 billion in 2015. However, the fact that import/export trade with Kazakhstan and Kyrgyzstan still accounted for 46% of Xinjiang's total trade value and Xinjiang's trade with Central Asian countries still accounted for a big share of China's trade with these countries suggests that most of China's trade with Central Asia uses Xinjiang as an intermediary. It also indicates that most of the export goods come from China's coastal or inland areas.

A large proportion of China's exports to Central Asian countries are handled by companies in Xinjiang, including both local firms and agents of other mainland enterprises. In 2015, Xinjiang's exports to Kazakhstan, Kyrgyzstan and Tajikistan accounted for 62.3%, 74.7% and 76.7%, respectively, of China's exports to these three markets, reflecting Xinjiang's crucial role in China's trade with Central Asia.
"Border Trade" the Prevalent Format
"Border trade", or "petty trade in border areas", is the principal form of trade in Xinjiang. In the wake of economic growth in the neighbouring Central Asian countries, many trading firms in Xinjiang are expanding their business in those markets through "border trade". Exports through "border trade" include cotton/textile products, agricultural products and processed foods, as well as consumer and industrial goods sourced from other provinces or produced in collaboration with manufacturers in these provinces for export to Central Asia through Xinjiang.
"Border trade" in Xinjiang refers to import/export trade conducted by enterprises registered in Xinjiang with the government's foreign trade/commerce authorities and thereby qualified to trade with enterprises or other trading organs in Xinjiang's "neighbouring" countries – that is, countries bordering on Xinjiang, via Xinjiang's designated land ports. "General trade" refers to import/export trade conducted by all countries through Xinjiang or other ports of China. In other words, enterprises with the relevant qualifications may conduct trade in the form of "border trade" when trading with neighbouring countries such as Kazakhstan but must conduct trade in the form of "general trade" when trading with non-neighbouring states.
Although "border trade" still accounts for the lion's share of Xinjiang's import/export trade, as an official of Xinjiang's department of commerce pointed out, some of the preferential policies for border trade have been abolished and there is a movement in the direction of general trade. In fact, as can be seen from Xinjiang's import/export trade statistics, border trade dropped from 58.6% of total trade in 2010 to 48.9% in 2015, while general trade has soared from 21.2% in 2010 to 42.6% in 2015.

Shopping Malls as Trade Platforms
Geographically, Xinjiang borders a number of Central Asian countries. Culturally, Xinjiang's Uyghur population and other minorities have similar customs and habits to people in Central Asia. Border inhabitants' petty trade ties with neighbouring countries are long-established. Xinjiang's export companies are mainly found in Urumqi and border ports such as Yining and Khorgas, with Urumqi as their top choice.
Urumqi boasts a variety of wholesale markets, where traders from other provinces have set up shop. They attract merchandisers not just from Urumqi and other domestic markets in northwestern China but also others engaged in border trade between Xinjiang and Central Asia. Many of the shops in these markets are opened by merchants from Zhejiang province, for example. An operator of a wholesale market in Xinjiang estimates that over 100,000 people from Wenzhou, Zhejiang, are conducting business in these markets and that at one stage between 200,000 and 300,000 people from Wenzhou were to be found in Xinjiang, although that number has since fallen somewhat.
These wholesale markets deal in all kinds of goods. For example, Urumqi's Bianjiang Hotel international trade city mainly deals in garments, shoes, headwear and other light industrial goods. The Diwang international mall, Dehui trade city and Huochetou foreign trade wholesale market mainly deal in garments, shoes, headwear and fashion accessories. The Xinjiang small commodity city sells furniture, bags/luggage and home appliances. Hualing comprehensive market mainly deals in building materials and furniture, while the Xiyu international trade city specialises in auto parts, tyres and automotive cosmetic products.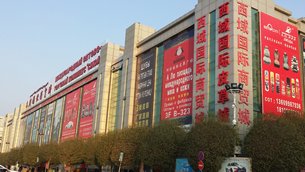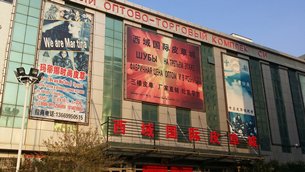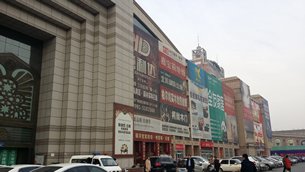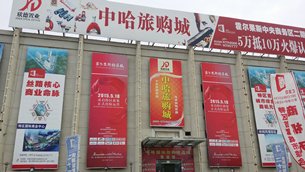 Some of these wholesale markets are very large. For example, the Hualing comprehensive market has three buildings and houses about 10,000 businesses from all over the country. Daily visitor traffic is said to average around 100,000 and the goods are sold to Urumqi's neighbouring prefectures and counties and even exported to neighbouring countries such as Kazakhstan.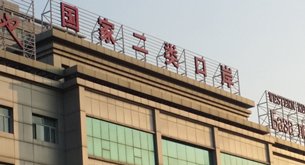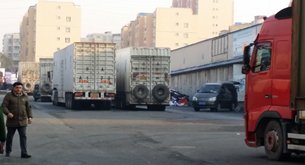 The Xiyu international trade city resembles a small commodity city in Yiwu, Zhejiang province, and has about 1,000 shops, most of which deal in auto parts, tyres and automotive cosmetic products. They essentially act as agents and frequently participate in exhibitions to find suitable suppliers. They have their own warehouses, which they use to store popular merchandise sourced from the coastal areas to meet market demand at any given time, although they may also make purchases on receiving orders. The period from June to August tends to be their off season. Buyers from Central Asia can stay for any length of time, from just a few days to several months at a time. The market has hotel rooms/apartments to meet their accommodation needs and it is understood that between 400,000 and 500,000 visitors stay in the hotels each year. The trade city also boasts logistics service providers, dedicated logistics parks and supporting customs services.
Challenges Facing Xinjiang's Foreign Trade
After many years of growth, Xinjiang's exports to Central Asia started to fall as market demand in the region, and China's exports overall, dropped in 2015. Xinjiang's exports dropped 25.4% in 2015, with exports to Kazakhstan and Kyrgyzstan dropping by 40.1% and 21.2% respectively, although exports to Russia rose by 37.5%. Economic cycles and shifts were partly responsible for reduced market demand in Kazakhstan. The falling price of oil and other commodities in recent years has directly affected the performance of the Kazakh and other Central Asian economies. Substantial currency devaluation in these countries has also weakened their purchasing power. Overall, China's exports to Kazakhstan saw a drop of 33.8% in 2015.
Xinjiang's exports to Central Asia also face a number of structural challenges. Firstly, the influence of the Russia-Belarus-Kazakhstan Customs Union has weakened the competitiveness of China's export goods. The unification of import tariffs between these three countries has led to an increase in tariffs on goods imported by Kazakhstan from China. The union also encourages trade between member states, which has had a detrimental effect on imports from China. The deal has also led Kazakhstan to gradually improve customs clearance management for some "grey" imports. Meanwhile, some buyers from Central Asia have started to make purchases directly from Yiwu, Zhejiang province, thus impacting on Xinjiang's intermediary role.
Still a Role For Xinjiang as Trade Intermediary
One local trader told HKTDC Research that while some buyers from Central Asia had gone directly to inland and coastal cities to make purchases, some claimed to have had bad experiences in doing so – for example, they found the quality of goods was not what they paid for. For this reason, many buyers still preferred to make purchases through trusted middlemen. Central Asian buyers may also encounter language problems when making direct purchases, while mainland suppliers may not be able to provide all the required customs clearance services (including customs clearance for Kazakhstan). Xinjiang's trading companies, on the other hand, are in a position to offer one-stop services.
As a trade intermediary, Xinjiang has also started to develop in terms of offering online platforms. For example, the Yema Group, a large trading company in Xinjiang, plans to start B2C cross-border e-commerce with Central Asia by sourcing goods from the mainland and selling them, through Urumqi, to consumer markets in Central Asia and Russia. The group will mainly target Russia, followed by Kyrgyzstan, because it has Russian language expertise and has established logistics and payment systems in those markets.
Hong Kong companies interested in venturing into Central Asia should look for opportunities via Xinjiang's trading firms and relevant e-commerce platforms. Many companies have set up production facilities in Xinjiang's economic and technological development zones, bonded areas and export processing zones. There they are able to make use of raw materials and semi-finished materials produced both locally and in other parts of China, and of raw materials and spare parts imported from Central Asia and other countries, for production and processing in Xinjiang and, ultimately, export to Central Asian markets. Hong Kong companies may alternatively look to partner with existing operations in this area.
Mainland China
Mainland China