https://hkmb.hktdc.com/en/1X0A5EIC
2016 Chinese New Year Sales: Dalian
Dalian, a port city in northern China's Liaoning province, saw steady growth in sales at its upmarket department stores during the Spring Festival golden week this year. Shopper traffic in the lower-end shopping centres, however, fell compared to the same period last year.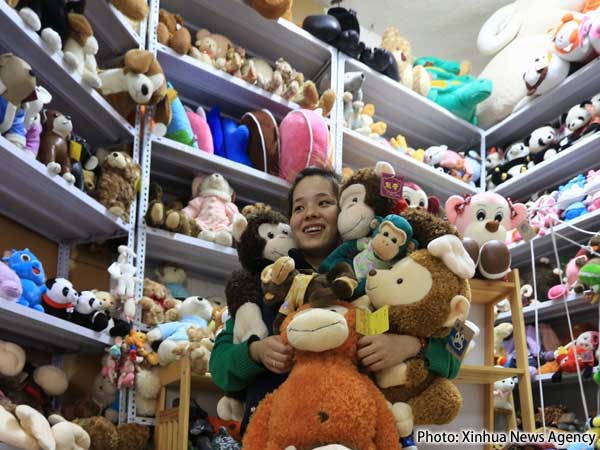 Figures from the Ministry of Commerce show that, from New Year's Eve to the sixth day of the Chinese New Year (7-13 February 2016), the total takings of retail and catering enterprises nationwide was more than Rmb754 billion, up 11.2% over the Spring Festival golden week last year. While a number of new sectors achieved impressive results, traditional New Year's goods; mass market dining; cultural, sporting and entertainment activities; tourism and leisure activities also fared well throughout the festive spending period.
Staff at the HKTDC's mainland offices (Beijing, Dalian, Qingdao, Xi'an, Shanghai, Hangzhou, Nanjing, Wuhan, Chongqing, Chengdu, Guangzhou, Fuzhou and Shenzhen) made visits to a number of high-end, mid-high end and mid-range shopping centres in their respective cities before, during and after the Chinese New Year in order to ascertain just how the consumer market performed this year.
In order to get an overview of the level of sales in Dalian's shopping malls during the Spring Festival, HKTDC's Dalian Office monitored three shopping centres – Sunrise Shopping Centre, New-Mart Shopping Mall and Wenzhoucheng. The findings of the survey are summarised below.
Dalian Sunrise Shopping Centre
Dalian Sunrise Shopping Centre is the flagship department store of the Jinguang Construction Group. An Rmb700 million project, it offers over 30,000 square metres of retail space. Establishing itself on Dalian's shopping scene, it has become the Xi'an Road commercial district's major hub, offering customers an all-in-one destination for doing shopping as well as enjoying cuisine and leisure.
According to the shops surveyed, overall consumption during the Chinese New Year period was mainly spurred by spring collections, ladies' shoes and new arrivals in branded cosmetics. In addition, a substantial increase in shopper traffic in the food court, also contributed to the mall's overall popularity. Meanwhile, as consumers welcomed the Year of the Monkey, shopper traffic in the recently upgraded kids' zone also increased, bringing up sales of zodiac sign dolls and children's clothing. According to Sunrise's management, with the recent advent of a two-child policy in China, children's clothing will become a major driver of consumption in the future.
This year's Valentine's Day came on the heels of the Chinese New Year holiday, boosting sales in jewellery. Final figures from the mall's performance are not yet complete. According to estimates by the management office, overall shopper traffic registered a slight increase year on year; however, due to the impact of the economic environment, spending per customer remained the same or may even have declined over the same period last year.
New-Mart Qingniwa
New-Mart is a new retail chain and a member of the Dashang Group, integrating the latest retail formats and technology, sophisticated marketing strategies and a high level of shopping experience. An iconic shop representing the modern and international features of Dashang, it is imbued with the feel of a shopping mall. To date, 31 New-Mart stores have been opened in cities including Dalian, Shenyang, Daqing and Zhengzhou. The Qingniwaqiao Main Branch has a strong foothold in Dalian's retail sector, boosting consumer spending in the city's commercial district.
On the eve of the Spring Festival, the store completed an upgrade of its jewellery section, spurring sales in jewellery during the period and bringing expected benefits to the shopping mall. Helped also by the marketing impact of Valentine's Day, both shopper traffic and sales over the period were satisfactory in this section.
Sports apparel and footwear also fared well, as did the first-floor food area. On the eve of the Spring Festival, many consumers did New Year shopping there, driving up sales, particularly in chilled seafood, cooked food and a variety of gift boxes.
Overall, despite buyer traffic being slightly down compared to the same period last year, the level remained satisfactory. While no specific figures were available on average spending per customer, it was estimated to have remained unchanged from previous years or declined slightly. In addition to the sluggish economic environment, the impact of e-commerce providers is still having an effect. E-commerce platforms including JD Express, Suning.com and Taobao have had an impact on sales at physical shops. Against this backdrop, the Dashang Group has also launched its own online shopping platform – 51tiangou.com. Up and running for more than a year, it has made a remarkable contribution to the group's performance. Moreover, its supermarket chain is also pursuing online promotions, offering consumers incentives to buy on the new platform. The group is said to be making efforts to address the operational problems of this new business model.
Wenzhoucheng
Wenzhoucheng (literally "Wenzhou City") is a large and comprehensive mall located in the Erqi Square commercial district in Zhongshan, Dalian, selling mainly mid- to low-end garments, bags, daily necessities, curtains and bedding, both retail and wholesale.
On the eve of the Spring Festival, the main drivers of sales were bedding, small home groceries and children's clothing. Sales in other categories were flat due to the generally low level of spending of Wenzhoucheng's key consumer groups, at Rmb100 to 200 per customer on average. Buyer traffic peaked on the eve of the Spring Festival, but was down 15-20% compared with the same period last year. As for promotional tactics, the mall's management imposed no uniform pricing requirements, leaving prices at the discretion of individual shops.
According to shop operators, overall sales this year were down compared to previous years, mainly due to the impact of online shopping, as well as the emergence of new media, such as WeChat. Against this backdrop, some shops are gradually adopting these digital marketing tools to expand their own sales through WeChat. The mall's management also said new means were being explored to encourage sales diversification, including increasing the number of dining and entertainment establishments, as well as hair and nail salons, in order to stimulate shopper traffic and consumption.
Kelly Wang, Dalian Office
Mainland China
Mainland China