https://hkmb.hktdc.com/en/1X0A5DU3
2016 Chinese New Year Sales: Shanghai
Sales in Shanghai over the Chinese New Year period 2016 (31 January to 13 February) were up 8.2% year-on-year. The findings come in a survey of 355 large and medium-sized commercial enterprises in the city, which together had a combined turnover of Rmb9 billion. The survey was jointly conducted by the commerce authorities of Shanghai's 17 districts and counties and a number of key commercial enterprises within the city.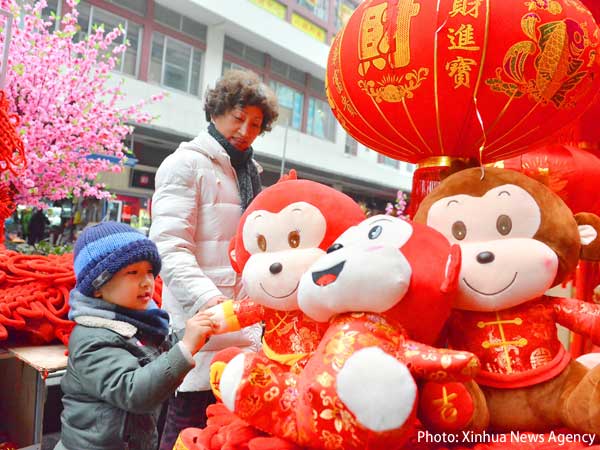 Figures from the Ministry of Commerce show that, from New Year's Eve to the sixth day of the Chinese New Year (7-13 February 2016), the total takings of retail and catering enterprises nationwide was more than Rmb754 billion, up 11.2% over the Spring Festival golden week last year. While a number of new sectors achieved impressive results, traditional New Year's goods; mass market dining; cultural, sporting and entertainment activities; tourism and leisure activities also fared well throughout the festive spending period.
Staff at the HKTDC's mainland offices (Beijing, Dalian, Qingdao, Xi'an, Shanghai, Hangzhou, Nanjing, Wuhan, Chongqing, Chengdu, Guangzhou, Fuzhou and Shenzhen) made visits to a number of high-end, mid-high end and mid-range shopping centres in their respective cities before, during and after the Chinese New Year in order to ascertain just how the consumer market performed this year.
For Shanghai, its Spring Festival Sales were characterised by a number of key developments:
1. Steady Sales Growth
The sales of the surveyed enterprises in Changning, Zhabei and Yangpu all showed double-digit growth. The Changning district topped the list with growth of 20.2%. Among the rural counties, the sales of the relevant enterprises in Minhang, Baoshan, Jinshan and Fengxian also showed double-digit growth.
Among the seven major retail formats - department store, shopping centre, supermarket, hypermarket, convenience store, vegetable market, and specialty store – all of them showed year-on-year growth, with the exception of department stores and supermarkets, which both suffered a decline in growth. In the case of the shopping centres, convenience stores and specialty stores, double-digit growth was recorded.
2. Revival of Bricks-and-Mortar Stores
Bolstered by the increasing popularity of new business formats - such as urban outlets and themed shopping malls - as well as the accelerated growth of mass market dining, bricks-and-mortar stores have undergone a notable revival this year. Compared to 2015, many conventional shopping outlets seemed infused with a new vigour after a number of difficult years. The transformation and reinvention of many physical stores in Shanghai seems to have triggered a renewed willingness to spend. During the Spring Festival period, sales at a number of key commercial districts, including Nanjing East Road, Nanjing West Road, Zhongshan Park and Wujiaochang all registered year-on-year growth.
3. Mass Market Dining Most Popular
Family dinners and social gatherings have always dominated the Chinese New Year catering market, with affordability being the defining factor of festival dining in Shanghai this year. The total business turnover accrued from New Year's Eve eat-in dinners at 105 surveyed restaurants was Rmb24.99 million, up 14.5% year-on-year. The average price per table, though, was Rmb2,661, a year-on-year drop of 13.3%, with the average price recorded as Rmb3,069 in 2015. In order to boost sales, many catering enterprises employed such incentives as special-price set dinners as well as arranging online booking promotions. According to the survey, set dinners falling in the Rmb1,500-2,500 price range per table were the most popular.
4. Increased Spending on Leisure and Entertainment
During the festival period, the surveyed entertainment and fitness service operators posted total business revenues of Rmb5.26 million, up 19.6% year-on-year and higher than the average growth figure of 8.2%. Tickets sales for a number of blockbusters, such as The Monkey King 2, Mermaid, and From Vegas to Macau III, helped boost the Shanghai box office during the festive season.
The figures show that, as of 10 am on 12 February, the per capita spending of Shanghai residents on leisure and entertainment during the festive period was Rmb2,600, the highest figure recorded for any mainland city or province. According to the survey, the favoured leisure pursuits of Shanghai residents are shopping, beauty care, going to the hairdressers, and watching movies. The growing popularity of many of these activities played a key role in the reviving fortunes of bricks-and-mortar stores throughout the Chinese New Year period.
5. Crowd-drawing Themed Shopping Malls
During the festival period, sales at the Parkson Newcore City Mall in the Changning district, a site recently completely refurbished and reinvented as an urban outlet, rose by more than 50% year-on year. Meanwhile, the Joy City Shopping Mall Phase II, complete with its rooftop-mounted Ferris wheel and fine art street, was hailed as a major step forward for themed shopping malls. Over the Spring Festival period, the overall sales of Joy City more than doubled in year-on-year terms.
6. Best Selling Items
During the Chinese New Year, many traditional New Year products, such as food, liquor, cigarettes, and clothing sold particularly well. Sales of a number of high-end products, including gold, jewellery and digital product also showed impressive growth.
7. Top Three Best Selling Items Online
From 7-13 February, according to Chinese New Year online sales figures provided by JD.com, Beijing ranked first for the number of orders placed in growth terms, with Shanghai coming fifth.
During the Spring Festival period, mobile phones, confectionery/chocolates, and mobile phone cases were the top three most purchased items on JD.com in terms of growth in the number of orders placed, with year-on-year growths amounting to 94%, 918% and 62% respectively. Among the top 20 products with the highest growth in the number of orders placed on JD.com, sales of fresh-cut flowers and green plants rocketed, with a year-on-year growth of 5,031%. At the same time, with many people choosing to drive back to their home town for the New Year holiday, sales of mobile phone holders and portable battery chargers also enjoyed exponential growth, surging by 15,133% and 4809% respectively. Weight-loss machines and treadmills also sold well, recording respective growths of 47,990% and 272,000% respectively.
Lesley Wong, Shanghai Office
Mainland China
Mainland China