https://hkmb.hktdc.com/en/1X0A5BQD
Technopreneurship in China (2): The Hong Kong Cross-border Partnership Opportunity
The number of incubation centres and co-working spaces in China has surged in the past couple of years, amid society's enthusiasm to embrace innovation to create impetus for business growth. They are particularly interested in nurturing young entrepreneurs and "makers" with their prime interest in technological innovation, in view of the success of certain technology giants in the country. The rapid pace of development, however, has also sparked concerns about the long-term sustainability of their businesses.
To meet the challenges, Hong Kong is in a position to assist mainland technopreneurships in opening up massive business opportunities, with its excellence in areas such as system integration and application, as well as marketing, finance and other professional services. With a cluster comprising local and foreign technology companies, technopreneurships from around the world can make use of the Hong Kong platform to kick-start their venture businesses while capitalising on the city's advantages, such as the free flow of capital and information, and the sound protection of intellectual property rights.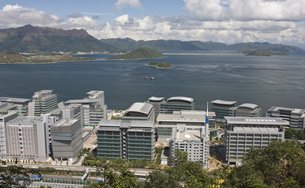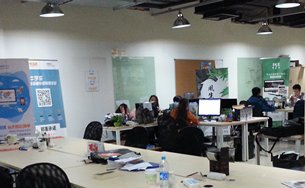 Budding Co-working Spaces in China
While the development of incubators in China has already outpaced government planning, the number of co-working spaces has also increased quickly from scratch in the past couple of years. According to Tsinghua University's [1] "Annual Report on China's Innovation Development 2015", about 140 co-working spaces were in operation by the end of 2015. The sponsors and organisers of these spaces include investors, professionals and volunteers from universities, technology, finance and other business sectors. They have become especially enthusiastic towards the establishment of co-working spaces since the end of 2014/beginning of 2015, when state leaders and the government began to advocate innovation to boost business growth.
(For more information about the development of incubators, please refer to: Technopreneurship in China (1): Recent Innovations and Opportunities)
The co-working spaces largely target start-ups and young entrepreneurs who are looking for inexpensive working space in a community of talented individuals in order to turn their novel and creative ideas into viable and scalable businesses. Some co-working spaces, or the so-called"makerspaces" or "hackerspaces" [2], focus on recruitment of the so-called "makers" with their prime interest in technological innovation. They provide young technopreneurs with shared office, conference and Internet-access facilities, as well as business advice and/or assistance. These services have helped to reduce the initial start-up costs for talents beginning their technology ventures. Prominent examples of co-working spaces in the country include:
IC Cafe (IC咖啡)
Established by executives from the areas of semiconductor chips, system hardware and software, IT Internet, media, industry analysts, technology investment, etc.
Xinchejian (上海新車間)
A hackerspace (an open laboratory) to support and promote the development of computing, open source hardware, and the Internet of Things technology.
Chaihuo Maker Space (柴火創客空間)
The Space provides makers with prototyping equipment and co-working space for the development of electronic equipment, machinery and processing equipment.
Beijing Makerspace (北京創客空間)
A hackerspace to encourage social innovation and the development of open-source hardware ecosystems.
Such development is also boosted by the private investment of certain renowned technology companies. A point of interest is Shenzhen, where electronics giant Shenzhen SEG Group launched the "SEG Maker Space" in June 2015. This makerspace reportedly supports makers in areas such as marketing, venture capital funds, financial services, e-commerce promotion platforms, accommodation and small-order production facilities. Another electronics giant, the Huaqiang Group, set up a maker centre in Shenzhen in mid-2015 to help electronics and hardware start-ups grow their businesses.
These private investors' actions are echoed by the initiatives of the Shenzhen government, which rolled out its action plans in December 2015 in order to match the policy direction laid down in the "Made in China 2025" document. The Shenzhen government has vowed to make the city a forerunner in the country in the areas of smart manufacturing, green manufacturing and advanced manufacturing. Apart from measures to foster private enterprises' innovation activities, the Shenzhen government is also determined to enhance the set-up of makerspace and makers' laboratories, while bringing in international makers' institutions and upgrading incubators' functions in order to create an innovation atmosphere and accelerate innovation activities in the city.
The rapid development of incubators and co-working spaces, however, has caused concern about their long-term sustainability, with some players suggesting many could struggle to survive. The "Annual Report on China's Innovation Development 2015" highlights the challenges co-working space operators face in recruiting experienced and capable makers who have both technical talent and the appropriate business management and marketing expertise. Some operators are also subject to certain constraints, such as the inability to support makers with adequate equipment, restricting them to less capital-intensive projects. Some co-working spaces and even certain incubators lack a comprehensive business model, which is critical to help nurture the growth of makers and the incubatees' businesses in terms of technical support, formation of business vision and synergy, finance, legal assistance, etc.
Cross-border Partnership to Meet Challenges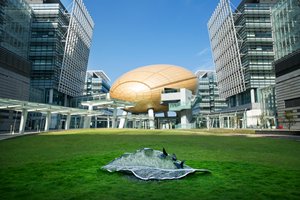 Such shortfalls, however, could mean niche opportunities for relevant stakeholders in Hong Kong. Indeed, Hong Kong excels not only in certain technology areas such as system integration and application, but also in a wide range of supporting services, including commercialisation, technology marketing, finance and legal services. Indeed, the Hong Kong Science and Technology Parks Corporation (HKSTP) has recently entered into partnerships with four leading technopreneurship incubators and co-working space providers from Beijing, Tianjian, Shanghai and Shenzhen. Riding on Hong Kong's inherent advantages, the HKSTP is now collaborating with these four partners to promote youth entrepreneurship and innovation. Via regular exchanges and collaboration activities, the partnerships will help to broaden the horizons of technopreneurs from both sides of the border, and assist technopreneurships in opening up massive business opportunities in Hong Kong and the Asia region. [4]
For its part, the HKSTP is well-versed in incubation services, with an incubation platform established for more than 15 years in Hong Kong. It offers a wide range of technical, business, finance and other professional services to help nurture technology start-ups and enhance their reach to Hong Kong and international markets. These services have essentially helped start-ups to survive through their vulnerable inception stages, enabling them to grow and flourish. To complement the incubation programme, the HKSTP set up a Soft Landing Centre to provide a flexible "home-base" environment for technology companies to touch the markets beyond their reach.
Via the short-term landing and demonstration activities, not only technopreneurships from Hong Kong but also from the mainland and around the world can explore collaboration opportunities with like-minded industry talents and partners, and showcase to potential investors and clients throughout Asia. As a result, a technopreneurship cluster has been formed under the HKSTP umbrella, providing technology start-ups with international exposure in terms of technology, finance, marketing, etc. With such cluster advantages in place, technopreneurships from around the world can make use of the platform to kick-start their venture businesses, while capitalising on Hong Kong's benefits such as the free flow of capital and information, the sound protection of intellectual property rights and the availability of professional services.
The HKSTP is home to more than 580 technology players (as at end-2015), which are primarily involved in biotechnology, electronics, green technology, IT and telecommunications, and precision engineering. It operates three incubation programmes: the "Incu-App", the "Incu-Tech" and the "Incu-Bio". These programmes provide support and assistance to nurture start-ups engaging in a number of technology sectors, including web and mobile applications (Incu-App), electronics, ICT, green technology and precision engineering (Incu-Tech), as well as biotechnology (Incu-Bio). Currently, the total number of incubatees at the HKSTP is about 240, with 80% based in Hong Kong and the rest from the mainland and abroad.
---
[1] 《國家創新藍皮書:中國創新發展報告(2015)》 released by the Research Center for Technological Innovation of Tsinghua University in December 2015.
[2] "Makerspaces" or "hackerspaces" in this article refer to working space where makers and other people with common interests in innovation come together to work and collaborate, including those engaging in technological innovation as well as other creative activities.
[3] 《「中國製造2025」深圳行動計劃》 released by the Shenzhen government on 8 December 2015.
[4] The four technopreneurship incubators and co-working space providers are: TITH Holdings from Beijing, Tianjin International Joint Academy of Biomedicine, Shanghai Technology Innovation Centre, and Shenzhen City Science and Technology Business Incubator Association. For details, please refer to the HKSTP website.
Electronics & Electrical Appliances
Finance & Investment
Technology
Accounting Services
Business Management & Consultancy
Information Technology
Telecommunications
Legal Services
Quality Inspection and Testing
Mainland China
Hong Kong
Mainland China
Hong Kong