https://hkmb.hktdc.com/en/1X0A57C3
Physical Stores: A Key Marketing Channel for Skincare Products and Cosmetics in China
Interview with He Yonghua, General Manager of Cloud Point Network Technology Co. Ltd.
"Brand competition is becoming more homogenous in China's skincare and cosmetics market and the entry of foreign brands may inject new vitality into this sector," says He Yonghua, General Manager of Changzhou-based Cloud Point Network Technology Co. Ltd. He's analysis of the development trends of the skincare industry and the characteristics of different marketing channels provides a useful reference to companies interested in venturing into the China market.
From Provincial Sales Agent to E-Commerce Business
He is the owner of Cloud Point as well as two other trading companies that deal in skincare products and cosmetics – Suzhou Dai'ao and Changzhou Jieshuai. Each of the three companies has its own positioning.
Suzhou Dai'ao was established in 2010 as a provincial-level sales agent for cosmetics brands such as Elishare, Nobbily, Butterfly Shops and Pola. It attaches great importance to the professional services of brand-building and offline sales, and cooperates with beauty schools to provide training for staff, including shop managers and assistants, in beauty techniques. Those trained can engage in professional brand promotion and help improve the customer experience.
Changzhou Jieshuai, established in 2011, mainly deals in famous mainland brands that already have a customer base and helps them to expand their marketing channels. It is the agent for Pechoin's herbal series, Singapore's Bio-Essence and other brands.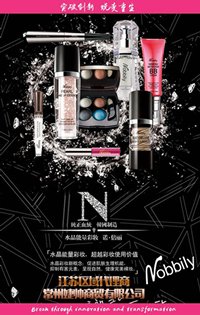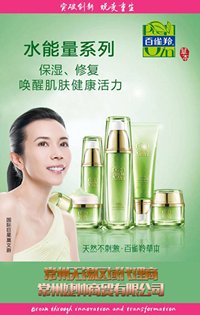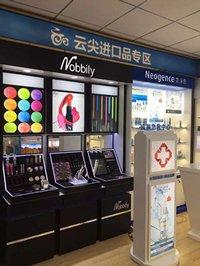 He saw imminent changes in the skincare sector in 2014 as upstream and downstream supply chains began to be affected by the Internet, which was gradually weakening ties between shops and consumers/agents. Distribution channels were getting shorter. At the same time he noticed the growing demand for imported products and the market potential of consumer goods. Using imported household chemicals as the entry point, He built an "Internet + physical store" O2O platform for skincare products.
He established Cloud Point in the Changzhou National Hi-tech District in 2015 as a network technology company. It mainly deals in imported products, including consumer goods, food, mother-and-infant products and household items. Imported skincare products include cosmeceuticals, makeup, organic products and natural products. The main marketing channels are PC e-commerce, mobile commerce, and the O2O platform. He says he aims to build this into a service platform connecting agents, retailers and end-users. Through this platform, retailers would benefit from improved efficiency brought by supply-chain integration, and introduce different imported products, logistics and distribution services to physical stores. They would also help physical stores establish online facilities and provide them with a platform to engage their members and provide other services to strengthen consumers' brand loyalty and improve business efficiency.
CS - Main Marketing Channel for Physical Stores
The main marketing channels for skincare products on the mainland include department stores, KA [1] channels (hypermarkets), CS [2] channels (multi-brand household-chemicals stores), e-commerce, and mobile devices (WeChat e-commerce). Basically, skincare products are distributed through multiple channels that provide extensive coverage. The sale of skincare products through physical stores, however, has been affected by the rise of online shopping in recent years, although the physical marketing channel remains the biggest and most dominant one.
The CS channel, which is the most important of all physical channels, is basically divided into three types: national chains, regional chains and stand-alone stores. The CS channel is dedicated to skincare products and has unique advantages in product guidance, professional service and product experience. It also commands a critical mass of target consumers of skincare brands. For this reason, some major CS venues have become important "advertising displays". Since the CS channel is mainly made up of regional chains, the few national chains have become the first choice for skincare brands.
According to He's analysis, many new brands are willing to pay substantial shelving fees and other promotional expenses to gain access to CS national chains, such as Watsons. Their purpose is to use Watsons as their advertising showcase to display their brands and products to target consumers. Although some people might think that stand-alone stores of the CS channel would lose their cost advantage because of the Internet, He believes they will still stand a chance by opening stores in the last mile of consumption by making good use of the Internet platform to integrate resources, reduce operating costs and improve circulation efficiency.
If the CS channel can distribute brands and products according to the characteristics of different types of business districts/communities, it might become even more effective by integrating with the Internet. For example, opening CS stores in different districts (including industrial, commercial, residential and school districts) and distributing goods befitting the lifestyle of consumers would better satisfy the needs of consumers.
While traditional department store and KA channels will continue to develop, agents might evolve into entities with the combined role of wholesaler, service supplier and logistics operator. By continually integrating the resources of local channels, they can provide brand owners with complete solutions for distribution, logistics and services.
The market shares of sales of skincare products and cosmetics via mobile devices, PCs and physical stores could undergo a reshuffle in the future. These three channels might change their positioning according to their operational characteristics and advantages to satisfy the demands of different types of consumers.
Cross-Border E-Commerce: New Channel for Foreign Brands
The skincare industry is developing rapidly on the mainland and many new brands have emerged. However, product homogeneity is getting more serious and brands with a high technology content are few and far between. Moreover, many famous brands have similar distribution channels, meaning that products are reaching similar consumers and new products have difficulty breaking the impasse. In He's opinion, many foreign mid-range skincare products have a high technology content and address specific skin problems. They are more meticulous in specialisation and classification and should have great market potential on the mainland.
More and more mainland consumers these days have the opportunity to visit different countries and regions. With wider exposure, their demand for imported goods also increases. He notes that imported goods are only sold on the mainland on a limited scale because foreign products have always been subject to high import tariffs and strict customs supervision. He sees moves by the Chinese government to allow consumers to purchase foreign goods through cross-border e-commerce channels as a new blow to the indigenous skincare industry. He points out that traders can enjoy low tax and minimise intermediary expenses by importing goods through cross-border e-commerce. However, cross-border e-commerce operators need a longer time to source foreign goods not frequently purchased by mainland consumers. On the whole, foreign skincare brands might consider expanding the mainland market through cross-border e-commerce.
Characteristics of Men's Skincare Market
He notes that while male consumers in China's first- and second-tier cities have a growing awareness of skincare, the men's skincare market in third- and fourth-tier cities will still take time to nurture. Men buy skincare products through online channels as well as via the KA channel (hypermarket). Since men tend to do less research than women when choosing skincare items, any product from an international or famous brand, at a suitable price, and available through channels of daily consumption – such as supermarkets and online shops – could catch the attention of male consumers who care for their skin. Although men's products only have a small share of the overall skincare market and it is not easy to cultivate a brand, consumption among men's skincare products will definitely increase in the future.
Win-Win Cooperation Between Agents and Brand Owners
As an agent, He reckons the relationship between an agent and a brand owner has a direct and crucial impact on the sales of individual products and brands. Agents are always ready to bring in new brands and open up markets for them, but they also worry that the brand owners might cancel their agency and market the products themselves after the successful cultivation of customers. Hence, many small and medium-sized agents do not feel secure and dare not take on new brands that have just entered the mainland market. They would rather fight for agency rights for established brands.
He says Japanese companies are very cooperative and supportive, and make every effort to promote the reputation of their brand name after entering the mainland market. Japanese brands cooperate with the agents in their operation and give them confidence in promoting their brands. Moreover, Japanese brand owners follow a strict management regime and do not easily offer rights to large numbers of agents. Therefore, agents are willing to devote more resources to open the market for them and brand owners can make use of agents' marketing channels and resources to achieve quicker market access in a win-win scenario.
Poor relations between an agent and a brand owner could affect a brand's development. Some brands do not have a strict system of agency management, resulting in vicious competition – or even cut-throat price wars – between different agents in the same region. This could seriously tarnish a brand's image.
The mainland skincare market has huge potential, but with the rise of domestic brands and the influx of foreign ones, market competition is becoming increasingly intense. New brands must understand the characteristics of different marketing channels, identify their core customer groups, and find the right partners when entering the market in order to achieve better results with less effort.
---
[1] KA stands for "key account". The KA channel is made up predominantly of large retail chains with large business area and heavy customer flow.
[2] CS stands for "customer satisfaction". The CS channel refers to the system of points of sales comprising cosmetics stores, household chemicals stores and boutiques.
Mainland China
Mainland China