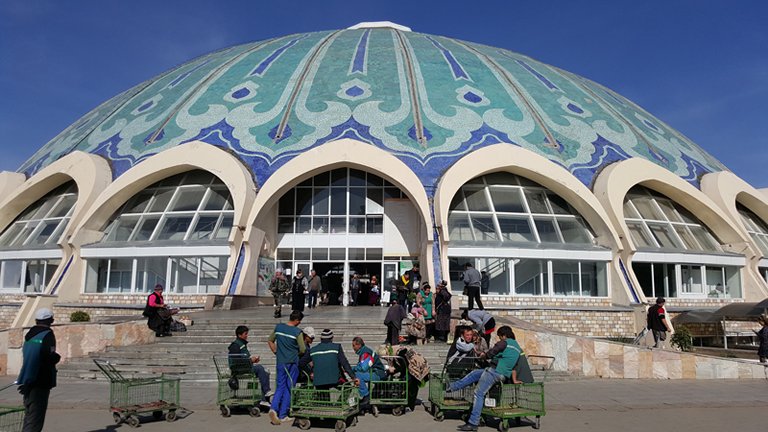 https://hkmb.hktdc.com/en/1X0A52S2
Uzbekistan: An Uncharted Central Asian Market
One of the only two double-landlocked[1] countries in the world, thus lacking any direct ocean access, Uzbekistan is also the most populous country in Central Asia. Its 30 million-plus population, however, has yet to emerge as a strong and sizeable consumer market, largely on account of the country's inadequate infrastructure and its bewildering array of government controls and regulations. In a bid to reclaim the country's centuries-old status as one of the key regional centres of commerce along the Asia-Europe trade routes, the Uzbek government has put in place an ambitious five-year plan, with US$55 billion earmarked to modernise its industry and develop new infrastructure. This, together with the extension of its economic cooperation with China as part of the Belt and Road Initiative (BRI), is seeing Uzbekistan bidding to reinvent itself as a vibrant, linked-in investment destination along the route of the ancient Silk Road. Despite these alluring prospects, however, Hong Kong traders are advised to pay close attention to the many practical challenges that could easily derail this development process.

The Largest Underdeveloped Central Asian Market

Highly focused on the growing and processing of cotton, fruits, vegetables and grain (wheat, rice and corn), Uzbekistan, is also a world leader in terms of its gas, coal and uranium reserves. The nation's 30 million-plus population makes it the most populous country in Central Asia (accounting for 45% of the total population in Central Asia in 2015). This however, has not led to the formation of a lucrative consumer market, despite the country enjoying average GDP growth of more than 8% per annum over the past decade.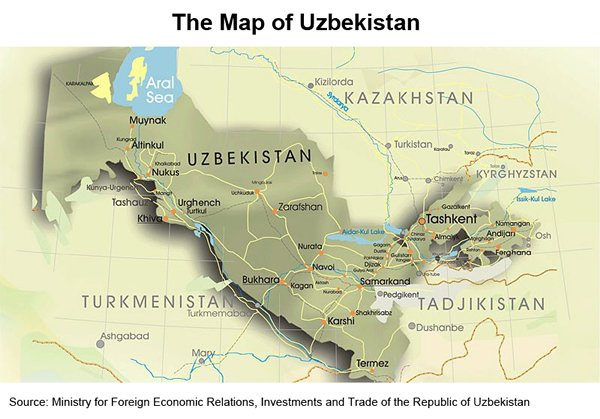 In terms of economic development, it has often been said that Uzbekistan lags behind many other Eurasian nations – notably Russia and Kazakhstan – by as much as 20 years. Its lack of modern infrastructure and its myriad of state controls and regulations with regard to foreign exchange and customs have made Uzbekistan less competitive in the global trading and investment environment. Crucially, it has also been seen as a less attractive trading partner than Kazakhstan, its immediate neighbor.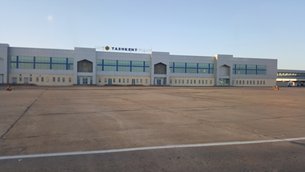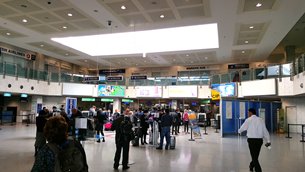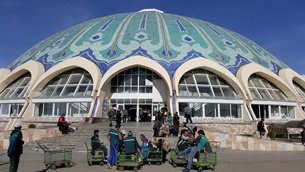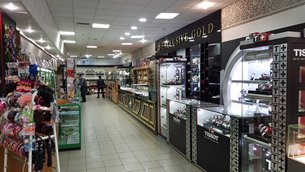 In order to remedy this, in May 2015, the Uzbek government announced a five-year plan to modernise its industry and develop new infrastructure. In total, this will involve investment of US$55 billion in 900-plus new projects in the gas and petrochemical sectors, as well as the construction of new roads and airports. This – together with the signing of various bilateral and multilateral cooperation agreements, most notably a June 2015 undertaking regarding enhanced economic cooperation with China as part of the Belt and Road Initiative (BRI) – intended to reboot the country's economy and bring its infrastructure up to speed.

Following years of close trade and business ties, the Sino-Uzbek relationship has continued to improve dramatically. In late 2013, the Uzbek government signed some US$15-billion of investment deals with regard to the exploitation of oil, gas and uranium fields. More recently, a new agreement was signed with China in June 2015. This will focus on the extension of economic co-operation as part of BRI and will see increased bilateral co-operation in a number of sectors, including business, transportation and telecommunications. Bulk stock trading, infrastructure construction and the development of industrial park projects are also covered under the terms of the agreement.

The rapid development and extension of Uzbekistan's railway and road networks, including a 19­kilometre railway tunnel connecting the capital city, Tashkent, with the populous Ferghana Valley, is an early sign of the success of this initiative. As one of the developing countries along the Belt and Road and a founding member of the Asia Infrastructure Investment Bank (AIIB), Uzbekistan has been keen to rapidly improve its railway network and has been ordering locomotives from manufacturers on the Chinese mainland.

On the back of its rich mineral resources – particularly its petroleum, natural gas, coal and uranium – Uzbekistan's energy sector has long played a leading role in the country's economic development and will remain a key factor in luring foreign investment. The country, however, is also looking at upgrading away from the simple production of raw materials, such as cotton, fruits, vegetables and grain, to the higher-value-added food processing and textile industry sectors. Such a development will naturally give Hong Kong companies the opportunity to provide a variety of support services, including those relating to trading and marketing.

A Logistics Player in Its Infancy

As one of the only two double-landlocked countries in the world (with its closest access point to open sea being located nearly 3,000 km away), Uzbekistan relies almost exclusively on its land connections with Kazakhstan (in the north and northwest), Kyrgyzstan and Tajikistan (to the east and southeast), Turkmenistan (southwest) and Afghanistan (south). The Latvian seaport of Riga, however, is the most important transit point for Uzbek commodity exports (oil and oil products, fertilizers and automobiles), with some Uzbek companies even owning warehouses in the port. The Iranian ports, by contrast, are mainly used for raw cotton exports.

Straddling many of the shortest transit routes connecting Europe and Asia, Uzbekistan is located at the heart of Transport Corridor Europe–Caucasus–Asia (TRACECA) and three of the six Central Asia Regional Economic Cooperation (CAREC[2]) corridors, namely (i) Corridor 2-a, 2-b (Mediterranean–East Asia), (ii) Corridor 3-a, 3-b (Russian Federation–Middle East and South Asia), and (iii) Corridor 6-a, 6-b, 6-c (Europe–Middle East and South Asia). Dating back to Soviet times, rail and road transport have been the country's key and cheapest means of transport. According to current estimates, some 95% of cargo travelling through or to Uzbekistan still travels by road or rail.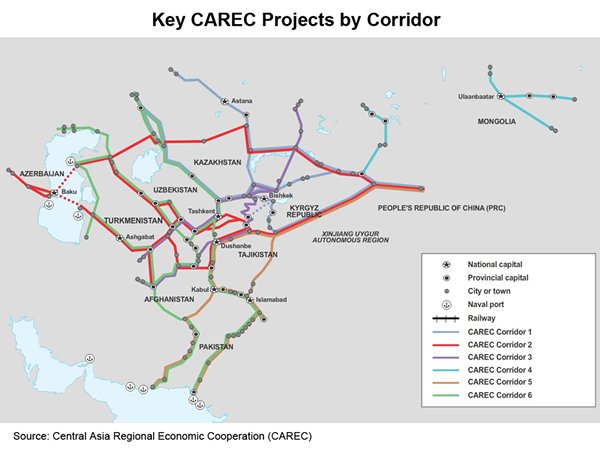 Although land transport plays an important role in Uzbekistan's international connectivity, only one-sixth of its 4,200 km-long railway tracks are electrified, while less than 10% of its 43,000-km roadways have international applications. With the routing of most of the country's inbound traffic (high-value machinery, capital equipment, electronics, and consumer goods) largely controlled by foreign shippers and the routing of most of its outbound traffic (mainly raw materials such as cotton) controlled by the government, Uzbekistan's trucking and container management industries are somewhat underdeveloped.

According to the country's leading logistics association – the 2009-established Association for the Development of Business Logistics (ADBL) – almost all of the modern trucks and containers used for transporting goods in and out of the country are owned by foreign logistics players. By contrast, Uzbek logistics companies lack a sufficient number of trucks that comply with Euro IV and Euro V, the EU vehicle emissions standards, to compete with foreign players in terms of delivery to and from the wider European market.

According to ADBL, both the concepts of multimodal logistics and supply chain management are new to Uzbek companies. While the international logistics business in Uzbekistan has been largely expat-dominated, it is still underdeveloped in terms of local participation. This is one reason why Uzbekistan has been lagging behind its peers, such as Kazakhstan, in terms of cross-border logistics performance.

In order to promote multimodal logistics and better connect Uzbekistan with the global supply chain networks, ADBL has been working closely with its 40-plus associated members (local and foreign companies) and its 20-plus partners, such as the Chamber of Commerce and Industry, the National Air Carrier, the National Railway (UTY) and the Association of International Road Carriers of Uzbekistan (AIRCUZ). This has seen the launch of a number of new initiatives, including sending university teachers and scholars to Germany and Poland to master the latest international logistics practices and to help establish cooperation with foreign professional logistics associations, as well as with representatives of those foreign companies active in Uzbekistan.

In order to improve efficiency and enhance its multimodal transport operations and remain competitive as a regional link, Uzbekistan is also striving to upgrade its logistics infrastructure through a focus on building new roads and airports. Other than the projects previously announced as part of its domestic development plans, such as the five-year, US$55 billion plan announced in May 2015, Uzbekistan is also actively participating in a number of regional cooperation programs, such as the CAREC Program. As of 2015, Uzbekistan has mobilised more than US$5.3 billion across 15 projects (4 completed and 11 ongoing) through CAREC, including not only road investment projects, but also railway modernisation and electrification initiatives.

These projects have not only enhanced Uzbekistan's international trade by improving its access to neighboring countries and seaports, but have also introduced market modern technologies – such as advanced track-laying equipment and efficient track maintenance systems – to the country. This has bolstered Uzbekistan's capacity in the wagon construction and maintenance sectors, making it one of only three former Soviet Union countries, together with Russia and Ukraine, to have such facilities.

With the aim of strengthening regional and inter-regional cooperation between the CAREC countries and other nations by reducing travel time and maximising the efficiency of transport routes, the CAREC Federation of Carrier and Forwarder Associations (CFCFA), a non-government and non-profit organisation was established in 2009. Later incorporated in Hong Kong in May 2012, it now focuses on the standardisation and adoption of international best practices, cross-border and corridor development, and organisational development and funding. It is expected that this initiative, as well as several others, will result in expanded trade via the CAREC corridors. It is anticipated that, by 2020, the value of inter-regional trade will have increased fivefold from a 2005 baseline of US$8.0 billion, while the costs incurred for border crossing point clearances will decrease by 20% (from a 2010 baseline).

These targets are very much in line with those of the BRI, in particular the development of transport infrastructure and the facilitation of the free flow of investment funds. One of the largest projects in terms of Chinese-Uzbek economic cooperation and the longest railway underground corridor in Central Asia is the Angren-Pap railway tunnel. With the work being conducted by the China Railway Tunnel Group, this 19.2­km tunnel connects the populous Ferghana Valley (the site of three administrative regions – Ferghana, Andizhan, and Namangan) with the rest of Uzbekistan. Its success is being seen as an early sign of how Chinese investment, technology and development experience can help Central Asian countries develop.

Poised to become an international logistics gateway between China and Europe following its completion in August 2016, the Angren-Pap railway is expected to be used by some 600,000 passengers and to convey around 4.6 million tons of goods during its first year of operation. It is hoped that it will also reduce greenhouse gas emissions in the region by about 200,000 tons annually.

In terms of air transport, Uzbekistan boasts one of the best air networks in Central Asia, though its air transport is mainly used for the export of high value, but low volume, fruits and vegetables, equipment and parts and consumer goods. The Navoi Airport international distribution centre, built through a partnership between South Korea and Uzbekistan is seen as a good model for the future development of logistics centers, dry ports, multimodal cargo hubs, and refrigerated warehouses in the country. As part of the project, Korean Air provided technical, operations and sales support for the logistics centre, while Uzbekistan Airways helped obtain the necessary approvals and funding for the development.

Situated at the heart of CAREC corridors traversing Uzbekistan, the Navoi International Airport is a complex logistics hub capable of handling 100,000 tons of freight annually. Ideally positioned for handling transit air cargo going to western Kazakhstan, Turkmenistan, Afghanistan and Tajikistan, it is set closer to Samarkand (the most famous city in modern Uzbekistan) and many other historic cities (notably Bukhara and Khiva) than Tashkent International Airport, ensuring it is also suitable for use by Silk Road tourists.

With its improving transport infrastructure, Uzbekistan is now better positioned to attract foreign investors, bringing in not only funding, but also technology and the production facilities needed to create new jobs and to diversify its industrial and export base. Uzbekistan's automotive, agricultural machinery manufacturing, biotechnology, pharmaceuticals and information and communications technology sectors have all increased in importance since the country achieved independence in August 1991. General Motors, for instance, began producing Chevrolets in the country in November 2008.

As the country's largest source of foreign investment and its second largest trading partner (behind only Russia), China currently has some 500 companies and 5,000 nationals operating and working in Uzbekistan. These include Huawei, The Peng Sheng Development Co – China's largest private investment in Uzbekistan and also home to the largest ceramic tile producer in Central Asia, Tencent and ZTE, which has established the first smartphone production line in Central Asia. The number of Chinese companies investing in Uzbekistan is expected to increase as the BRI progresses and Uzbekistan becomes more investor-friendly.

Pre-Requisites for Realising the Country's Full Potential

Uzbekistan has considerable long-term promise in terms of logistics and urban development cooperation, while there are also opportunities in term of financing and listings, in line with the gradual process of increased privatisation and market opening. To this end, Hong Kong, as a facilitator for infrastructure projects and an international financial and trading hub, is well-positioned to help Uzbek companies through its well-developed cluster of business and professional service providers.

For the short term, though, Uzbekistan is still in the process of improving and upgrading both its hardware (i.e. its infrastructure) and its software (i.e. its law enforcement and foreign trade and investment liberalisation policies). Unreliable customs clearance procedures and the arbitrary application of regulations at border controls, as well as widespread government interventions, will continue to give Hong Kong traders and investors concerns that must be addressed if Uzbekistan is determined to realise its full potential, in terms of both its own development initiatives and those outlined as part of the BRI.

As Uzbekistan does not have a consulate or any diplomatic representation in Hong Kong, securing a visa can be quite costly and time-consuming for Hong Kong companies. With no distinction made between tourism and business visas, an HKSAR passport holder needs to obtain a Letter of Invitation (LOI) from a local institution in Uzbekistan, usually an authorised travel agency.

Together with the LOI, the applicant can submit the visa application directly to the Uzbek Embassy in Beijing or the Uzbek Consulate in Shanghai. Alternatively, applications can be made via the Ministry of Foreign Affairs of the Republic of Uzbekistan through the same local Uzbek institution that provided the LOI (i.e. usually an authorised travel agency). Once the application has been approved, the applicant can collect the visa at any Uzbek consulate or send a request to the Ministry of Foreign Affairs to collect the visa upon arrival at Tashkent International Airport[4]. It can easily take more than a month to complete all the steps and secure the necessary visa. This makes time-sensitive business visits extremely difficult, if not impossible.

On the trade front, although it is Hong Kong's second largest export market in Central Asia, behind only Kazakhstan, Uzbekistan, unlike its neighbors, is neither a WTO member nor a member of the Eurasian Economic Union (EAEU). Kazakhstan has been a member of the WTO since November 2015 and an EAEU member since January 2015, while Kyrgyzstan has been a WTO member since 1998 and an EAEU member since December 2015. Uzbekistan applied for WTO membership in 1994 but has yet to be ratified. At the same time, problems with the Uzbek customs regime – largely stemming from a lack of transparency with regard to the enforcement of trade rules and arbitrary customs regulations and seizures – have been widely covered by the international media and frequently complained about by importers.

Summing up the feeling of a number of foreign companies operating in Uzbekistan, one said: "The door for investment in Uzbekistan is wide open, yet the door for profits repatriation is rather narrow, if not completely closed." Strict foreign exchange controls have also made money transfer outside of the country very complicated and costly. The existence of black market rates, which can be as much as 100% higher than the official rates, has made the business community loathe to use more formal banking and trade finance services.
---
[1]A double-landlocked country is defined as a landlocked country surrounded by other landlocked countries. Except Uzbekistan, Liechtenstein, surrounded by Austria and Switzerland, is the only other double-landlocked country in the world.
[2] The CAREC Program is a partnership of 10 countries (Afghanistan, Azerbaijan, China, Kazakhstan, Kyrgyzstan, Mongolia, Pakistan, Tajikistan, Turkmenistan, and Uzbekistan) and six multilateral development partners (Asian Development Bank (ADB), European Bank for Reconstruction and Development (EBRD), International Monetary Fund (IMF), Islamic Development Bank (IsDB), United Nations Development Programme (UNDP) and World Bank) all working to promote development through cooperation, leading to accelerated economic growth and poverty reduction.
[3] The LPI measures a country's trade logistics performance using a number of parameters. Countries with high LPI scores have lower trade costs and are better connected to the global value chain.

[4] More details about the visa application process can be found at http://www.mfa.uz/en/consular/visa/.
Logistics & Supply Chain
Finance & Investment
Uzbekistan
Eastern Europe