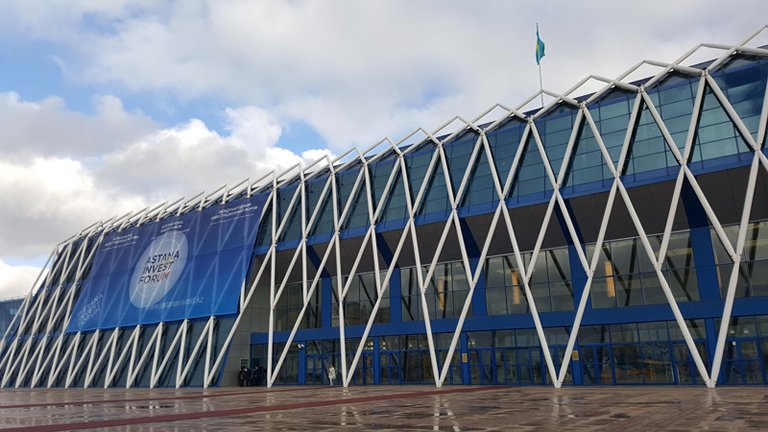 https://hkmb.hktdc.com/en/1X0A50Y2
Kazakhstan: A Modern Silk Road Partner
As the most advanced economy in Central Asia, oil-rich Kazakhstan leads the region in terms of GDP and purchasing power, while also acting as a key business and logistic hub linking China and Europe. This was the message of President Xi Jinping's speech at Nazarbayev University in Astana on 7 September 2013, when he first outlined the proposed Belt and Road Initiative (BRI). Kazakhstan has since become an important component in the BRI. This has seen it strive to further upgrade and modernise its logistics and trade infrastructure, including working to develop the Khorgas-East Gate Special Economic Zone in order to accommodate increased levels of Sino-European trade, logistics and investment. As the host of Expo 2017, the first World's Fair in Central Asia, and the newest WTO member (as of 30 November 2015), Kazakhstan is seen as having huge potential, especially if it succeeds in its ambitious upgrade to its global connectivity.

The Genesis of the Belt and Road Initiative (BRI)

Since its announcement by President Xi Jinping in September 2013, the Belt and Road Initiative (BRI) has become an integral part of Sino-Central Asian development. Kazakhstan, as a regional powerhouse in Central Asia and a crucial logistics link between China (the world's largest industrial producer), and Europe (the world's largest consumer market) is seen as playing a key role in the successful development of the BRI. In particular, two of the six international economic co-operation corridors set to be developed and/or strengthened under the BRI will pass through Kazakhstan, before branching out to the ports of West Europe, the Mediterranean coast and the Arabian Peninsula.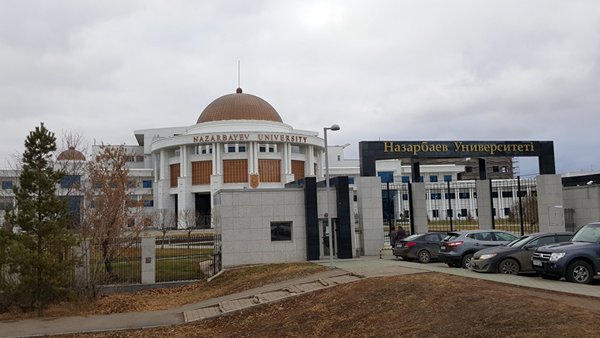 In conjunction with the BRI developments, the new Eurasia Land Bridge (also known as the Second Eurasia Land Bridge) is an international railway line running from Lianyungang in China's Jiangsu province through Alashankou (one of the major border crossings between China and Kazakhstan) in Xinjiang, to Rotterdam in the Netherlands via Kazakhstan, Russia, Belarus, Poland and Germany. Capitalising on the New Eurasia Land Bridge, China has opened an international freight rail route linking Chongqing to Duisburg (Germany); a direct freight train running between Wuhan and Mělník and Pardubice (Czech Republic); a freight rail route from Chengdu to Lodz (Poland); and a freight rail route from Zhengzhou to Hamburg (Germany). All of these new rail routes offer rail-to-rail freight transport, as well as the convenience of "one declaration, one inspection, one cargo release" for any Europe-bound cargo transported from China or wider Asia.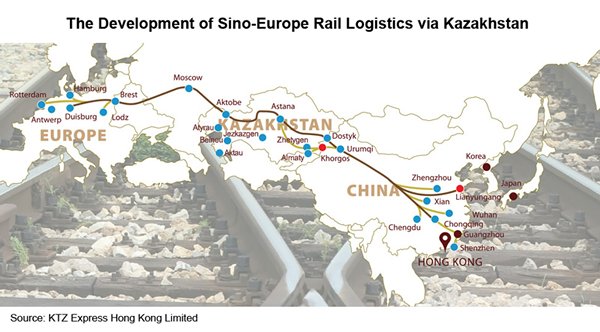 Meanwhile, the China-Central Asia-West Asia Economic Corridor (running from Xinjiang in China and joining the railway networks in Kazakhstan after exiting China via Alashankou) is regarded as a highly ambitious and important step in enhancing the connectivity of landlocked Central Asia. It will link with markets in Iran and Turkey in West Asia, but also with the Persian Gulf, the Mediterranean coast and the Arabian Peninsula. This represents a breakthrough for the landlocked countries in Central Asia – including Kazakhstan, the world's biggest landlocked nation – and gives them access to the worldwide ocean logistics business and making them key players in the global multimodal logistic chain.

Kazakhstan is striving to paint an optimistic picture of its role as a logistic/cargo transit hub with the announcement of a number of major projects. These include new rail connections in inner regions of Kazakhstan, such as the 293 km-long Zhetygen line (near Almaty)­Khorgas[1], which reduces the route from China to the port of Aktau on the banks of the Caspian Sea to 500 km. There is also the 988 km-long Jezkazgan-Beineu line, located in Central Kazakhstan, that cuts the transit through Kazakhstan to 1,000 km. Combined with the 400 km-long highway between Aktau and Beineu and the expansion of the port of Aktau to handle cargo flows up to 25 million tonnes per year on the Caspian coast, Kazakhstan is now set to connect more readily with such countries as Azerbaijan and Iran. The country is also an emerging production base for those Asian manufacturers (mainly Chinese, Japanese and Korean) targeting the European market.

By either going through the freight rail route linking Chongqing to Duisburg (the so-called Yuxinou railway) or the Caspian Transit Corridor (passing through Kazakhstan, Caspian Sea, the Baku (Azerbaijan) – Tbilisi (Georgia) – Kars (Turkey) railway and the Marmara Tunnel (Turkey)), the distance travelled is halved to 8,500 km, compared to the 20,000 km length of the sea routes. Transit time can be thus reduced from 45-50 days by sea (via the Suez Canal) to about two weeks. As the land or land-plus-Caspian Sea options, though, can easily cost 80-100% more than sea shipping, the land and land-plus-Caspian Sea routes remain attractive, largely to cargo that is not too urgent to ship by air, but time sensitive enough to not go by sea.

To make the land routes competitive and attractive to traders used to ocean freight, further operational progress is required. Kazakhstan, for example, currently uses a rail gauge dating back to the Soviet era and this is 85mm broader than the international standard gauge used in most of Europe and China. The necessary change of gauges at the Chinese-Kazakh border and Belarusian-Polish border can be time-consuming, while lengthy document authentication procedures and annoying bureaucracy at border crossings in Central Asia can also be a major inconvenience for traders.

To better complement the expected increase in cargo traffic passing through the new Eurasia land bridge, 10 special economic zones (SEZs), all with different sectorial foci and priority activities, are being founded and/or further developed across Kazakhstan, including the US$3.5-billion Khorgas-East Gate SEZ near the Chinese-Kazakh border. Kazakhstan is also keen to invest on the Chinese mainland and in Hong Kong in order to expand its reach into Asia and gain the benefits likely to accrue from being an early supporter of the BRI.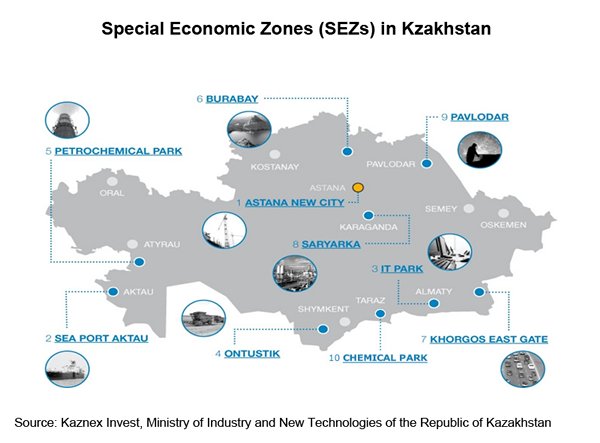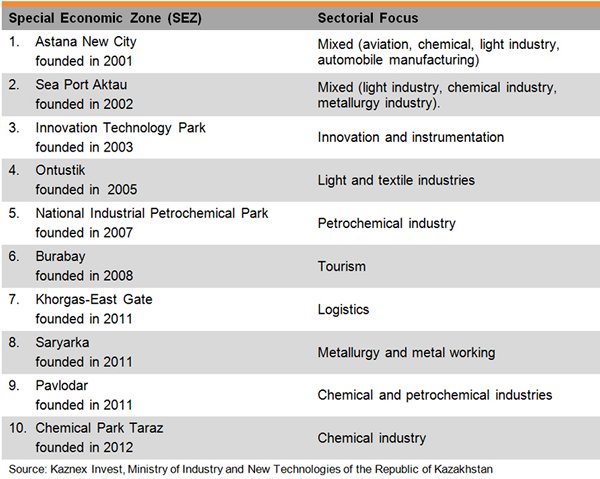 The Khorgas-East Gate SEZ, located on the border between China and Kazakhstan, has fast become one of the anchor projects for transforming Kazakhstan into a major commercial and transportation hub for the Eurasian continent. The SEZ has several advantageous facilities, including the International Center for Boundary Cooperation (ICBC), a dry port, logistics and industrial zones, ready connection with the Zhetygen-Khorgas Railway and West Europe-West China Highway, the possibility of direct access to the port of Aktau and a package of attractive fiscal benefits, including exemption from import tariffs, land tax, property tax and value-added tax.

Taking advantage of Hong Kong's singular role as a "super­connector", one ready to deliver game changing solutions for the 60­plus countries along the Belt and Road, KTZ Express, a wholly-owned subsidiary of Kazakhstan Railways, opened its international development office in the city. It aims to build a platform to promote multimodal freight logistics between Europe and China, via Kazakhstan, including the launch of new rail freight services from Shenzhen, Guangzhou, Wuhan and Xian to Europe via Kazakhstan. In a bid to further expand its reach into Asia, KTZ Express has also invested in a 21-hectare intermodal freight and logistics centre at the port of Lianyungang in China's Jiangsu province. This is intended to provide direct access to Central Asia for cargo coming from Japan, Korea and Southeast Asia.

The Futuristic Look of the Old and New Capitals of Kazakhstan

From 1936 till 1997, Almaty, the largest city in Kazakhstan, was the nation's political, business, financial and logistics capital. With a population of some 1.6 million people (2015), the city's strength as a Central Asian logistics and distribution hub has been fostered in line with the BRI and the related infrastructure, such as the nearby Khorgas-East Gate SEZ. Its role as the country's business and financial centre, however, is subject to challenge. The Kazakh government now plans move the head office of the central bank to Astana[2], the official capital of Kazakhstan since December 1997, in order to ensure close cooperation with the government and other public bodies. It is also now encouraging other banks, financial institutions and multinational companies to relocate their headquarters to the new capital.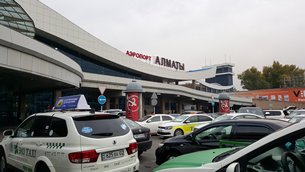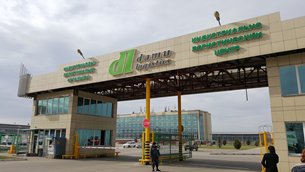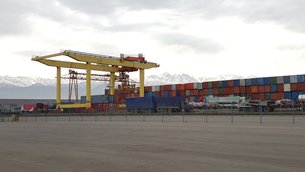 Home to about 850,000 people, Astana, the new capital, is a planned city and full of futuristic buildings, retail facilities and mega projects. Astana is turning itself into a regional business and financial hub, a commitment underlined by its growing number of flagship buildings. The city is also home to the world's biggest tensile structure – the Khan Shatyr Entertainment Centre – a shopping and entertainment complex opened in 2010. The tallest building in Central Asia, an 88-storey tower, is also currently under construction. This will form part of the US$1.6-billion Abu Dhabi Plaza Complex, as well as the site for Expo 2017 Venue. This will be turned into an "international financial hub" after the event. The complex is subject to common law and uses English as its official language.

Under the theme of "Future Energy", Kazakhstan is the first former Soviet state to host a global trade event of the scale of Expo 2017. The event is expected to attract exhibitors from more than 100 countries and receive two to three million visitors between June and September 2017. Thanks to the concentration of many striking new buildings and tourist attractions, as well as the expansion of the "Official Air Carrier of EXPO-2017", Air Astana (Kazakhstan's largest airlines), Astana is also looking to establish itself as a regional hotspot for tourism and the MICE (meetings, incentives, conferences and exhibitions) industry.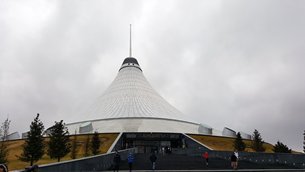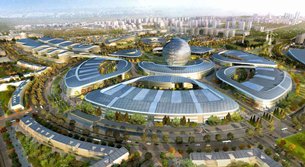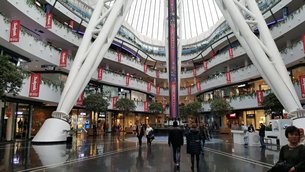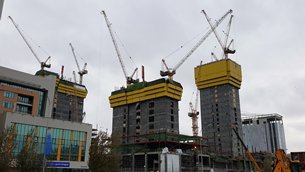 Other Visionary Trade-facilitating Developments

Aside from being a strategically important player under the BRI, as well as a founding member of the Asia Infrastructure Investment bank (AIIB), Kazakhstan is also committed to creating a more business-friendly environment, while also nurturing its longer term economic prospects. Its AIIB membership is particularly important, given that the institution is expected to play a pivotal role in supporting the development of infrastructure and other sectors along the Belt and Road routes.

In tandem with this new strategy for Kazakhstan's development through to 2050, many economic reforms have been introduced to speed up the nation's shift away from its dependence on its trade in raw materials. This has seen it look to nurture its high-value-added industries in a bid to overcome volatility in global energy prices and create a stronger, more balanced base for economic growth. These moves were outlined by the Kazakh President, Nursultan Nazarbayev in his state-of-the-nation address on the Kazakhstan 2050 Strategy in December 2012 and also formed part of the new economic plan, Path to the Future, announced in November 2014.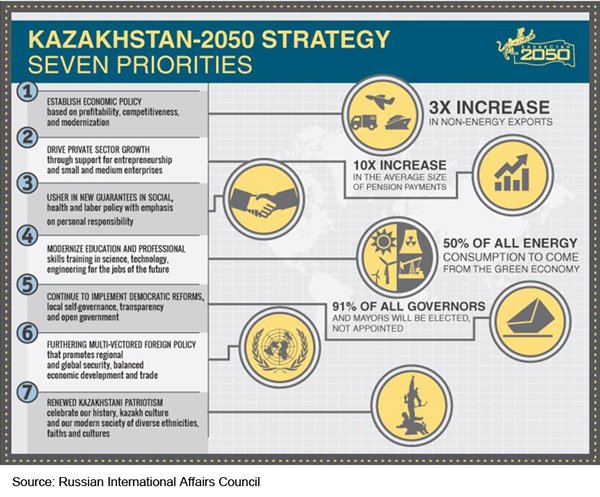 Kazakhstan has already streamlined many of its internal procedures, resulting in reduced time being required to register a business, while seeing less paperwork required for customs procedures and other business operations. Its ultimate goal, within the next decade, is to become one of the top-30 countries in the World Economic Forum's Global Competitiveness Index (GCI)[3] and the World Bank's Ease of Doing Business rating.

This, together with the five institutional reforms set out in the 100 Steps Program, unveiled in May 2015, is aimed at creating a modern and professional civil service, with high transparency and accountability. It is also designed to bolster the country's on-going privatisation project, which began with the launch of 60 companies in October 2015. Taken together, these initiatives show how keen the country is to become a business-friendly destination for foreign investment.

Last year, Kazakhstan was named Central Asia champion in recognition of its improvements to its business environment. This was thanks to its large number of regulatory reforms, such as its fast track, simplified procedures for handling small claims. These reforms were implemented in the year from 1 June 2014 to 1 June 2015, with seven of them documented by the World Bank.


In order to overcome the economic handicaps of being a landlocked country, Kazakhstan is committed to boosting its connectivity with its neighbours and further integrating itself with the global economy. After 20 years of negotiation, Kazakhstan was officially accepted as the 162nd World Trade Organisation member on 30 November 2015. Not only will WTO accession limit the country's average tariffs on goods to 6.1% (tariffs on agricultural imports would be limited to an average of 7.6% and non-agricultural goods to 5.9%) from 8.6% in 2014, but it will also remove the 49% foreign equity cap on foreign investment in the telecommunications sector. The branching limitation on foreign banks and insurance companies will also be lifted over the coming five years.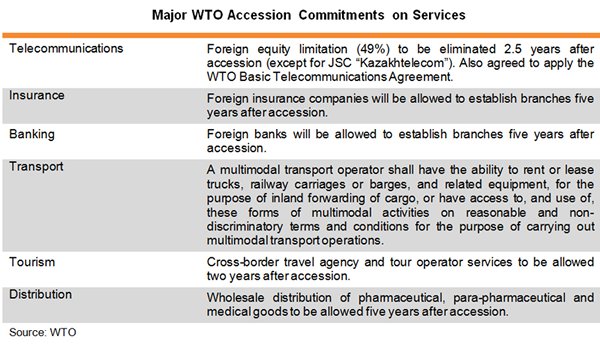 In addition to WTO accession, Kazakhstan is a founding member of the Eurasian Economic Union (EAEU[4]). As an expanding regional economic integrator, which currently includes Russia, Belarus, Armenia and Kyrgyzstan, the EAEU can also be seen as a potentially effective business shortcut for foreign traders looking to access the 290 million-strong CIS market and those countries that are still outside the WTO, notably Azerbaijan, Belarus and Uzbekistan.

Kazakhstan as a Modern Silk Road Partner

Kazakhstan, with an average of just 16 people per square mile, is one of the most sparsely populated countries in the world. This, together with its large land area – the world's ninth-largest – and relatively small population (less than 18 million in 2015), makes it suitable to function as a regional distribution platform, rather than as a large, standalone consumer market.

The country switched to a floating exchange rate on 20 August 2015 in order to boost its competitiveness. In tandem with the currency depreciation of Russia and China, its major trading partners, and the drop in international oil prices, this triggered a sharp 50%-plus depreciation for the Kazakh Tenge (the local currency). This may have also dampened the country's import appetite over the short term and made it more of a conduit for trade.

While its energy and metallurgy sectors remain key attractions for foreign investors, Kazakhstan's industrial diversification and upgrading from a raw materials supplier to a service-based economy will offer Hong Kong companies good opportunities across a range of sectors, including logistics, trading and marketing.

Kazakhstan is the only Central Asian country (CAC) with a consulate office in Hong Kong. This, together with a reciprocal 14-day visa-free arrangement for HKSAR and Kazakh passport holders, makes business connections between the two economies far easier than those with other CACs. In addition, direct flights between Hong Kong and Almaty give the country a further advantage over other CACs in terms of being Hong Kong's first port of call in Central Asia. The flights are available twice a week (on Tuesday and Friday).

Taking advantage of this growing momentum, a number of Kazakh companies, such as Kazakhmys PLC, a leading natural resource group, are either listed or considering listing in Hong Kong. In a similar move, KTZ Express, a subsidiary of Kazakhstan Railways, opened a Hong Kong office in 2014. A number of Kazakh SMEs have also chosen Hong Kong as their regional base in order to service the wider Asian market. This trend is poised to continue as Kazakhstan further liberalises and enhances its trade and business infrastructure, while enhancing its connections with the rest of Asia as part of the BRI.

With stronger trade and investment expected to flow in and out of Kazakhstan in the post-WTO era and Sino-Kazakh economic cooperation growing and diversifying in conjunction with the BRI, Kazakhstan will provide a wealth of opportunities for Hong Kong companies. These will be particularly apparent in such sectors as infrastructure, real estate services (IRES), logistics and financial services. Meanwhile, Kazakhstan, given its fast-improving business environment, is proving increasingly attractive to those Hong Kong businesspeople wanting to access the largely uncharted Central Asian market, particularly those countries allied along the modern Silk Road.
---
[1] China's youngest city, Khorgas was officially established on 26 June 2014. It has become one of the busiest border crossings between China and Kazakhstan.

[2] The city was originally named Akmola when it became the capital of Kazakhstan in 1997. It was consequently renamed Astana in 1998.

[3] Kazakhstan was ranked 42nd in the World Economic Forum's Global Competitiveness Index 2015-2016 (published in September 2015).

[4] EAEU is an international organisation established to pursue regional economic integration. It acts to facilitate the free movement of goods, services, capital and labor, while pursuing a coordinated, harmonised and unified policy in sectors determined within the Union. Current member states include Armenia, Belarus, Kazakhstan, Kyrgyzstan and Russia.
Finance & Investment
Logistics & Supply Chain
Kazakhstan
Eastern Europe